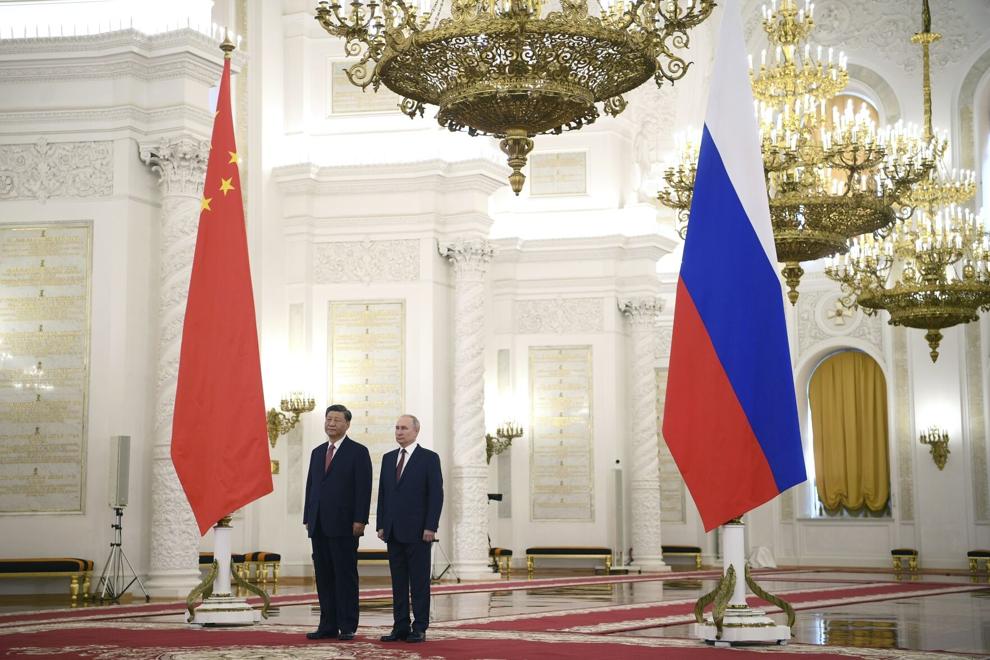 For hundreds of years, Moscow surrounded itself with satellite countries run by obsequious rulers. From the Soviet days, think of Bulgaria, Czechoslovakia and East Germany. Now, in a tale of changing places, Russia is emerging as an economic satellite of China.
That is the dominant Western takeaway after Russian President Vladimir Putin last week hosted China's paramount leader Xi Jinping for a three-day visit in Moscow.
"Putin is turning Russia into, in effect, a vassal state of China," wrote Atlantic Council senior fellow Michael Shuman. Shuman, a China expert, continued: "Over time, as the power imbalance in the relationship continues to widen in China's favor, Moscow will find itself less and less able to chart an independent foreign policy or deviate from alignment with Beijing's interests."
The glittering pomp of a Kremlin state visit cannot mask changing economic realities. In 1991, the year the Soviet Union collapsed, Russia's economy was 25 percent bigger than China's. Today, China, historically "the younger brother" of the Sino-Soviet pair, has an $18 trillion economy — 10 times bigger than Russia's.
"The body language said it all," Eurasia Center fellow Brian Whitmore wrote. "In one joint public appearance this week, Xi confidently leaned back in his chair, relaxed, and smiled. Putin in contrast, appeared nervous and anxious as he bent forward and fidgeted."
London-based financial analyst Timothy Ash wrote after the Chinese leader flew back to Beijing: "Putin just comes out as mega weak and Xi's little Shetland pony."
To turn the tide in Ukraine, Putin wanted a military alliance. Perhaps, he was remembering Mao Zedong's famous ties with North Korea — "as close as lips and teeth." Instead, Putin is getting an economic dependency where Russia becomes China's main resource colony. This year, Russia is displacing Saudi Arabia as China's top source of imported oil. Russia is displacing Australia as China's top source of coal. By the end of this year, Russia's main trade currency will be China's renminbi.
China is driving hard bargains, getting resources on the cheap. Having lost Europe as its top energy market, Russia finds it has lost bargaining leverage with China. As a result, Russia is selling oil at prices barely above production and transportation costs.
"The most profound outcome of Putin's war will be the massive redistribution of wealth from Russia to China and India, or 'Chindia,'" predicts Diane Francis. Citing price caps imposed by the West in December, she writes: "Both Asian giants import increasing amounts of energy at deep discounts because of newly imposed oil price caps. Estimates are that Moscow's oil revenues alone are down $200 million a day."
In advance, Putin had announced that the $400 billion Power of Siberia 2 pipeline would allow Russia to export almost 100 billion cubic meters of gas a year to China by 2030. But last week Xi sidestepped committing to the pipeline.
Xi also sidestepped sending military aid to Russia, probably out of fear of alienating the European Union, a group of nations deeply alarmed by Putin's invasion of Ukraine. After Southeast Asia, the EU is China's second-largest trading partner. Last year, about one third of China's $878 billion world trade surplus was with the EU and 16,000 Chinese freight trains traveled west through Poland. Poland, a frontline supporter of Ukraine, could easily stop these trains.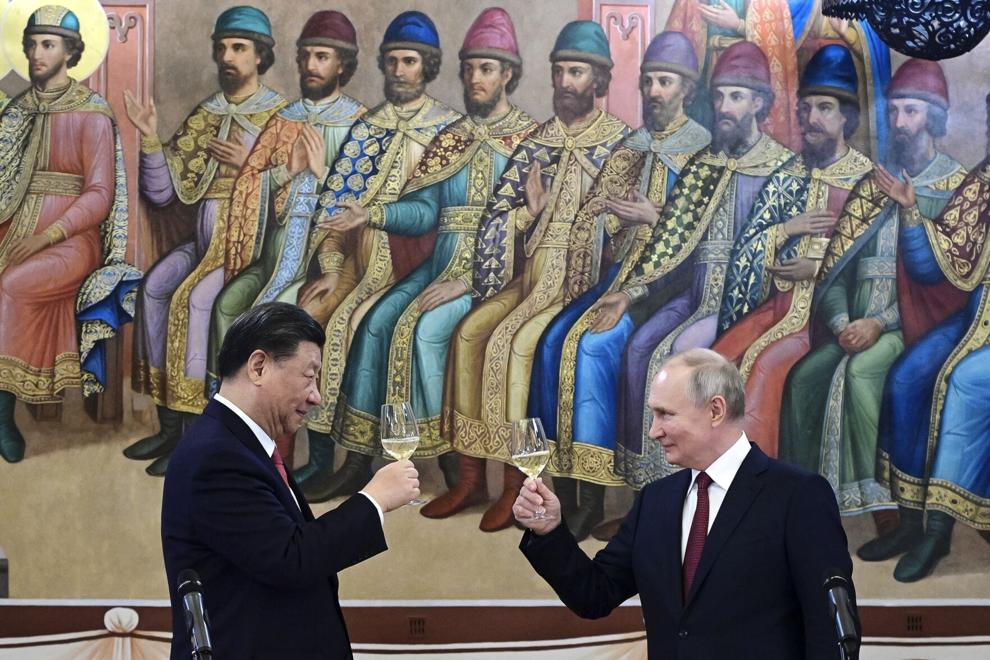 For Xi, it might have been enough to visit Moscow and publicly address Putin as "dear friend" only a few days after the Russian leader was indicted for war crimes at the International Criminal Court. Indeed, Russia's isolation was on clear display during Xi's visit. While the Chinese leader was in Moscow, Japan's Prime Minister Fumio Kishida was 500 miles away in Kyiv, touring a Russian massacre site and meeting with Ukrainian President Volodymyr Zelenskyy. At the same time, the IMF announced a $15.6 billion loan for Ukraine, and the EU announced a $1 billion plan to ship 1 million 155 mm artillery shells to Ukraine this year.
At the summit, the two leaders agreed to rule out allowing the Ukraine war to go nuclear. But it is unclear if Xi will follow up on earlier hints that he would telephone Zelenskyy to promote a ceasefire.
While China likes to do business with a weakened Putin, it does not want to see him lose the war and lose power. Remembering that the two-headed Russian eagle looks both East and West, Xi does not want a pro-Western leader to succeed the 70-year-old Putin. Perhaps hedging his bets, the Chinese broke protocol and met with Russia's Prime Minister, Mikhail Mishustin. In the paranoid world of Putin's Kremlin, Xi's public embrace of Mishustin presumably will not prove to be a kiss of death.