In one week, 300,000 Russian men have fled to neighboring countries to duck the draft. That is five times the number of American men who fled to Canada in the decade from 1965 to 1975 to escape the Vietnam War draft.
Today's stampede to Russia's exits comes in response to President Vladimir Putin's Sept. 21 national address declaring the country's first wartime draft since World War II. After that speech, Defense Minister Sergei Shoigu set the mobilization target at 300,000 men. Many Russians suspect that the real goal could be 1 million.
Putin's goal is to turn the tide of the war in Ukraine. But military analysts, most notably the British Defense Ministry, warn that after seven months of war, Russia's army lacks the officers for training and the equipment for arming new recruits.
Backing up this view, a widely circulated video shows a Russian Army officer lecturing new recruits that the Army will supply only "uniforms and weapons." It is up to soldiers to provide their own sleeping bags, tourniquets and medical supplies. "Ask your wives or girlfriends to give you tampons," the officer bellows. "They absorb blood in open wounds."
On Wednesday, in a Russian-language address, Ukrainian President Volodymyr Zelenskyy warned Russian men: "If you want to live, run. If you want to live, surrender. If you want to live, fight on your streets for your freedom. ... Fight for what's yours! Stay away from our land, our soul and our culture."
Ukraine's Russian-language "I Want to Live" telephone hotline is taking hundreds of calls from draftees seeking to learn how to surrender on the battlefield, Ukrainian Military Intelligence press officer Andriy Yusov said Monday on Ukrainian TV. "They call and say: 'If I am mobilized, what should I do? how should I surrender?'"
Inside Russia, the sudden imposition of a national draft seems to have broken an unspoken social contract that has kept Putin in power for 22 years. Russians have signaled to Putin: We will stay out of politics and you can steal fabulous amounts of money. In return, you give us stability and leave us alone.
With the draft evader flow matching the draftee goal, this deal is off. Protests have taken place in about 50 cities across Russia, many led by women. Confronting a police state, 2,300 protesters have been arrested. In violent resistance unheard of in the Putin era, 21 draft offices have been firebombed over the last week.
In one attack in a Siberian town, a 25-year-old man, Ruslan Zinin invaded a draft office and shot the draft officer who was giving new recruits their travel orders. Rospartizan, a new website that chronicles armed resistance to Putin, posts an image with the title "Ruslan Zinin, Hero of Russia" with his war cry: "No one is going anywhere!"
Although Putin signed a law last week setting 10-year prison terms for draft evasion, many regime officials see the exodus has a healthy escape valve for their political opponents. Ella Pamfilova, Russia's election commissioner, said Monday: "Let the rats who are running run. The ship will be ours."
To minimize a popular backlash in Moscow and St. Petersburg, the Defense Ministry reportedly is targeting the 21 republics with non-Russian, non-Orthodox majorities. Men in these geographically distant areas are seen as more desperate for work and less likely to have relatives or friends in Ukraine. Ethnic Russians are seen as more reluctant to kill their Slavic "brothers."
"Since the start of this bloody war, ethnic minorities who live in Russia have suffered the most," former Mongolian President Tsakhiagiin Elbegdorj said last week in a video address. As president of the World Mongol Federation, he appealed to men in Russia's three Mongol Buddhist republics — Buryatia, Kalmykia and Tuva — to evade the draft or desert. He said in English: "The world will greet you with open arms and hearts."
Some small ethnic groups see the blizzard of draft notices as genocide.
"Crimean Tatars received about 90 percent of draft notices in Crimea, but make up 13 to 15 percent of the population of the peninsula," charges Yevhen Yaroshenko, leader of Crimea SOS, a human rights group following events in this Russia-controlled region of Ukraine. "Such scale of mobilization can lead to a hidden genocide of the Crimean Tatar people."
Representatives of other predominantly Muslim populations say that for them the draft is not partial but universal. In Dagestan last week, police confronted hundreds of angry women by firing automatic weapons in the air and arresting 100. In Dagestan and another largely Muslim republic, Bashkortostan, serious calls for secession are heard for the first time since the Soviet Union collapsed three decades ago.
"Wherever Russia is, there is devastation both in the minds, and in the houses, and in the streets," says one post on Telegram. "It's time to realize this and say: 'Russia — get out of Dagestan!'"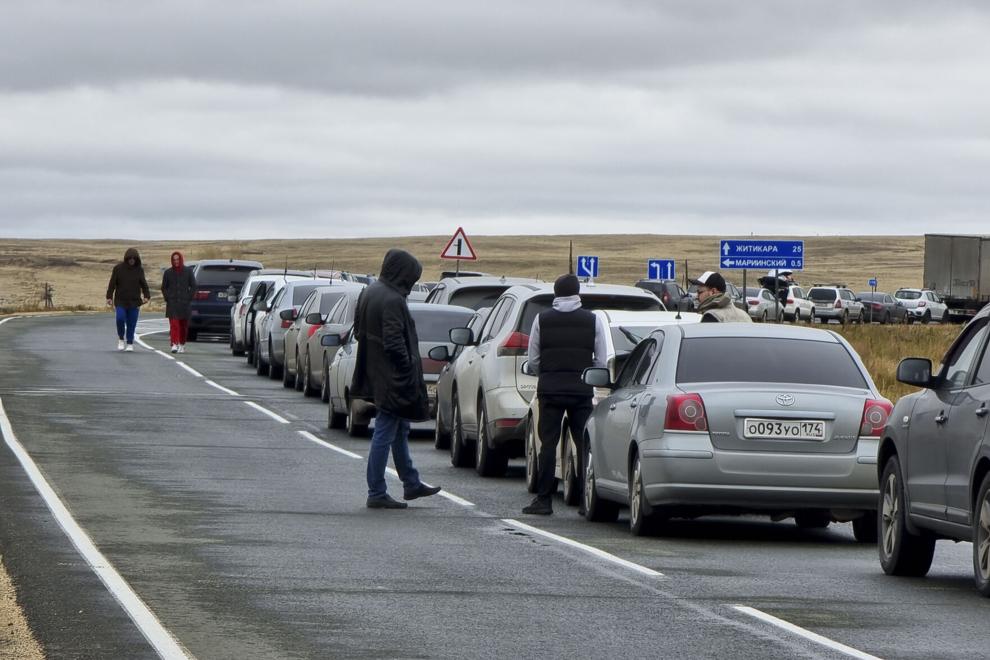 Going with the flow
In Bashkortostan, an underground political group, the Bashkir National Political Center, appealed on Telegram to nearby Kazakhstan: "We believe that Putin's imperial machine will break its back against the steel character and the will of the Ukrainian heroic people, and our republics will gain independence, just like you once did!"
Kazakhstan, which shares a 4,700-mile land border with Russia is the top destination for Russian men, welcoming over 100,000 Russians in the last week. Photos show movie theaters converted into improvised dormitories.
"In recent days, many people are arriving from Russia," Kazakh President Kassym-Jomart Tokayev told his people. "Most of them have been forced to leave because they have no other way out of the situation. We must show them care and ensure their safety. It is a political and a humanitarian question."
Since the 1990s, Central Asian migrants have taken over much of the menial work in Russian cities. Trying to tap this labor, Russia last week passed a law offering Russian citizenship to foreigners who serve one year in the Russian Army. In response, Kazakhstan and three other Central Asian countries passed laws barring their citizens from serving in foreign militaries, but many have already made the move.
"Look at the guys taken prisoner in the east of Ukraine," migrant rights activist Valentina Chupik told the Uzbek Service of Radio Free Europe. "There are few soldiers with Slavic appearance among them. In my opinion, the chauvinist, racist and Nazi government of Russia is simply using migrant workers as cannon fodder. This is done so that there is less noise, so that the mothers of Russian soldiers do not make a fuss."
Other countries, worried about the Russian influx, are closing their doors. Finland and the Baltic countries have closed their borders to Russian draft evaders. In Georgia, which has been taking in 10,000 a day, the welcome mat is wearing thin.
"You are only worried about not being killed in Ukraine," wrote one poster on a Georgian chat group, reports Tea Topuria of Radio Free Europe's Georgia Service. "You had seven months to speak out against the war. But until they knocked on your door, you supported Putin."
While surprising to many Westerners who see Russian men as aggressive red meat eaters, draft-dodging is an old story in Russia. Within hours of Putin's surprise national address declaring the draft, Google trends saw searches surge for "how to break an arm at home."
A few years ago, I met the chairman of Slavic languages at Yale. Our conversation turned to family histories. He remarked: "The only reason I am sitting here talking to you today is because my grandfather shot himself in the foot to get out of the Russo-Japanese War." That was in 1905.