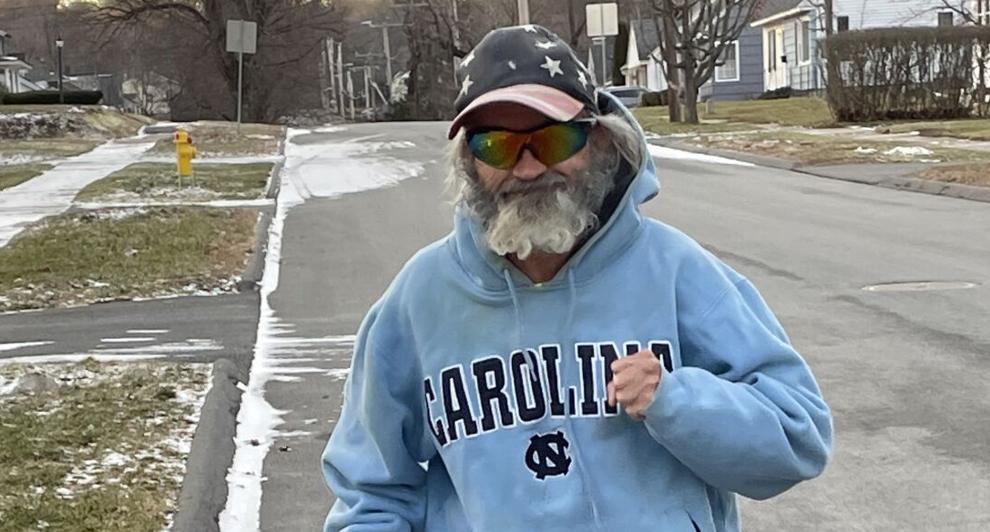 If you've been driving around North Berkshire County over the past 40 years, there's a strong likelihood that you've passed a diminutive jogger with a distinctive gait along the highways. You might have even given him a friendly honk, since this slightly-built runner will always salute in return, either with a raised hand or a tip of his signature red, white and blue baseball cap.
After you pass him, you might ask yourself a few questions. Who was that fellow running down this lonesome stretch of road? Haven't I seen him before, in Windsor, perhaps, during a snowstorm? Or was it in Savoy, when he emerged through a wintry fog? Lastly, why does he run?
His name is Salvatore Marinaro Jr., 73, and I've known him since we whiled away our summers together as kids at Wilson Park. Recently, I met up with Sal at the home of his sister, Mary Lou Trova. Her husband, Spencer, is a longtime friend of mine, and I was eager to learn more about this mysterious marathon man.
Sal had a rough start right off the blocks. At age 5, he contracted Guillain-Barre syndrome, a muscular disorder characterized by weakness and often paralysis of the extremities.
"If it wasn't for Dr. George Porter, a wonderful pediatrician in town, Sal wouldn't be with us today," Mary Lou said. "Dr. Porter sent Sal to Boston Children's Hospital where he spent a full year paralyzed from the neck down."
Although there is no cure for Guillain-Barre, Sal says he suffers no lasting effects from the disorder, except for three "hammer toes" on his right foot.
"That's why I run with a wobble," he added with a grin.
However, Sal's illness hindered his early learning at Pontoosuc School. "I'm probably the only kid in the world who ever flunked kindergarten," he jokes.
When I asked him about his working days, Sal replied, "My first job was working at Goodwill for 46 cents an hour, and that was before taxes! Next, I worked for Spencer's father, Louie, as a mortar-tender. But I got my big break when the late Jim McNeice hired me to be custodian at the Catholic Youth Center. Luckily, after Jim retired, my first cousin, Vinny Marinaro, became its director. So I got to work there for 36 years. I loved every minute of it.
"It was Vinny who actually got me running," Sal continued. "I weighed a chunky 180 pounds on my 4-foot, 10-inch frame, when I started running and lifting weights. At my strongest, I could leg press 300 pounds. Now I weigh a hundred pounds, but I still feel great."
Sal's weightlifting prowess would often come in handy. I reminded him of how I once picked him up two miles from his house in Pittsfield, jogging through a snow squall while cradling a 35-pound safe in his hands.
"That's nothing," added Mary Lou. "Sal once carried an 80-pound bag of cement from Carr Hardware to the CYC, running the whole way."
Said Sal: "Yep, I sure overdid it that time."
Sal started running longer distances after his mother, Lucy, passed away in 1998. "It helped with my loneliness," he said sadly. "But, I love the scenery, especially in the hilltowns."
Sal never entered big-city marathons, but he does keep track of his personal best. "One summer, I started running to Worthington and back. That's 44 miles, and I did it 44 days in a row. Forty-four times 44 is 1,936 miles," he quickly calculated. "But my longest daily run was 60 miles when I ran to Goshen and back. On my way home, I stopped at Friendly Fred's for a bottle of water and, boy, did it taste good!"
After his Berkshire rambles, Sal would occasionally join me and Spencer in the Berkshire Medical Center cafeteria, where we were both employed as nurses. Sal was often a sight to behold, especially in the winter when his bedraggled beard dripped icicles. Not the least bit shy, he chatted with doctor and housekeeper alike.
"I've been running for years," he'd tell his captive audience, "but I never got elected!"
When leaving, he'd tip his patriotic cap and say "See you round like a doughnut!"
Sal confessed he has slowed down in recent years, due to his age and the fact that one of his three hammer toes "keeps on hammering." But he has no intentions of stopping.
"Running motivates me," he said. "Not only that, but I've made many friends, especially on Route 8. They always honk to me as they pass. That means a lot to me."
So, next time you pass this king of the road, give him a friendly beep or a blast from your air horn. After all, such a gesture will not only keep Sal chugging along, but it will gladden your own heart, realizing that Sal's indomitable spirit dwells in us all, whether we're runners or not.