Lenox — I know that brickbats often fly, especially as a writer trying to unpack various affordable/workforce housing proposals in Lenox, Great Barrington, Williamstown or elsewhere in the Berkshires. Likewise, short-term rental regulations.
As signaled in this space last weekend, there's more for me to consider when scoping out the application by Pennrose LLC to construct a $30 million-plus affordable rental complex on vacant land owned by the Hashim family at Brushwood Farm off Pittsfield Road in Lenox.
The plan is for 13 townhouse buildings with five apartments in each — 65 units for one-year rentals, subject to annual renewal, for eligible individuals and families at various income levels, and no sublets or corporate leases allowed.
Pennrose is applying under a provision of state law encouraging the development of scarce mixed-income housing by making it easier to obtain a comprehensive permit from zoning boards by streamlining the hurdles facing any major development project.
Pennrose's previous effort in Lenox — the Sawmill Brook project, which was proposed near a residential area — was narrowly defeated by town meeting voters in May 2019 because it fell short of the needed two-thirds supermajority. In a secret ballot, residents voted 304 to 262 in favor. But, the proposal needed 377 votes for approval.
This time, the Zoning Board of Appeals has the final say under the state law Chapter 40B provision. There has been widespread support, especially from major hospitality employers like Miraval and Canyon Ranch that desperately need housing to attract staff.
The proposed Pennrose project is in the Gateway Mixed Use Development Overlay District along Route 7/20 north of downtown, which includes the Lenox Commons mixed-use development across from Brushwood — stores, professional offices, a cafe and a condo complex.
The point is that even moderate-income folks find Lenox unaffordable. Young people from well-established families can't find housing here. Nor can many municipal and school employees, workers at local businesses and industry, and young families looking to settle down and send their kids to the local public schools.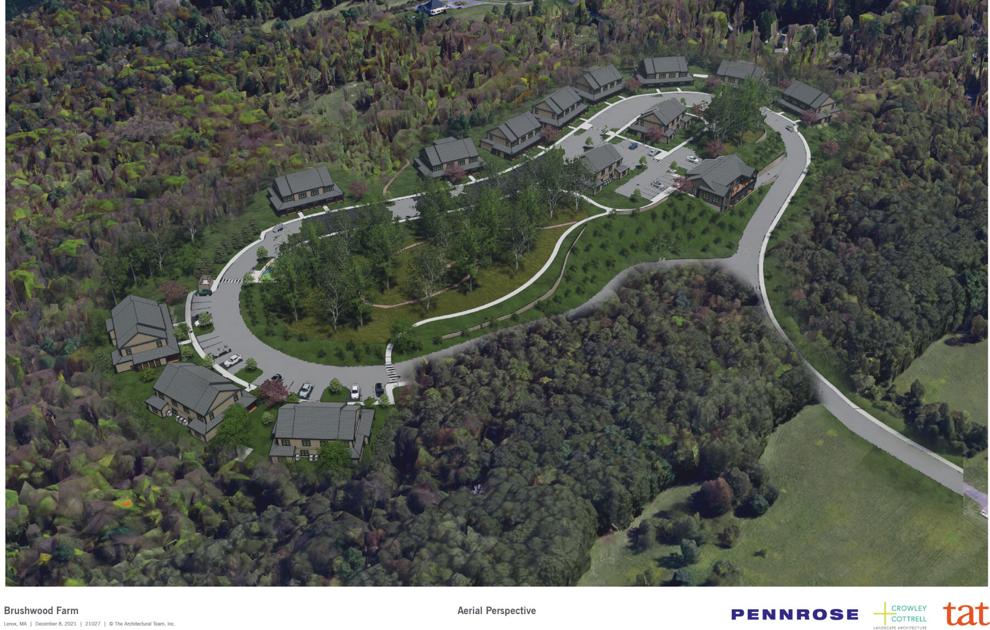 Town officials are on board with the Pennrose plan. Kate McNulty-Vaughan of the Planning Board and the Affordable Housing Trust called it "a wonderful opportunity to actually begin to get something on the ground for affordable housing."
"Every time somebody does try to build something new in town, it's very disruptive to neighbors," she said. "You own what you own, somebody else owns the abutting property, and they have a right to develop it in a way that suits them, with whatever other strictures are in place."
In this case, the opponent is the Toole family's Brushwood LLC, owner of the adjacent 92-room Courtyard by Marriott hotel, a $10 million investment opened in June 2018. Joe Toole, the patriarch, feels the family's viewpoint has not been adequately or fairly represented by my coverage in The Eagle.
In an email message, he states that "we would have no problem with the project on the open land" owned by the Hashim family just south of the present site.
"They could get probably as many units down there as up above but more condensed," Toole asserts. "Keep in mind, absent of a deed restriction preventing condo conversion at a later date, they could easily do this. The project they propose is lavish for purposes of providing rental housing and far more expensive than what it would need to be to accomplish the town's goals of 'affordable' housing or even market-rate housing."
Here are more of his key objections, as highlighted in a public document for the Lenox zoning board:
• "The parcel [designated by the developer] has been carefully carved out of the much larger land mass, thus reducing it to avoid the strictures of the Scenic Mountain Act."
• "Extensive land movement, rock excavation and blasting will be required, causing a direct and costly impact to our business. … However, if the available open parcel to our south were to be the intended location, we would have some disruption but likely on a scale that we could manage and in a much shorter construction duration."
• "We believe that the proposal violates the Gateway Mixed Use Development Overlay District, which requires any development to 'preserve or restore the overall character of the district.' "
• "The proposed project with its massive scale and buildings, rising well above the Scenic Mountains limit with unnecessary destruction of the natural environment, is out of place and indeed not consistent with the character of the area."
• "We believe the Zoning Board of Appeals has a sound basis of denial based on the above concerns, the unprecedented number of waivers from the zoning bylaws being requested, which among other problems, establishes a precedent, proving that developers can get around established guidelines so long as the project contains a much-desired use such as housing."
The Lenox ZBA will visit the Marriott hotel at 3 p.m. Thursday (it's a public meeting) and will resume its discussion of the Pennrose housing application, via Zoom, at 6 p.m. Jan. 27.
Whichever way it goes, the decision will be momentous for the town.