GHENT, N.Y. — What impact — economic, social, cultural — do weekenders have on the communities where they travel from Boston and New York to spend their precious Saturdays and Sundays, and, during the pandemic, often weeks and months on end?
Frankly, I have no idea. A cursory Google search provides no statistical help, though, as a weekender myself, who finds himself increasingly content upstate with only occasional forays back to the city, I'd like to think our contribution to our adopted homes is largely beneficial.
Ryan Turley's certainly is. Mr. Turley, a New York City artist, began spending weekends in Austerlitz, N.Y., with his husband, Matthew Papas, nine years ago. They often drove past the town's handsome wooden church along Route 22, inactive since the 1960s, and wondered about it.
That tends to be a characteristic of weekenders. They see things with fresh eyes and, present company excepted since the hermetic lifestyle appeals to me, are eager to engage with and learn the history of their new homes and communities.
"I've been driving by for years," Ryan told me when we got together at the church last week. "I was wondering why nothing was happening here."
So, he approached the Austerlitz Historical Society and suggested the space, with its soaring 32-pane windows and abundant natural light, would make an excellent art gallery. I don't know that much about Austerlitz — my relationship with it had mostly been limited to looking at it through my car window while on the way from my house in Ghent to Great Barrington, and wondering what the chances are of getting pulled over for speeding — but my impression has always been that it takes its history seriously.
I knew it as the home of Robert Herron, one of the area's most respected antiques dealers. Indeed, the Herron home — actually, two antiques-filled houses from 1770 and 1810 and part of the Rorbert Herron Trust created for the benefit of the historical society — is part of Old Austerlitz, a history museum complex that includes antique homes and barns.
It's across Route 22 from the Austerlitz Christian Church, the one Ryan Turley had his eye on, and a one-room schoolhouse that last saw students in 1955. It also has an excellent gift shop that made me regret that I'd forgotten my wallet at home.
In any case, the historical society proved amenable to the idea of reimaging the church as an art gallery, perhaps moved by the 42-year-old Turley's youthful energy — before he turned artist, he was a professionally trained ballet dancer at the New York City Ballet and the Bolshoi — and his willingness to lend apparently infinite elbow grease to making the church presentable.
"When I approached them, they said, 'Give it a shot,'" he recalled, so, he and a couple of other historical society board members (at the risk of stereotyping weekenders, my casual observation is that they seem to have a passion for joining and sometimes even taking the reins of local historical societies) attacked the pews and windows with cleaning supplies and brooms. "We have a very little budget. Our charter is to restore the building."
The only change they made to the church itself was to append a simple yet strangely uplifting sign over and slightly to the right of the front door. It says "Art."
"They had to put a lot of trust in me," Ryan said, referring to putting lettering on a church, as he acknowledged the sacramental history of the place where people have gotten married and marked other important life events. "It gets people to stop and post an Instagram."
But, once the windows were cleaned and the carpet vacuumed, the question arose: not only whether people would show up to look at art in a converted roadside church, but also was there a critical mass of local artists eager to show their work there?
Ryan employs the term "local" expansively.
"They just have to have some connection to upstate or the Berkshires," he explained. "They can be weekenders or doing a residency here."
He needn't have worried. It seems these hills are filled with talent.
"So many artists are living right here," he marveled. "I have people emailing us every day."
It also didn't hurt that he offered the artists a 70/30 split from any sales, 70 percent going to them, the rest to the Austerlitz Historical Society. A typical arrangement between artists and galleries is a 50/50 split.
Their first show last summer, a large group exhibition, attracted over 150 visitors on its first day.
"In a small town, that's a lot of people," said Ryan, who curated the show. "That's a lot of people for a Chelsea gallery."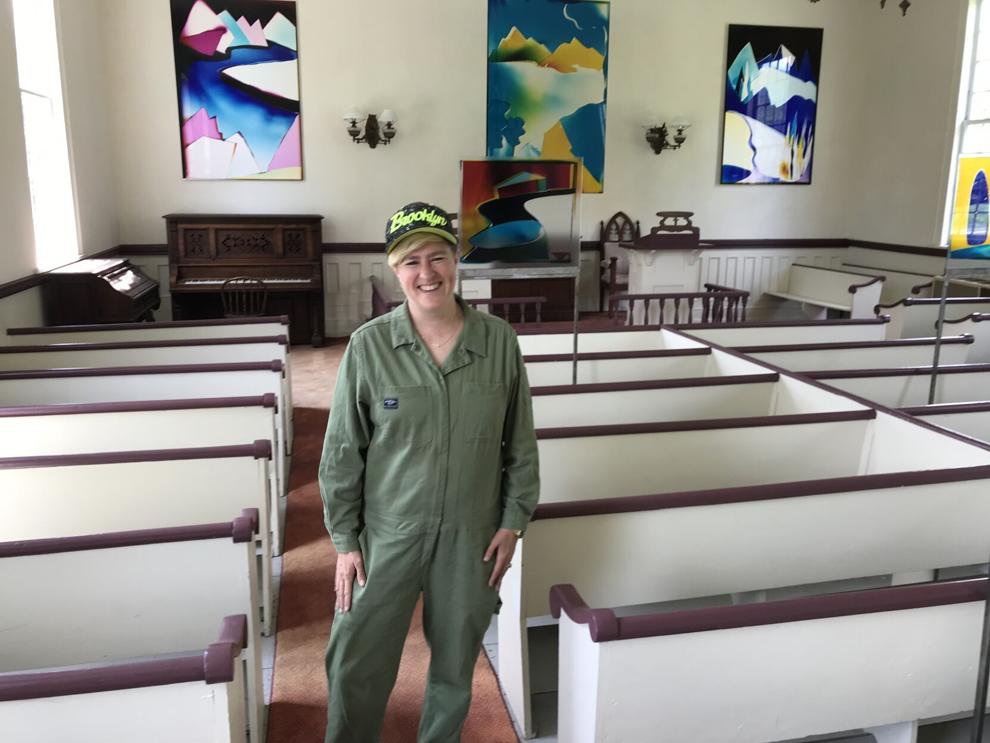 The current exhibition — there's a new one every month through September — features "Spooky Action," a solo show by artist Liz Nielsen of photograms that look like stained-glass landscapes, the intense colored glass that graces the windows of many churches and cathedrals having migrated to the walls and pews in the center of the church.
Next month, there's a group show of British-American artist Stuart Farmery's playful painted wood and concrete sculptures, as well as works by Alon Koppel, Zach Neven and Eric Wolf. The gallery is open Saturdays and Sundays from noon to 4 p.m.
Not all the art may be to the taste of the town's residents, but Ryan is OK with that.
"They can hate it or love it, but they're having an interaction with high-level contemporary art," he observed. "At least the whole community is getting to experience it. For free!"
And even when the church is closed, one can stroll the grounds, decorated with sculpture, as well as the early-1800s one-room schoolhouse. The school has a separate structure that some connoisseurs might also consider art, but of a strictly utilitarian kind: two well-preserved, if nonfunctioning, outhouses.
Ever the ambitious weekender, Ryan Turley has his eyes on those, too.
"It would be great to rehabilitate them," he said.
This story has been modified to correct references to Robert Herron and the Robert Herron Trust.