GHENT, N.Y. — It's the unintended detours that sometimes create the most enduring road trip memories. That's what happened when we found ourselves veering west rather than continuing north on Route 101 from Carmel to Napa.
Within minutes we were in an industrial flatland extending to the shores of the Pacific Ocean. Except in this case the industry was fruits and vegetables. Without knowing it we'd stumbled into a region I knew intimately from John Steinbeck's novels — the fertile Salinas Valley.
Steinbeck was largely responsible for turning me into a reader and perhaps even a writer. It started in middle school with "Of Mice and Men." I wasn't much of a book lover back then but the novel had the advantage of being a novella, and instantly seductive in the ability the Nobel Prize for Literature winner had to strike a delicate balance between the feral and the spiritual.
I didn't have the same relationship with "The Grapes of Wrath," the author's most celebrated, if not necessarily most approachable work. I didn't read it until years later even though it was assigned in high school English class. My recollection is that I bought the Monarch Notes, which I'd always found meatier than Cliff Notes, and managed to fake my way to a "C+" or even a "B-".
But "Of Mice and Men," the story of George and Lennie, two migrant farm hands during the Great Depression, was a page-turner. For those who can't immediately recall the plot, Lenny was mentally disabled and didn't know his own strength, especially when it came to accidentally crushing his beloved bunnies. When he does the same thing to the farm manager's flirtatious young wife, breaking her neck, George murders him, believing that more merciful than leaving him to the approaching mob.
I looked up the book recently and probably shouldn't have been surprised to discover that it's regularly on the banned book list put out by the American Library Association. Why? Because of vulgarity, racism and treatment of women. It's also been challenged because of its profanity, depressing themes, and even sublimated homosexuality. I missed most of that. Whatever the novel's provocations it seemed in service of a larger truth that opened a 13- or 14-year-old to the power of literature.
Another Steinbeck novel set in the Salinas Valley was the generational saga "East of Eden" with its correspondences to the Bible's Cain and Abel story. Steinbeck considered it his magnum opus. I suspect the censors might take issue with aspects of that novel as well — my recollection is that one of book's most memorable characters was a whorehouse madam.
But it wasn't "East of Eden" or "Of Mice and Men," for that matter, that I most associated with Steinbeck as we made our way up the Pacific Coast Highway from Big Sur to Carmel and beyond. It was his series of lighter novels and works of nonfiction that took place along the wharfs of Monterey, teeming with marine as well as colorful human life. "Cannery Row." "Sweet Thursday." "The Log from the Sea of Cortez."
I wasn't naïve enough to assume I'd find the setting of those novels unchanged or its denizens still scratching out a subsistence existence the way Steinbeck's characters did during the immediate post-war years. But places like Point Lobos State Natural Reserve, with its seals, seabirds and diamond cut cliffs seemed the pristine embodiment of the writer's passion for the natural world, even if it was more highly trafficked than when he was alive.
By the 1960s he knew the wild coastline was endangered, a victim of its own allure. When I stepped into Carmel's bakery in search of breakfast one day last week I found a wistful Steinbeck sentiment printed over an archway, next to a triumphant photo of Clint Eastwood, apparently after his 1986 election as the town's mayor.
"If Carmel's founders should return," Steinbeck had written in "Travels With Charley" in 1962, the year he won his Nobel, "they could not afford to live there, but it wouldn't go that far. They would instantly be picked up as suspicious characters and deported over the city line."
I'd second that. So perfect does the town seem with its shaded storybook main street, smart shops, tourists, Teslas and welcoming public library — a fire burning in its fireplace on an unimprovable if crisp spring morning — that's it's almost impossible to imagine that the region could ever have suffered Steinbeck's unglamorous rabble. The author would probably have been even more affronted by Monterey. The Cannery Row he'd made famous now served as the fulcrum for an endless succession of souvenir shops and seafood restaurants. The problem with unintended detours, if you're tempted to be on the anxious side, is that it's impossible to completely give yourself over to the adventure. There's always the fear — largely unwarranted in the days of GPS — that you'll never find your way back to where you're going.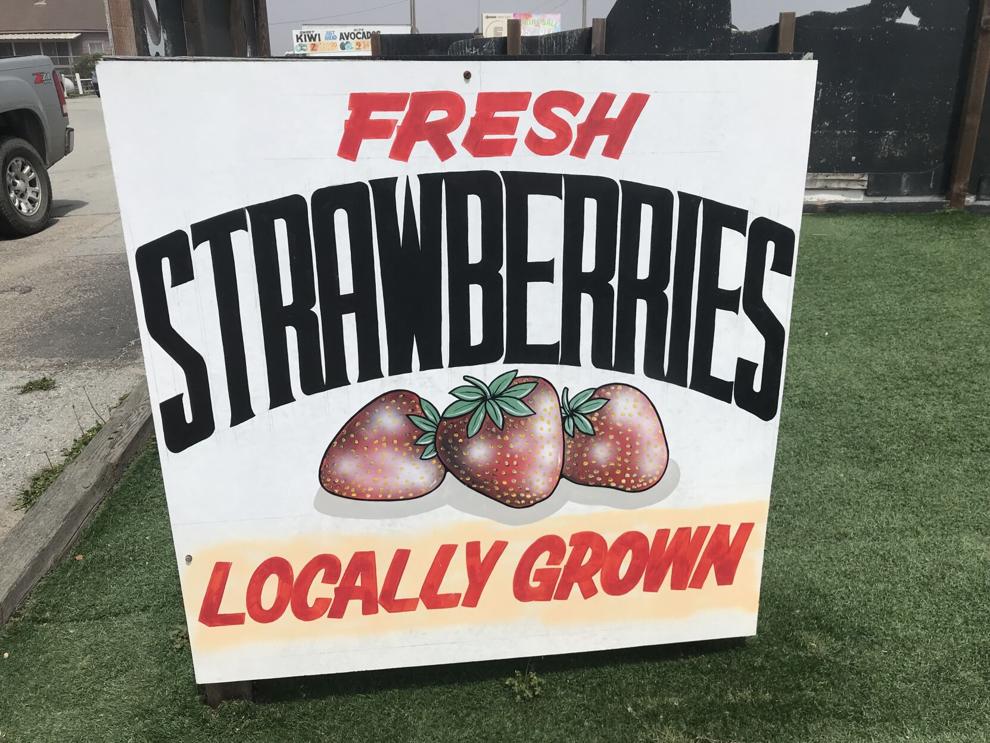 That's also why I'm loath to pull over unless the attraction is so alluring it's impossible to resist. That's what happened in Salinas when we spotted a fruit stand just off the road. Not any fruit and vegetable stand. Probably the most bounteous farm stand I'd ever seen. It may not as been as picturesque or curated as those in the Berkshires or the Hudson Valley but it seemed the resulting cornucopia for all those fields filled with crops as far as the eye could see.
Papaya, mango, pineapples, avocados, honeydew melons, cantaloupes, artichokes, strawberries. There must have been a half dozen varieties of oranges alone. And the prices were unbelievable. Seven large lemons for a dollar. A bushel bag of naval oranges for less than four bucks. We loaded up on as much as we could, including artichokes after wondering how you're supposed to cook an artichoke and whether it makes any difference if we failed to muster a dipping sauce?
As we drove off, soon to retrace our way back to the highway, I thought I had a slightly better understanding of Steinbeck's novels, the fertile earth from which they sprung, and the merits of taking wrong turns.