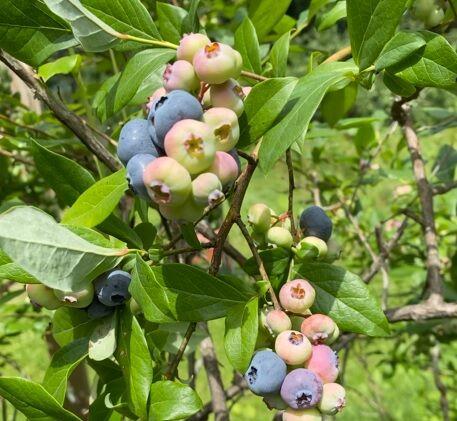 RICHMOND — Pre-season and post-season have their painful moments, but aside from that, blueberries win first place as the easiest, most carefree producers in the garden here.
Given them a little fertilizer in the spring and, sometimes, a little dose of ammonium sulfate — and then wait for them to ripen.
The painful part, fore and aft, of course is putting up the anti-bird nets and then taking them down. It's a project best done with friends who are tall, have long arms and retain their senses of humor throughout the process, even if it's just stinking hot out there. This year, we had 70 degrees and a breeze, a rarity.
The berries do like water, and they're not so hot on terribly hot and humid weather. For a couple of Augusts, part of the crop just kind of melted into mush overnight. This year, while the pumpkin plants are treading water just a few feet away, the blueberry bushes are happy, the berries huge, the clusters full. Barring a bear invasion or natural disaster, it should be a good year.
Our season, if all goes well, lasts a long time. My husband, avid researcher of everything, purchased several kinds of blueberries to get extra time, and a couple of years, we picked enough in early October to sprinkle them on cereal. Right now, the ripe ones are on four bushes of the dozen or so, so his plan is working.
We did try strawberries for several years decades ago. We liked eating them and hated weeding them. Also, the birds made holes in a lot of them right through the nets. One year a sparrow built a nest in the middle of the bed and didn't have to move to get breakfast. We also tried raspberries, which were welcomed by swarms of Japanese beetles that damaged many berries. Again, wildlife moved in — a porcupine took up residence in the raspberries and ate more than his share.
Admittedly, it took a while to adjust to my husband's insistence on many blueberry bushes. Blueberrying was an all-day adventure for my grandparents, great aunts, father, mother and brother. I liked the picnic part, hated the heat and sneezed my head off in the field of high bush blueberries somewhere in Franklin County. "Just cover the bottom of the pail," my grandmother would say quietly after everyone else had tried to force me to pick. So I did and then sat in the shade and ate them.
But it turned out to be fun to pick for 15 minutes or an hour, whatever you chose, because the rest of the berries would still be there tomorrow. Now I like picking, except for the current worry about ticks (haven't seen any yet). And the net so far is secure so there've been none of those frantic efforts needed when a bird makes a mistake and gets in there. One year it was three immature Baltimore orioles who scaled the ramparts and flew about in a tizzy while their parents sat in a nearby tree and scolded. We eventually set them free.
And the harvest? Blueberries on cereal, blueberry pie, blueberries in the freezer, blueberry jam, my sister-in-law's blueberry cake, blueberry muffins and, last week, for the first time, blueberry crisp with a dollop of whipped cream. The weather has been unkind this spring and summer, with standing water last week between the rows of vegetables, but so far, the blueberries have eaten it up. And we're eating them.