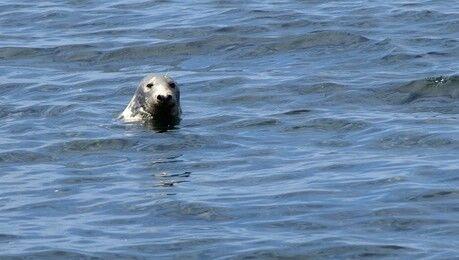 RICHMOND — Next chance you get, take a boat. If you don't have to steer, paddle or row, you can just relax and enjoy the slap of the water, waves and wavelets.
It's a time to absorb quite a different view of the land from what you've seen while standing on asphalt.
We've had breakfast on a felucca on the Nile and dinner on the Seine, hopped on and off a river taxi in San Antonio, communicated without talking one Sunday afternoon on the Moscow River, explored bayous in Louisiana, driven ourselves on the Intracoastal, taken innumerable ferries in New Brunswick and watched a glacier calve in Alaska.
Each time, whether in another country or nearer home, the enchantment is renewed. Psychologists, psychiatrists and ordinary humans agree that water is calming, that sitting on a beach, hearing waves through an open window or being on a river, pond or sea lowers stress in our tense 21st century lives.
Instinctively, humans seek water, even those of us born inland. But even as it calms, water also revs people up. A century of ship's captains from Italy to Spain couldn't stand looking at the Atlantic without wanting to see what was beyond the horizon. They felt the pull of the ocean and abandoned the safety of land and family to sail toward lands previously unseen by Europeans.
Even our vocabulary reflects our affinity with water. We embark on projects, sail kites, meet a wave of resistance, put the car in cruise mode, harbor a grudge, go with the flow, buck the tide, launch an idea and say things like "that ship has sailed" when it's too late to act.
So, when a birthday gift offered a Cape Cod cruise we'd never heard of before, five of us appeared on the dock at Harwich Port and hopped aboard the Perseverance with Monomoy Island Excursions. It was a perfect morning, sunny and breezy, the water quiet. We motored in and out of little harbors, listened to a little history from the narrator and realized that for a tiny area, Cape Cod has a lot of coastline.
As inveterate birders, we did take note of cormorants, black-bellied plovers, gulls and dowitchers, but we were mostly interested in the gray seals who seemed equally taken with us. When we reached an area of shallow, very clear water — thin blades of green grass waved on the bottom — we learned that the seals were safe here from the great white sharks that consider them a tasty lunch. Sharks need deeper water.
Some of the seals were close to our boat, just their rounded heads and dog-like faces above water. They seemed to be vertical, and it turned out they were. These animals, some as large as 8 feet tall and 800 pounds, can stand for as much as 20 minutes. They push their tail fins into the sand, our boat naturalist said.
Everyone on the boat was entertained by these creatures who stopped, stood and stared at us. We've been concerned about them ever since great white sharks came north in greater quantities and started hunting the seals. But naturalists say not to worry: Estimates place the Cape's seal population at 30,000 to 50,000, a long way from being threatened as a species.
We were on the boat for an hour and a half. It was definitely calming, a great way to get in the swing of sitting on a beach and reading a book. In addition to the entertaining seals, we learned a little history of the harbors we tucked into.
Our big water adventures have included floating the Snake River in Wyoming, reading Twain on a Mississippi steamboat and nearly freezing while cruising Finland's archipelago, each simultaneously stimulating and soothing. But a little Cape trip will tide us over for a while.