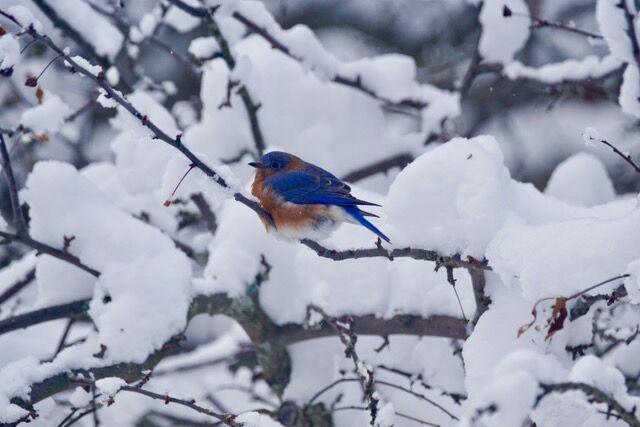 RICHMOND — 'Tis the season when optimists make resolutions.
It's also when the new bird list begins, the 18th year it's lived in the computer here. And it's the first time a bluebird is listed on Jan. 1, inspiring a smile and a ray of hope for the 365 days of the newest year.
His blueness a little subdued in the foggy gloom, he perched on a winterberry shrub with just a few berries left, picked off a couple and went on his way.
Perhaps he was one of the birds hatched in this bluebird-oriented neighborhood last spring and knew two winterberries had been planted there solely to see bluebirds from the kitchen window. He was the first to oblige.
Actually, two winterberries, both female, grow on that slope because the one out front has lured bluebirds in the fall and winter-over robins in January. (The male plant, required for pollination, is planted 50-some feet away in a flower garden.) The newer shrubs, natives to New England, had no berries the first two years, apparently settling in, or perhaps not getting enough attention from the bees.
To link hope to a bird species might sound absurd. But lots of American bird-watchers share a feeling that bluebirds bring luck and happiness. And we're not alone. The bluebird has an age-old link with many cultures. One of the oldest examples of attachment to a mythical blue bird was through inscriptions in the Shang dynasty of China (1788-1122 B.C.). The blue or green bird was considered a messenger bird for a fearsome queen.
In Korean legend, bluebirds flutter around humans and report back to the gods. Many children's books, from all over the world, tell bluebird stories. Native Americans have many tales that center on bluebirds, with one from the Cochiti tribe claiming that the first-born son of the sun was named Bluebird. Who knew the sun had a son?
I never even heard of the Cochiti, until I was led to them by a bluebird, but some 1,200 of them preserve their language and culture in a pueblo by the Rio Grande in New Mexico. The more familiar Navajo consider the mountain bluebird a spirit in animal form associated with the sunrise and have a special bluebird song to be sung at dawn.
Bluebirds also appear often in Native American art. And in the Native Americans' ever-present awareness of what nature can do when humans make space for it, some tribes hang hollowed gourds over refuse piles and meat drying areas so the bluebirds will have a place to nest. In return, the birds dine on the bugs that are attracted to the aromas.
This new year is the first time I've ever seen a bluebird anywhere in January, or at least in the past 17 years of recording such. My earliest sighting in the Berkshires was April 1999, but first sightings in many years was in places like Seabrook Island in South Carolina, Folkston, Ga. and Leesburg, Fla.
A memorable one was at historic Appomattox Court House in Virginia where we stood on the road where General Lee surrendered to General Grant and ended a terrible war. As we turned back toward the car, a bluebird landed on the fence. A sign of hope? It was a lovely sight on a grim site.
New England's own Emily Dickinson, ever watchful from her self-limiting perch in Amherst and so conscious of what nature placed around her, has a beautiful poem about the annual return of the bluebird, the color "a little weather-worn," but arriving "before you thought of spring."
Happily a few intrepid bluebirds winter in the Berkshires, one of them visiting me, a messenger of optimism for 2022. If resolutions be made, may one of them be a new willingness to stop, look and listen. Seeing bluebirds, smelling roses, hearing people.