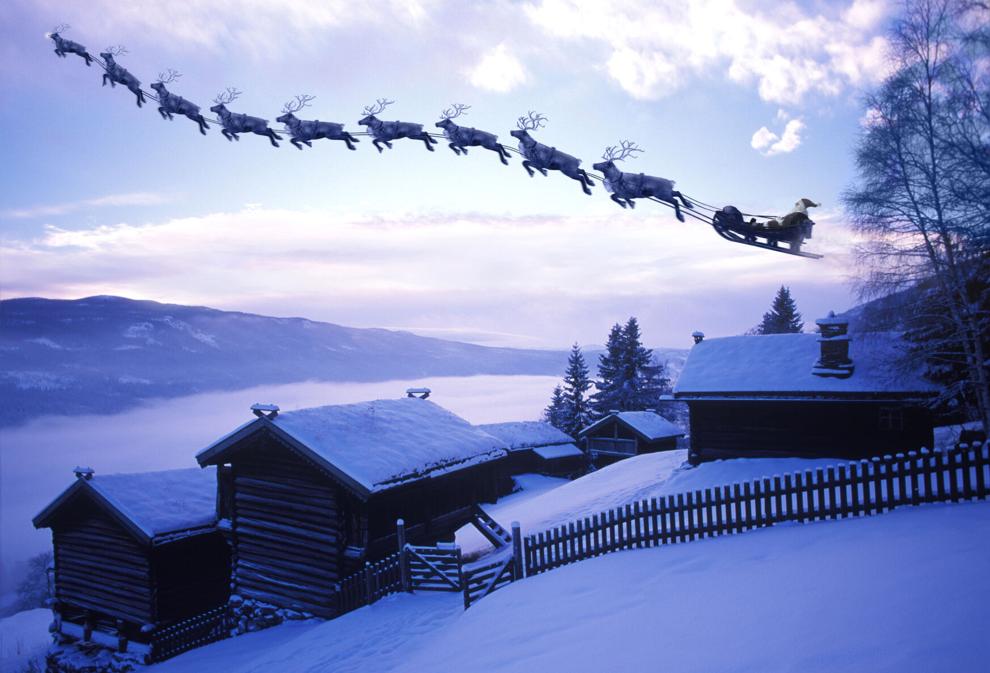 'Tis just four days till Christmas and in Santa's Pole house, the elves are all stirring, no time to grouse.
They know their good work will bring shrieks of joy, as St. Nick makes deliveries to each girl and boy.
The elves have spent hours reading Santa's big books; now they've printed out lists of both good kids and schnooks.
Santa loves all the naughties as much as the others, fills every stocking for sisters and brothers.
Despite parents' threats that "Santa won't come," he'll zip down chimneys with tremendous aplomb.
He'll get to the kids in the state of Kentucky, and all other states where they've been more than unlucky.
While it's quite true Santa lives in a bubble, he'll guide his reindeer in and out of the rubble.
It makes him so happy to see earth people scurrying, kids doing their chores with a great deal of hurrying.
It's the week when they pop right into their beds, letting visions of presents dance in their heads.
Then, suddenly frowning, Santa sent out a text, telling elves that this Christmas, he's also quite vexed.
The children are fine; instead it's grownups galore, who've been selfish and awful and so much more.
He called for a new list — "Just ferret out those who've abandoned the nice. Too many folks have put good deeds on ice."
It's a container of coal in the sleigh to be packed, next to dolls, balls and trains, already stacked.
The elves, ever willing, are shaking their heads, weary from work, so ready to crawl right into their beds.
But Santa is Santa, so they bend to the task, knowing the big day is near and they'll soon in beds bask.
They've ordered the coal from someone named Manchin, a man who appears to be stuck in a stanchion.
They've put on the list a Mister R. Paul, whose vote months ago caused a state of appall.
No need to help some storm-damaged place, Mr. Paul had announced, with no trace of grace.
But his hand is now out because the tide made a turn, and his state has been hit with a tornado's churn.
Santa's scowl turned to dozens in central D.C., where selfishness reigns in alarming degree.
His coal list will encompass them all, from Jordan to Greene — plus those who saw tourists in Congress's hall.
He's worried to pieces about this year's new twist — the millions and millions on the no-vaccine list.
But he has a plan to address this new wrinkle — on that entire lot, he'll drop an impressive coal sprinkle.
He finds this whole group a little depressing, but has little hope of any digressing.
With the baddies now programmed, his face shows real mirth, He's excited to bring cheer to folks all over Earth.
So, laying his finger aside of his nose, in a state of compose, he heads to the stairs to try on his red clothes.
He'll soon be off yet again, with Comet, Dancer and Blitzen, with Cupid and Donner, with Prancer and Vixen.
For the Foggy Bottom foray, Rudolph's nose will give light, his bulb all a-twinkle the rest of the night,
As Santa again fights a fast-moving clock and makes joyful rounds to each hanging sock.
Warm in white fur from his head to his foot, he doesn't mind tarnish from ashes and soot.
With a bundle of toys slung over his back, he'll tumble down chimneys with his usual knack.
A few of the sleepless might see part of his flight, might hear him shout, "Merry Christmas to all and to all a good night."
But most will be sleeping, till the kids all wake up, to squeal about stockings, all filled with stuff.
The elves will be snoring — they've had quite enough.