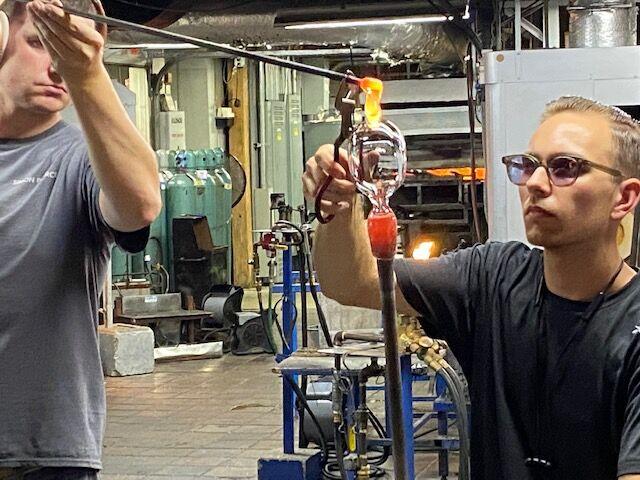 RICHMOND — It's hard to know what to do with 10 beautiful baguettes that you and your daughter have created in a class.
The instructor has already said, first, that you can't bite the warm bread in class and, second, that the loaves are at their best within the next two hours. We were staying overnight in Vermont, so both parts of that news were dismaying.
But we had a tiny break while our dough was rising — proofing, they called it — so we took one of the first baguettes into the hall, greedily broke off chunks and ate. Delicious. As tasty as they looked with our neat, parallel slashes along the loaf. We still had four to go in that first batch, but our mouths had stopped watering. They were, the mouths, quite dry, in fact.
At the end of our four-hour King Arthur class in which we slapped lovely baguette dough against our wood tables, we headed back to the Norwich Inn. We were a little concerned about our dinner reservation on the outdoor patio at 7. It had rained hard while we were baking, and the tarp over that patio had looked flimsy at best.
Not to worry. Before she took our order, our waitress took a pole and poked the tarp, sending a cascade of water onto the hotel driveway. And she said, "Of course," when we waved a baguette at her and said we were desperate for butter. The inn's wait staff had to be quite accustomed to diners bringing English muffins, pie and naan to the table — the school was only five car-minutes away.
We gave a couple of loaves to a friend who joined us for a drink on the inn porch and went to bed with only six left, tightly confined in brown paper. Once home, briefly warmed in the microwave, they turned out to be fine, despite the expiration time given at the school. No doubt the French have the same definition of fresh and edible.
For visitors, Norwich, Vt., sits close to many places to go, including beautiful Woodstock. We opted for a quick drive around Dartmouth College, just across the river in Hanover, N.H., and a lengthy stop at Simon Pearce in tiny Quechee, one of the villages of Hartland, Vt.
A native of Ireland, pottery and glassmaker Simon Pearce learned his craft in Kilkenny, then came to Quechee in 1981 and set up his hydro-powered factory beside the Ottauquechee River. We strolled around, enjoying the unbelievable roar of the water plunging over the dam, the covered bridge and a peaceful walk up river from the noisy falls. Plus the glass blowing.
With furnaces going and glass blowers at work, it was fascinating to watch a wine glass emerge from a blob of molten glass. The artisan was seated not far from visitors along the rail, but his concentration was such that he'd never have noticed a shout or a sneeze.
Across the room, another craftsman was turning glass in a furnace and, with perfect timing, crossed the room to add his work to the man near us. This partnership continued for several minutes as the wine glass emerged. It's a mesmerizing process as they create pieces that sell for astronomical prices upstairs: bowls, chandeliers, wine and whiskey glasses, lamps. In that shop, you keep your elbows close and don't back up. It's a world of sparkling fragility.
Also upstairs is the well-known Simon Pearce restaurant where the waterfall outside may drown out conversation but apparently doesn't quell visitors' desire for the gourmet food served. We could not try it — the virus at work again
But we had managed an indoor baking class, masked and distanced and a pile of baguettes. And one still lives in the freezer. Still tasty?