The threats were made to Pittsfield High School, Drury High School in North Adams and Monument Mountain Regional High School in Great Barrington. Each was deemed to be a hoax, and police said similar threats have been made this morning at schools around the commonwealth.
The day after a deadly Nashville school shooting shocked the nation, threats phoned in to three Berkshire schools brought those fears home to parents across the county.
Tuesday's threats turned out to be a hoax. But the stress and anxiety was palpable among students, parents and administrators alike, not only in Pittsfield, but also in North Adams and Great Barrington, where similar threats were made to two high schools.
Thankfully, the threats received Tuesday by Drury High School in North Adams, Monument Mountain Regional High School in Great Barrington and Pittsfield High School were false. They were linked to a widespread hoax targeting schools across the commonwealth, according to authorities. Still, by the time police arrived at the schools and gave the all-clear, it was a massive disruption for countless students across the county. Worse, it was traumatizing for not just students but their parents who had to wait what seemed like an anxious eternity to find out whether their kids the latest victims of our nation's shamefully perpetual tragedy.
We feel for all those families, especially those in the Monument Mountain school community for whom Tuesday's scare marked a dubious distinction: It was the high school's second lockdown in response to a hoax call in just over a month. While this cycle of carnage and fear does not affect all Americans equally, we are all trapped within it. The Covenant School shooting in Nashville, which left seven dead including three 9-year-olds, was the 130th U.S. mass shooting event so far this calendar year. It also was the 19th shooting at an American school or university in the same period.
Compared to our first-world peers, America sacrifices an obscenely large fraction of its populace to the predictable results of firearm proliferation. We are, at once, the only industrialized country routinely facing this problem and the only country with more civilian-owned guns than civilians. According to the Small Arms Survey, the U.S. has 120.5 civilian-owned guns per 100 people — almost 3.5 times as many guns per capita as the next industrialized country, Canada. These population numbers include babies and children.
While attacks on schools and other high-profile mass shooting events make up a small fraction of total U.S. gun fatalities, they nevertheless loom large in our collective concerns — and for good reason. It is especially heinous that American families must helplessly watch as this bloodletting, callously dismissed as inevitable, regularly steals the lives of children and their caretakers in the spaces where we send them to feel safe and nurtured.
In the wake of these all-too-frequent massacres, the voices of reason grow hoarse in pointing out that any country with more guns in circulation than people and a demonstrably insufficient mental health care system courts disaster. Then, there is the backlash and whitewash, largely stemming from politicians whose campaign coffers overflow with gun lobby contributions: It's not the guns, it's just mental health, and it is disrespectful to discuss gun safety at this time. Then, after the national pain numbs, those same politicians almost universally oppose the social spending required to systemically upgrade the sorry state of American mental health care.
But this is not a zero-sum game. We need better controls on the wide availability of assault-style weapons and better mental health practices and access — not the insistence that those are either/or propositions.
Before attacking a school and being killed by police, the Nashville shooter purchased seven guns over the last three years and recently was treated for an emotional disorder. Three of those guns were wielded Monday against 9-year-olds and their educators. Tennessee does not have a so-called red flag law, which in Massachusetts and other states allows authorities to temporarily seize guns from someone who is believed to be a threat to themselves or others. Firearms are the leading cause of death for children and adolescents in America, although our commonwealth's common sense gun laws contribute to the lowest gun death rates in the nation. Should children in Nashville and Uvalde and Parkland be less protected than children in Massachusetts? Should some American families be disproportionately exposed to the unimaginable grief of losing a child to senseless violence?
We think not. Yet the toxic intransigence of our current political environment makes the likelihood of real change and sensible federal policy depressingly low. The carnage will continue; so too will the fear. In the wake of a shooting like the one in Nashville, Americans drop off their kids at school and force to the back of their minds the question of whether it's their turn to get the worst call of their lives later that day. After heartless hoaxers on Tuesday made phony threats to schools across the state, parents gathered helplessly on the steps of Pittsfield High School, praying for the best but fearing the absolute worst.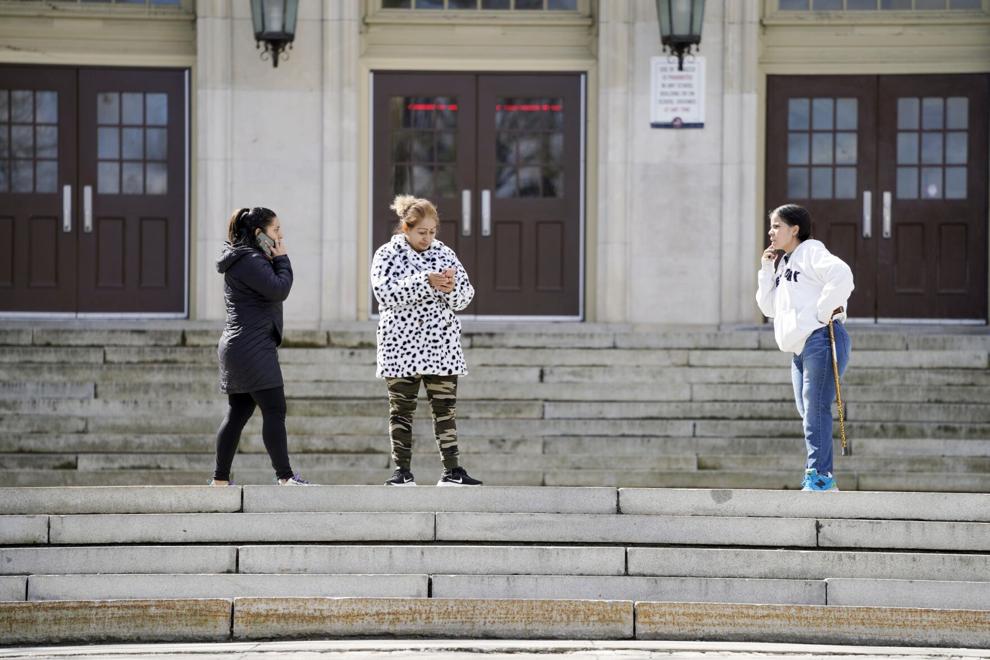 What risks must those parents and our communities face, and what if anything can be done?
We must have the political will to put our money where our mouth is on mental health care. Nearly everyone, regardless of ideology, acknowledges that the under-funded, patchwork system in place is broken, allowing far too many Americans to slip through the cracks of society and become threats to themselves and those around them. But even the best-laid plans to repair those cracks amount to long-term goals, and our communities are forced to deal with the realities of school shootings and fake threats here and now.
Some back school resource officers or more robust security systems at schools. Like any mitigative effort, trade-offs must be observed and weighed. Creating fortresses out of schools and the increasing ubiquity of active shooter drills have their own effect on the mental well-being of school children. And the question of whether municipal budgets are best spent beefing up police patrols of schools rather than putting those resources toward more teachers and other in-school supports for students is one that safety advocates should weigh carefully. We say this not to down Pittsfield's recently broadened SRO program but to stress that, like any public safety program, the city's school district should have sensible rubrics for how to judge its success, and the school community in turn should have thoughtful conversations about how it is meeting those expectations.
After a tragedy like the one in Nashville and the fake threats to several Berkshire districts, school communities are left with questions we never wanted and too few answers. If you see something, say something — and our thoughts are with hurt and scared parents everywhere who deserve far more than such platitudes from our leaders.