PITTSFIELD — A penchant for helping others — rivaled only by their collective passion for medicine — is tightly woven into the fabric of the Tracy family.
In 1949, Dr. Robert J. Tracy, M.D. came to the Berkshires where he became Chief of Surgery and Director of the surgical residency training program at Berkshire Medical Center; his mother, a nurse at the former Miners Union Hospital in Telluride, Colo., paved the way; and his son, Dr. Stephen E. Tracy, M.D. — who spent more than 30 years at Fairview Hospital in Great Barrington — carries the torch today.
"Growing up, helping the community— and contributing to their well being — was a highly-regarded value in my upbringing," says Dr. Tracy who, with his wife and two grown children, is at the helm of Berkshire Cannabis Connect, a small family business of medical professionals keen on increasing their patients' quality of life through the healing power of cannabis.
An epiphany
This small but mighty team — including Stephen E. Tracy, M.D.; Barbara Tracy, MSN-FNP; Cynthia Merriott, LPN; and Nathan Tracy, patient care assistant — believes the key to any good remedy is being both natural and effective. Collectively, they have launched Berkshire County's only local, family-owned, medical cannabis practice that evaluates, then prescribes, patients an MMJ — or medical cannabis card.
The idea came as somewhat of an epiphany. Dr. Tracy, who retired from emergency medicine in 2018, quickly realized he wasn't ready to stop caring for the residents of Berkshire County and beyond. This, coupled with dissatisfaction over the growing corporatization of healthcare — and increasing evidence that pharmaceuticals can often cause more side effects than relief — presented a logical opportunity.
"Why don't we start our own business?" Barbara says of the emergent rhetorical question. Their model grew from a solid foundation: cannabis has been proven to provide significant benefits when used medicinally; it is both safe and natural; and medical cannabis certification provides patients access to the best products on the market. Plus, freedom to give patients the time and care they deserve.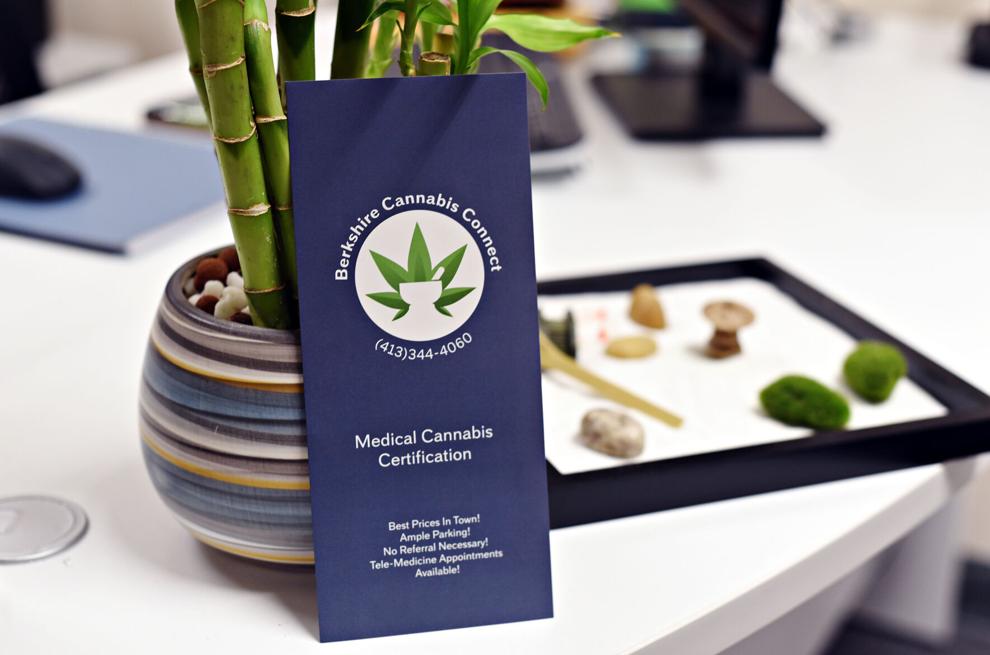 Cannabis and healing
Cannabis has been part of healers' pharmacopeia for thousands of years. Today, doctors understand the endocannabinoid system (ECS) to be responsible for regulating a multitude of key bodily functions. The human body produces cannabinoids naturally, and endocannabinoid receptors are spread throughout the body (largely in the nervous system and immune cells). Different endocannabinoids target and bind to different receptors in order to trigger a desired result, after which enzymes clean up the mess by breaking the endocannabinoids down. Scientists believe the ECS keeps the body stable and contributes to key functions — including immune response, metabolism, sleep, appetite, digestion, chronic pain, stress, nervous system function, motor function, mood, cardiovascular and musculoskeletal system function, liver function, reproductive system function, and more.
Understanding the benefits of cannabis for healing requires an understanding of how vital endocannabinoids are to the human body. When cannabis products are introduced, the body puts the plant cannabinoids to use as if they were naturally produced. THC, the main psychoactive compound of the plant, produces a euphoric effect; CBD, which does not produce the "high" associated with THC, helps alleviate pain, nausea, migraine headaches and prevents seizure activity, while CBN is effective in treating neurological conditions and their side effects. THCA, which has no psychoactive effects, has been shown to reduce symptoms of neurological conditions like MS, Parkinson's, Huntington's and ALS; it also helps reduce inflammation caused by autoimmune disorders such as Crohn's Disease. CBG, another cannabinoid, can improve symptoms of mental illness such as anxiety, OCD, depression and PTSD. Different chemovars, or strains of the cannabis plant, can have a number of these cannabinoids, making cannabis an appropriate choice for a growing range of illnesses.
Quality, compassionate care
"It is very difficult for individuals who are suffering to get relief from symptoms," says Merriott, of an all-too-familiar cycle of patients getting bounced back and forth, from specialist to specialist, without getting the personal attention they crave.
"People want to know they've been heard, that someone is listening to their complaints," says Dr. Tracy, referring to an increasing population who feel "lost, [and] left to navigate the healthcare system without obtaining any real satisfaction." This frustration, coupled with a new standard — 15-minute medical appointments — leaves many to opt for the ER (a less-than-ideal setting in which to properly treat patients with chronic concerns and underlying conditions).
"Education is really important," Barbara emphasizes, pointing to myriad patients — with myriad diagnoses — who, given time to understand their options, will respond to cannabis. At Berkshire Cannabis Connect, patients are given as much time as needed for a full evaluation, medical history, and education. For example, patients with an inflammatory condition such as arthritis may wish to avoid foods that exacerbate inflammation. Those interested in weight loss may find the Ketogenic diet useful to their efforts.
Stigma reduction
"We've come a long way," Dr. Tracy says, remembering 20-year jail sentences for possession of marijuana when he was growing up. Even earlier, during the Mexican Revolution (1910-1924), many fled to this country bringing marijuana. The arrival of Harry Anslinger on the scene — a radical proponent of the war on drugs who pushed both to criminalize cannabis and have it classified as a Schedule I substance (with no redeeming medicinal value) — created the stigma toward the substance. At the time, the AMA rallied against this in Congress seeing it as the removal of a time-honored and safe treatment modality.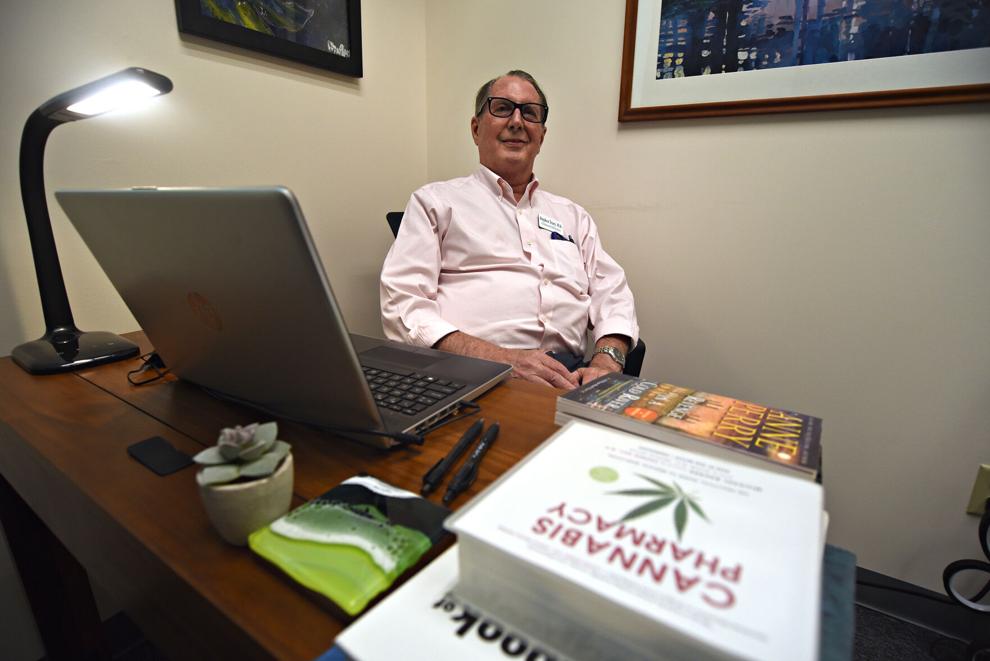 Today, a wide-range of delivery methods is normalizing cannabis use. "There are so many products offered, from edibles to THC-infused seltzer, placing less emphasis on smoking," says Nathan Tracy, patient care advocate. Coupled with the rise of CBD products, there are more choices than ever for consumers. "A lot of patients don't want to get high; they want symptom relief," Nathan emphasizes, "and CBD has gone a long way towards normalizing cannabis products."
Education reduces stigma as well. It has been proven that some illnesses, such as fibromyalgia, present with an endocannabinoid deficiency that cannabis use can replace. And anecdotal evidence abounds about the effectiveness of cannabis in treating glioblastoma multiforme (GBM), the most common and aggressive form of brain malignancy. Several years ago an oncologist referred a GBM patient to Barbara, for Rick Simpson Oil (a very concentrated form of cannabis), and — despite a prognosis of 18 months — this patient has been using the product for three years.
Planning your visit
Berkshire Cannabis Connect — located on the bus route, with no referrals needed and walk-ins welcome — promises a compassionate approach to each patient's unique situation. "We want to work with people in achieving their goals," Dr. Tracy emphasizes. The $150 certification fee (and $125 yearly recertification fee) not only delivers peace of mind from a medical doctor evaluating patients and advising them on which products to try, but also includes three follow-up visits or phone consultations, free of charge.
"Everyone is affected differently by cannabis," Barbara says, hence her suggestion that patients keep careful notes. After just a few weeks of recording what products one takes, when taken, and how each made them feel, patients will find themselves, "able to identify what combination of products is most effective."
Dr. Tracy and his family continue to educate themselves at a rapid rate with a single goal in mind: to effectively utilize medical cannabis against the host of medical issues his patients bring to the proverbial table.
Ready to find a natural way of healing for what ails you? Consider a visit to Berkshire Cannabis Connect today, where the experienced team of medical professionals has a passion for cannabis, and helping others, that's infectious.
Visit Berkshire Cannabis Connect in Pittsfield at 703 W. Housatonic St., Suite 209, 413-344-4060, and online at berkshirecannabisconnect.com.
---
PLEASE CONSUME RESPONSIBLY. This product may cause impairment and may be habit-forming. For use only by adults 21 years of age or older. Keep out of the reach of children. This product has not been analyzed or approved by the Food and Drug Administration. There is limited information on the side effects of using this product, and there may be associated health risks. Marijuana use during pregnancy and breast-feeding may pose potential harms. It is against the law to drive or operate machinery when under the influence of this product. KEEP THIS PRODUCT AWAY FROM CHILDREN. There may be health risks associated with consumption of this product. Marijuana can impair concentration, coordination and judgment. The impairment effects of edibles may be delayed by two hours or more. In case of accidental ingestion, contact poison control hotline 800-222-1222 or 911. This product may be illegal outside of Massachusetts.