PITTSFIELD — Since the end of World War II, the leadership of BBE Office Interiors has been making business decisions to align with market changes.
In 1945, its founder, the late William Pomerantz, began building the original printing, office and supply company into what it is today — office furniture and interior design. When Rob Proskin took over, he used innovative technology in the furniture design industry to implement cutting-edge business philosophies and practices. Now, Dan Proskin, Rob's son, is leading BBE through these changing times of major market disruption.
"COVID-19 turned the entire world upside down. As it begins to return to normal, BBE is once again molding the company to address the seismic shifts that have occurred," says Dan Proskin, company president.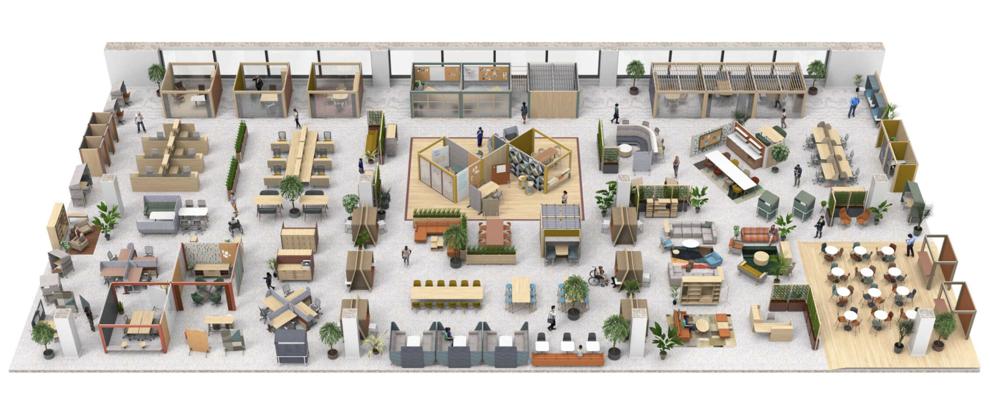 Planning for the future with adaptable solutions
With the return to work, school and everyday life, BBE has the trained design and ergonomic specialists to guide clients in its three core markets — education, health care and corporate — to redesign, furnish and adapt their spaces for the new normal, post-pandemic.
"The number one priority in the education market is safety. BBE provides design practices for social distancing in the classroom, lounges, dorms and throughout campuses so students can safely return to school," says Proskin.
This requires modified seating plans with taller dividers and shields, as well as planning for safe traffic flow throughout spaces. BBE also considers this market's top priority — designing educational spaces for K-12, colleges and universities — to promote learning: functional, comfortable and ergonomically safe academic settings for students, faculty and administrators.
In the health care market, "clean equals safe," Proskin notes, and there's nothing more pressing these days than cleanability and sanitation.
"Another top priority for hospitals, cancer centers and private practice groups is to provide spaces that are warm and comfortable for the patient, to promote healing. BBE designs patient rooms that feel like the comfort of home, waiting areas that are welcoming and provide long term comfort and durability, as well as OR and ICU units that meet the highest safety standards."
Proskin says that having the right furniture made from the right materials is also key. Bleach-cleanable faux leathers and vinyl are popular solutions for seating products, as well as copper-infused mesh products, he notes. Copper acts as an antimicrobial agent, which naturally kills viruses and bacteria.
The corporate market will experience significant shifts, Proskin and other experts note. A McKinsey study from 2020 outlines the need for reconfiguration: A survey of 278 executives found that on average, they planned to reduce office space by 30 percent.
"This will require restructuring and reuse of what were big, open office spaces before the pandemic. Instead, we predict a move back to cubicles and dividers to accommodate social distancing," says Proskin. "Hoteling, a practice that offers employees everything they need to work, in a shared environment, when they don't have a workspace of their own, is also trending."
New technology and products in furniture design will play a big role in each of these distinct markets. For example, private acoustic booths impact the way we hear each other. Private workspaces change the way we see each other, ergonomically safe equipment changes our physical posture and workflow design changes will modify face to face communication and meetings.
A focused approach to growth
BBE's market specialization addresses these complex shifting models for clients, says Proskin.
"Knowledge is king. The more my team knows about an industry segment, the more we can tailor solutions and products, and recommend new technology to meet their specific needs and primary goals. That's what's leading our growth strategy," Proskin says.
BBE is unique in its technology investment, ergonomic expertise and innovative design standards, and it has paid off. The company's superior reputation in the educational, health care and corporate arenas has helped it reach a broad base of clients in Berkshire County and beyond.
"Now we serve the Pioneer Valley with plans to expand throughout New England," Proskin adds.
BBE's growth is reflected in its current branding campaign, which includes the company's all new website and its renovated 28,000-square-foot expanded showroom featuring a selection of state of the art office furnishings.
Change offers opportunity
"COVID-19, shifting models, new technological advances: These are uncharted territories, but BBE has used market disruption as an opportunity to address new industry demands. And that's been going on for 75 years, three generations strong," notes Proskin.
BBE's turnkey solutions provide everything from design renderings and specification development to the right office furniture and ergonomic tools to meet design, productivity and workflow goals.
Projects are handled entirely by BBE end to end, from design through expert delivery and installation to ensure quality control. The company works through commercial, urban, industrial and green architectural and design firms, or clients can use the BBE expert design team directly.
BBE Office Interiors is family-owned and operated. To learn more about the company, visit its website at bbeoffice.com, contact Proskin at 413-442-8217 or email dan@bbeoffice.com.