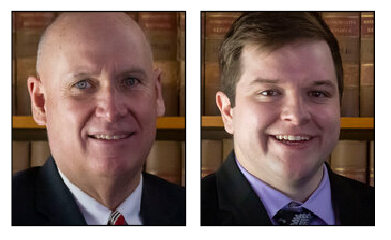 PITTSFIELD — Regardless of age, position in life or financial success, a well-tailored estate plan is invaluable to yourself and your heirs after you pass.
Often, when people think of end-of-life planning, the first thing that comes to mind is a will, or maybe a trust fund. While these documents are helpful in making sure your assets are left to the correct people, they don't do much on their own to help ease the process of settling your estate or protecting your assets for your loved ones. They also don't allow for anyone to help you during your life in the event of incapacity. The process of settling an estate via Probate Court can be very time-consuming and also expensive for your loved ones, only adding to the difficulties caused by grieving the death of a friend or family member.
There are many benefits to having a properly drafted estate plan, beyond avoiding court. From clients with young children who want to make sure they are taken care of in the event of an accident, to those with concerns about protecting assets from the state in the event of a nursing home stay, there are benefits to everyone in having an estate plan drafted.
You might have a modest estate and are looking to make sure the assets you've worked so hard for during life will be protected for your heirs, or maybe you have significant assets and are worried about estate taxes (of which Massachusetts has some of the highest in the nation): You, too, can benefit from a good plan.
What is probate, and why do I want to avoid it?
Probate is the process in which the courts get involved with the distribution of a person's assets after they die. In Probate Court, there are formalities that must be followed and hearings that must be attended, and approval from a judge must be acquired for every step of the process.
All Probate Court records are publicly accessible, and of course, all of this can get fairly expensive. It often takes over a year before assets are fully distributed to the heirs, and a law firm is likely to take a percentage of the estate for their fee.
It is possible to avoid this process entirely through careful estate planning. Join our seminar or contact us for a free consultation to find out how we can help you avoid the probate process and make life easier for your heirs.
Should I be concerned about estate taxes?
Massachusetts has some of the harshest estate taxes in the nation. If you have over $1 million, you will be subject to significant estate taxes. There are many things we can do to avoid these taxes and save significant expenses for your heirs. Using trusts to split assets among married couples, gifting during your lifetime and ownership planning for any business assets are all methods available to reduce estate taxes.
Aren't trusts just for the extremely wealthy?
Not at all! In fact, it is often the "average Joe" who can benefit the most from a trust. The extremely wealthy might save the most money by setting up a comprehensive estate plan, but the time and aggravation saved, the expenses avoided, the ability to protect assets from a nursing home and the ability to provide for minor children until they are grown often make it so average individuals with modest assets are the ones whose families will benefit the most from protecting those assets. Ensuring their home will pass to their children and not go to the state to pay for a nursing home, and making sure funds are available for their family quickly, rather than being held in probate for a year, can be invaluable to the surviving family of just about anybody.
Whether you are a young couple with your first child, looking to be sure they are cared for if you pass away, or an elderly couple with a lifetime of assets to consider, there is an estate plan available that's tailored to your exact needs.
Come join our seminar or sign up for a free one-on-one initial consultation to determine the best plan for you, the costs of creating such a plan, and the benefits and savings it will provide.
The Martin & Oliveira Estate Planning and Elder Law Seminar will be held by video on May 26 from 1 to 3:30 p.m. Sign up at martinoliveira.com/upcoming-events.
Attorneys John Martin Jr. and Joseph Martin are estate planning specialists with the Pittsfield firm Martin & Oliveira LLP. Call 413-347-8966, email JRM@martinoliveira.com or visit martinoliveira.com.