The specialists at Berkshire Roots are keenly aware they work in an industry that's riddled with misconceptions — often tied to stereotypical movie scenes of smoke-filled rooms of college students. But what many people don't know is that there are many ways to reap the medicinal benefits of Cannabis — without smoking.
And, more importantly, they don't know that Berkshire Roots' professionals can help the canna-curious navigate ways to determine the best ingestion option for them, depending on what they are trying to accomplish.
To answer those types of questions, and also provide a safe space to ask them, Berkshire Roots, a craft cannabis and dispensary operator headquartered in Pittsfield, launched a free, private virtual consultation service with trained, trusted professionals who can answer your specific questions.
They can also provide information on the different nuances and benefits of the different methods of ingestion because there is no "one size fits all" when it comes to what works best for individuals, the specialists say. Consultations can be done virtually, by phone or the curious can set up a private meeting at Berkshire Roots' Pittsfield location or the newest location in East Boston.
The team at BR realized that they needed to offer options, for folks who just want to visit Berkshire, they can walk in and speak with trained associates. Also available is a live chat function on the website, during normal business hours an associate is a simple chat bubble away. Ready to answer questions about products and available options.
"If you come into Berkshire Roots and you're worried about asking questions, we want you to feel super confident that you're going to get your answer," training manager Benjamin May said. "And if you call our team, you're going to get your answer with no expectation of making any kind of purchase. That's part of our model. We want to help inform the public because of a dearth of real information."
Charting your course
Finding the right path for you takes a lot of self-knowledge, a little bit of testing and some guidance from Berkshire Roots professionals.
"A lot of the population is looking for how this can benefit them without feeling weird," May said. "CBD can be really helpful but there's also a lot of pitfalls when you're talking about that as well. It has the reputation of being the healthful cannabinoid which can be true in a lot of ways. "It's known for potentially reducing inflammation. It's just one of the primary uses for it so if your pain is inflammation-based CBD is probably a good bet," May said. "But I have a lot of people who will come in and say I don't want THC, I only want CBD. But that may not provide relief for every issue, like sleeping for instance. There's no one size fits all answer."
That's why Berkshire Roots produces tons of different products, in several categories for different ways to ingest THC and/or CBD. There are products that are higher in CBD, products that don't have any psychotropic effect or feeling of euphoria.
"At Berkshire Roots, we're known for product innovation, quality products and our customer service," said Holly Alberti, Berkshire Roots' Senior Director of Marketing. "Years of prohibition and lack of information have led to many stereotypes and misinformation surrounding cannabis. We want to be a resource, the go to cannabis destination and help break those stigmas.
"Brownies or joints are familiar and used in mainstream depictions but there are so many different ways to consume. Much healthier and effective ways too," she said. "Each person is unique, so a journal or notebook can be helpful when finding the best method of consumption."
While everyone knows about smoking, edibles are the second most popular choice after flower, Alberti said. Edibles made and sold at Berkshire Roots include Six Depot Cold Brew Coffee infused chocolate bars, hot sauce, award-winning chews derived from real fruits and vegetables, Roots Fruits, infused seltzer, syrups and other drinkables, and more. Some of those options include vegan and gluten-free varieties.
Weed for wellness
Cannabis interacts with your endocannabinoid system, which promotes the idea of homeostasis or balance.
"The endocannabinoid system isn't doing anything directly to your body that your body doesn't already do. It's a series of locks and keys that say 'You know what, this chemical's flowing too much and this chemical's not flowing enough so let's get this flowing more efficiently.'"
"That's the ultimate goal of the endocannabinoid system, because all of our bodies are so widely varied, it's really complex, '' May said. It's not as easy as saying take two aspirin and your headaches will probably go away.
---
Check out these products for a better 2022
As an example of the many ways cannabis may be incorporated into your new, healthier lifestyle in 2022, here are six hand-picked products from the Berkshire Roots team addressing common wellness concerns.
Roots Fruits Vegan and Gluten-Free Infused Chews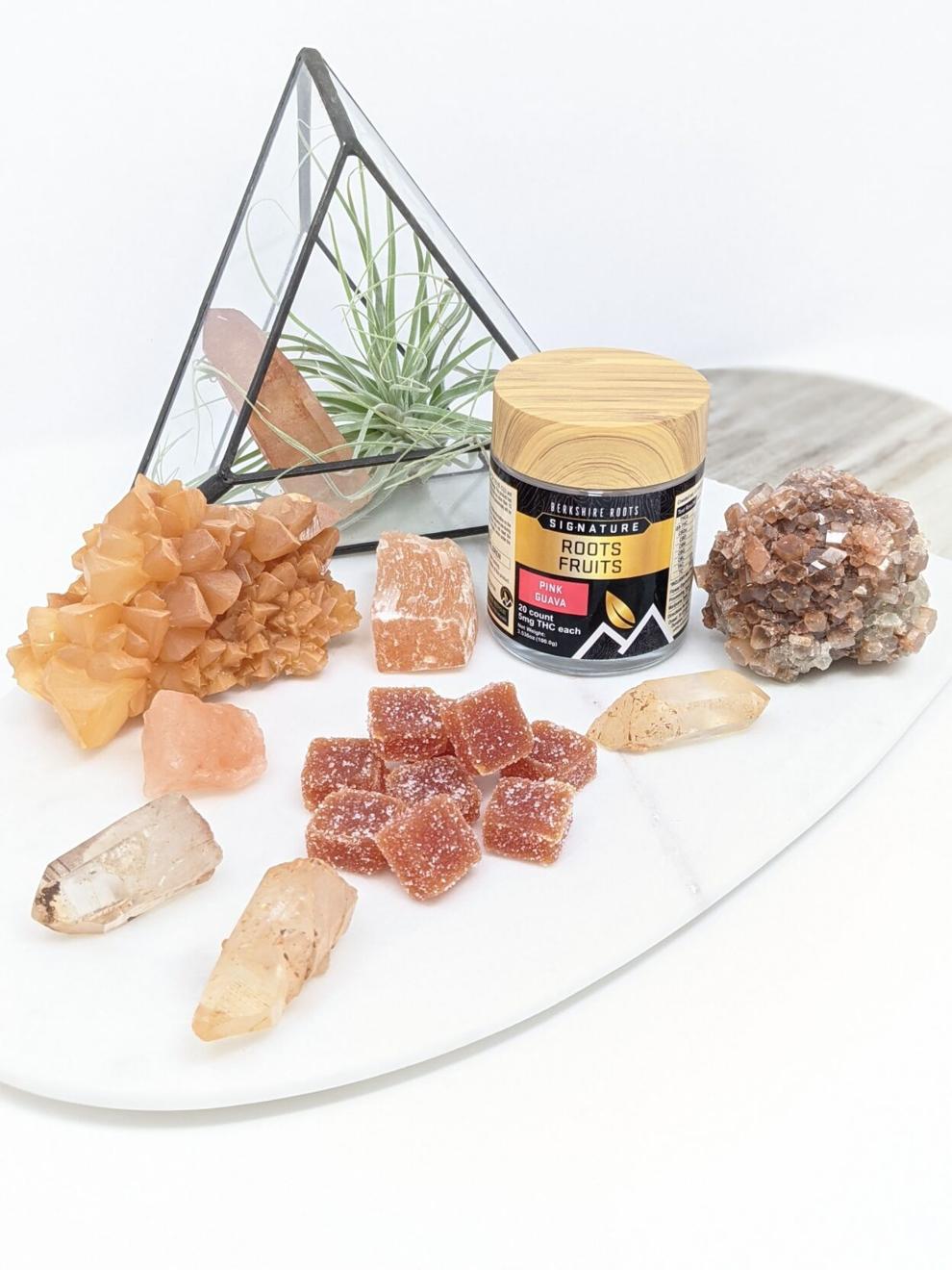 A High Times Cup winner (Non-Gummy, Edibles category) is Berkshire Roots' in-house edible, Roots Fruits. Gluten-free, vegan, and crafted from a few natural ingredients, these tasty fruit squares are delicious, melt in your mouth and are ideal for pretty much any edible enthusiast.
The recipe itself is of French origin, the "Pate de Fruit." Take good care of these delicately concocted, jar-sealed cubes, which are made with real fruit puree and supreme THC extract. Cubes dose at 5mg THC, with 20 pieces to make 100mg in one jar. Remember, edibles are a bit different than smoking or vaporizing cannabis.
If this is a newer product for you in 2022, it is always recommended to start low, and go slow. Most edibles are at about a 5 mg dose; If it is your first time, start low at 2.5 grams and wait at least two hours. The edible will process through your liver and matabalize, and each person could have a slightly different reaction or take longer.
Berkshire Roots Watermelon CBD:THC 2:1 Chews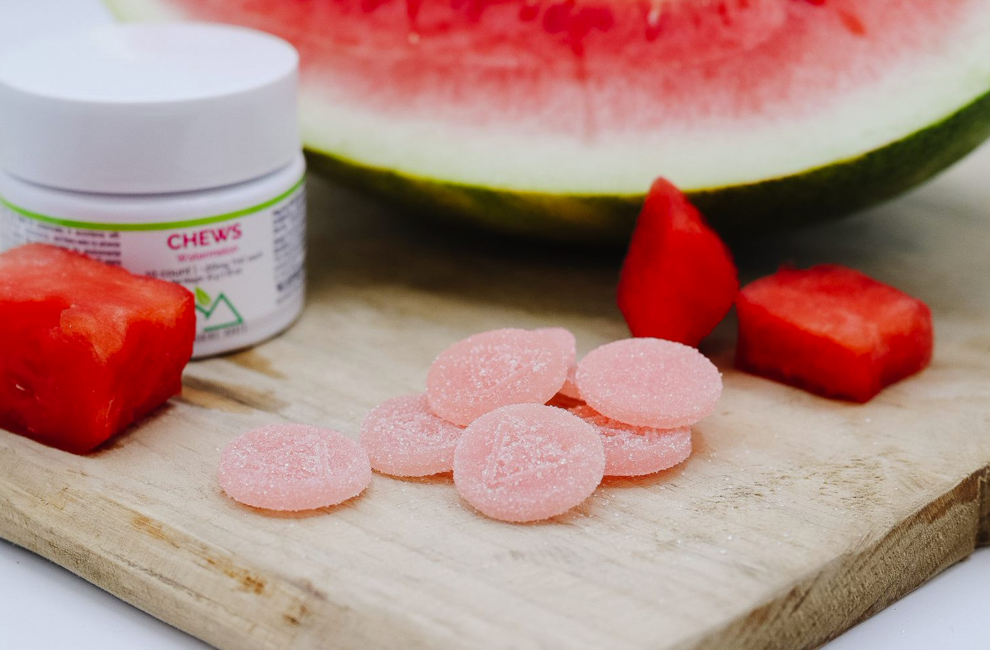 Another great option for edibles, especially for those folks who are not looking for the psychoactive or "high" feeling, is a higher CBD ratio edible. That means that the edible contains more milligrams of CBD than THC.
Berkshire Roots Watermelon Chews are one such edible, with twice as much CBD as THC. Because CBD is a far less intrusive substance than — and a commonly suggested partner for — THC, edibles that mix in extra CBD provide an option for those looking for a more potentially holistic and healing experience.
It's important to ensure you give yourself the space to properly try any type of edible. Take it at the end of the day, when you know you will be home — that way you will get a better understanding of how it may affect you.
Berkshire Roots CBD Rich 2:1 Soothing Stick
If your new year comes with a new fitness routine, you may be facing aches and pains post workout. Try a topical application of cannabis to help ease your muscle tension.
Berkshire Roots manufactures a high-THC (but even higher CBD) body balm rubbing stick, the 2:1 CBD:THC Soothing Stick. Customers love that it has a nice fragrance, with hints of sage and lemon from the added essential oils. When applied, some may feel a slight tingly sensation upon application to their skin, and it is best recommended for those who use cannabis to treat body/joint pains as it is applied directly to the skin. Some of the collaborative ingredients also used in the stick include organic beeswax, evening primrose oil, and white willow bark powder. With plans of working out and being more active in 2022, the soothing stick may be a great option to help with muscle and joint pain.
Orange Chameleon Flower - Sativa High Times Cup - Sparkies
The most common practice of cannabis consumption is smoking. The plant's flower, or bud, is used in its raw state, stuffed into a pipe, bong or rolled into a joint. Although not as popular, flower vaporization is perhaps the most effective way to activate the different cannabinoids, like THC, found in each strain. Common vaporizers like the Volcano or Pax devices allow you to slowly heat the raw buds to different temperatures right before the point of combustion. This can be healthier than the alternative, more common form of smoking.
Berkshire Roots' Orange Chameleon is a fan favorite cannabis strain that has received an award in the High Times Cup's Sativa category and is a great sativa to increase energy and focus this new year. Patients find that it may help anxiety, as well as provide a general boost to energy and mood.
It's available in many forms, including pre rolls – a convenient, ready to smoke and go option. Berkshire Roots does all the work for you. Their whole plant is hand trimmed to a finer consistency, then delicately stuffed into a cone. You just have to light it and inhale. Available in .5 grams, .75 gram and full 1 gram sizes, you can even find Orange Chameleon and many other exclusive strains in multi-pack pre rolls as well. Pre-rolls are a great choice for a solo session, especially when trying not to share and stay healthy! Grab a multi-pack and every adult can have their own!
This strain certainly smells and tastes like (you guessed it) oranges. The citrusy terps overflow in Berkshire Root's cultivar, and it's no surprise it receives such resounding feedback. Sativa fans will simply love their first taste of Orange Chameleon.
Berkshire Roots Full Spectrum Dablicators | Easy-to-Dispense Medium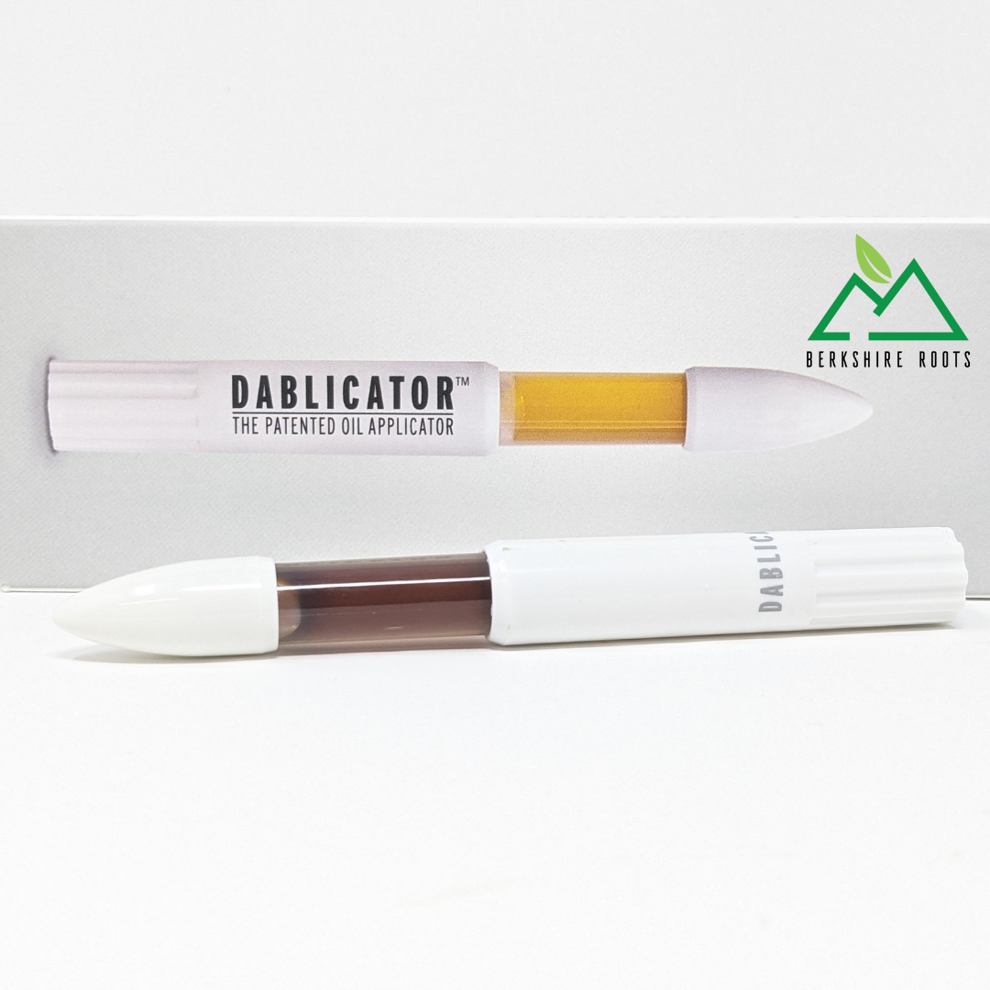 The term or verb "dabbing" is not for everyone, but for those looking for a more potent form of cannabis, concentrates may be an option for review. Concentrates come in many forms and an easy to dose option is The Dablicator, a unique design born in California. This easy to use device allows you to simply dose out just enough concentrate, in a measured form. Many people find dosing their concentrates to be tedious and hard to measure. The Dablicator's easy-to-dose built in measured mechanism makes this easier. Plus, some people like to "snake" a line of wax along a pre-roll, drip on top of a bowl or dab rig, or dose their extracts in other less common ways.
Dablicators at Berkshire Roots are consistently loaded with their most esteemed cannabis strains, such as Orange Chameleon and OGKB 2.0 BX with Grape Ape Terpenes. Pick up a Dablicator if you're looking to experiment with or share your concentrates, or if you are looking for an easier dabbing experience outright. Check out their socials for product tutorials and new products like The Dablicator.
No. 6 Depot Dark Chocolate Cold Brew Bar from Berkshire Roots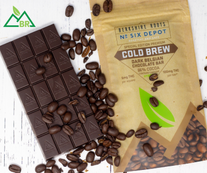 Is one of your resolutions to stop eating chocolate and quit your coffee habit? Well then, the Cold Drew Chocolate Bar might not be the best option for you.
The No. 6 Depot bar is a coffee-infused, THC-packed dark chocolate bar made from honest ingredients. The name itself comes from a West Stockbridge coffee roastery known as the No. 6 Depot Roastery and Café, which partnered with Berkshire Roots on the project. The cold brew is a mix of aged, Monsooned Malabar and high grown Brazil Oberon coffee beans, which has a smooth flavor with notes of chocolate.
The bar itself is made from Peruvian Couverture dark chocolate and is loaded with cold brew coffee and cannabis. There are two dosing options available at Berkshire Roots: 5 mg and 2.5 mg per square. Both bars are the same size, leaving potency as the only variable between their recipes.
The Cold Brew Chocolate Bar is the first in a line of several craft chocolate bars from Berkshire Roots. BR has just recently released their next two craft chocolate bars: the Stroopwafel Crunch Bar, which contains artisan dark chocolate with classic Dutch stroopwafels, pretzels and toffee bits; and the Dark Chocolate Macadamia Nut Bar containing Artisan dark chocolate with dried cranberries, crushed macadamia nuts and orange zest.
Berkshire Roots Tinctures
Tincture may be another great way to discreetly introduce some cannabis into your routine. Berkshire Roots uses different strains and ratios of CBD and THC for their infused MTC (Medium-chain triglyceride) tinctures. The Uplift tincture contains Jack Herer terpenes and the Calm tincture includes Grand Daddy Purple terpenes. Tinctures are also available in a higher CBD ratio — both 20:1 and 2:1 CBD:THC — for those looking to have less of a psychotropic feel. The most direct way a tincture can be used is dropped under the tongue, which will allow the cannabis to be absorbed into the bloodstream quicker than eating an edible and waiting for digestion. The tincture can also be added into your tea, smoothie or mocktail, or added into your favorite recipes. Berkshire Roots has a few recipes on their site that you can find for inspiration
Expand or start your canna journey in the new year. Work with a trained BR associate to start down your path. Schedule a virtual consultation to ask a few questions and allow us to provide some insight and some product knowledge.
---
PLEASE CONSUME RESPONSIBLY. This product may cause impairment and may be habit-forming. For use only by adults 21 years of age or older. Keep out of the reach of children. This product has not been analyzed or approved by the Food and Drug Administration. There is limited information on the side effects of using this product, and there may be associated health risks. Marijuana use during pregnancy and breastfeeding may pose potential harms. It is against the law to drive or operate machinery when under the influence of this product. KEEP THIS PRODUCT AWAY FROM CHILDREN. There may be health risks associated with consumption of this product. Marijuana can impair concentration, coordination and judgment. The impairment effects of edibles may be delayed by two hours or more. In case of accidental ingestion, contact the poison control hotline 800-222-1222 or 911. This product may be illegal outside of Massachusetts.