Out of Hand was meant to be a summer project: a place for two young artists and Great Barrington natives, Katherine Shanahan and Robert Wincuinas, to sell their work. Katherine, freshly graduated from Virginia Commonwealth University School of the Arts with a BFA in weaving and textile design, needed a venue for her large woven wall hangings; Robert, after a year at Bentley College studying accounting, was inspired by an art class at Berkshire Community College to begin producing wooden toys and children's furniture.
The pair rented a small building on the north end of Main Street as a store and gallery. The space, owned by Robert Hammer of Hammer Plumbing, had years before housed the office of Graves & Hemmes, Inc., the construction firm in the neighboring building, which had built Tanglewood's Koussevitzky Music Shed. Now the little building sported a prominent billboard on the roof advertising the local hotel of a Hammer brother who declined to remove the sign even though the hotel had long been closed. So in 1972, Out of Hand began life under the shadow of a 1950s advertisement.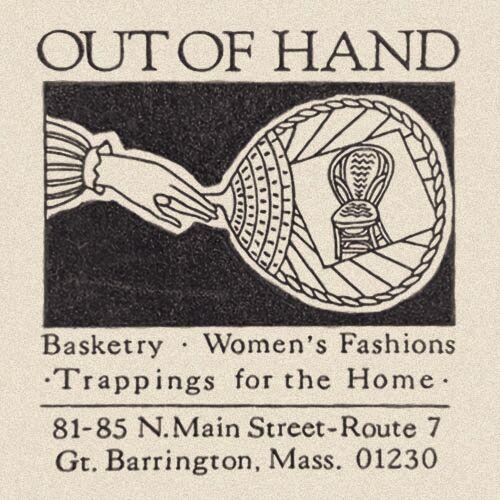 To supplement their own art sales, Katherine and Robert purchased imported handicrafts such as traditional clothing from Mexico, basketry and artifacts from the Amazon region of Brazil and collectibles from India. It was a well-timed decision. The early 70s were a time of renewed interest in the Arts and Crafts genre, an anti-industrial movement that elevated the handmade over the mass-produced. Fiber arts production, woodworking, glass blowing and crafting in metal and leather paired well with the era's back to nature/living off the land philosophy.
Additionally, the Vietnam War generation had shed some of its parents' nationalistic tendencies and become interested in learning about world cultures. The store/gallery offered customers a look at crafts from different countries. All together, it was the perfect time for a crafts and imports business like Out of Hand.
Despite being known somewhat suspiciously by locals as 'the hippie store,' Out of Hand grew quickly into a successful venture with a pair of savvy business people at the helm. The two young owners determined they would not keep for themselves any of the goods purchased to sell, but instead would put all profits back into growing their inventory. One treasured item, a blow gun with a quiver containing poison darts from the Amazon, was a particular favorite of Robert, who delighted in shocking the store's first long-term employee by blowing darts across the store. To this day, he regrets having to sell this one of a kind artifact and Melanie, the employee, remembers it clearly decades later.
Artful advertising from Out of Hand
A series of advertisements from the 1970s, all hand-drawn by owner Katherine Shanahan Kennedy, illustrate past products once offered by the store.
Since that first summer, much has changed at Out of Hand: the shop moved out of its small satellite space into the main building next door. Robert left the business in 1981 to follow his fascination with world cultural artifacts, lived in Kenya with his wife, Barbara, and took over a U.S. import company, Primitive Artisan, now based in Pittsfield. Katherine bought Robert's share of the business and, as sole proprietor, continued her artistic sensibility of curating and displaying an ever-changing selection of handcrafted goods.
As an imports-based business, Out of Hand has seen the history of international trade play out on its shelves. Often that meant access to new cultures and their unique crafting traditions. The reestablishment of diplomatic relations between the U.S. and China in the late 1970s, for example, opened the Canton Fair to American import companies who began selling Chinese goods unlike anything available in the States at that time. (Katherine, who has a fondness for basketry, was impressed by the utilitarian design and quality of the early products Out of Hand acquired through the Canton Fair.)
Sometimes, the tide has gone in the other direction. Diplomatic conflict between countries, civil wars, famines, and natural disasters have interrupted or totally eliminated many of Katherine's favorite source countries over the years including Ethiopia, Haiti, the Philippines and Upper Volta (now Burkina Faso). Others, like indigenous communities in the Amazon region, have simply disappeared. Many countries no longer export the volume of traditional goods they once did, as modernization and industrialization chip away at old cultural practices. The Chinese peasant pottery, once a favorite of Out of Hand customers, is no longer produced for use in China and so is not exported.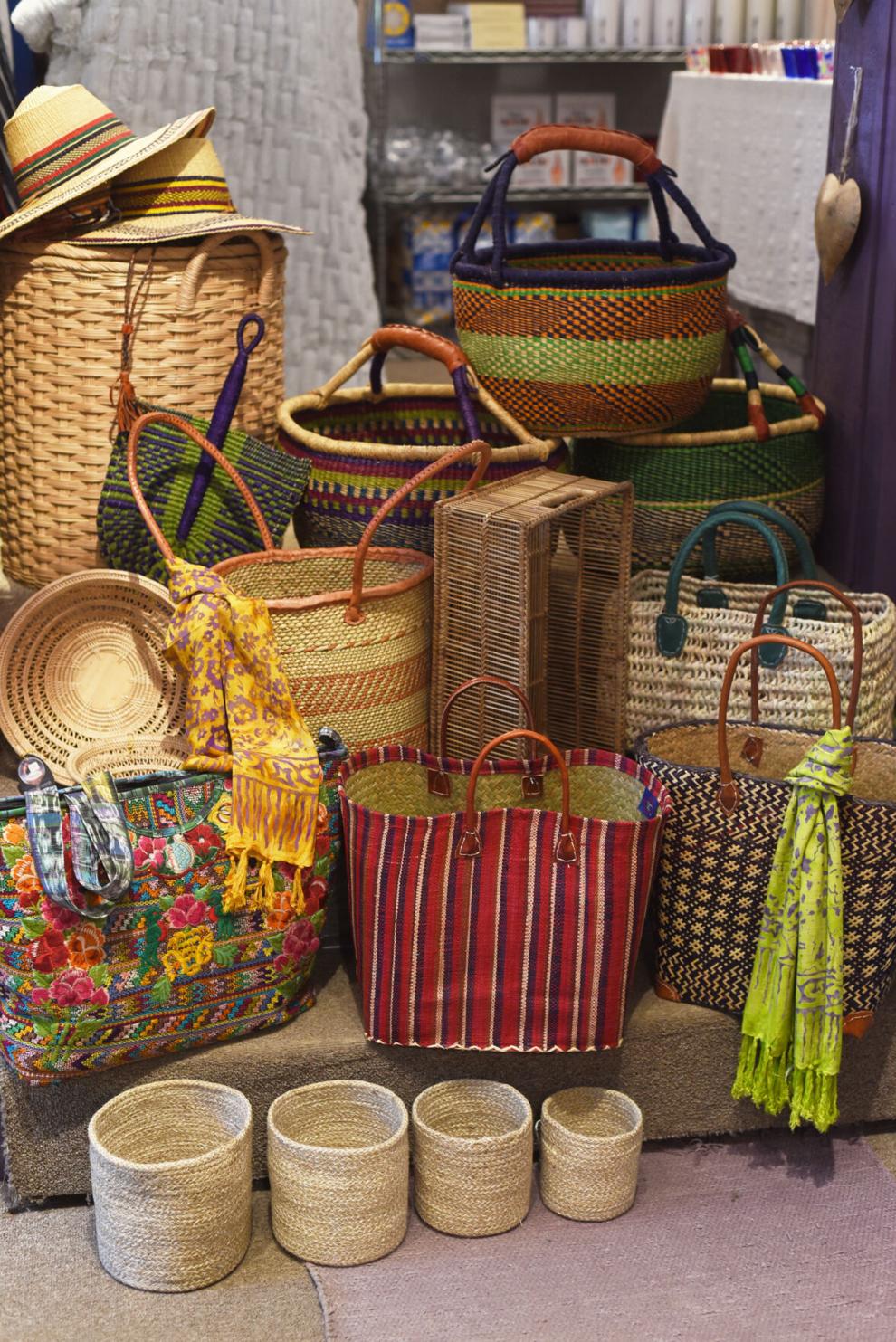 Katherine sources the bulk of her products through specialty importers, most of whom she has worked with for decades. "Many of them were Peace Corps volunteers," she said. "That's how they were introduced to communities of handcrafters, and they set the native artists up in lucrative businesses."
Her suppliers often maintain a close connection to their artisans, ensuring that working conditions and compensation are fair. Their work serves two important purposes. First, it supports small-scale artisans — often women, who traditionally are most involved in producing handicrafts — in economically disadvantaged regions. Second, it creates an incentive for craftspeople to continue traditional techniques that would otherwise be abandoned for more profitable work, thus preserving their cultural identity in an increasingly homogenized world.
While Katherine no longer weaves her wall hangings, her artistic instincts are on full display at Out of Hand. Even after fifty years, she makes all purchasing decisions herself, and designs every product display. As a result, the individual goods for sale have changed through the decades based on availability, but the shop's aesthetics have remained the same. Her hand drawn newsprint ads featuring favorite merchandise have for decades represented her eye-to-hand design sense. Despite being just a short walk from the heart of downtown Great Barrington, the store's unusual location — set in a deep dip off north Main Street/Rt. 7 — gives the shop the feeling of being almost hidden away. Stepping inside, customers are greeted with the warm smell of natural fibers. A maze of display racks and the building's architectural quirks break up the 3,300 sq. ft. into tiny nooks and alcoves, each packed full with bright colors and enticing textures.
The effect may be one of artfully arranged chaos, but each product for sale within Out of Hand's walls has been carefully selected for its unique personality. Katherine embraces 'character,' the variations within individual items inherent in handmade goods.
Many of the products carry their own story: multi-colored wrap skirts sewn in India from material from discarded saris collected door to door by rag pickers and sold to workshops; brightly colored baskets woven by Zulu men in South Africa from scrap telephone wire, a craft created by night watchmen at a telephone company; Guatemalan tote bags made from recycled huipils, Maya blouses of intricately woven and embroidered patterns.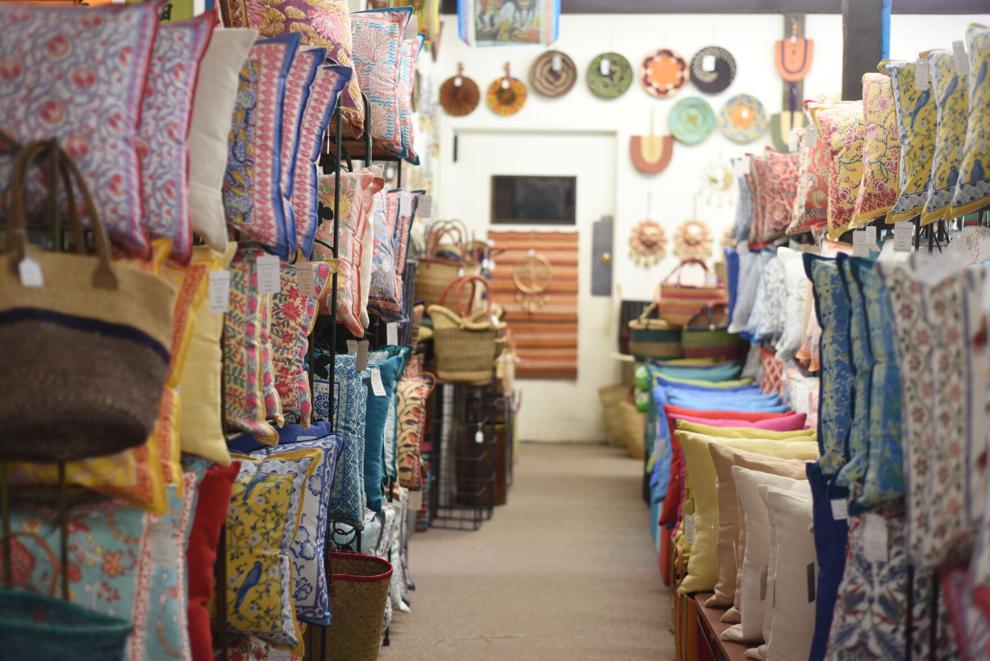 Katherine prides herself on keeping her prices reasonable, even as global supply chain issues and tariff battles have increased inventory costs. From 1972 onward, Out of Hand has been known for fair pricing. Unlike many retail sellers, Katherine has resisted a move to online shopping. She believes strongly in brick and mortar retail — see and touch before you buy.
Over the years, Out of Hand has welcomed an array of customers as colorful as the glass bead necklaces hanging above the check-out area. One of Katherine's favorite customer stories took place during the shop's early years. A woman stopped in to look for a shirt for her husband. He prefers natural fabrics, the wife explained, but he needs something with freedom of movement, as he is a professional conductor and has to have unrestricted use of his arms while he works. It wasn't a strange request — Tanglewood is nearby after all — so Katherine and Robert helped her choose a Mexican wedding shirt made of natural cotton muslin and off she went happily.
Days later, the two shop owners happened to see a video recording of an orchestra performance and there, center stage, was their Mexican wedding shirt gracing the distinguished frame of Leonard Bernstein.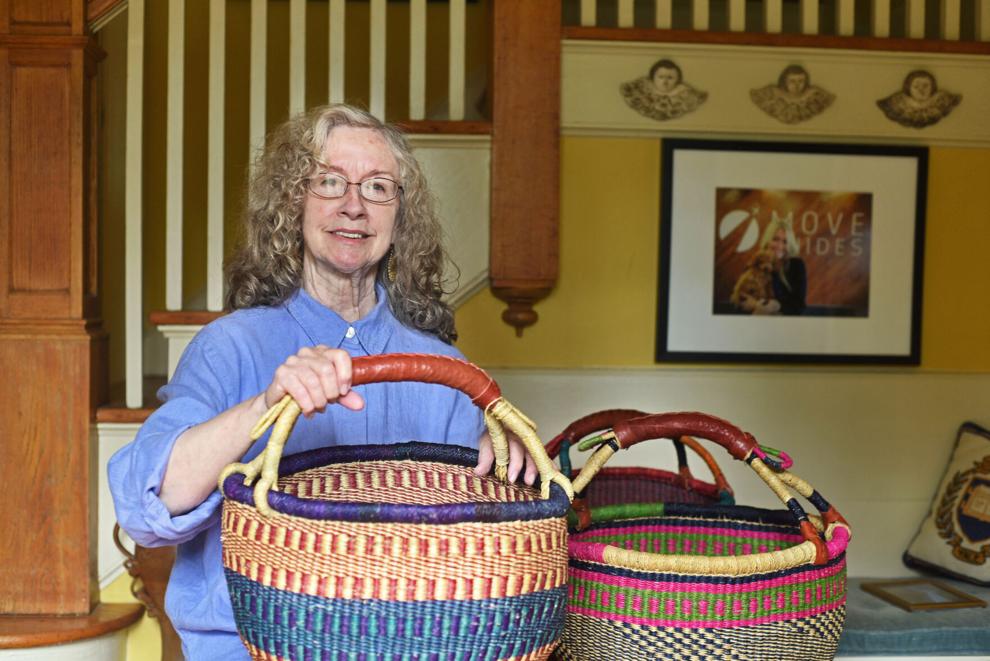 Katherine is not one for self-aggrandizing. She credits much of Out of Hand's staying power to the many people who played a part along the way: from Robert Wincuinas, who partnered with her to get the business off the ground; to her first landlord, Robert Hammer, who from 1972 to 2001 never wanted a signed lease but only a friends agreement and to the present landlords, the Caligari brothers, who bought the property in 2001, did major improvements to the building and invited her to stay as a tenant; to the numerous employees whose support and dedication kept Out of Hand running smoothly through Katherine's parallel life as dancer, choreographer, and collaborator with her theater arts husband, as mother of and chauffeur to a national team gymnast, and during a year long medical crisis.
And as the store approaches its 50th anniversary on Friday, May 27, 2022, Out of Hand remains fundamentally the same as it was in 1972 — a multi-sensory, multicultural experience celebrating the work of artisans from Africa, Asia, and the Americas.