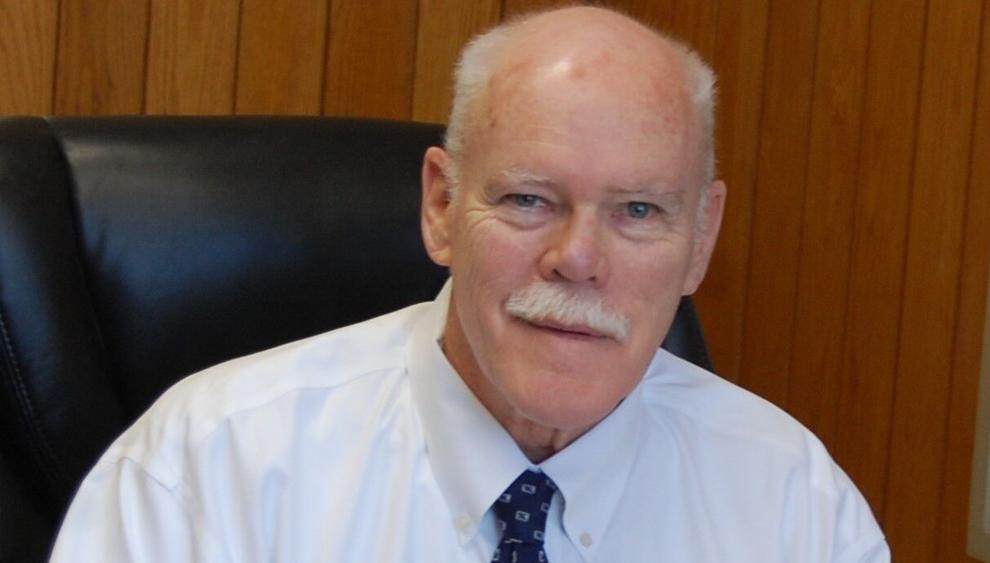 In his many years working with organizations on vocational training and staff development, James Brosnan, the long-time Superintendent at McCann Technical School in North Adams, has never seen or even heard of, anywhere in the U.S., a career pipeline program like the one created by Berkshire Health Systems.
"BHS is really stepping up and doing something novel here," said Brosnan. While most employers expect job candidates to get themselves educated and trained before applying for a position, BHS is taking a more proactive and generous approach. The system is investing $7 million in a program that actually pays people full-time with benefits while they train to become Licensed Practical Nurses, Registered Nurses, Nursing Assistants and Medical Assistants. They're also guaranteed jobs when they are done.
"It's more than education and training," said Brosnan. "It's truly a life-changing event for those who participate."
McCann Tech specifically has partnered with BHS on providing 10-month intensive training programs which prepare already-employed Certified Nursing Assistants to become Licensed Practical Nurses (LPNs). McCann provides the classroom education piece, holding classes taught by expert medical educators three days a week at the North Adams Campus of BMC. On the other two days, the students get their hands-on clinical experience at various area facilities, including BMC, primary care clinics, nursing homes, assisted living centers and specialty medicine offices.
One of the core goals of the LPN program – and the entire career pipeline program at BHS – is to create long-term career pathways.
"The sky's the limit once they start," said Elizabeth Kirby, R.N., Director of Education at BHS who started her own career with the organization back in 1961, rising through the ranks over six decades to oversee the training of generations of nurses and medical professionals at all levels. "I think for the participants in the LPN program and our other programs, this is an opportunity they never would have had. It's just the beginning for them, of course, but even more important, this is for the benefit of the community and the patients we serve."
The underlying goal of the LPN training and the other pipeline programs, she said, is to build staffing. "Through these programs we are providing ourselves much-needed staffing in all categories. We're providing the community the people we need—and they need—so that they can be successfully taken care of."
LPNs are responsible for a range of hands-on patient care and administrative tasks, including monitoring patient vital signs and overall health condition, changing bandages, other basic wound care, inserting catheters, and giving medications as prescribed by physicians.
LPN trainees receive full-time wages, starting at $25 an hour as soon as they begin the program. They also receive a complete benefits package, including health, dental and vision. At the conclusion of their training, LPNs are guaranteed full-time caregiving positions within Berkshire Health Systems. New LPN training classes are offered once a year.
By paying career pipeline trainees full time and covering the cost of tuition and related expenses like books and uniforms, BHS is making it possible and affordable for those healthcare workers to pursue their ambitions. It removes financial and time barriers which makes it difficult, even impossible to consider a long-term career in the field.
To apply for the LPN Training Program or learn more about this and other BHS pipeline programs, please visit berkshirehealthsystems.org/careerpipeline.
She feels 'truly blessed' by a good program – and a supportive family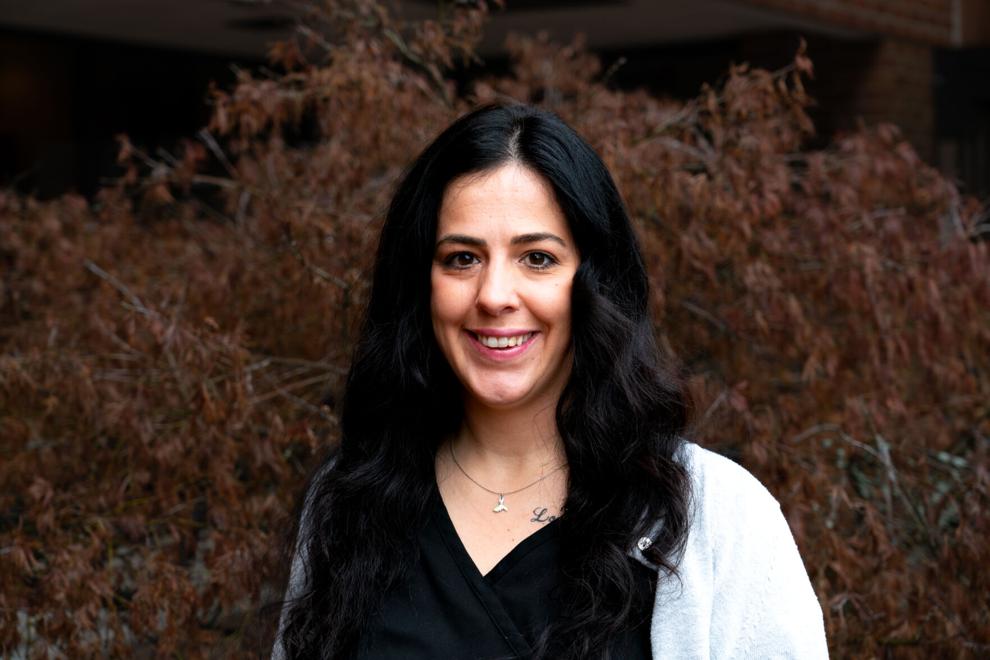 When Bonnie Lyon heard about a new, fully paid training program for LPNs at BHS, it was a "blessing in disguise" she never imagined.
"I really wanted to go back to school for a while but being a mom of three and thinking about not working for a year or two while I was in school, it just felt impossible. So, it was definitely a blessing they had this program that would allow you to work and study and get paid." Another blessing was that her husband and boys were "totally behind" her decision and ready to help out.
A life-long Pittsfield resident, Bonnie originally dreamt of becoming a pastry chef, a passion she still fosters by baking in her not so free time. When she finished high school, some members of her family urged her to go into healthcare, but she flatly resisted. "I told them it wasn't for me." The closest she ever really got to the culinary profession was 14 years ago when she took a part-time job in the dietary department of BMC, where, after the birth of her first son, the notion of working in healthcare finally struck a chord.
"When I was a dietary aid, going up to the floors and giving somebody their tray, they just appreciated what I was even doing for them in that capacity. It's really what drew me into nursing. It taught me that I love caring for people, listening if somebody needs someone to talk to, being able to help somebody get better and see them get better."
Moving from dietary to a few years in the housekeeping group, Bonnie was internally recruited to become a Certified Nursing Assistant at BMC 10 years ago. Now that she has successfully completed the LPN program, her eyes are set on becoming a Registered Nurse and ultimately a lactation consultant for the mothers of newborn babies.
Her son's loving text finally brought her pride to life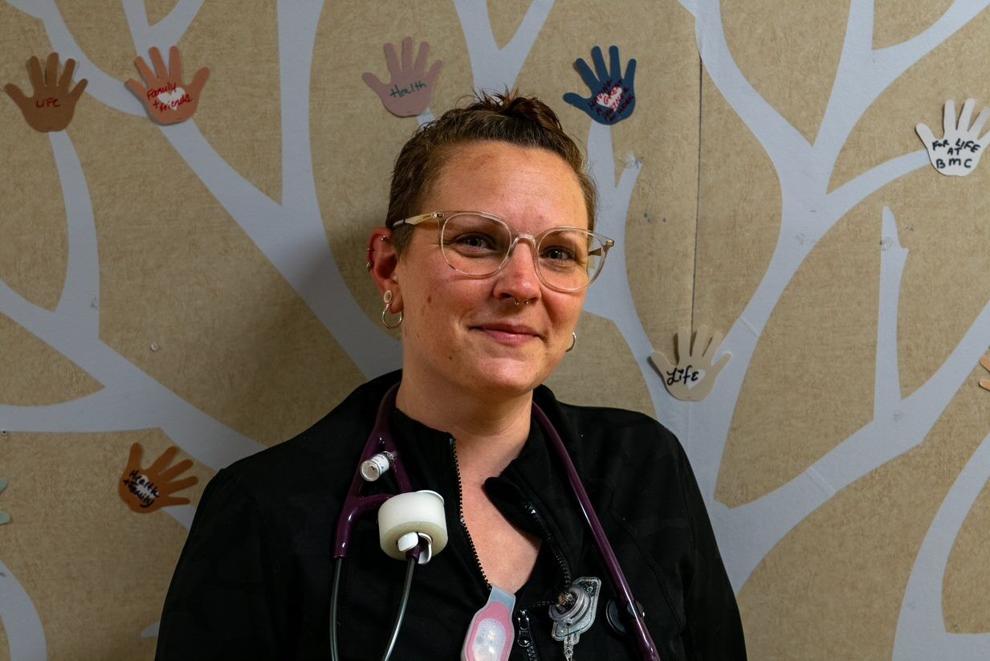 It wasn't until one day last month, when she received a text from one of her two teenage sons saying, "Mom, you've done it! We're so proud of you!" that Heather Van Lingen of Lee finally allowed herself to fully realize the enormity of what she had accomplished.
"I hope I showed my boys that you're never too old to keep going after your dreams."
Heather always wanted to be a nurse, but raising a young family, even with the help of a good wife, the opportunity wasn't there—until she saw a posting on Facebook about the LPN training program.
"My kids were older, the opportunity was finally there, so I figured I'd shoot for it."
Heather actually has been in the healthcare profession for nearly 22 years, first for a local ambulance service and later as a Certified Nursing Assistant (CNA) at various facilities countywide, including the last nine years at the Sugar Hill Assisted Living Community in Dalton, where she rose to become lead CNA.
When the LPN training opportunity arose, her bosses at Sugar Hill encouraged her to pursue it, even though it meant they could lose her. "They were really rooting for me. They saw potential in me, which was awesome."
Make no mistake, said Heather. The LPN program is hard work.
"I don't think anybody realizes how intense nursing school really is. Some people call it boot camp, and in a way, that's really what it was. The biggest thing for me was getting back into the swing of being in school and having to study every night, plus the on-the-job clinical training."
She'd do it again in a heartbeat. She's already thinking of studying further to become an RN.
"It's just where my heart is. I love what I do."
In his many years working with organizations on vocational training and staff development, James Brosnan, the long-time Superintendent at McCann Technical School in North Adams, has never seen or even heard of, anywhere in the U.S., a career pipeline program like the one created by Berkshire Health Systems."BHS is really stepping up and doing something novel here," said Brosnan. While most employers expect job candidates to get themselves educated and trained before applying for a position, BHS is taking a more proactive and generous approach. The system is investing $7 million in a program that actually pays people full-time with benefits while they train to become Licensed Practical Nurses, Registered Nurses, Nursing Assistants and Medical Assistants. They're also guaranteed jobs when they are done."It's more than education and training," said Brosnan. "It's truly a life-changing event for those who participate."McCann Tech specifically has partnered with BHS on providing 10-month intensive training programs which prepare already-employed Certified Nursing Assistants to become Licensed Practical Nurses (LPNs). McCann provides the classroom education piece, holding classes taught by expert medical educators three days a week at the North Adams Campus of BMC. On the other two days, the students get their hands-on clinical experience at various area facilities, including BMC, primary care clinics, nursing homes, assisted living centers and specialty medicine offices.One of the core goals of the LPN program – and the entire career pipeline program at BHS – is to create long-term career pathways."The sky's the limit once they start," said Elizabeth Kirby, R.N., Director of Education at BHS who started her own career with the organization back in 1961, rising through the ranks over six decades to oversee the training of generations of nurses and medical professionals at all levels. "I think for the participants in the LPN program and our other programs, this is an opportunity they never would have had. It's just the beginning for them, of course, but even more important, this is for the benefit of the community and the patients we serve."The underlying goal of the LPN training and the other pipeline programs, she said, is to build staffing. "Through these programs we are providing ourselves much-needed staffing in all categories. We're providing the community the people we need—and they need—so that they can be successfully taken care of."LPNs are responsible for a range of hands-on patient care and administrative tasks, including monitoring patient vital signs and overall health condition, changing bandages, other basic wound care, inserting catheters, and giving medications as prescribed by physicians.LPN trainees receive full-time wages, starting at $25 an hour as soon as they begin the program. They also receive a complete benefits package, including health, dental and vision. At the conclusion of their training, LPNs are guaranteed full-time caregiving positions within Berkshire Health Systems. New LPN training classes are offered once a year.By paying career pipeline trainees full time and covering the cost of tuition and related expenses like books and uniforms, BHS is making it possible and affordable for those healthcare workers to pursue their ambitions. It removes financial and time barriers which makes it difficult, even impossible to consider a long-term career in the field.To apply for the LPN Training Program or learn more about this and other BHS pipeline programs, please visit berkshirehealthsystems.org/careerpipeline.What is sponsored content?The Eagle provides fee-based professional writing, editing, design, web presence and social media services to businesses to help them tell their stories with the broadest reach possible. Let us help you tell your story today. Email kkirchner@berkshireeagle.com