The college basketball transfer portal has been busy. Two players with connections to Massachusetts have put themselves in.
Evansville freshman guard Gabe Spinelli, the first Division I recruit to play at Darrow School in New Lebanon, N.Y., went into the portal early Friday afternoon.
Dyondre Dominguez, the sixth man for University of Massachusetts coach Frank Martin, announced earlier in the week that he was also entering the portal.
Spinelli is the son of Scott Spinelli, who was the associate head coach at Boston College under former coach Jim Christian. He played in 30 of Evansville's 32 games, averaging 4.6 points in 15.6 minutes. He hit double figures in scoring four times and had a career-high 12 points in a game against Murray State in January.
"He has a real passion for the game," Darrow coach Assane Sene said, back when Spinelli committed to Evansville. "He makes sacrifices for the game. He works really hard. I've never seen or ever coached a player that loves the game like that. He has a really good understanding of the game. His basketball I.Q. was on top of the roof."
Spinelli played for first-year coach David Ragland, a former assistant coach at Butler. It was a rough year for the Aces, who went 5-27 overall and 1-19 in the Missouri Valley Conference. The Aces picked up their only league win on Feb. 8, against Northern Iowa.
Spinelli, a 6-foot-2, 185-pound point guard, is one of five Evansville players — four freshmen — who put their names into the Transfer Portal. Shooting guards Zaverion Chism-Okah, Chris Moncrief and Matus Malovec, are all seeking new homes.
So is UMass' Dominguez.
The 6-foot-9 junior forward from Providence averaged 8.7 points and 4.4 rebounds per game for coach Frank Martin in Martin's first season at the helm in Amherst.
Dominguez averaged 19.6 minutes off the bench, scored in double figures 14 times, and had a season-high 17 points at Duquesne.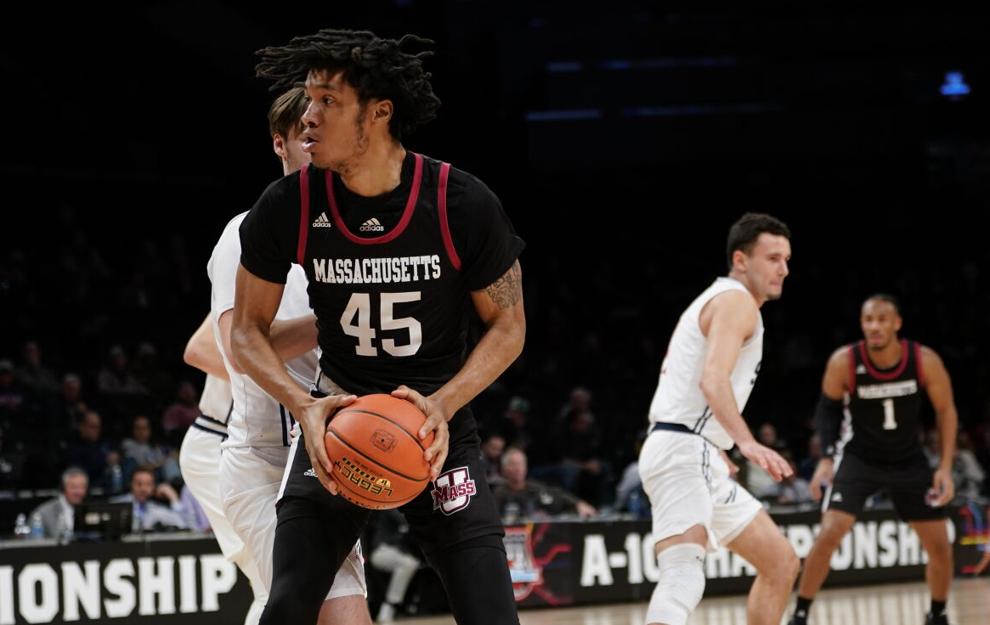 "Thank you for allowing me to reach goals that I have set for myself ever since I've been a kid," Dominguez wrote on Twitter. "Even though we didn't get the outcome we all wanted, I will forever cherish the memories that were created on and off the court! Thank you to my teammates for making this past year special and memorable! Most importantly, thank you Coach Martin and the entire UMass coaching staff for believing in me and putting me in the best position possible as a man and as an African-American athlete."
Dominguez is the second Minuteman to hit the portal. He joins point guard Noah Fernandes, who made the declaration earlier in the month.
The number of players who have entered the portal is in the neighborhood of 1,000. There are a couple of New England players who could be good pickups for Martin and UMass.
DeMarr Langford Jr., who just finished his freshman season at Boston College, is seeking a new home, as is sophomore point guard To Randriasalama from Northeastern.
Langford played at Brewster Academy, where incoming UMass recruit Sawyer Mayhugh went. Langford played in 23 games for BC, averaging seven points and 2.8 rebounds per game. He is the younger brother of BC's Makai Ashton-Langford.