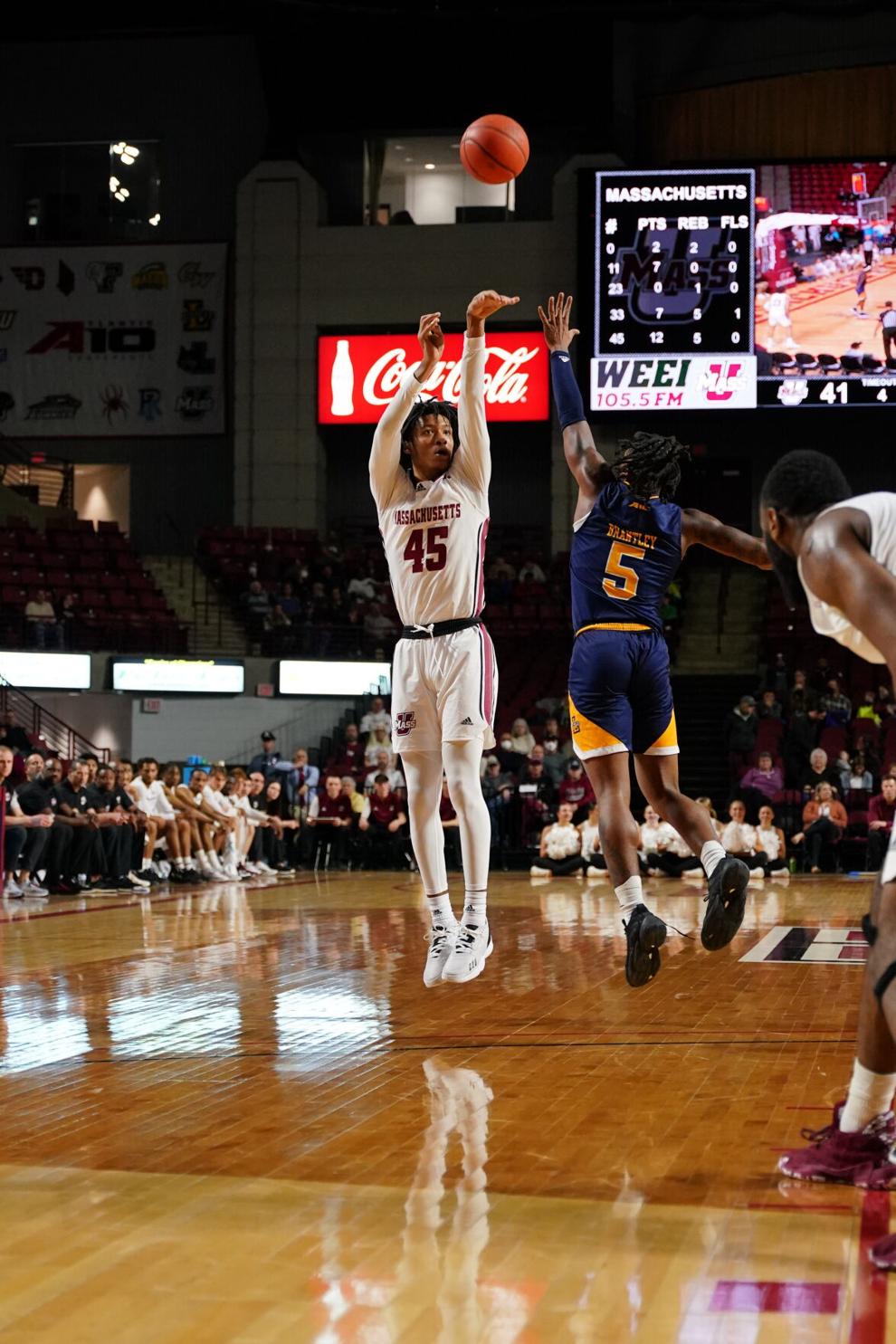 AMHERST — One shot to win it and the best player on the team had the ball in his hands.
Noah Fernandes tried to fake La Salle's Khalil Brantley to get a good look at a 10-foot shot. Brantley held his ground, Fernandes missed, and the visiting Explorers escaped from the Mullins Center with a 78-77 win over the University of Massachusetts Wednesday night.
UMass outscored La Salle 10-1 over the final 5 1/2 minutes, but could not get over the hump in a game that saw the Minutemen squander a nine-point lead in the first half. That sent the crowd of 2,853 home disappointed.
"It was a few ball screens. I think Frank [Martin] tried to give me a little space to work," Fernandes said. "I wasn't really sure what they were going to do defensively, if they were going to hedge me, switch it. I wasn't really sure, so mentally, I was a little messed up there. I just tried to get a good look at the end, and couldn't."
The Minutemen, who trailed by as many as 10 points in the second half, cut the La Salle lead to one on a dunk by Wildens Leveque with 46 seconds left, converting a pass from reigning Atlantic 10 Rookie of the Week R.J. Luis.
On La Salle's final possession, the Explorers had a shot clock violation after Jhamir Brickus' step-back, 3-point shot attempt missed the rim and UMass got the ball with 16.7 seconds left.
Fernandes had his jumper deflected by Brantley and the horn sounded. The loss dropped the now 10-6 Minutemen to 1-3 in the Atlantic 10, down near the bottom of the standings.
Noah Fernandes misses at the horn. La Salle 78, UMass 77. pic.twitter.com/qkj1Lyf3OC

— Howard Herman (@howardherman) January 12, 2023
"Disappointed," the first-year UMass coach said in his opening remarks to reporters. "Going into Christmas, the best part about our team was our team defense. Ever since we got back from Christmas, our team defense has been non-existent. We're not defending. If you don't defend, you have no chance to win."
The game was tied 2-2 early, but when Matt Cross hit a 3-point shot just 1:03 into the first half, UMass took a lead that it held for the final 19 minutes until halftime.
Five UMass players scored in double figures, led by Fernandes' 15 points. He had five assists but also a game-high five turnovers. Luis and Leveque had 14 and 10 points, respectively, off the bench. Cross had 13 points and a game-high nine rebounds, while Dyondre Dominguez added 12 for UMass.
After the Brickus miss, Martin called time out to decide what the Minutemen should do.
"They were switching that high ball screen. Wildens set [the screen] so if they switch, they switch. Matt Cross should have back cut out of the corner to a post-up," Martin said, in explaining the final play. "Wildens was supposed to come screen R.J., who's curling back to the nail [the midpoint of the foul line]. So we can get Matt on the post-up, R.J. at the nail, with Wildens diving back side at the end of the play. Noah felt he had a crack, and I haven't spoken to him yet, felt he had a crack and got downhill.
Frank Martin gives an opening statement after UMass loses to La Salle. pic.twitter.com/oMEIqzoO8m

— Howard Herman (@howardherman) January 12, 2023
"Give that guy [Brantley] credit. Their guy didn't flinch, stayed down, guarded him and made it really hard."
Under first-year coach, and Philadelphia basketball legend Fran Dunphy, the Explorers improved their record to 8-8 and, after beating Rhode Island on Saturday, improve to 2-1 in the Atlantic 10.
It marked the third consecutive game that UMass had given up more than 75 points — beating Saint Louis but losing to George Washington on Saturday and La Salle on Wednesday night.
UMass' defense did do its job on La Salle's two leading scorers. Brantley came in averaging 14.6 points a game and Josh Nickleberry was averaging 11.3 points. They scored nine and six points, respectively, on a combined 7 for 17 shooting.
But it was Brickus who powered the Explorers to victory. The junior guard, generously listed at 5-foot-11, had a game-high 25 points. Twenty-two of those points were scored in the second half. Brickus was 9 for 14 from the floor in the game, 6 for 10 from 3-point range. He added six rebounds, five assists and two steals for the Explorers.
In fact, he scored 14 straight points and assisted on the 16th, as the Minutemen saw a six-point lead turn into a five-point deficit.
UMass held a 44-38 lead at halftime, and La Salle cut it to two on hoops by Mamadou Doucoure and Brantley.
Cross answered with a 3-pointer and then Isaac Kante, who assisted on the Cross trey, was fouled in the act on the next possession. He made 1 of 2 from the line and it was 48-42.
Brickus then hit a 3-pointer from the right wing and followed that up with one a minute later from the top of the key, tying the game at 48-48.
Fernandes gave UMass its last lead on the next trip down the court, but Brickus scored on a shot over Luis with 15:43 left. A Kante turnover led to a media time out and then, back-to-back treys from Brickus. The last of his 3-pointers came when Doucoure missed inside and Brickus got the offensive rebound. He headed outside the arc and fired one home from the left wing, to make it 56-53.
Noah Fernandes talks about the last shot in the loss to La Salle. pic.twitter.com/J5Y6gjx1oo

— Howard Herman (@howardherman) January 12, 2023
While UMass did cut the lead to one three times, it fell behind by 10 with 5:20 left on Brantley's 3-pointer.
"The scouting report says that No. 2 [Brickus], when he starts messing with the ball, he's not driving. He's shooting threes," Martin said. "The scouting report says that, so when you're guarding him, you've got to go get in his space, so he'll drive because he's 5-foot-8 or whatever he is. We kept backing off him, and that's selfish. That's uninspired, undisciplined basketball."
UMass will be at home Saturday afternoon for a 4:30 game against rival Rhode Island.
———
LA SALLE (8-8)
Doucoure 2-3 0-0 4, F.Drame 3-3 0-0 6, Brantley 5-11 1-2 12, Brickus 8-13 1-1 22, Nickelberry 3-7 0-0 6, Shepherd 4-9 1-2 11, Gill 2-8 1-2 5, H.Drame 3-5 0-0 6, Marrero 2-2 0-0 6. Totals 32-61 4-7 78.
UMASS (10-6)
Cross 4-11 2-4 13, Kante 2-2 1-2 5, Martin 3-5 0-0 6, Fernandes 6-12 0-0 15, Weeks 0-5 0-0 0, Leveque 4-7 2-2 10, Luis 4-6 6-9 14, Dominguez 5-11 0-0 12, Gapare 1-2 0-0 2, K.Thompson 0-0 0-0 0. Totals 29-61 11-17 77.
Halftime_UMass 44-38.
3-Point Goals_La Salle 10-26 (Brickus 5-9, Marrero 2-2, Shepherd 2-6, Brantley 1-3, H.Drame 0-1, Gill 0-2, Nickelberry 0-3), UMass 8-19 (Cross 3-5, Fernandes 3-5, Dominguez 2-4, Gapare 0-1, Leveque 0-1, Weeks 0-3).
Fouled Out_Gill.
Rebounds_La Salle 26 (Brantley 7), UMass 37 (Cross 9).
Assists_La Salle 17 (Brantley 6), UMass 18 (Fernandes 5).
Total Fouls_La Salle 16, UMass 14.