WILLIAMSTOWN — Final exams are quickly approaching for students at Williams College. For the members of the Williams basketball team, they learned their latest lesson on the basketball court.
The Ephs were held to their lowest offensive output of the season, but the defense held visiting Worcester State to seven points over the final eight minutes as Williams gradually pulled away for a 70-57 win Thursday night in Chandler Gym.
It was a game where the Ephs led by as many as 17 points in the first half before the Lancers — who were coming off a loss at Wesleyan — fell victim to a stout defense. Williams needed a strong defensive effort down the stretch because it only shot 41 percent from the floor and was 7 for 24 from 3-point range.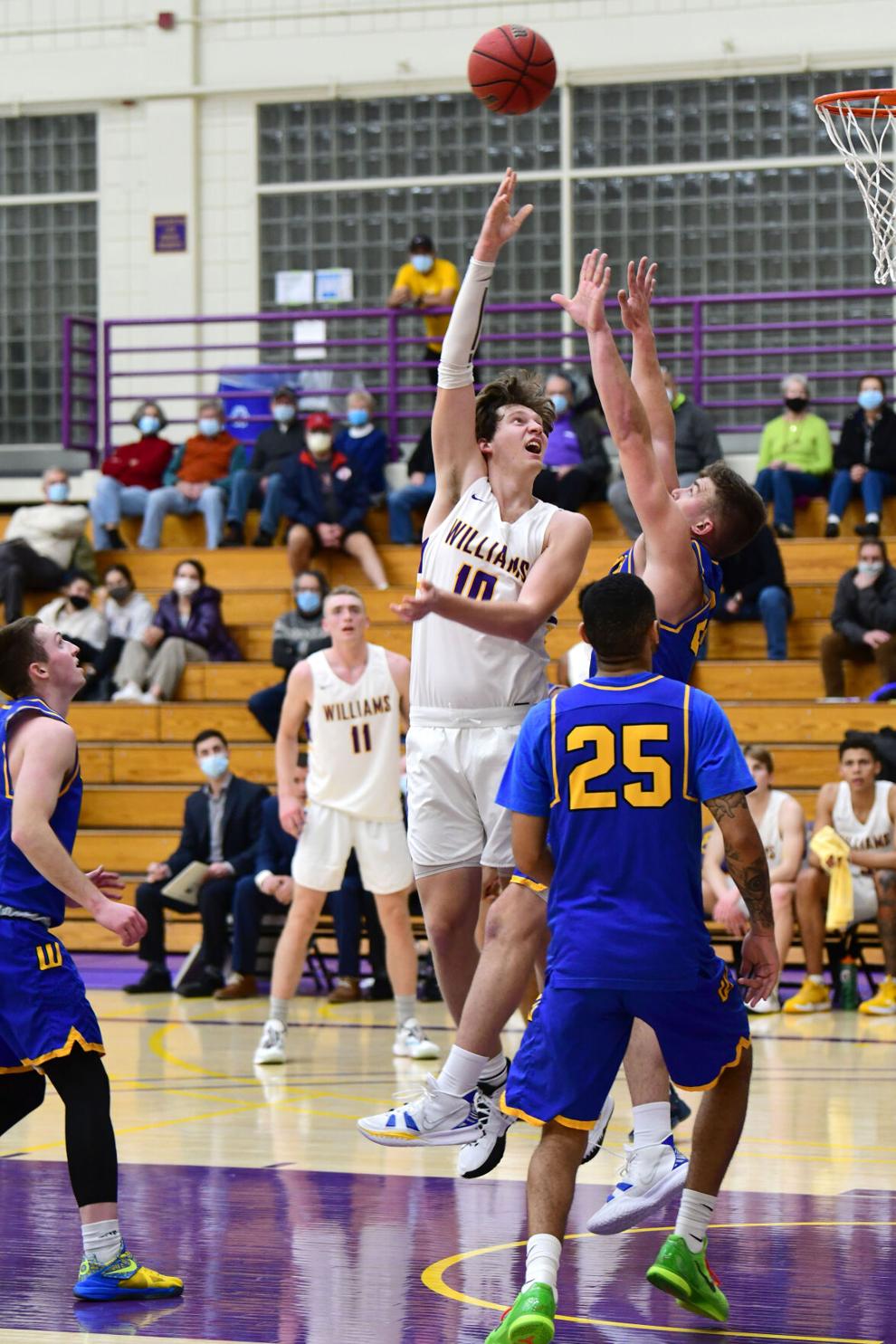 "That was another learning experience for these guys, and I think they handled it great," Williams coach Kevin App said. "When your shot's not falling, you want to hang your head. When they're making a run, you want to hang your head and you want to try to do too much. We actually stopped trying to do too much and got back to our principles, kept the ball moving, kept shooting it with confidence and made some huge shots down the stretch."
With the win, Williams improved to 6-0. It's Williams' best start since they won 15 straight to open the 2018-19 season.
Four Ephs scored in double figures. Nate Karren had 13, while Cole Prowitt-Smith had 12, Jovan Jones 11 and Declan Porter had 10.
"Winning is not easy. I thought it was another game where for certain stretches, we played phenomenal. Then in other stretches, we made some bad decisions or whatever," App said. "They're a veteran team and they made some shots."
For Worcester, Sam Dion came off the bench to score a game-high 17 points. Marcus McCarthy, the reigning MASCAC player of the week, had 11 points and Otis Wheeler added another 10 for the Lancers, who shot 22 for 60 from the floor in the game and were outrebounded 46-30 by Williams.
Worcester coach Tyler Hundley watched his team go 1-2 in a stretch that saw the Lancers knock Rhode Island College from the ranks of the unbeaten, then lose to NESCAC powers Wesleyan and Williams. The Lancers play Saturday against WPI.
"It was mine," said Hundley, when asked whose idea it was to play Wesleyan and Williams back-to-back. "We kind of have a gauntlet this week with Wesleyan, Williams and then WPI on Saturday. My philosophy is we try to play a tough non-conference schedule so we're ready and playing our best and peak in conference play, when it matters most."
It was a wire-to-wire win for the Ephs, but at times it did not look that way.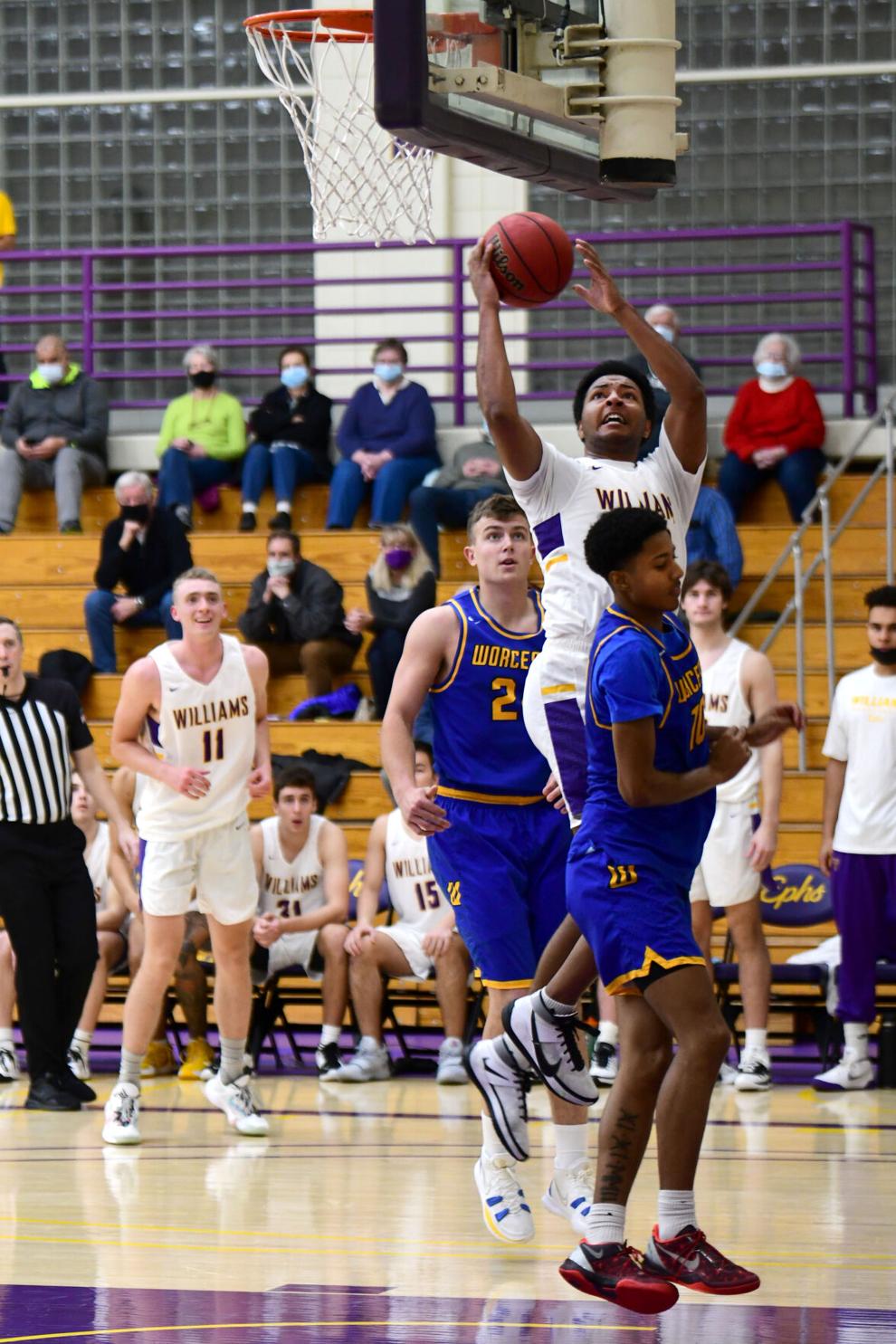 Williams used a 15-4 spurt late in the first half to take a 17-point lead at 32-15. When first-year Declan Porter made both ends of a 1-and-1 with 3:32 left, it looked like this was going to be an easy victory for Williams. Worcester State had other ideas, outscoring Williams 12-2 the rest of the way, including the final eight points of the half. The teams went into the locker rooms with Williams up 34-27. McCarthy hit a 3-point shot and Chris Cardoso was fouled by Prowitt-Smith taking a trey, and Cardoso made all three free throws.
Gradually, Worcester cut the Williams lead and when Otis Wheeler hit a pullup jumper with 12:32 left in the game, it was 44-42. Williams' Marc Taylor responded with a 3-point hoop, but Worcester got it back down to two points on a hoop by Wheeler, making it 49-47 with 10:38 left.
Each team had two empty trips down the court and after Dion was called for a charge, Hundley called a time out with 9:43 to play.
Karren missed a shot, Erik Bjorn got the rebound and missed at the offensive end. Jones, who had a huge second half for Williams got the rebound. Eventually, Karren was fed in the high post and he found an open Spencer Spivy for a 3-pointer that made it a five-point game.
McCarthy answered, but Jones got the final word when he took a pass from Karren — who had a game-high four assists — and dunked to make it 54-49. That gave Williams the momentum it needed to push past Worcester. It was a 14-3 run that put the game away.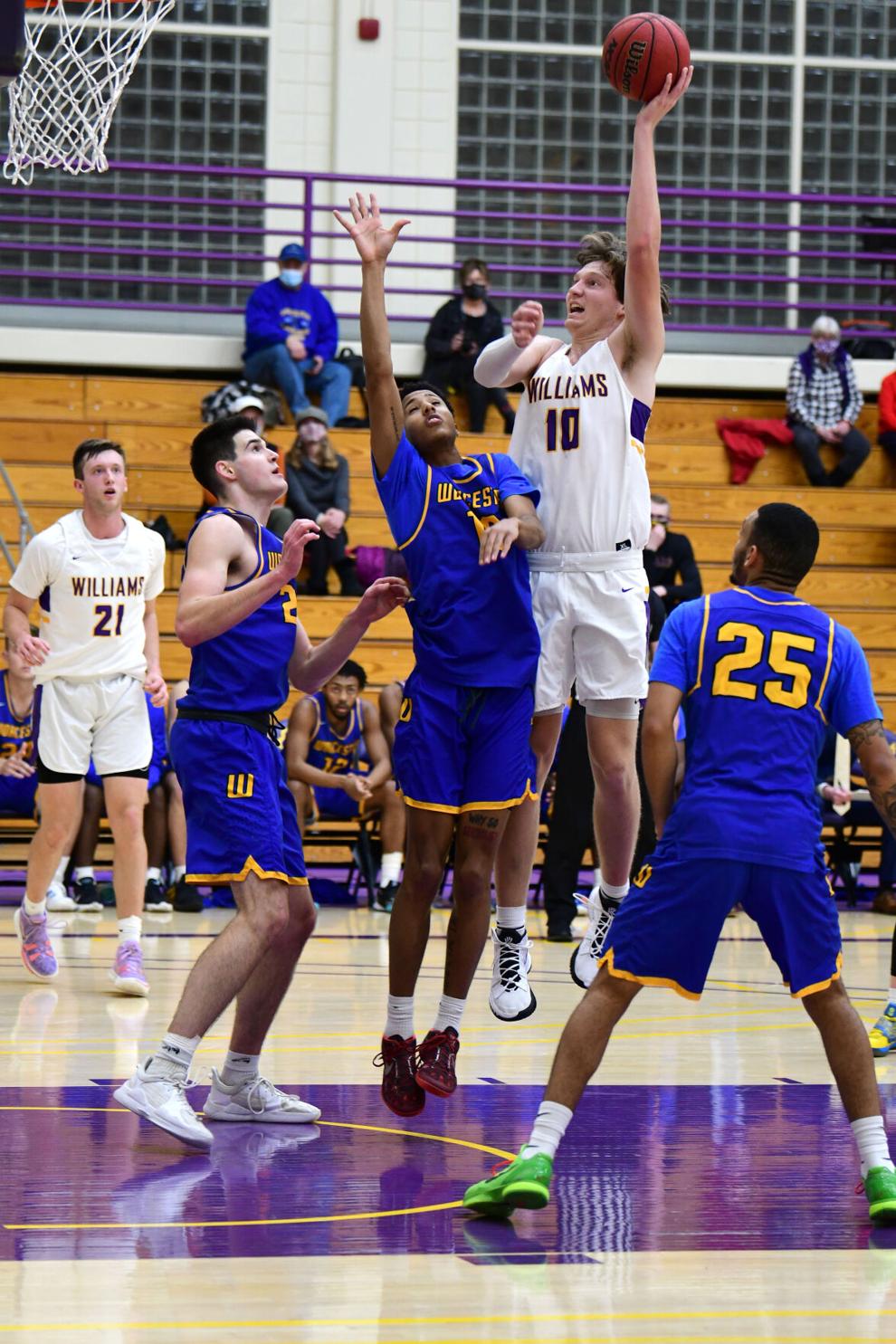 "I'm proud of these guys. It was a two-point game with under 10 minutes, and we hadn't been in that situation since game one," said App. "They didn't flinch. They buckled down and actually picked it up on defense and made play after play after play on the offensive end. That's what it takes to win."
Life doesn't get much easier for Williams. The Ephs will play the non-conference game with Little Three rival Wesleyan on Saturday in Middletown, Conn. Next Thursday, Williams will host Union and then play at Springfield a week from Saturday to wrap up the first portion of the season.
———
WORCESTER STATE (57)
Olivier 1-6 1-3 3, Cardoso 0-6 3-3 3, Rubenskas 4-7 0-0 8, McCarthy 5-12 0-0 11, Bjorn 1-4 0-0 2, Dion 6-13, 2-2 17, Nkugwa 0-0 0-0 0, Hendrix 0-0 0-0 0, Wheeler 4-7 1-2 10, Spencer 0-1 0-0 0, McKenzie 1-3 1-2 3, Sharp 0-1 0-0 0. Totals 22-60 7-9 57.
WILLIAMS (70)
Prowitt Smith 3-5, 6-6 12, Karren 6-12 1-2 13, Spivy 2-7 1-2 7, Porter 3-8 2-2 10, Jones 5-13 0-0 11, Moon 1-2 0-0 2, Arnold 2-5 0-0 5, Roughley 2-5 0-0 4, Taylor 2-5 1-2 6, Glatzer 0-1 0-0 0. Totals 26-63 11-14 70.
Halftime — Williams 34, Worcester 27. 3-point goals — Worcester 6-23 (Olivier 1-3, Cardoso 0-4, McCarthy 1-6, Dion 3-7, Wheeler 1-1, Spencer 0-1, McKenzie 0-1). Williams 7-24 (Karren 0-1, Spivy 2-7, Porter 2-6, Jones 1-3, Moon 0-1, Arnold 1-2, Roughley 0-1, Taylor 1-3). Rebounds — Worcester 30 (McCarthy 7, Cardoso 3, Bjorn 3). Williams 46 (Karren 8, Arnold 5, Jones 5). Fouls — Worcester 15, Williams 9. Assists — Worcester 7 (Cardoso 2, Rubenskas 2). Williams 11 (Karren 4, Prowitt-Smith 2, Jones 2). Turnovers — Worcester 11 (Dion 3). Williams 13 (Spivy 4).