AMHERST — The fact that the UMass offense didn't get on the scoreboard until midway through the fourth quarter in a 45-7 loss Saturday afternoon tells one much about what happened at McGuirk Alumni Stadium.
"At the end of the day, offensively, we shot ourselves in the foot and did not play good football. Ultimately, as the head football coach and offensive coordinator, that's on me," UMass head coach Walt Bell said. "It's my job to have Brady Olson and the quarterbacks prepared and I did not."
The loss was the 16th straight for UMass, now 0-5, tying the Minutemen with idle Arizona for the longest losing streak in the nation. Toledo, who lost by three points to Notre Dame in South Bend, Ind., is now 3-2.
UMass ran the ball 26 times for 23 net yards, setting a new low total. The previous low for rushing yards in a game was 41, set last year in a loss at Marshall.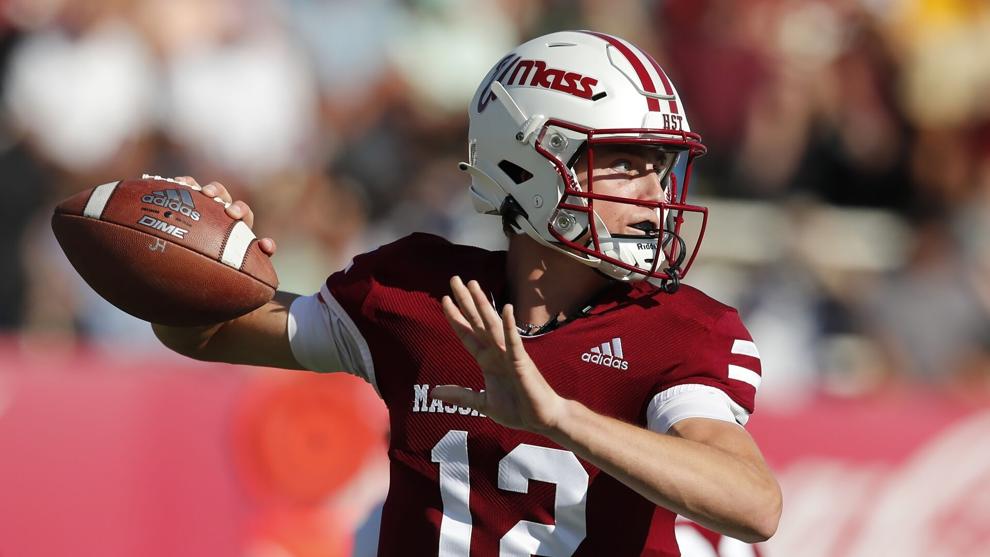 "We didn't move the ball early enough to take the pressure off Brady. Brady got put in some really hard situations in third-and-mediums and third-and-longs early in the game, and that didn't necessarily help Brady," Bell said. "We've got to continue to fight to run the football. We weren't really able to do that in early downs today, so that put our quarterbacks in some hard situations."
The Rockets scored 31 points in the first half, 21 of them came directly off turnovers, which led to short fields and touchdowns.
In the first quarter, UMass freshman quarterback Brady Olson was sacked and stripped of the ball by Jonathan Jones. Desjuan Jonnson recovered on the UMass 34-yard line. One play later, Dequan Finn — one of two quarterbacks used in a regular rotation by Toledo — broke one arm-tackle on first down and ran for a 34-yard touchdown. The Rockets never trailed.
It was 7-0 after one quarter and 10-0 after Thomas Cluckey drilled a 29-yard field goal. The UMass defense, a unit that gave up 558 yards in a 53-3 loss at Coastal Carolina a week ago, rose up in the second quarter and stopped a Toledo drive on the UMass 21. Cluckey missed a 39-yard field goal wide right, and the Minutemen were in business.
After a 21-yard screen pass from Olson to Kay-Ron Adams, Olson was picked off by strong safety Nate Bauer. Bauer returned the ball 41 yards to the UMass 5-yard line. Bryant Koback scored on the next play. What looked like a promising comeback bid turned into a 17-0 deficit. And that's when the landslide occurred.
While Toledo's next touchdown came on a five-play, 75-yard drive, the score that broke the backs of the Minutemen came one series later.
UMass brought Garrett Dzuro in to play quarterback for the last series. The redshirt sophomore gained two yards on a first-down rush. On second down, he was picked by Dyontae Johnson and the linebacker returned it 27 yards. Tack on a personal foul penalty against Ellis Merriweather and the Rockets had the ball on the UMass 8-yard line. On the next play, starting quarterback Carter Bradley found tight end Drew Rosi for seven yards and a back-breaking touchdown with 49 seconds left in the half.
"We put those guys in a bunch of short fields. Our defense, when they had grass behind them, played good defense," Bell said. "They got some stops. That's a step in the right direction with a really young group. Offensively, we have to help those guys out. So many times, we put those guys right back on the field."
UMass coach Walt Bell meets reporters after Saturday's 45-7 loss to Toledo. pic.twitter.com/598HntOO4j

— Howard Herman (@howardherman) October 2, 2021
Redshirt sophomore linebacker Da'Shon Ross made his second start and finished up with one solo tackle and 13 assisted tackles. Freshman linebacker Jerrell Johnson had two solos and eight assisted tackles.
Adams, who walked off the field on crutches, was one of a couple of injuries to a team that has had more than its share of those in five games. Among the walking wounded after the game were Adams, cornerback Bryson Richardson and starting left tackle Max Longman. Bell had no other injury information.
It can't be easy to lose five straight, and some of the Minutemen have been on the field for all 16 losses.
"Our kids are devastated. They had an unbelievable week of practice this week," Bell said. "I thought our defense came to play. We had a great week of preparation. Every single time we ask our kids to get back on the horse and practice and prepare the right way, they always answer the bell."
Next week, the "Game of the Year" will be at McGuirk, when old Yankee Conference rival UConn visits. It could be a battle of winless teams.
———
Toledo 7 24 7 7 — 45
Massachusetts 0 0 0 7 — 7
First Quarter
Tol — Finn 34 run (Cuckley kick), 5:38.
Second Quarter
Tol — Cuckley 29 FG, 10:17.
Tol — Kobach 5 run (Cuckley kick), 4:16.
Tol — Kobach 19 run (Cuckley kick), 1:25.
Tol — Rosi 8 pass from Bradley (Cuckley kick), 0:49.
Third Quarter
Tol — Mitchell 6 pass from Finn (Cuckley kick), 8:56.
Tol — Kelly 6 run (Cluckley kick), 11:54.
UM — Edwards 2 pass from Olson (Carson kick), 9:31.
———
Toledo UMass
First Downs 22 8
Rushes/Yards 43-223 26-23
Passing yards 232 111
Comp-Att-Int 20-30-0 11-25-2
Total offense 73-455 51-134
Fumbles/Lost 0-0 4-2
Penalties/Yards 10-67 6-63
Punt/Avg. 5-43.0 8-52.9
———
INDIVIDUAL STATISTICS
RUSHING — Toledo: Koback 11-82, Stuart 11-53, Finn 5-43, Kelly 9-39, Lowe 2-9, Gleason 1-4, Bradley 4-(minus-7). UMass: Adams 12-23, Merriweather 5-11, Chisari 2-6, Dzuro 1-2, Wise 2-(minus-3), Olson 4-(minus-16).
PASSING — Toledo: Bradley 11-18-0 110, Fin 8-10-0 102, Gleason 1-2-0 20. UMass: Olson 9-22-1 106, Wise 2-2-0 5, Dzuro 0-1-1 0.
RECEIVING — Toledo: Winstead 4-75, Blanumsee 4-47, Maddox 2-12, Newton 2-3, Turner 1-28, Zsiros 1-20, McKinley-Lewis 1-15, Koback 1-9, Rosi 1-7, Kelly 1-6, Mitchell 1-6, Beale 1-4. UMass: Arnold 3-44, Pettway 2-14, Dieke 2-9, Adams 1-21, Orlando 1-11, Pallotta 1-10, Edwards 1-2.