AMHERST — It was hard to tell which fact made University of Massachusetts basketball coach Matt McCall happier — that he got his 100th career victory, or how he got that victory.
UMass rallied from a 17-point deficit in the first half and pulled away down the stretch to beat Harvard 87-77 Saturday afternoon at the Mullins Center. The win improved UMass' record to 5-0 at home, 6-3 overall. It also ended a three-game Crimson winning streak against the Minutemen.
Noah Fernandes came close to a triple-double, scoring a game-high 24 points, pulling down seven rebounds and getting a game-high nine assists. T.J. Weeks Jr., came off the bench to score 21 points and get eight boards in just 28 minutes. C.J. Kelly had 16 second-half points for the Minutemen.
"I think we have a belief that we can fight back, but we'd rather start out strong instead of falling behind," said Fernandes. "Sometimes, you never know, you might fall behind and it might be too little too late."
McCall was asked about reaching the milestone win. He thanked his family and his current and former staffs before turning the focus on his players at UMass and before that, at Chattanooga.
"I think about the players more than anything, because they have been such a huge part of this," McCall said. "I think of all those guys. They're the reason I've been fortunate enough to have 100 wins."
(tncms-inline)1467211856322387972[0](/tncms-inline)
"He's an awesome guy, an awesome coach. I love him," said Fernandes. "He's like my favorite coach I've ever had in my entire life. I just appreciate him for giving us the opportunity to put on this uniform."
The way this game started, it looked like UMass was going to be tagged with its first home loss of the season. Tommy Amaker's Crimson jumped out to a quick 9-2 lead before the Minutemen cut it to 9-8 on Greg Jones' 3-point hoop. It was one of 15 treys made by the Minutemen on Saturday.
But after that, Harvard went on a 14-2 run that not even a media time out could stop. UMass was 0 for 3 with four turnovers — two on charge calls — and it got worse from there. Noah Kirkwood, who had 16 points for the Crimson, scored seven points in that 14-2 run for the visitors. Harvard upped it's lead to 35-19 with 8:16 left in the half, and McCall called a time out. The coach was not, to say the least, very happy.
"Things I wouldn't want my daughters to hear," McCall said, when asked about his giving the team a piece of his mind in the time out. "It was, we're making the same mistakes and eventually we're going to have to stop making the same mistakes.
"We were not playing with the level of aggression we said we wanted to play with — and the rest of the game, they did."
UMass held Harvard to seven points in those last eight minutes and took a 43-42 lead into the locker room. Fernandes had 17 points and Weeks had 12.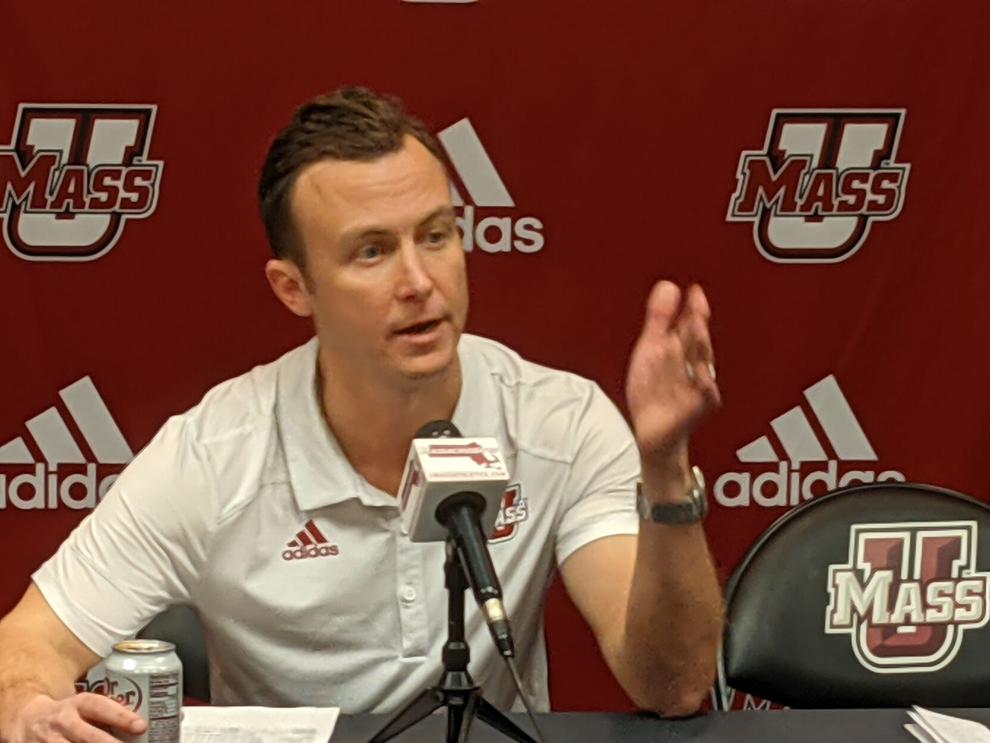 After leading by as many as seven points early in the second half, UMass found itself in a 65-65 tie after Idan Tretout drove past Trent Buttrick for a hoop.
C.J. Kelly, who was scoreless and sat for a lot of the first half, helped ignite an 8-0 UMass burst on a hoop and a free throw, when he drove through traffic. And when Kelly scored on an off-balance shot in traffic, the Minutemen were suddenly up 73-65.
Kelly also made the "dagger" play, when he caught a Fernandes pass in the left corner in front of the UMass bench, and coolly drained a 3-ball with 1:37 left, making it 84-75. That proved to be too much for the Crimson to come back from.
"I challenged C.J. I took him out at the start of the second half. I didn't think he was defending the level," said McCall. "We really challenged him and I thought he responded."
Harvard was led by Chris Ledlum's 20 points. Kirkwood had 16, Luka Sakota had 15 and Tretout had 14. The Crimson fall to 5-4, and have now lost two straight to Atlantic 10 Conference opponents. Rhode Island beat Harvard 64-57 on Dec. 1.
UMass now won't be back in the friendly confines of the Mullins Center until Dec. 19, when the Minutemen host Fairfield. McCall's team will be at Northeastern on Tuesday night, and will play North Texas in Fort Worth on Saturday, Dec. 11.
———
HARVARD (77)
Ledlum 9-20 1-3 20, Sakota 6-13 0-0 15, Tretout 6-11 0-1 14 Kirkwood 7-12 1-1 16, Lesmond 3-11 0-0 9, Silverstein 1-1 0-0 3, Wojcik 0-1 0-0 0, Hemmings 0-0 0-0 0, Freedman 0-1 0-0 0. Totals 32-70 2-5 77.
UMASS (87)
Buttrick 1-6 2-2 4, Jones 2-5 1-1 6, Fernandes 9-17 0-1 24, C. Kelly 5-6 3-3 16, R. Kelly 2-4 5-6 10, Dominguez 0-0 0-0 0, Weeks Jr. 7-13 3-3 21, Steadman 2-3 2-2 6, Mitchell 0-0 0-0 0. Totals 28-54 16-18 87.
Halftime: UMass 43, Harvard 42. 3-point goals: Harvard 11-33 (Sakota 3-8, Lesmond 3-10, Tretout 2-4, Ledlum 1-4, Kirkwood 1-1, Silverstein 1-1, Wojcik 0-1, Freedman 0-1). UMass 15-29 (Fernandes 6-9, C. Kelly 3-4, Weeks Jr. 4-8, Buttrick 0-3, Jones 1-3, R. Kelly 1-2). Rebounds: Harvard 27 (Ledlum 6, Tretout 5, Silverstein 3). UMass 41 (C. Kelly 8, Weeks Jr. 8, Fernandes 7, Steadman 5). Assists: Harvard 17 (Kirkwood 6, Lesmond 3). UMass 20 (Fernandes 9, R. Kelly 6, Jones 4). Turnovers: Harvard 6 (Kirkwood 3). UMass 17 (C. Kelly 4). Fouls: Harvard 18, UMass 13.