NORTH ADAMS — On a night when both coaches said they felt their teams were works in progress, the numbers on the scoreboard showed that Paul Culpo's Castleton University team is a little bit closer than Derek Shell's MCLA men.
The visiting Spartans had three players score in double figures in a 94-82 win Friday night.
In a game where the team that made the last run was likely to win, Castleton outscored the Trailblazers 13-2 over a 2-minute span in the latter stages of the second half to take the lead for keeps. It was the first college basketball game played in Berkshire County since the end of the 2019-20 season, and MCLA's first game since Feb. 22, 2020.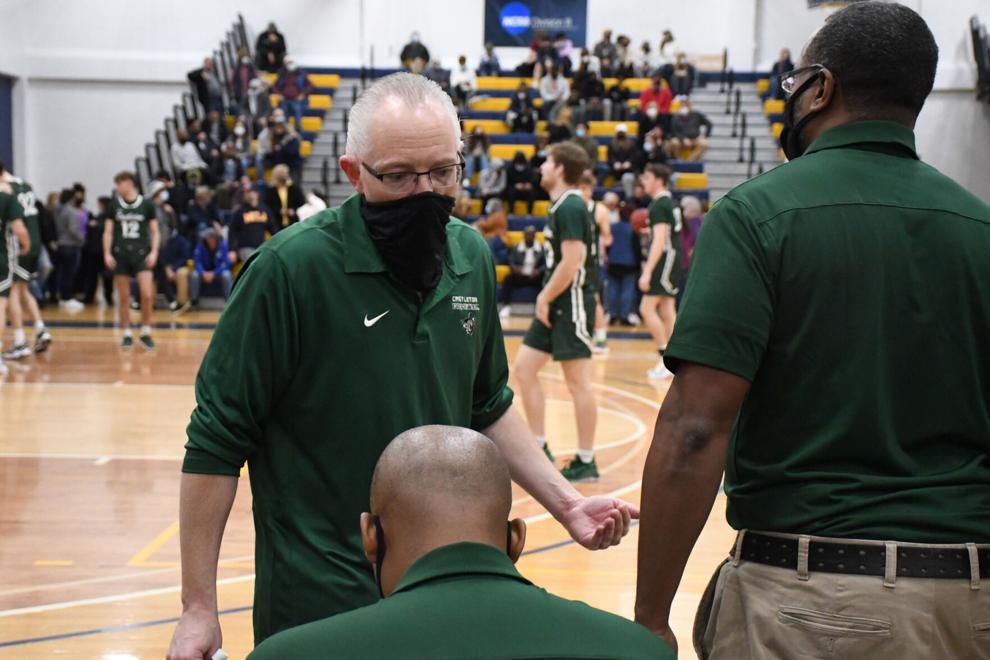 "I didn't think we pushed the ball deliberately. Clearly, neither one of us is a really good defensive team," Shell said. "I thought we could have taken care of the ball better. I think we passed up some pretty easy shots and made things a little more difficult on ourselves. Defensively, it's about being tougher physically and mentally."
Joe Alamprese scored 19 points to lead the Spartans. Jackson Atty had 16 points and Remy Brown 15.
"I was happy with the way we responded, especially when we got down in the second half," Culpo said. "There's a lot of things we need to be much better at. Our transition defense was atrocious. I thought our missing shots impacted our defense, and that can't happen."
The Trailblazers were led by Dylan Morris-Gran, who had a game-high 22 points. Hayden Bird had 16 and Tyler Showers came off the bench to score 15.
Former Drury standout Reece Racette made his collegiate debut in the game. Racette scored only two points on 1-of-4 from the floor. But, Racette had 11 rebounds, eight on the defensive glass. His defensive rebounds were more than any Castleton player got in total. Racette also had six assists, only three turnovers and three steals.
Racette, who was Drury's career scoring leader in 2019 before being overtaken by former Blue Devil teammate Scott McGuire the next season, did not play as a freshman at MCLA. He was poised to return for his sophomore year, but the COVID-19 pandemic wiped out the 2020-21 season.
"It's nice to see Reece Racette back on a basketball court," Shell said. "He plays huge. I thought Reece really showed up. I was impressed with him and I'm excited that he's going to be our point guard going forward.
Bird was a teammate of Racette's at Drury, and he too was excited to have the ex-Blue Devil on the court with him.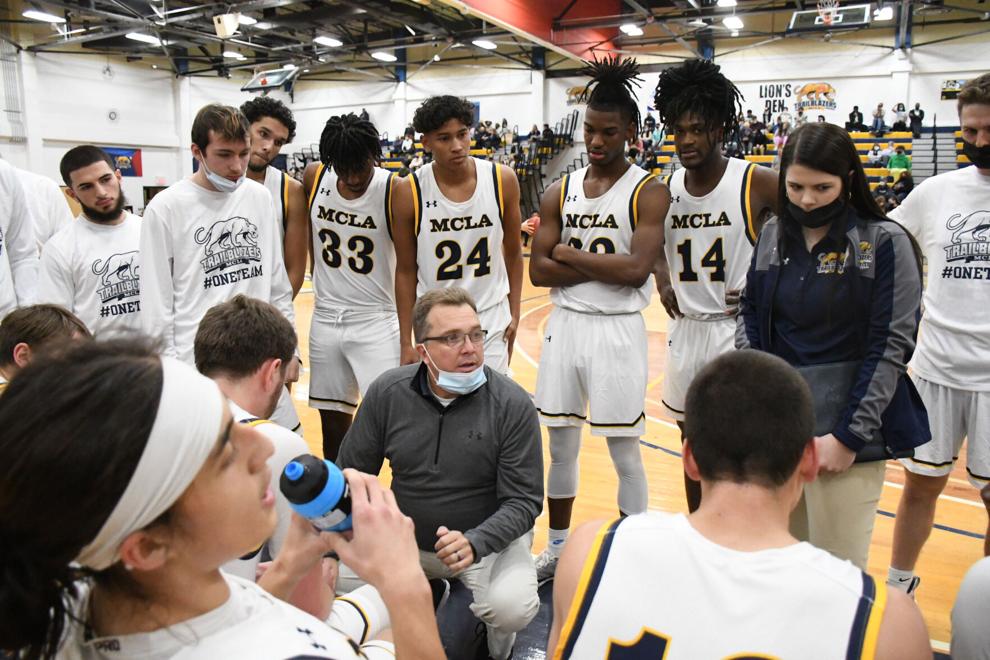 "Oh my God, there's nothing like it," said Bird. "In the first half he had two assists to me right off the bat. He's one of my all-time favorite people to play with, so it's very exciting."
Racette played 30 minutes Friday night, 15 in each half. He might have played more than the plan in the second half because Pittsfield's Quentin Gittens hurt a leg during the first half and was on the bench for the final 20 minutes. Gittens, a former Taconic star, had seven points and five rebounds in 13 minutes, so his presence was missed.
In addition, Noah Yearsley, the leading returning scorer for MCLA, was in uniform but unable to play because of an injury. Yearsley said that he should be good to go for practice on Sunday and back in action perhaps next week.
Racette got in the scorebook right off the bat, when he turned over Alamprese and fed Gittens for a fast-break layup for the game's first basket.
After Castleton scored six straight points, Racette dished a dime to Morris-Grey for two, and after rebounding a 3-point miss by Bird, found his fellow Drury alum for a 3-point hoop.
"Obviously, it was exciting" to be back on the court, Racette said. "There was a lot of buildup to it. Obviously this wasn't the outcome we really wanted. Just get back to work, get better and do things we need to do to move forward and continue to progress through the season."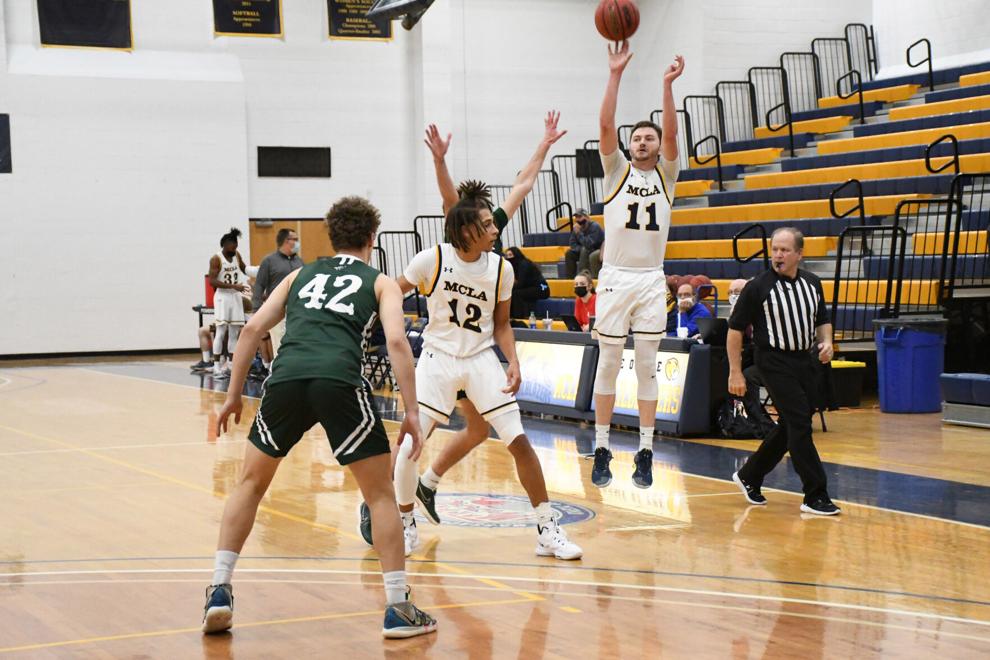 Each team weathered multiple storms on Friday night. MCLA took a 37-34 halftime lead by outscoring Castleton 14-1 over the final six minutes. The Spartans came out of their locker room, scoring the first six points of the second half to take a 40-37 lead, and forcing Shell to take a 30-second time out.
Both MCLA and Castleton threatened to break the game open, but the other team put a stop to it. The biggest lead down the stretch for the Trailblazers was 70-62 when freshman Tyler Showers from Brother Rice High School in Chicago scored five straight points, one on an old-fashioned three-point play and then going 2 for 2 from the line.
Atty hit a 3-pointer from the left corner, which gave the Spartans a real boost. After trailing by seven points, a run of 14-2 over the next four minutes gave Culpo's team a 77-72 lead. And while Showers ended the run with a put-back, cutting the lead to three points, Castleton's John Walsh and Alex Blackmore hit consecutive treys to put the game out of reach with 4 minutes to play.
"I thought our full-court, pressing, trapping 1-3-1 bothered them a little bit, helped change the game," said Culpo. "We finally made a couple of shots. We shot terribly and we had been shooting the ball really well. Our shooting was not up to par, I'm sure theirs wasn't either. "
(tncms-inline)1456780753140948997[0](/tncms-inline)
The Trailblazers were 31 for 79 from the floor in the game to 31 for 83 for Castleton. The Spartans, who were 12 for 37 from 3-point range, were 7 for 17 in the second half. MCLA was only 5 for 25 from outside the arc. Morris-Gray was 2 for 6 and Bird was 3 for 9. The other five shooters were 0 for 10 from beyond the 3-point line.
One place where Castleton was good was at the foul line. The visitors were 20 for 24 in the game and 17 for 20 in the second half. MCLA was 15 for 28.
———
CASTLETON (94)
Atty 6-12 1-2 16, Hardge 2-9 1-3 6, Schwarzbeck 2-5 22 7, Alamperese 7-20 5-5 19 Brown 3-11 9-10 15, Brown 2-5 0-0 6, Germain 1-2 0-0 3, Torrance 1-5 0-0 2, Walsh 3-5 0-0 8, Sowunmi 2-2 0-0 4, Blackmore 2-7 2-2 8. Totals 31-83 20-24 94.
MCLA (82)
Morris-Gray 7-15 6-7 22, Bird 6-16 1-2 16, Gittens 3-8 1-2 7, Racette 1-4, 0-0 2, Afful 3-8 1-4 7, Perez 0-0 0-0 0, Cartolano 1-4 1-3 3, Diallo 2-4 2-5 6, Garcia 0-3 0-2 0, Kelly 2-8 0-0 4, Showrs 6-9 3-3 15. Totals 31-79 15-28 82.
Halftime: MCLA 37-34. 3-point goals — Castleton 12-37 (Atty 3-9, Hardge 1-2, Schwarzbeck 1-1, Alamprese 0-6, Brown 0-6, Brown 2-4, Germain 1-2, Walsh 2-3, Blackmore 2-4). MCLA 5-25 (Morris-Gray 2-6, Bird 3-9, Afful 0-2, Cartolano 0-2, Garcia 0-1, Kelly 0-4, Showers 0-1). Rebounds — Castleton 35 (Sowunmi 6, Blackmore 6, Hardge 6). MCLA 62 (Racette 11, Diallo 9, Afful 8). Assists — Castleton 18 (Hardge 7, Alamprese 3, Torrance 3). MCLA 13 (Racette 6, Bird 3). Turnovers — Castleton 6, MCLA 20.