WILLIAMSTOWN — It was a pretty nice trifecta for the members of the Williams College men's basketball team.
Beat your archrival, check. Take the season series from them, check. Advance to the NESCAC Tournament semifinals, check.
"It feels so good," said Williams guard Cole Prowitt-Smith, after the Ephs held off Little Three rival Amherst 70-66 in the tournament quarterfinal game. "This journey this year has been so tumultuous with a bunch of bumps in the road in terms of not having fans and COVID protocols. To see the Williams community be able to come out and to have our parents come back to the game, to be able to gut out a gutty win like that is really special."
Prowitt-Smith scored 18 of his game-high 20 points as the fourth-seeded Ephs knocked off No. 5 Amherst in the quarterfinal round for the first time since Williams was seeded sixth and upset the No. 3 Mammoths 76-69.
Williams took the lead for keeps thanks to an early 9-0 run in the first half, turning a two-point Amherst lead into an 11-4 advantage for the Ephs. Williams led by as many as 11 points in the first half, by 31-27 at halftime and by as many as 13 in the second half.
Each time Williams looked like it landed a haymaker, Amherst got up off the canvas. The last time came when Amherst's Garrett Day scored on a reverse layup with 3:01 left as the Mammoths cut the lead to 55-54. Williams responded with a 6-1 spurt and held the visitors at bay the rest of the way.
Williams went 11 for 14 from the foul line in the last two minutes to lock up the quarterfinal victory.
"That is a NESCAC playoff game. That is a Williams-Amherst game, wrapped into one," Williams coach Kevin App said. "I thought, give their team credit for making runs. Anytime we thought it might be easy, they made sure we knew it wouldn't be. Our guys didn't flinch, and that's what you hope for at this time of the year.
"I'm super proud of guys stepping up and guys relishing the environment and competition, and finding a way to win."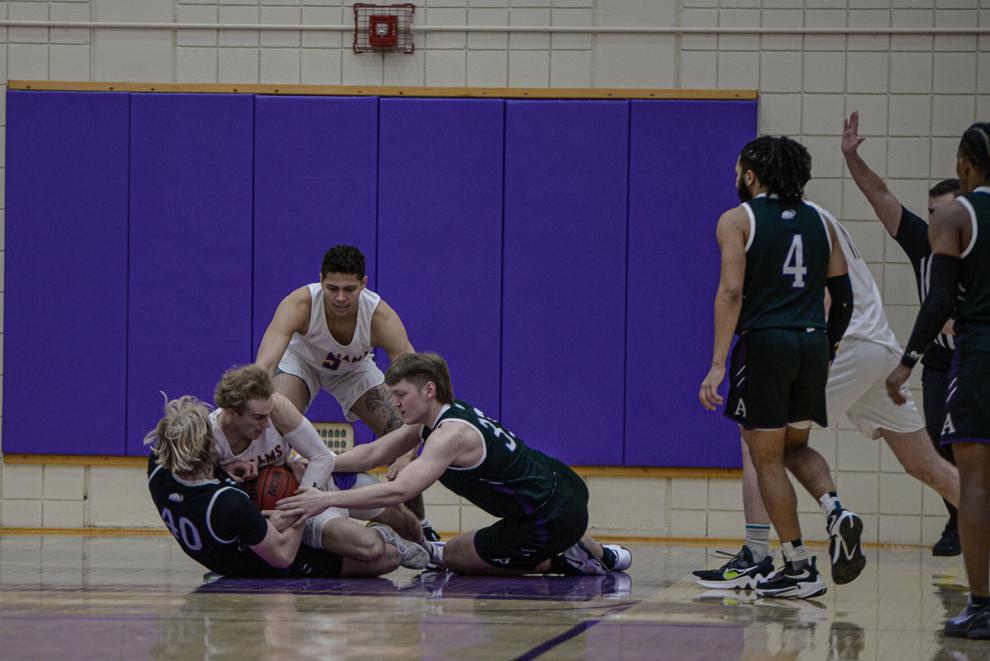 The Ephs will play third-seeded Middlebury in the second game of this weekend's semifinal round at Wesleyan. The Panthers knocked off No. 11 Bowdoin 91-72 in a Sunday quarterfinal. The second game is set for a 4:30 p.m. tip-off.
Top-seeded Wesleyan will host because the Cardinals defeated No. 9 Colby 82-71 on Sunday. Wesleyan will play seventh-seeded Trinity, after the Bantams rolled to a 90-76 win over No. 2 seed Tufts. The Wesleyan-Trinity game will tip at 2 p.m.
Win or lose, Wesleyan will host the NESCAC title game this coming Sunday at noon. The winner gets an automatic berth to the NCAA Division III Tournament.
That is, however, getting a little bit ahead of the schedule.
These historic rivals played two games this year, splitting the two with the road teams winning. Amherst beat Williams 73-65 back on Jan. 8, with Grant Robinson scoring 27 points on 5 for 11 shooting from the field and going 14 for 14 from the foul line. When these teams met in Amherst two weeks later, Williams pulled out the 64-50 victory. In that game, Eph center Nate Karren had 17 points and seven rebounds.
Much can be gleaned from the stat sheet, but perhaps the most important statistic is that Robinson was held to four free throws. The senior from Chevy Chase, Md., averaged 22 points in both Williams-Amherst games. On Saturday, he was 0 for 7 from the floor, including 0 for 3 from 3-point range. While Robinson did record a game-high nine assists, the Ephs kept him under wraps for the most part.
"That's what I told him today after the game," App said. "We game plan for him and they've exposed every game plan we've thrown at them. It wasn't so much the game plan. It was our guys, playing a team the third time, you know tendencies. We've played Robinson and Day more than three times. We've played them a ton. We just wanted to chase, throw a second body at him as often as possible, which I think led to some of those assists, and really make him work and not bail him out at the free-throw line."
Amherst had cut that 13-point Eph lead in the second half to three points on a 3-point hoop by Tim McCarthy, who led the Mammoths with 14 points. That made it 53-52. Williams answered when Nate Karren found Prowitt-Smith cutting to the basket. He fed the guard the ball for the uncontested layup. Amherst came right back down and Day scored inside. Amherst coach Marlon Sears called time out.
Out of the time out, Eph first-year Declan Porter was fouled in the act and made both free throws. Amherst's Ryker Vance made one of two on Amherst's possession, and it was 57-55. The Mammoths did cut the Williams lead to two points two other times down the stretch but never caught up. And when Karren drained a pair from the charity stripe with 2.4 ticks on the clock, the Ephs had their revenge, their tournament win and their ticket to the semifinals.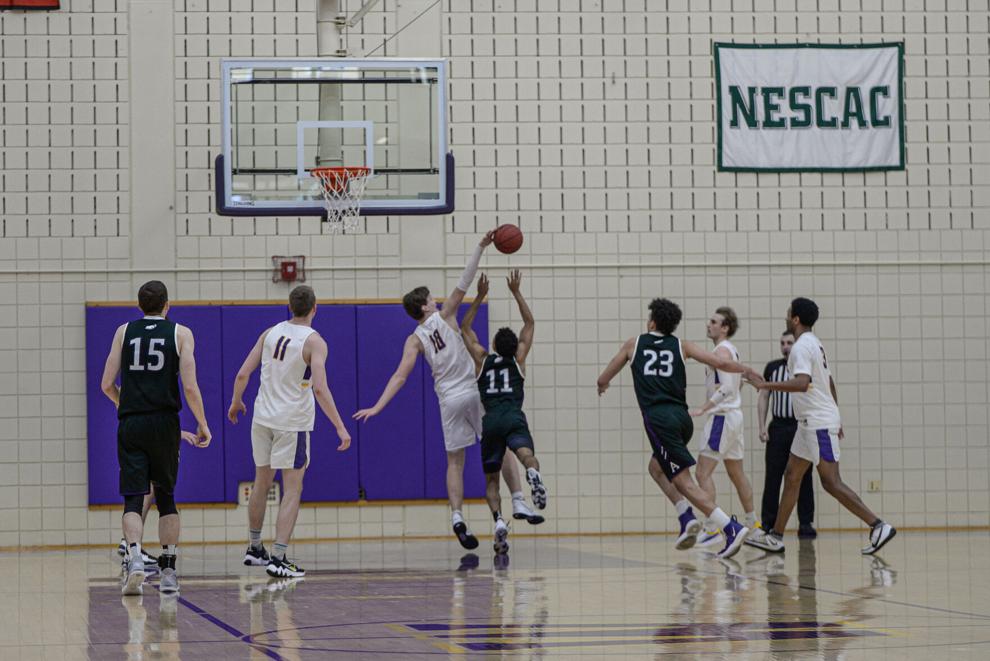 For the Mammoths, especially the young ones like first-year Noah Helmke from Great Barrington, it was a learning experience. It was a real education playing in the Williams-Amherst rivalry.
"I just knew it was going to be a close game" on Saturday, he said. "I know Williams had a better season numbers-wise than us. We weren't hesitating at all. We thought we had this game. We just came up short."
For the Ephs, it is more than possible that Saturday's win clinched a berth in the 64-team NCAA Division III tournament. There are games to play to see if the Ephs will host any games in Chandler.
"We're taking it one game at a time, absolutely. It's kind of cliche, but that's the philosophy we go by," Prowitt-Smith said. "I can't speak enough about how special this group is. We love each other so much and to know that we have, hopefully, more time together is all that matters."
———
AMHERST (15-9)
Day 5-11 0-0 12, Robinson 0-7 4-6 4, Schretter 3-3 0-0 6, McCarthy 5-14 0-0 14, Ryker Vance 5-8 2-3 12, Reynolds 1-4 0-0 3, Allen 0-4 0-0 0, Mitchell 2-3 1-2 6, Sommers 0-0 0-0 0, Oranye 1-1 0-0 2, Phelan 0-0 0-0 0, Helmke 2-6 0-0 5, Schakman 0-0 0-0 0 Scherer 1-30-0 2. Totals 25-64 7-13 66.
WILLIAMS (16-3)
Prowitt-Smith 6-12, 6-7 20, Karren 6-12 3-6 18, Spivy 1-5 23 4, Porter 2-9 2-6 8, Jones 3-5 2-4 8, Stoddard 2-5 0-0 5, Arnold 0-1 0-0 0, Roughley 0-1 1-2 1,Tayor 0-1 0-0 0, Glatzer 2-2 2-4 6. Totals 22-53 18-28 70. Halftime: Williams 31-27.
3-point goals: Amherst 9-31 (Day 2-5, Robinson 0-3, McCarthy 4-10, Vance 0-1, Reynolds 1-2, Allen 0-3, Mitchell 1-2, Helmke 1-5). Williams 8-19 (Prowitt-Smith 2-3, Karren 3-5, Spivy 0-1, Porter 2-6, Jones 0-1, Stoddard 12, Taylor 0-1).
Rebounds: Amherst 39 (Vance 6, Robinson 6). Williams 37 (Karren 7, Spivy 7, Jones 7).
Assists: Amherst 17 (Robinson 9). Williams 11 (Karren 3, Spivy 3).
Turnovers: Amherst 11 (Scherer 2, Day 2, Robinson 2). Williams 10 (Karren 3, Glatzer 3).
Fouls: Amherst 21, Williams 14.