AMHERST — This was why they came back, every one of them.
Williams College took home from Pratt Field a perfect season, a Little Three title, and a NESCAC championship.
Photos: Williams College football beats Amherst in season finale, securing 9-0 campaign
Williams College football beat arch-rival Amherst College at Pratt Field in Amherst, securing the NESCAC title, Little Three title, and completing the first 9-0 season in the school's history. Saturday, November 13, 2021.
To purchase these photos, click here.
"We talked at the start of the year that we took eight long months to kind of think about where we wanted to be," Williams linebacker Jarrett Wesner, one of the many Williams seniors who took a semester off last year so they could come back and finish their college football careers. "It's hard to believe that we're here."
Williams jumped out to a comfortable halftime lead, but host Amherst wasn't about to let the Ephs coast home. The Mammoths scored a fourth-quarter touchdown to pull to within four, but a Williams defense that had been gashed often Saturday afternoon, came up with stops on three straight possessions. And when sophomore defensive back James Hemmer intercepted a Chad Peterson pass with 12 seconds left, it locked up a 24-19 win Saturday afternoon in Amherst.
"Every day that we put in the work," Wesner said. "It got us to this moment."
The victory gave Williams its first 9-0 record and its first undefeated season since going 8-0 back in 2010. The year 2010 is significant, because that was the last time Williams won an outright Little Three title. The Ephs did get one-third of the title in 2017. It was also Williams' first NESCAC title since 2010. That crown was also won on Pratt Field.
"Words can't describe how I'm feeling right now," said Williams quarterback Bobby Maimaron, another so-called fifth-year senior. "So much work has gone into this and so many people put in so much time, it means so much to me that we were able to cap the season off 9-0."
Amherst ends its season with losses to Trinity and Williams, and finishes 5-4.
(tncms-inline)1459610734170677251[0](/tncms-inline)
Maimaron closed out his storied Williams career by going 12 for 18 for 253 yards. He threw two touchdown passes, one to Mario Fischetti in the first quarter and one to Justin Burke on the opening drive of the second quarter. Maimaron did run the ball 13 times, but for no net yards. Frank Stola, also in his Williams finale, caught five passes for 138 yards,h while fellow senior Burke caught three balls for 66 yards.
It looked like it might not be enough. Amherst got the ball back with 12 seconds left at the Mammoth 38-yard line. Amherst quarterback Chad Petersen led his team out for one last try at a game-winning touchdown. He had time on first down, rolling right and threw toward the Amherst bench and Carson Ochsenhirt. Hemmer got in front of Ochsenhirt, picked off the pass, and all Williams had to do was run out the clock.
"Especially after that defensive pass interference [late in the fourth quarter], I knew I couldn't drop that pass," he said. "Especially because that Amherst receiver was my high school quarterback. That made it a little extra. He was also my safety when I was a corner."
Both Hemmer and Ochsenhirt went to New Trier High School, 20 miles north of Chicago.
(tncms-inline)1459665580336861186[1](/tncms-inline)
"It's funny, because we practice that play at the end of every Friday and Monday practice," Hemmer said. "We're guarding the out route at the end of the game. That's the exact same route combo I see in practice. I guess I was just really lucky and I'm glad they threw it."
Williams led 17-6 at halftime and thanks, in large part, to a 67-yard pass play from Maimaron to Stola, made it 24-6 two plays later. The Williams quarterback found Burke, another senior, on a 7-yard pass play for a touchdown. Ivan Shuran's PAT gave the Ephs what looked like an insurmountable lead. In the Little Three, and particularly in this game, results are not usually salted away until the game clock reads 0:00 in the fourth quarter. Saturday was no exception.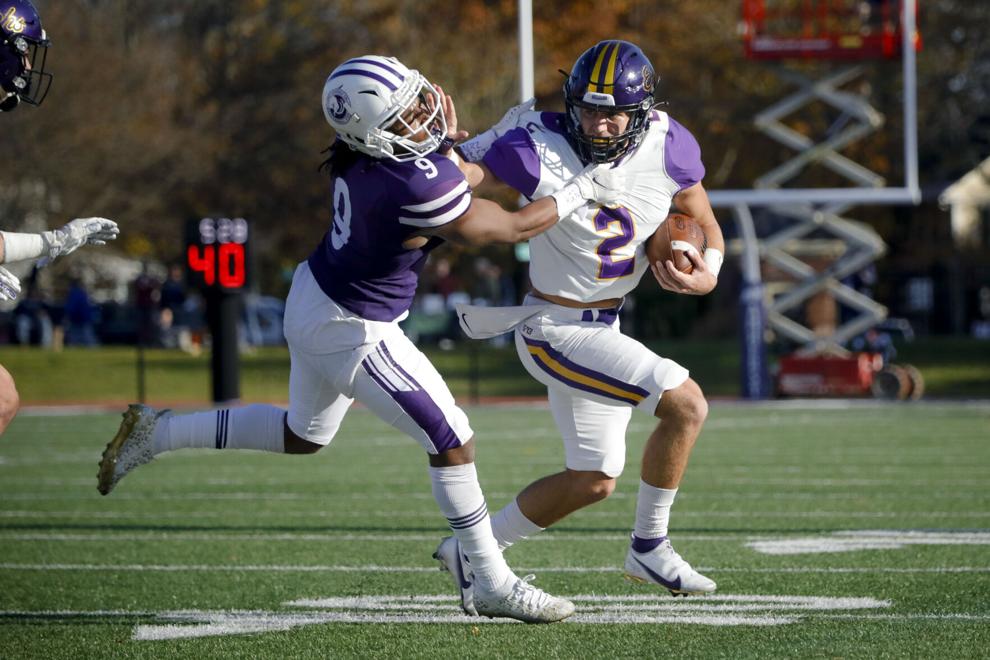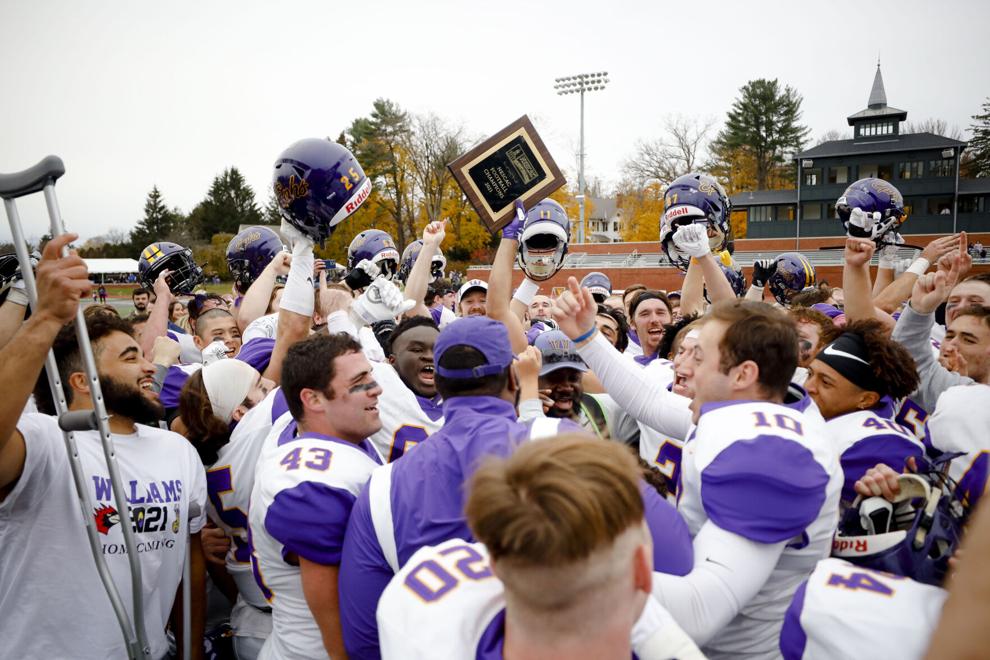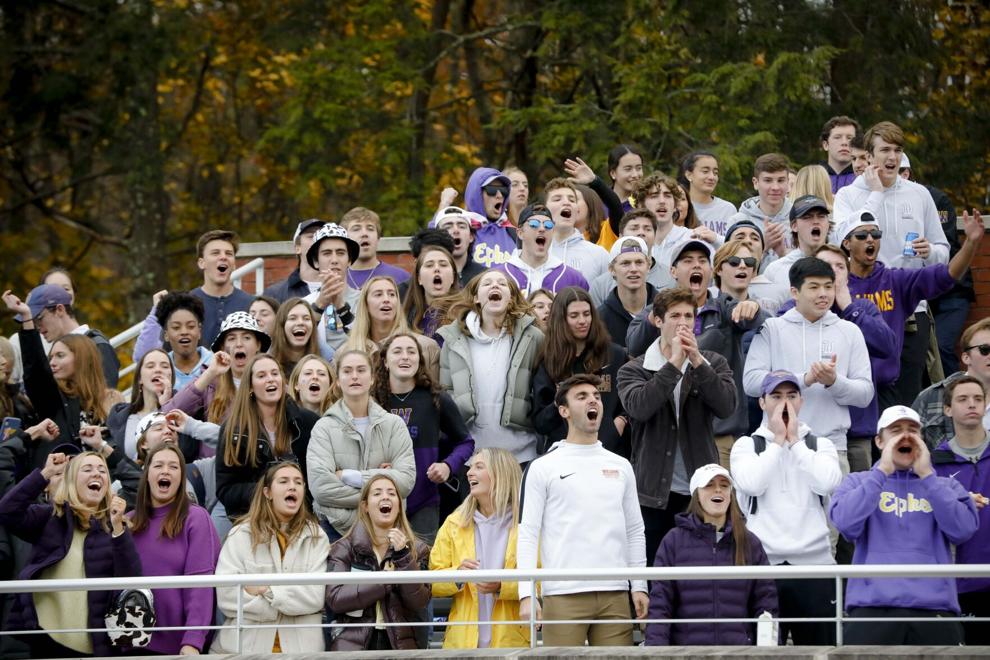 After a 43-yard punt by Amherst's Michael Mitchell, Williams started marching from its 24-yard line into Amherst territory. Maimaron found Stola when he rolled out to his left, and Stola was wide open on the Amherst 6. That was the good news. The bad news for coach Mark Raymond's team was that three downs got the offense to the one. On fourth down, Joel Nicholas (22 carries, 54 yards) fumbled before getting into the end zone. Amherst's Marni Malone recovered the fumble and his 20-yard return gave the Mammoths the ball. Had the Ephs scored, the game might well have been over.
Instead, Peterson marched the Mammoths from the 21-yard line into Williams territory. Peterson, who was 20 for 44 for 256 yards but threw three interceptions, went the whole way at quarterback because starter Brad Breckenridge had been injured in last week's loss to Trinity.
A 35-yard pass from Peterson to Jack Betts on third-and-10 kept the Amherst drive alive, and Peterson capped it off with a 13-yard touchdown pass to Joe Masterson. The kick by Connor Kennelly made it 24-13. Still a comfortable lead, but the fans on the Williams sideline were starting to squirm.
That got kicked up a notch when the Williams offense stalled and punter Andrew Schreibstein shanked a punt that traveled 22 yards and set Amherst up on its 40.
Amherst coach E.J. Mills, who went deep into his playbook, used a double-reverse, wide receiver pass from Masterson to Ochsenhirt for 28 yards. The key play, however, was a pass interference penalty in the end zone that gave Amherst the ball on the Eph 2. On the next play, Ochsenhirt — out of the Wildcat — ran it in for six. Amherst went for 2, but Chaz Cotton defended the pass from Peterson to Ochsenhirt.
The teams traded punts, but the one by Peterson out of the shotgun, was downed just shy of the goal line.
On first down, Nicholas gained maybe a half-yard. In their four years together, Maimaron and Stola have made a number of stellar pass plays together. The Eph quarterback dropped back deep in his end zone and let it fly. Stola ran under the ball and only a tackle by safety Ryan Monteleone saved Stola from going the distance.
"I talked to Bobby Maimaron after the game and said 'You're done.' I said I am not looking at you again," Mills said. "He's a heck of a player, Frank Stola too, and the defensive guys, had a heck of a career."
After the Hemmer interception, Maimaron took a knee and Williams had its hard-fought perfect ending to the 2021 season.
"It's Amherst right? They're a good football team and they came prepared to play," Williams coach Mark Raymond said. "We weren't expecting anything less, to be honest with you. They pulled out all the stops. They were really well-prepared. They came to win, and fortunately we had one more play left in us."
———
Williams 10 7 7 0 — 24
Amherst 3 3 7 6 — 19
First Quarter
W — Fischetti 35 pass from Maimaron (Shuran kick), 11:29.
A — Kennelly 25 FG 6:12.
W — Shuran 23 FG, 0:56.
Second Quarter
W — Nicholas 1 run (Shuran kick), 12:45.
A — Kennelly 31 FG, 0:12.
Third Quarter
W — Burke 7 pass from Maimaron (Shuran kick), 11:38.
A — Masterson 13 pass from Peterson (Kennelly kick), 0:32.
Fourth Quarter
A — Ochenhirt 2 run (Pass failed), 12:09.
———
Will Amh
First Downs 20 21
Rushes/Yards 52-157 17-36
Passing yards 253 284
Comp-Att-Int 12-18-0 21-46-4
Total offense 70-410 63-320
Fumbles/Lost 1-1 0-0
Penalties/Yards 4-33 3-24
Punts/Avg. 4-33.0 4-38.8
Time of possession 33:08 26:52
———
INDIVIDUAL STATISTICS
RUSHING — Williams: Fischetti 6-84, Nicholas22-54, Vaughn 6-25, Burke 1-7, Maimaron 13-0, Team 2-(minus-4). Amherst: Field 8-44, Ochsenhirt 2-3, Eckelkamp 3-2, Hawkins 2-1, Peterson 1-(minus-4), Warfield 1-(minus-10).
PASSING — Williams: Maimaron 12-18-0 253. Amherst: Peterson 20-44-3 256, Masterson 1-1-0 28, Hawkins 0-1-1 0.
RECEIVING — Williams: Stola 5-138, Burke 3-66, Fischetti 2-31, Nicholas 1-12, DeGasperis 1-6. Amhert: Masterson 6-115, Gaydos 3-42, GArland 4-42, Ochsenhirt 2-36, Betts 1-35, Field 5-14.