TALLAHASSEE, Fla. — For the second time in as many games, the University of Massachusetts scored first. That was the good news.
The bad news for coach Walt Bell and the Minutemen was that host Florida State scored the final 59 points in a 59-3 homecoming victory over the overmatched Minutemen on Saturday afternoon.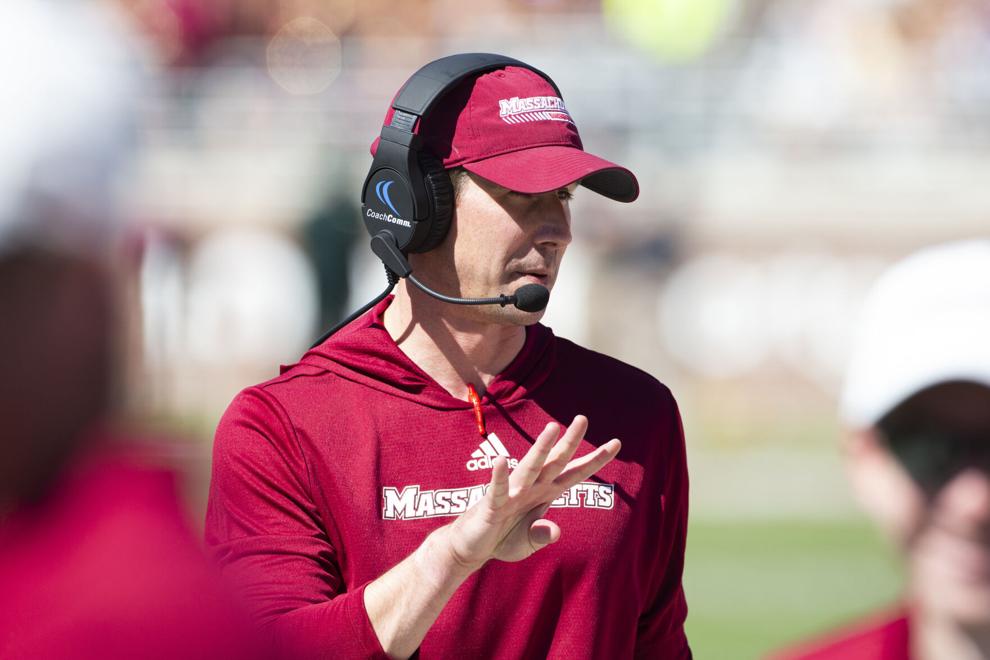 UMass won the toss and elected to defer. C.J. Kolodziey's kickoff was fielded by Travis Jay and returned to the Florida State 26. That's where UMass' Gerrell Johnson slammed into the ball carrier, forcing a fumble that Johnson recovered. The play was, however, ruled down by contact. But on review, the call was changed and UMass had the ball on the Seminole 26-yard line.
Ellis Merriweather gained three yards on first down, but two Brady Olson incompletions brought Cameron Carson on to kick a 45-yard field goal. Carson's kick, the longest of his career, was good and UMass led 3-0. Had the Minutemen scored a touchdown, the end result might not have changed, but there would be little doubt that the UMass offense would be feeling better about itself.
The UMass defense could have done its part and stopped Florida State on the first series, giving the Minutemen some momentum in a really difficult road environment. Instead, Florida State quarterback Jordan Travis gashed the UMass defense for 39 yards on first down, moving right into UMass territory. Five plays later, Travis ran it in from 3 yards out. Ryan Fitzgerald made the first of his eight PAT kicks, and the Minutemen were down 7-3.
On Florida State's next series, the Seminoles marched from their 7 to the UMass 25. On third down, Travis ran for 7 seven yards, fumbled and FSU's Jashaun Corbin recovered on the 18. It was the second forced fumble of the game by UMass' Johnson, but he could not recover the ball. Instead, Fitzgerald booted a 36-yard field goal for a 10-3 lead.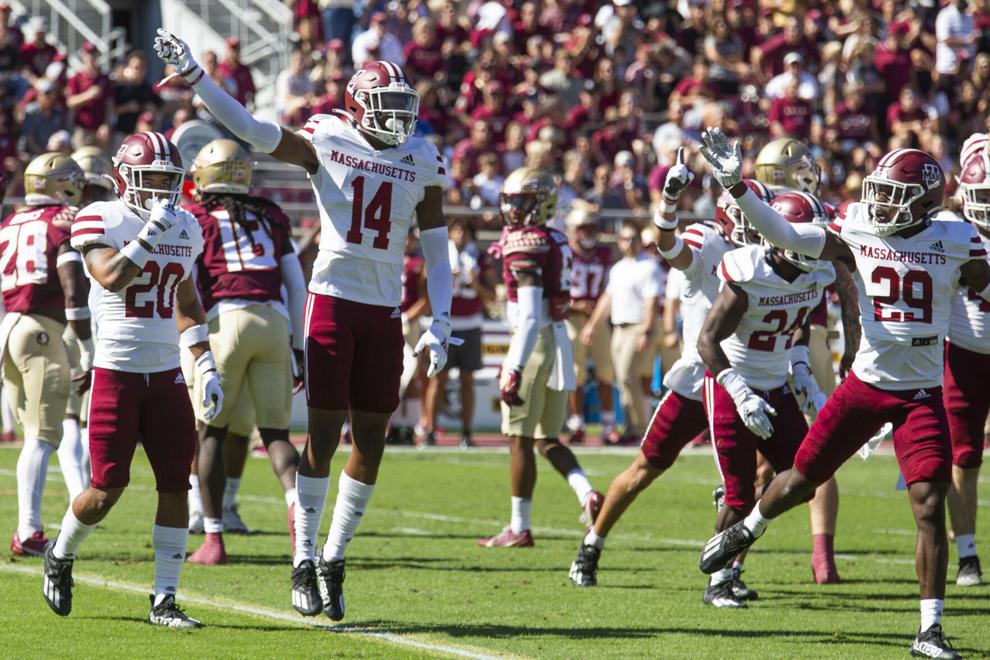 Florida State scored 28 points in the second quarter, with the backbreaker coming on Jarvis Brownlee's 70-yard interception return for a touchdown. Brownlee picked off an Olson pass, one of two interceptions thrown by the UMass freshman quarterback.
Zamar Wise took the controls in the third quarter for UMass, but could not guide the Minutemen to the end zone. Olson was 12 for 27 with two picks for 110 yards. Wise was 3 of 6 for 19 yards, but ran the ball 12 times for a team-high 60 yards.
———
UMass 3 0 0 0 — 3
Florida St. 10 28 14 7 — 59
First Quarter
UM — Carson 45 FG, 13:53.
FSU — Jordan 3 run (Fitzgerald kick), 11:37.
FSU — Fitzgerald 36 FG, 4:45.
Second Quarter
FSU — Corbin 29 run (Fitzgerald kick), 13:31.
FSU — Ward 17 run (Fitzgerald kick), 6:00.
FSU — Williams 23 run (Fitzgerald kick), 1:13.
FSU — Brownlee 70 interception return, 0:25.
Third Quarter
FSU — McDonald 12 pass from Purdy (Fitzgerald kick), 5:02.
FSU — Toafili 10 run (Fitzgerald kick), 4:44.
Fourth Quarter
FSU — Young 5 pass from Purdy (Fitzgerald kick) 12:53.
———
UMass FSU
First Downs 14 25
Rushes-Yards 28-112 45-365
Passing yards 129 221
Comp-Att-Int 15-33-2 10-15-0
Total Offense 61-241 60-586
Fumbles-Lost 2-1 2-1
Penalties-Yards 8-61 3-41
Punts-Avg. 6-46.7 1-47.0
———
INDIVIDUAL STATISTICS
RUSHING — UMass: Wise 12-60, Olson 4-21, Hill 1-16, Chisari 1-14, Merriweather 10-1. FSU: Corbin 11-127, Travis 9-70, Toafili 4-63, Ward 8-57, Williams 4-31, Douglas 6-8, Purdy 1-5.
PASSING — UMass: Olson 12-27-2 110, Wise 3-6-0 19. FSU: Travis 5-10-0 123, Purdy 5-5-0 98.
RECEIVING — UMass: Merriweather 4-65, Collins 1-24, OC Johnson 3-19, Arnold 1-9, Chisari 1-6, Pettway 2-4, Wise 1-3, Jo. Johnson 1-(minus 1). FSU: Parchment 2-65, McClain 1-51, Wilson 1-35, McDonald 3-29, Helton 1-20, Williamson 1-16, Young 1-5.