AMHERST — Pro Football Hall of Fame coach Bill Parcells once said "You are what your record says you are."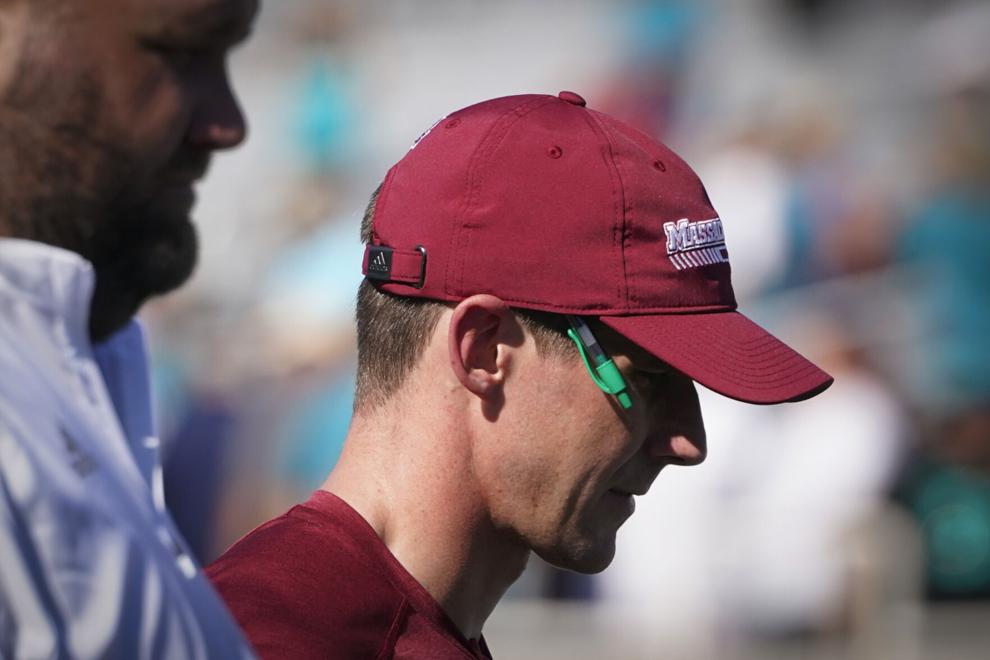 Four games into 2021, the University of Massachusetts is 0-4. Going back to 2019, the Minutemen have dropped 15 straight games. While many of the current Minutemen were not playing or on the team when the losing streak started at Florida International, 15 losses are 15 losses.
"We still believe in each other. We still believe in our guys," UMass linebacker Avien Peah said. "It's still a brotherhood out there. So no matter what the score says, we still believe in each other."
Meeting with reporters earlier in the week, head coach Walt Bell said that, from his vantage point, the team is still positive.
"Our kids have done a great job of staying together," he said, in a video conference with reporters. "Everybody knew going into this season that we're playing five really good football teams right out of the gate, [Toledo] being the fifth. Our kids have done a great job."
And after Wednesday's practice, the final open practice of the week, Bell remained upbeat.
"Good," he said, when asked how practice went. "Sharp. It was on the shorter side. We have some guys beat up, banged up. We played four really good football teams. It was crisp, good, physical. We had some good special teams work. It was a good day."
The Minutemen were going to need good days of practice as they prepare to host Toledo Saturday at McGuirk Alumni Stadium. Kickoff is set for noon, and the game will be broadcast on NESN.
Once, the Rockets and the Minutemen were rivals in the Mid-American Conference, with Toledo scoring a 51-35 win at Gillette Stadium back on Oct. 24, 2015.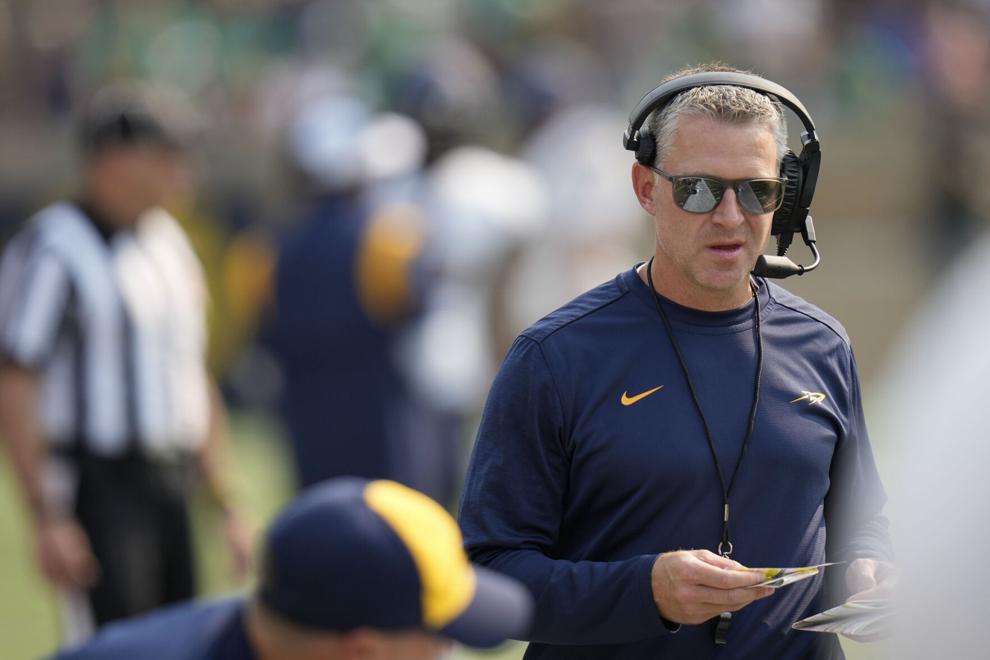 Toledo is 2-0 against UMass from the Minutemen's time in the MAC. UMass lost 42-35 back in 2014. The only time the Minutemen beat the Rockets was in 1976, in a game played in Amherst, and UMass won 28-14.
Toledo arrives in Amherst with a 2-2 record and is coming off a 22-12 MAC victory over Ball State. Coach Jason Candle's squad opened the season with a 49-10 win over Division I-FCS Norfolk State, and then lost at Notre Dame and at home to Colorado State. The 32-29 loss at South Bend did catch people's attention.
"Offensively, they have some really good edge players. They have some really good skill spots. All three of those wide outs are really good players," Bell said. "They have a solid tight end. They're really good up front. The quarterback, they play two of them. The kid that plays the majority of the time throws the ball around really well. The second kid they bring in is a really good athlete. He can run and throw. Defensively, they're really good up front. They have a really special corner that we have to be mindful of. Their safeties and backers tackle well. They're a good football team."
The Rockets are led by the quarterback tandem of Carter Bradley and Dequan Finn. Bradley is the starter, and the passer. He is 59 of 94 for 802 yards, three touchdowns and only one interception. Finn has thrown the ball 19 times and completed 11. He has also run the ball 29 times for 212 net yards, and averages 7.3 yards per carry. Wide receiver Devin Maddox is the top deep threat, averaging 20.6 yards per catch.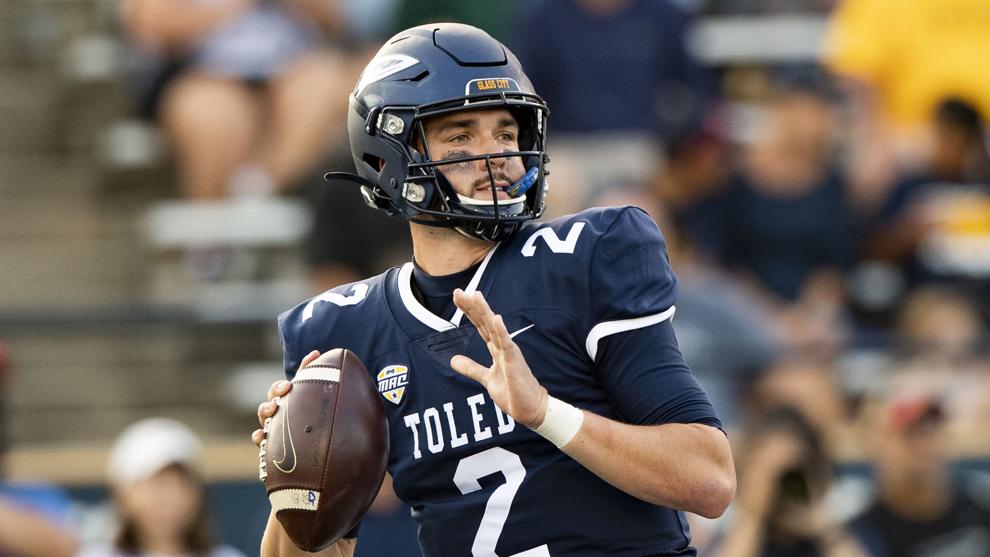 On defense, the top three tacklers are linebackers Dyontae Johnson, Jamal Hines and Jonathan Jones. The Rockets play a base defense with two down lineman, four linebackers and five defensive backs.
"When I was in the Sun Belt, two years in a row, we had to play Toledo once in a bowl game and once in the regular season. They're in a bowl game every year for a reason," Bell said. "They've been the class of that league for a long time and they've been in a bowl game every year for a long time. I expect them to play their best football."
As to UMass? Candle spoke with The Eagle on Monday, and he said that talent-wise, the Minutemen have improved.
"I think they have good young players who play really hard," he said. "They have some really good, talented players on both sides of the ball and week-to-week, you see the improvement."
This current Minutemen squad has, as mentioned, lost four games and two by more than 40 points. Candle was asked about what he and his coaches have to do to keep the Toledo players from either looking past UMass or feeling as if all they have to do is step off the charter and it's a win.
"I think the challenge is there every week. If you open your eyes and pay attention to college football, every week, no matter who it is, anybody can beat anybody," he said. "That's evident all across college football. From Week 0 until now, there are examples of whoever is deemed the favorite doesn't come out on top. I think that part of it is a constant battle and a constant struggle. It won't just be any particular week. It'll be a challenge every week across the country."
UMass will be taking the "next man up" attitude Saturday, with five preseason starters out and two more somewhat iffy. Bell said tight end Josiah Johnson and running back Kay'Ron Adams could play and the coach said he's hoping both will be at full strength.
Starting cornerbacks Josh Wallace and Donte Lindsey, offensive lineman Brian Parish and linebacker Drew Harvey are out. Quarterback Tyler Lytle has been out since after the Pittsburgh game.