AMHERST — When the University of Massachusetts hockey players and coaches take to the ice Saturday, they'll see the fruits of their work during the 2020-21 season when the NCAA Division I hockey national championship banner will be raised to the rafters. It's the first national championship banner to be hung inside the Mullins Center.
As UMass coach Greg Carvel celebrates the occasion in front of an SRO crowd in the arena, the veteran coach said that his players have to know it means little looking forward.
"One thing I know is that last year, whoever was the preseason No. 1 didn't win it all," Carvel said. "The fact that we've been given that ranking in preseason means absolutely nothing."
The Minutemen, who were 20-5-4 last season, beat St. Cloud State 5-0 in the NCAA Division I championship game in Pittsburgh back on April 10.
The preseason No. 1 team will open its season this weekend with a series against Minnesota State. Minnesota State, one of the Frozen Four teams that appeared in Pittsburgh, is the preseason No. 5 team in the USCHO.com Division I poll. The Mavericks are the preseason No. 1 team in the Central Collegiate Hockey Association preseason poll. They received 67 points to 55 for Michigan Tech, and had five of eight first-place votes.
UMass, meanwhile, is the preseason pick to win the Hockey East regular-season title. The Minutemen received 107 points, while second-place Boston University received 95. The Minutemen also received eight of 11 first-place votes.
The sold-out opener will be played Saturday at 7:30 p.m., with the second game of the series scheduled for Sunday at 4 p.m.
"Everybody's excited to get back to normalcy, have some fans back in the building," Carvel said on a video conference with reporters Wednesday morning. "That was the one thing that was missing from our season, that we didn't have eyes on our guys live, as we were winning games and luckily winning championships. Looking forward to this weekend when we can raise the banner, have a full building. It's officially sold out, 8,500 seats are sold at the Mullins Center.
"We're excited to defend the championship."
It will, however, be a somewhat different UMass team that hits the Mullins Center ice on Saturday night.
First of all, associate head coach Ben Barr has moved on. Barr, who spent five years on Carvel's staff, is now the head coach at Hockey East rival Maine. He replaced Red Gendron, who passed away in April.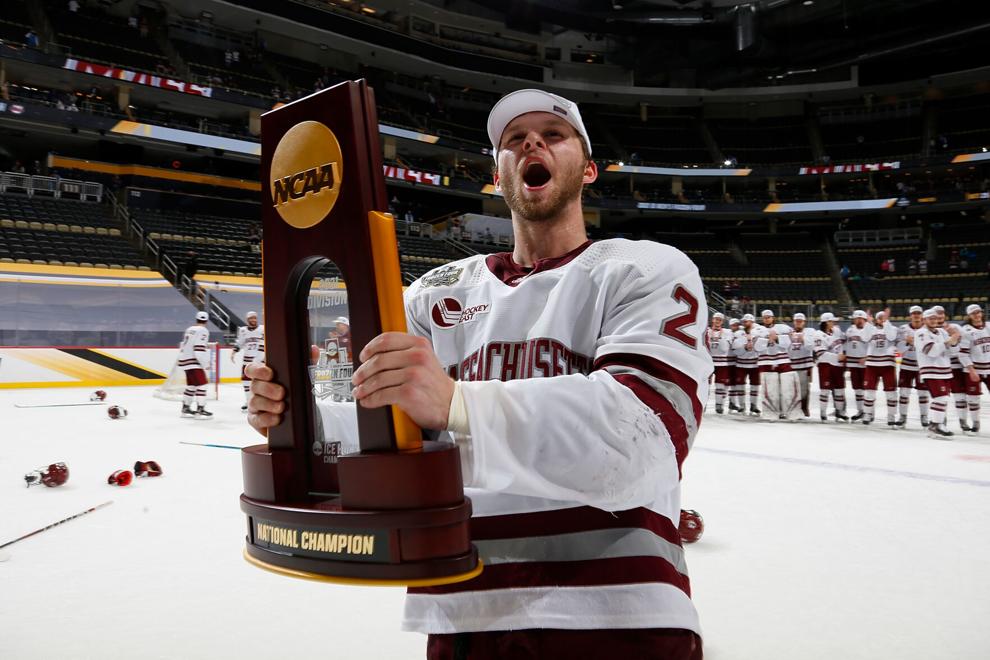 Three stalwarts on the national championship team have also moved on to contracts with NHL teams. Defenseman Zac Jones signed with the New York Rangers and made his NHL debut on April 22. Defenseman Marc DelGaizo signed with the Nashville Predators, while goalie Filip Lindberg signed with the Pittsburgh Penguins.
UMass does return its leading scorer in captain Bobby Trivigno. Trivigno, who had 11 goals and 23 assists, and defenseman Matt Kessel (10 goals, 13 assists) are the top returning scorers for UMass. Garrett Wait, whose goal in overtime gave UMass a 3-2 win over Minnesota-Duluth in a national semifinal, is back. Trivigno, Kessell, Aaron Bohlinger and Reed Lebster all scored in the championship game.
"I like the team we have coming back," Carvel said. "The difficult part is that we have about 40 percent of our team are new players, from graduation and three players who signed with the NHL. We've had to fill some roles, and it doesn't matter how good those players are, it takes time."
Last year, Lindberg played in net down the stretch and helped win the title. Matt Murray, who started the year but was eventually beaten out by Lindberg, is the lone veteran goalie. If and when Luke Pavicich and Henry Graham take the ice, it'll be their first-ever college appearances.
Murray is No. 1 with 52 career wins, and is first with 20 wins in a season. He is also eighth with 13 wins. He has a career 2.20 goals-against average, second only to Lindberg's 1.58. But Murray has played 4,855 minutes to 2,805 for Lindberg.
One other change, with Barr having gone off to Maine, Matt Lindsay was hired as an assistant coach. Lindsay comes to UMass from Penn State. He played collegiately for Bill Kangas at Williams, graduating in 2001.