AMHERST — It wasn't a spring game where there was tackling to the ground. But at the end of two hours at McGuirk Alumni Stadium, new University of Massachusetts football coach Don Brown said his new team has made progress but isn't close to being ready for an opponent.
"I can tell you this, we're not ready yet but we're moving in the right direction," Brown said. "There's a lot of good things you can take away from today and a lot of near misses we can take away on both sides of the ball. I'm just really happy with their effort, their energy, the way they go about doing their business and I think those things are important if you're going to be successful."
It wasn't a spring game like Brown might have been used to at his last two FBS stops, Arizona and Michigan, where teams are divided up and players tackle to the ground. On a bright, sunny and — compared to the rest of the week's weather — mild Saturday, the Minutemen basically amped up a regular practice for the hundreds of fans and former players who showed up to support the new coaching staff.
UMass coach Don Brown talks to reporters about the final practice/game of the spring. pic.twitter.com/LVtF2dIbY9

— Howard Herman (@howardherman) April 30, 2022
After warming up in full pads and running through their high-energy "Thunderstruck" practice period, Brown's team was divided into offense and defensive groups, and the sides played three quarters. While players weren't tackled, there was a fair amount of contact, and scores were kept.
In the offense vs. defense segments of the game, the offense would get on the board by scoring touchdowns or field goals. The defense got on the board by stopping teams on fourth down, on turnovers and missed field goals. At the end of the day, the defense prevailed 20-3.
"What we didn't want to have happen was some more nicks from the spring game, and now you're kind of set back going into the summer," he said, "which is a hugely important summer for our players."
There were nearly a dozen Minutemen either in sweats or in their jerseys without pads. Billy Wooten, a junior defensive end who was in last year's final starting unit, was on the sidelines. He was joined by players like linebacker Mike Saliba, defensive back Nasir Mills, defensive lineman Hugo Klages and defensive lineman Josh Atwood. Defensive back Te'Rai Powell was wearing a yellow non-contact jersey.
And during the game, cornerback Noah Boykin had to be helped off late in the offense vs. defense section of the practice.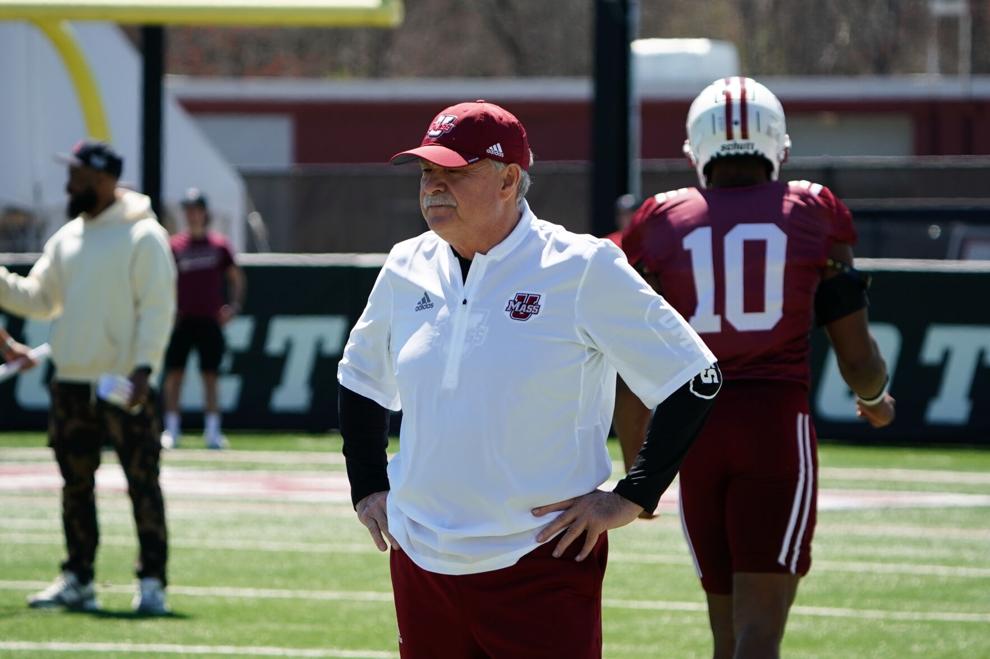 One question that always comes up when a team does not have a true, established starting quarterback, is how long will Brown and his staff take to determine a starting quarterback. On Saturday, four different quarterbacks took turns taking snaps. Brady Olson, who would be the normal No. 1 because he played the most in 2021, completed 3-of-7 passes, including three in a row at one point. Gino Campiotti and Zamar Wise were both 2 for 4, while Chase Brewster was 0 for 1.
Nothing was decided Saturday. Brown said nothing will be decided until after the Minutemen return for preseason camp in August.
"I think it would be totally unfair to say one guy is ahead of the other," Brown said. "I think there's a bunch of guys competing their tails off, all at different age levels. Each one of them, and this is the one thing I will say, each guy kind of brings a little bit of difference to the table. The Olson kid, for example, throws it pretty good. I think that's probably the one piece that you can hang your hat on. Chase is really young and is trying to figure it out. Zamar is a true dual-threat guy with experience. Gino, I'm really excited about Gino. We've got one other guy [Garrett Dzuro] who hasn't done anything yet. I really like all those guys. Their hearts are in the right place. They're team guys first.
"Now who's going to step up and take charge? It hasn't been done yet."
The players will wrap up their spring semester academics, while the coaches will get back to work on preparing for the fall season.
UMass coach Don Brown handicaps the quarterback battle after Spring practice ends. pic.twitter.com/PrrOokDmkB

— Howard Herman (@howardherman) April 30, 2022
UMass will open the season on Friday, Sept. 3, at Tulane of the American Athletic Conference. The Minutemen have four of their first five games on the road, with the only home game in the first month Saturday, Sept. 17, against Division I-FCS Stony Brook.
"Like I told them, the most important next landmark timewise is Friday night in New Orleans. That's the next one," said Brown. "We've got to be ready to go, at our best, healthy, wealthy, wise and let's go to work and see what kind of a football team we can be."