WILLIAMSTOWN — For a lot of a calendar year, Dan DiCenzo roots for his alma mater. But this weekend, the Williams alum wants the Ephs to lose. That's because DiCenzo is the head football coach at Little Three rival Wesleyan.
"I'm proud to be a Williams alum. When I played there 20 years ago, that time is well past and I don't have too many snaps left in me at this point," DiCenzo said. "For us, all these games count the same. Our goal is to win this weekend to keep ourselves in contention for a conference championship. If a Williams team isn't going against Wesleyan, do I root for them? Yeah, probably.
"I'm Wesleyan through and through all the way here."
Joel Nicholas rushed for 172 yards and three touchdowns, as Williams College pounded fellow unbeaten Trinity 42-3 on Saturday in Williamstown.
Williams puts its 7-0 record on the line Saturday afternoon when Wesleyan visits Farley-Lamb Field for Williams' first foray into Little Three competition. Kickoff is set for 1 p.m. Williams hasn't been 7-0 since the 2010 season when the Ephs finished 8-0. Williams is seeking to become the second NESCAC team in as many seasons to have a perfect season since the conference went to a nine-game schedule. Middlebury was the first to accomplish the feat back in 2019.
Williams coach Mark Raymond has noticed an additional "pep in the step" of the Williams players during practice this past week. The coach, now in his sixth year, said that while his team has been very business-like all season, he did sense the start of the Little Three has permeated practice.
"Obviously, there's a little of that for sure. This team has been pretty consistent. They prepare hard and they come to work every day," Raymond said. "I've been impressed with their dedication and work ethic. These kids are smart. You don't have to remind them of much. Social media and everything out there is pretty abundant. They get the picture. They know that this is a rivalry team, a big game.
"You don't need to really explain it to them."
One also does not have to explain to Raymond and the Ephs that his teams have yet to beat Wesleyan. In fact, Williams has lost seven straight to the Cardinals. The last Williams win was 19-7, coming in 2012. That was also the last of Williams' 13 consecutive wins over the Cardinals.,
The game last season will be long remembered by players, coaches and fans from both teams.
Wesleyan came from behind, scoring on David Estevez's two-yard touchdown run with 17 seconds left in the fourth quarter. The PAT kick tied the game at 21-21. It was an 18-play, 89-yard drive that had a key fourth-down conversion when quarterback Ashton Scott hit Hallvard Lundev for 10 yards and the first down. Five plays later, Estevez scored the touchdown.
Williams actually had a chance to make it a two-possession game a couple of series earlier in the fourth quarter. Williams had marched from its 20 to inside the Wesleyan 20. But Andrew Schreibstein's 28-yard field goal attempt was blocked by Wesleyan's Eli Blair-May. If good, Williams would have had a 10-point lead.
Instead, the game went to overtime. Williams quarterback Bobby Maimaron completed a pass to tight end Kyle Horihan for two yards on first down. A no-gain run by Dan Vaughn and two incompletions to Tyler Spezio turned the ball over to Wesleyan on the 25.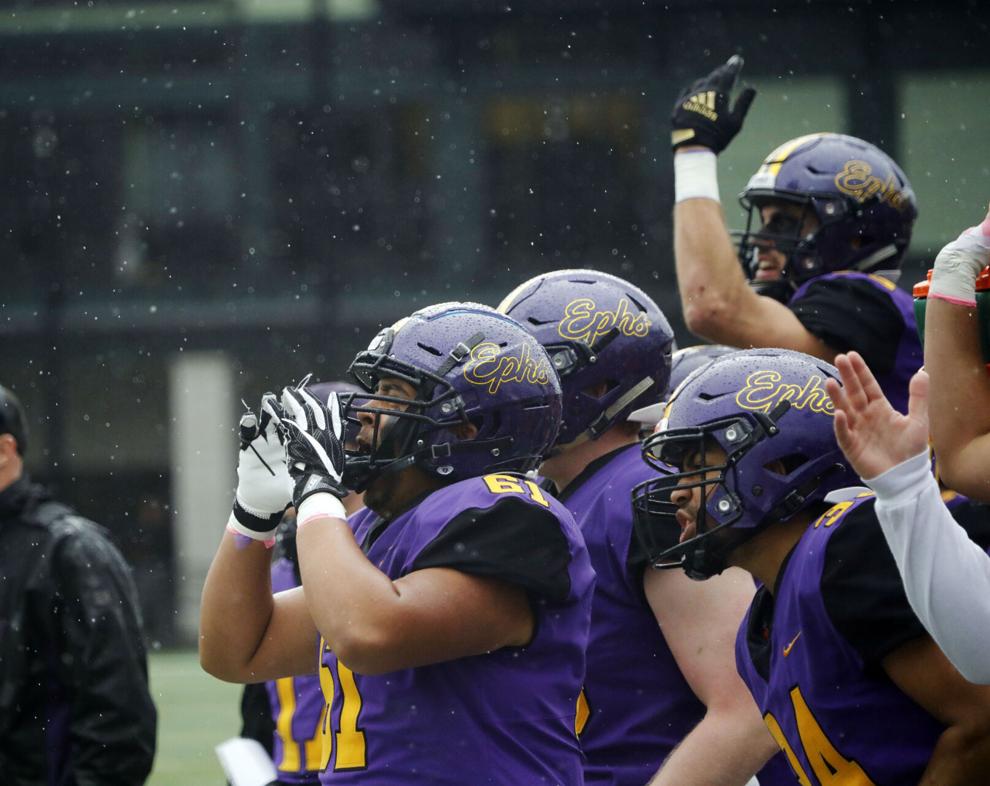 On the first play, Estevez — who alternates between quarterback and receiver on offense — took the snap and went around the left end, beating the Eph secondary to the pylon for the game-winning touchdown.
"Obviously, we haven't beaten them. They've done a great job against us. They're a great program," said Raymond. "Every year is a new year, and the last year won't affect this one. They outplayed us the last few years. Hopefully, we can turn that around."
The Cardinals are coming off a four-overtime 16-14 loss to Amherst in their first Little Three game. It was Wesleyan's first loss of the season.
"For our guys, they're pretty focused on the game this week. When we win, we move on pretty quick. When we lose, we move on pretty quick as well," DiCenzo said. "We've been fortunate that we've won a lot more here than we've lost. Our guys, we brought them here to play in and win big games."
DiCenzo is wrapping up his 12th season at Wesleyan and seventh season as head coach. Both of his coordinators are former Williams players. Eric Ludwig is the offensive line coach and he graduated in 2006 from Williams. Defensive coordinator Matt Coyne graduated from Wesleyan in 2012, transferring from Williams when former Williams coach and current Wesleyan athletic director Mike Whalen took the job coaching at his alma mater.
So, what does Williams alum DiCenzo see when he looks at the tape?
"They're a great team. They've been a great team for the last few years since that senior class came in. Coach Raymond has done a great job turning it around," he said. "It starts with Bobby Maimaron. He's a great player and he's really savvy in the pocket. He's very smart. His football IQ is very high. He's athletic and he's a tough competitor. He's fun to play against because you know it's going to be great competition and he likes playing in big games."
Statistics don't always tell the story of a game or of a season, but some numbers here are pretty interesting.
Williams has the No. 1 scoring offense and the No. 1 scoring defense in NESCAC, while Wesleyan own the No. 3 scoring offense and the No. 4 scoring defense.
Williams is the top running team in the conference, averaging 228 yards per game, but the Cardinals are the top running defense giving up 71.6 yards per game. Of equal interest is the Williams passing offense is averaging 175 yards per game, 10th in NESCAC. Wesleyan's pass defense is giving up 270 yards per game, also 10th in the conference. This could be a day where Maimaron looks for his receivers. That group includes Frank Stola, who returned to the field Saturday and caught one pass for nine yards. Stola was targeted a few more times, but Trinity's pass defense did its best to take the senior out of the game.
Stola is expected to be ready to go Saturday, and Raymond said that the current group is what might be expected this week and next week.
"I think we're in pretty good shape," Raymond said. "Getting Frank closer to 100 percent, and [tight end Justin Burke] last weekend, I think we're as good as we're going to be for the rest of the year."
A full game story and photo gallery from last weekend's Williams win over Trinity is available at BerkshireEagle.com/sports/colleges.