MIDDLETOWN, Conn. — It was as even of a basketball game as one could get. It was, to use a time-worn phrase, a game where one team didn't lose. It just ran out of time.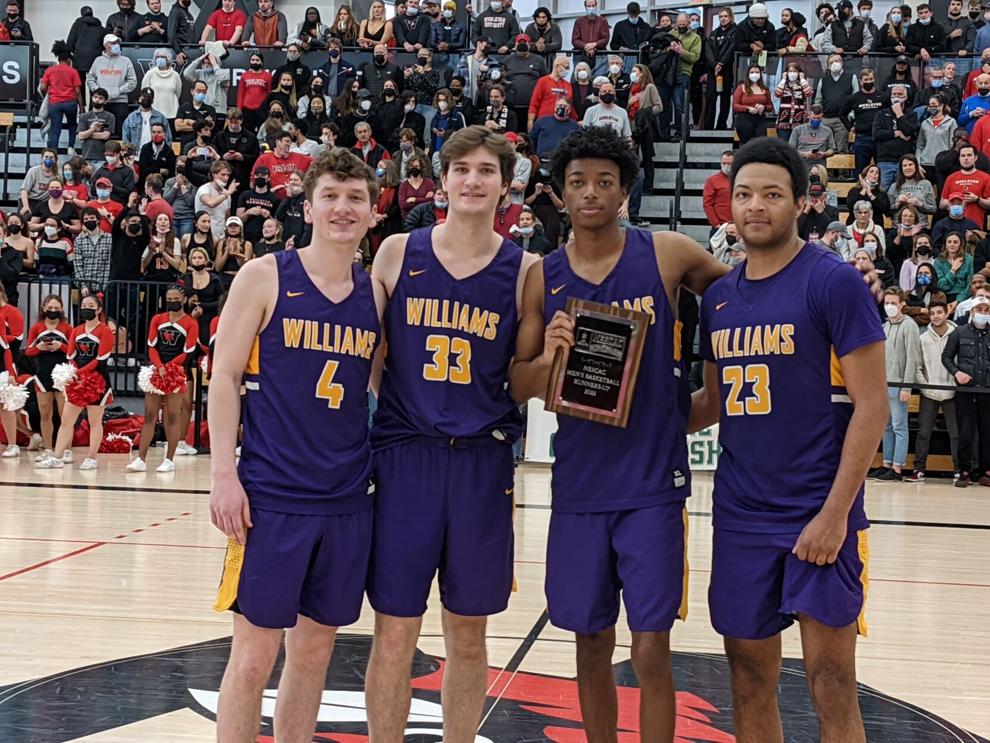 First-year guard Nicky Johnson scored five of Wesleyan's 14 points in overtime, including a back-breaking drive to the basket with 30 seconds left, as No. 4 seed Williams fell to the top-seeded Cardinals 78-75 as Wesleyan claimed its first NESCAC Tournament championship since 2015.
It was a game with 20 lead changes and 15 ties, neither team led by more than seven points, and neither squad scored more than nine straight points in the game to break this tight game open.
Williams' last lead came with 1:15 left in overtime when Eph center Nate Karren hit Jovan Jones, who drove the baseline from the left for a two that put the Ephs up 72-71. The Cardinals answered with seven unanswered points. Cole Prowitt-Smith's 3-pointer with 3 seconds left banked home and cut the six-point lead to three.
Spencer Spivy fouled Johnson, who missed both foul shots. That gave Williams a desperation shot at a game-tying 3-pointer, but Spivy's heave from two-thirds court hit the backboard and bounced away, and the majority of the 1,239 fans inside Silloway Gymnasium went delirious.
Karren had 19 points, six rebounds and five assists, while Prowitt-Smith had 15 points, six boards and five assists.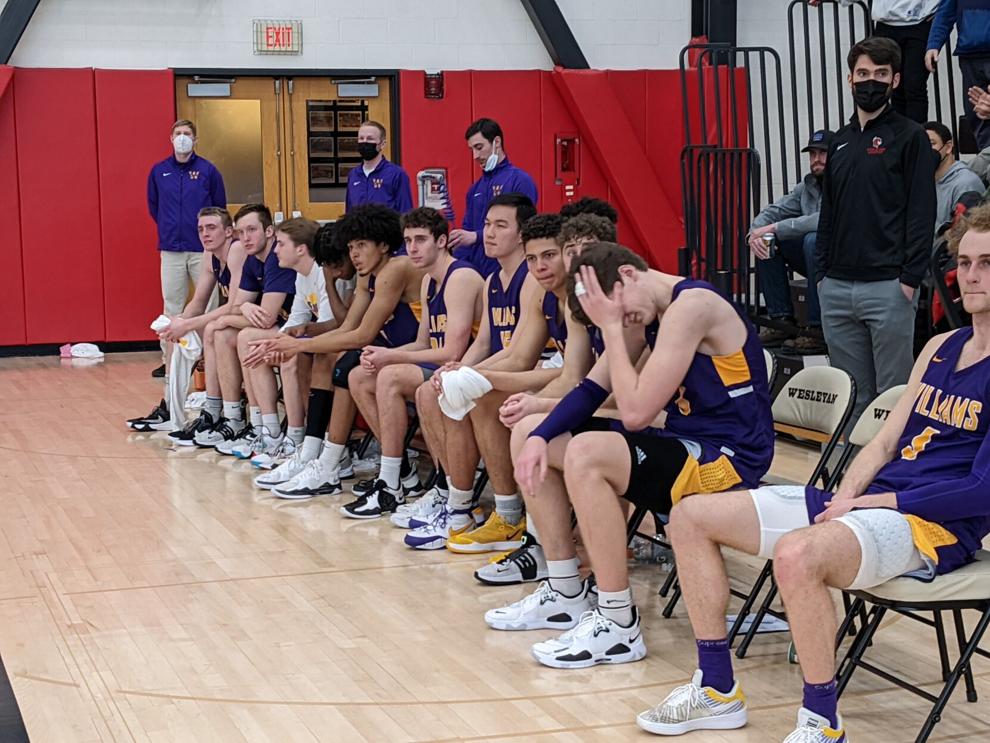 Wesleyan's 6-foot-7 center Jordan James had a double-double with 18 points and 13 assists. He had two rim-rocking dunks in the second half that, while threatening to blow the roof off of Silloway, did not intimidate the Ephs.
"As a league, I think that's what you hope happens in the championship game. You hope two teams leave it all out there, compete to the end, and I thought that happened today," Williams coach Kevin App said after the game. "I'm disappointed for our guys, but it was a great game."
Wesleyan wins its first NESCAC title since the Cardinals beat Amherst back in 2015. It's the Cardinals' second championship. Williams was going for its sixth championship and first since the Ephs beat Wesleyan back in 2018. That game was played at LeFrak Gymnasium in Amherst, as the Mammoths had been the No. 1 seed and were upset in the semifinals.
"What a roller coaster," Wesleyan coach Joe Reilly said. "Credit to Williams. They're a great team and it's a rivalry that spans well over 100 years. We know what they do. They know everything that we do. It just comes down to whoever has the ball last it seems.
"It's such a special rivalry to be a part of."
Williams is now 16-4, while Wesleyan improves to 24-3. It's the most wins in school history for Wesleyan and the third time the Cards have cracked 20 wins.
Taking the bus back to Williamstown with the runner-up plaque is not what App and his players had in mind when they made the trek from The Berkshires for the semifinal. The loss, however, does not mean the Ephs will put their uniforms away.
By all accounts, as the No. 3 team in the NCAA's Region I, Williams has a spot reserved in the 64-team NCAA Division III tournament. Williams will find out Monday at 12:30 p.m. if it is, in fact selected and whether or not Chandler Gym will host first and second-round games.
"A much bigger prize on the horizon is what we're thinking," Eph senior Marc Taylor said as he prepared to board the bus. "We'll definitely think about this loss on the bus ride, and that's it. We'll get back to the gym and work from there."
Prowitt-Smith made the first basket of the overtime period and Wesleyan answered with five, the last coming on a trey by Johnson. Karren scored the next two baskets, taking advantage of James being in foul trouble.
The Ephs went 0 for 3 from the floor after Jones got inside for a hoop. And when James made two free throws, it was 78-72. That set up the final 3-pointer by Prowitt-Smith and the long shot by Spivy.
A basket by Karren with 41 seconds left in the first half broke a tie and gave Williams a 31-29 halftime lead.
The second half was made up of a series of runs. Wesleyan started with an 8-2 spurt, followed by 6-2 burst for Williams with Wesleyan netting only two free throws.
Johnson hit a 3-point shot to start a 6-0 run and forcing App to call time out. But out of the time out, Wiliams' Brandon Roughley missed, Wesleyan's Antone Walker got the rebound and Preston Maccoux (18 points) got the better of Roughley at the offensive end for two. All of a sudden it was 46-39, and the joint was jumping.
The Ephs responded with a 9-0 run of its own, holding the Cardinals to 0-for-4 from the floor with two turnovers. Spivy made 3 of 4 free throws on consecutve 1-and-1 situations, giving the Ephs a 48-46 lead.
Wesleyan responded with a lead of its own, thanks to eight straight points. And when Johnson scored on a jumper from just inside the arc, App had to call another time out. It was 61-56, but the game was far from over.
Karren gave Williams a lead with a 3-point shot, making it 64-63. But with 38 seconds left, Sam Peek was fouled. He made the second of two free throws, tying the score at 64.
Williams did not have a time out due to Prowitt-Smith calling the final one trying to save the ball just before Peak's free throw. Williams did, however, get two long chances to win in regulation. But Karren and Spivy both missed 3-pointers, sending the game into overtime.
"It's definitely hard in the NESCAC, or any league, to play a doubleheader. Today, we just struggled to hit shots that we normally do," said Prowitt-Smith. "That was a big part of it."
"We're both really good defensive teams," App said. "I think both teams were tired after yesterday's emotion and energy. They fought through that, and both groups stepped up and made some plays."
It was the first conference championship game for the overwhelming majority of the Ephs. Only Taylor, Dan Kacmarek and Michael Myers had experienced a championship game, as they were first-years in 2018. Williams did not get to the title game in 2019 or 2020, ad the 2021 tournament was not held because of COVID.
"We're definitely letting this sink in," Prowitt-Smith said. "We'll try to channel this into the tournament and try to use this as motivation for the next opportunity to win a NESCAC championship.
"Something we said going into the locker room was just keep our heads up. The journey's not over."
———
WILLIAMS (75)
Porter 4-10 0-0 6, Jones 4-7 0-0 9, Karren 7-17 4-5 19, Prowitt-Smith 7-16 0-0 15, Spivy 1-6 4-6 6, Stoddard 1-1 0-0 3, Arnold 2-2 0-0 4, Roughley 3-5 0-0 6, Taylor 1-1 0-0 2, Glatzer 1-1 0-0 3. Totals 31-66 8-11 75.
WESLEYAN (78)
James6-6 6-8 18, Dezonie 4-7 1-1 9, Peek 1-9 2-4 4, Maccoux 6-17 5-5 18, Johnson 4-9 0-2 10, Ravetz 3-6 1-1, 7, Walker 5-7 1-1 12, Johnson 0-2 0-0 0, DeLollo 0-1 0-0 0. Totals 29-64 16-22 78.
Halftime: Williams, 31-29. Regulation: Tied 64-64. 3-point goals: Williams 5-19 (Porter 0-3, Jones 1-1, Karren 1-3, Prowitt-Smith 1-6, Spivy 0-4, Stoddard 1-1, Glatzer 1-1). Wesleyan 4-16 (Dezonie 0-1, Peek 0-1, Maccoux 1-5, Johnson 2-4, Ravetz 0-2, Walker 1-2, DeLollo 0-1). Rebounds: Williams 32 (Prowitt-Smith 6, Karren 6). Wesleyan 40 (James 13, Peek 7). Assists: Williams 20 (Karren 5, Prowitt-Smith 5). Wesleyan 18 (Johnson 7, Maccoux 4). Turnovers: Williams 10 (Karren 2, Spivy 2, Glatzer 2). Wesleyan 12 (Johnson 3, Walker 3). Fouls: Williams 18, Wesleyan 16.