WILLIAMSTOWN — The last time the Williams College men's basketball team took the court, the Ephs lost in overtime to archrival Amherst in the NESCAC Tournament quarterfinals.
Six hundred and 33 days later, the Ephs are ready to get back in action.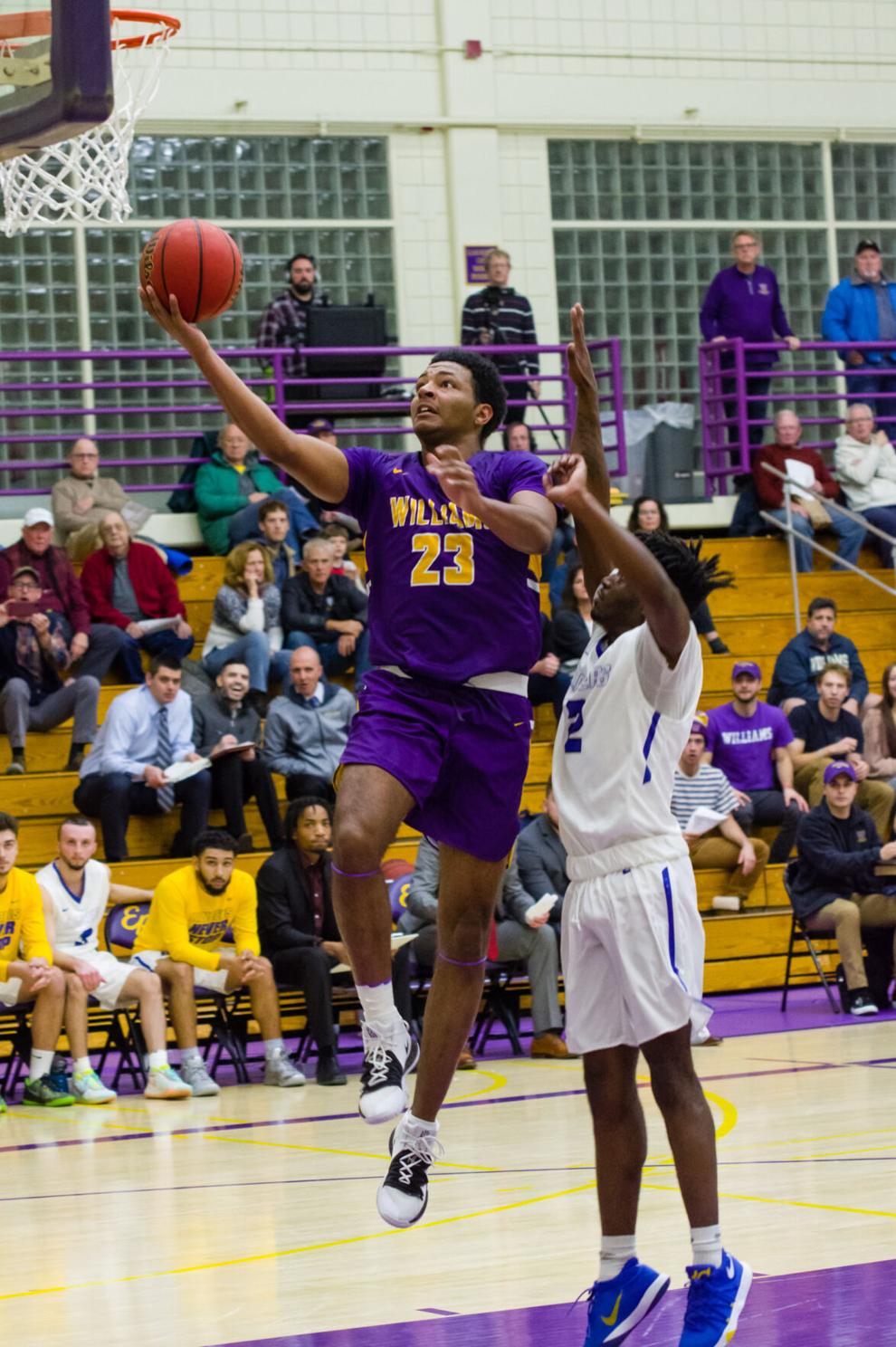 "Physically, and I think mentally and emotionally, they have been awesome," Williams coach Kevin App said. "They did a great job while away, putting in time to add weight, add strength, lose weight, add quickness — whatever their individual goals were. I think everybody did a great job with that. Plus, 20-months older than they were the last time they played a game. That never hurts too much. The mindset, like every practice, they come in excited to be there. Not every year is like that.
"I think getting it taken away for a year is kind of helping us stay in that mindset longer."
Williams is the last of the four Berkshire County college basketball teams to get going. The Ephs will host SUNY-Oneonta Tuesday at 7 p.m. It's the first of four consecutive home games to open the season for Williams. After the Oneonta game, Williams will host the annual Purple and Gold Classic this weekend. Williams will play Curry in the Classic's 5 p.m. opener on Saturday, while Salem State will play Merchant Marine Academy at 7. On Sunday, Curry and Merchant Marine Academy will go at 1 p.m., with Williams and Salem at 3.
The Ephs will close out that four-game homestand with a game next Tuesday against MCLA.
Oneonta comes in off a 19-8 season, and beat Williams 75-69 in overtime in the regular season. Oneonta made it to the SUNYAC semifinals in 2020. The Dragons are 3-0 right now, having beaten Hartwick, SUNY-Cobleskill and Sage. The last two wins were in their Quality Inn Tournament.
The Ephs were 13-12 in the 2019-20 campaign. Of those 12 losses, two of them were by one point and three of them were by five or fewer points.
Three of Williams' 13 wins were by five or fewer points. Williams did sweep the regular-season series from Amherst, winning 72-69 in Amherst on Jan. 11, and then 62-60 in Chandler Athletic Center on Jan. 22. Those two wins, coupled with a sweep of games against Wesleyan, gave the Ephs their first Little Three title since the 2009-10 season.
App will have to find replacements for three regulars who ate up huge minutes in the 2019-20 season in center Matt Karpowicz, forward Henry Feinberg and guard Mickey Babek. Karpowicz, who averaged 15.4 points and 8.5 rebounds per game, was a first-team, All-NESCAC selection in 2020. Karpowicz is now a graduate assistant on the staff of LaSalle coach Ashley Howard.
While Karpowicz is gone, the next three top scorers from the last season of Williams basketball are back. Sophomore guard Cole Prowett-Smith averaged 12.1 points and 3.4 rebounds, senior forward Jovan Jones averaged 9.5 points and 6 rebounds, while junior swingman Spencer Spivy averaged 9.3 points and 3.4 boards, and shot 45-of-148 from three point range.
Just what the Ephs will look like on the court opening night has been a work in progress.
"That's something we have been using practice to figure out," said App. "We have our philosophies and our formations that have been pretty consistent. What happens within them, yeah, is always dictated on what guys' strengths are. We have a lot of guys that can make quick decisions, and maybe more than in the past, can attack off the dribble. We've been really working on maintaining the right spacing and playing with a little bit more freedom in certain situations."
Jones started 24 games and Spivy started 21, and they are the only two major starters back on this Eph team. Prowitt-Smith is the third Williams player, along with Jones and Spivy, to be back having played more than 20 minutes a game when they last played.
Nate Karren, a 6-foot-9 sophomore could be poised to take a leap forward this year.
"He's one of the guys who's done a great job of putting in the work physically. He's a highly-intelligent player in terms of he sees the game really well for his size and at his position. The big thing for him is he's just gravitating to a new role. His first year, he was backing up Karp. We talked to him and said 'Hey, we need 10-15 minutes of you playing as hard as possible and giving us some good minutes off the bench.' This year, he's going to be one of our main guys and leaders. His skill level, his intelligence and movement make us pretty dynamic when the ball gets moving right now."
There are four "first-year players" on the Williams roster. They should have been first years a season ago, but the COVID-19 pandemic forced cancelation of the season. All four chose to delay enrollment, so they are newcomers this year.
Two of them, Brandon Roughley of Dalton and Declan Porter of Canton, N.Y., are among their state's top recruits in the Class of 2020. Roughley, a 6-foot-8 wing who played at Wahconah before transferring to Salisbury School in Connecticut was listed as the No. 45 prospect in Connecticut, and the top Division III recruit. Porter, a 6-7 wing, was the No. 19 player in New Hampshire at Phillips Exeter, and the No. 115 player in all of New England. He was the top Division III recruit in the New Hampshire class.
They are joined by a pair of guards, 6-foot-4 Noah Dinkins of Chapel Hill, N.C., who played at Phillips Andover, along with 6-3 Evan Glatzer of New York City.
"We have four first-years and [sophomore guard] Dan Lee is in his first year playing with the team. Dan Lee and Evan Glatzer are really good guards. They can get in the paint, they make good decisions, they have the ability to shoot the ball if open, they can help us push the pace in transition," said App. "Noah Dinkins is one of those versatile guys who can do anything. Brandon Roughley and Declan Porter give us just size and skill on the wing that we've had on some of our national-level, national-run teams. They're at a level of versatility and depth that I think will be good for us. Brandon is big and strong and can do everything well. Declan, I think has set every team's shooting records so far."