WILLIAMSTOWN — Brady Foehl has been to Salem, Va., before.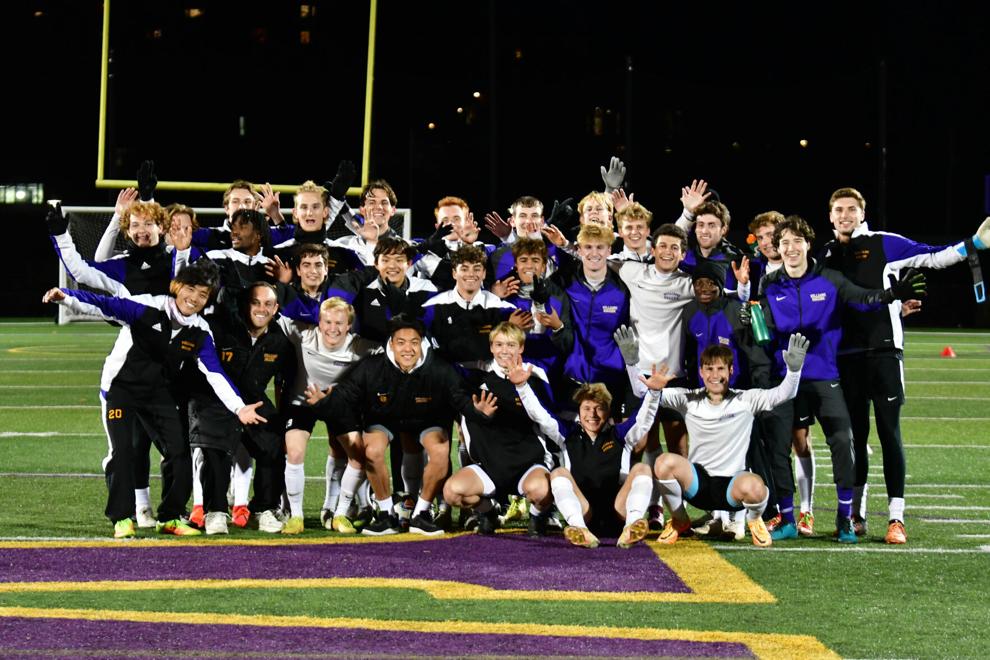 "I think it was 2010, I went down there for the [NCAA Division III men's basketball] Final Four," he said, "and for Duncan Robinson's year [2014].
"There are some classic pictures up with the Williams banner."
Foehl, who starts on the back line for the Williams College men's soccer team, will be back in Salem this week as the Ephs try to win their first NCAA D-III championship since 1995.
Williams will play Mary Washington University in the second game of Thursday's doubleheader. The first game features the University of Chicago and Stevens Institute of Technology. The first game starts at 1 p.m., with the second game set for 4.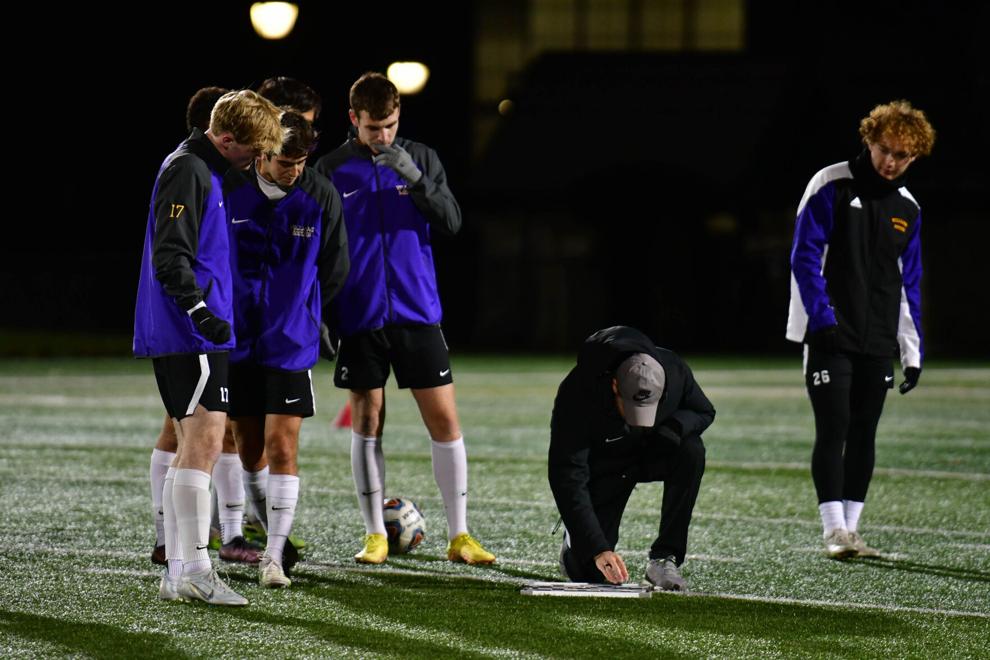 The winners will get Friday off and will play for the national championship on Saturday, which is a change from the historic Friday-Saturday or Saturday-Sunday schedules.
The games will be live streamed on NCAA.com.
Foehl grew up here and went to Mount Greylock before attending Williams.
"It's definitely pretty surreal and overall just super-exciting" to be going to his own Final Four, Foehl said before practice on Monday. "If I could write out my sports career, I think this is kind of what it would look like right now. I love the spot we're in.
"I'm so thankful for the opportunity."
Coach Steffen Siebert's squad had been practicing on the artificial turf at Farley-Lamb Field in preparation for the Final Four games, which will be played on the turf at Donald J. Kerr Stadium at Roanoke College in Salem. The Ephs left Tuesday, flying into nearby Roanoke, Va.
On Wednesday, the Ephs will train off-site and get a chance to test out the Kerr Stadium turf. The players from the four teams will all fan out across the Roanoke-Salem area to visit local elementary schools. The social interaction portion has been part of Final Fours for years.
While Foehl has been to Salem before, this is his first time as a player. The same as the rest of the Ephs, who haven't been to a Final Four since 2013.
"It's a validation of the hard work that we've put in since Coach Siebert got here just over a year ago," Williams' Eamon Gara Grady said. "I think we pride ourselves in being the hardest-working and smartest-working team in the country. To see that pay off with a Final Four berth is really exciting."
The Ephs head to Virginia's Blue Ridge Mountains with a 9-1-11 record. Gara Grady was asked about the season, and if there was either a point where he and his teammates said the possibility of winning a national title hit, if it came from the start of the season, or if it were a gradual belief.
"I think the Messiah game [in the NCAA Tournament], when we won it on PKs, it was like 'Oh shoot, we're pretty good,'" he said, "especially with them being the No. 1 team, doing it on their field and them having a history of our program not getting by them in years past. That was a huge game for us. It gave us a lot of confidence going to Ohio last weekend."
The Williams' road to Salem has been a long one. The Ephs started at Messiah in Grantham, Pa., where they beat NYU 2-1 and battled Messiah to a 0-0 tie, before advancing 4-3 on penalty kicks.
The next weekend involved flying to Kenyon College in Gambier, Ohio, where the Ephs knocked off Ohio Northern 1-0, and then beat host Kenyon 1-0, earning a trip to the Final Four.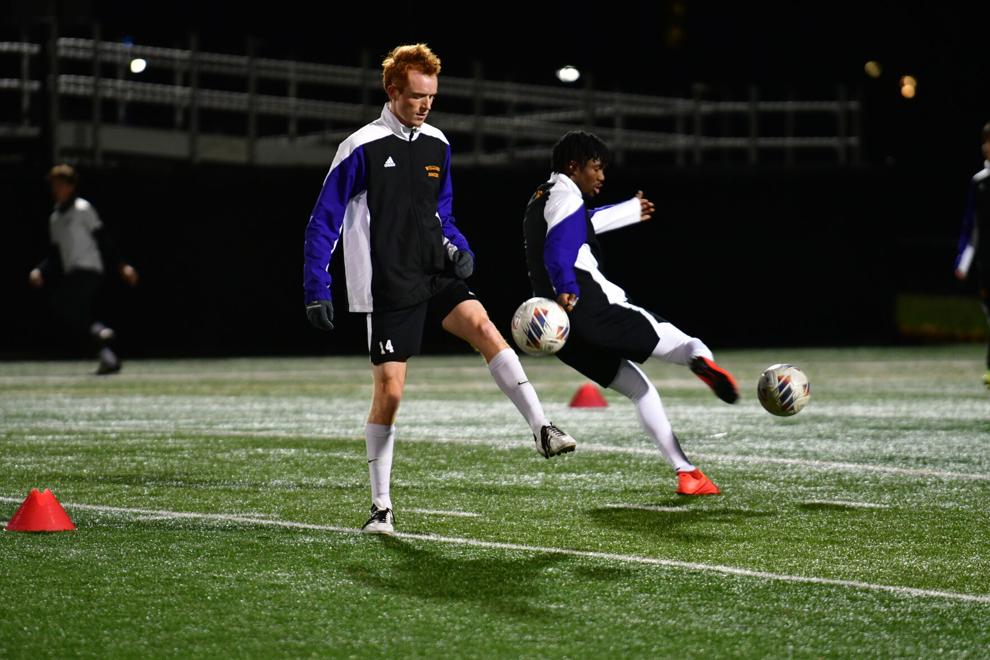 "We haven't had a ton of success in the NCAA Tournament in my four years," senior Nick Boardman said. "This year, we're having a great run and it's exciting to be in this stage of the tournament and ready for the next game ahead of us."
Boardman agreed with his teammate who pointed to the Messiah game as a key point of the season. The senior, one of three All-NESCAC players on the Williams roster, went on to discuss the way the team gained momentum as the season went on.
"If you had to point to one game, that's probably the game. I think throughout the season, just the belief and we're a really hard team to beat in the regular season. We lost only one game," Boardman said. "Obviously, we wanted to get more wins under our belt, but we had a lot of ties. Not a lot of goals conceded, a lot of big goals we scored, especially toward the end of the season."
Williams and Mary Washington (13-4-4) will play for the first time ever. The Eagles, who won the Coast-to-Coast Athletic Conference championship, got to the Final Four by navigating through a NESCAC gauntlet. Mary Washington and Amherst battled to a 2-2 tie in the Sweet 16 game, with the Eagles advancing 4-3 on penalty kicks. The Eagles punched their ticket to the Final Four by beating Bowdoin 3-2.
Mary Washington is coached by Jason Kilby, who was 237-99-34 through 11 seasons. This is his 12th.
Coming into Thursday's game, Williams has scored 24 goals as a team. Mary Washington has two strikers who have combined for more than that. Senior Josh Kirkland has 18 goals and sophomore Carter Berg has 10.
"I think they have two really phenomenal forwards who have had a really good season and really good careers," Siebert said. "That's definitely something we're aware of, the runs they're making and when they're making them. They have a lot of good technical players who feed those guys. They have a strong back three most of the time."
Like his players, the second-year Williams coach is feeling confident with how his team has played in the tournament.
"If you look at our whole season, I think we've played all year teams that could be in the Top 25, from Day One on. I remember our first weekend, we go to No. 1 in the Second Region, Babson and we get a great result on the road," Siebert said. "I think we scheduled our whole season like this so we are ready for these games.
"I feel very confident that we are going to show up, based on us showing up at every game this year."