WILLIAMSTOWN — It hasn't been an easy start to the season for the Williams College women's basketball team.
The Ephs lost their second one-point game in as many days when Framingham State's Krysta Padellaro scored on a putback of her own miss as time expired in overtime in the Rams' 67-66 victory Saturday afternoon in the finale of the Morin Memorial Tournament. The Ephs fall to 2-2.
Photos: Williams College plays Framingham State in women's basketball
Williams College plays Framingham State in women's basketball at the Chandler Athletic Center at Williams in Williamstown. Saturday, November 20, 2021.
To purchase these photos, click here.
"We sent them to the line too many times. We were doing a decent job, but it came down to two things," Williams coach Pat Manning said, "rebounding, 19 [offensive] boards — we gave them too many second chances — to our seven, and then too many fouls. Too many unnecessary fouls."
How many unnecessary fouls? Put it this way, Williams committed 26 fouls to 14 for Framingham. The Rams made twice as many free throws (24) as Williams attempted (12). The Rams were 24 for 41 from the line. Had they shot a better percentage, this game would most likely not have gone into overtime.
"We did," said Framingham guard Gwendolyn Carpenter, when asked about making the game harder than it needed to be. "We missed a lot of free throws and layups today. Apparently, we're just trying to make it harder on ourselves."
Carpenter played a team-high 42 minutes for the Rams (3-1), who bounced back from a 59-53 loss to Hamilton in the Morin's opening game Friday night. Williams was also trying to bounce back after a 65-64 loss to St. Lawrence on Friday. The Saints went 2-0 in the Morin Tournament with a 72-68 win in overtime against Hamilton.
Manning's team will be going through more than its share of growing pains. While the Ephs start three veterans in senior Maggie Meehan and juniors Devin Biesbrock and Maddy Mandyck, the other six players in Saturday's nine-player rotation were all in their first year on the court. Two starters, Ryann Taylor and Arianna Gerig, are first-years, as were reserves Ellie Tounkara, Izzy Sullivan and Kate Keenan. Brooke Krivickas is a sophomore, but nobody played a year ago.
"It was good to see some players, some of our young players, step up and have some of the best games they've had," said Manning. "I'd say Ryann Taylor did that today, and Ellie Tounkara did that as well. It was Ellie's best game for sure with seven rebounds and 12 points. We're building. It's tough to have two one-point losses in a weekend, but we're just looking to have better execution. I think we did better in some things than we did yesterday."
Four Ephs scored in double-figures in the game, three of them were first-years. Mandyck had a game-high 16 points and pulled down 13 rebounds. She also had five assists and four blocked shots. She was joined in double figures by Taylor (12 points), Gerig (13) and Tounkara.
Gerig had 11 rebounds, two assists and four blocked shots before fouling out with 1 minute and 30 seconds left in the fourth quarter.
For Framingham, Padellaro and Jenna Tavanese each had 15 points. Tavanese had her 15 off the bench. Carpenter, the former Mount Everett three-sport standout, had 13 points and six rebounds. She made 3 of 4 from the foul line in overtime.
Sarah Sullivan, another Berkshire County native, did not score, but she had three rebounds in eight minutes. The 6-foot-1 Sullivan was only playing her second game of the season, as she was a member of the MASCAC champion volleyball team that lost in the first round of the NCAA Tournament.
Williams actually led by as many as nine points in the first half, taking a 29-20 lead at intermission. The Rams got back in the game by outscoring Williams 22-10 in the third quarter. Williams got a 3-point basket by Biesbrock with 50 seconds left in the fourth quarter to take a 57-56 lead. Padellaro drove to the basket with 25 seconds left, was fouled, and made 1 of 2 from the line to help send the game into overtime.
In overtime, Padellaro broke the tie 10 seconds into the five minutes. Williams' Tounkara answered with a 3-point basket and then after two Framingham misses, made a 2 pointer from just inside the arc. That gave Williams a 62-59 lead.
The Rams answered with a 6-0 run that included Carpenter making 3 of 4 from the line.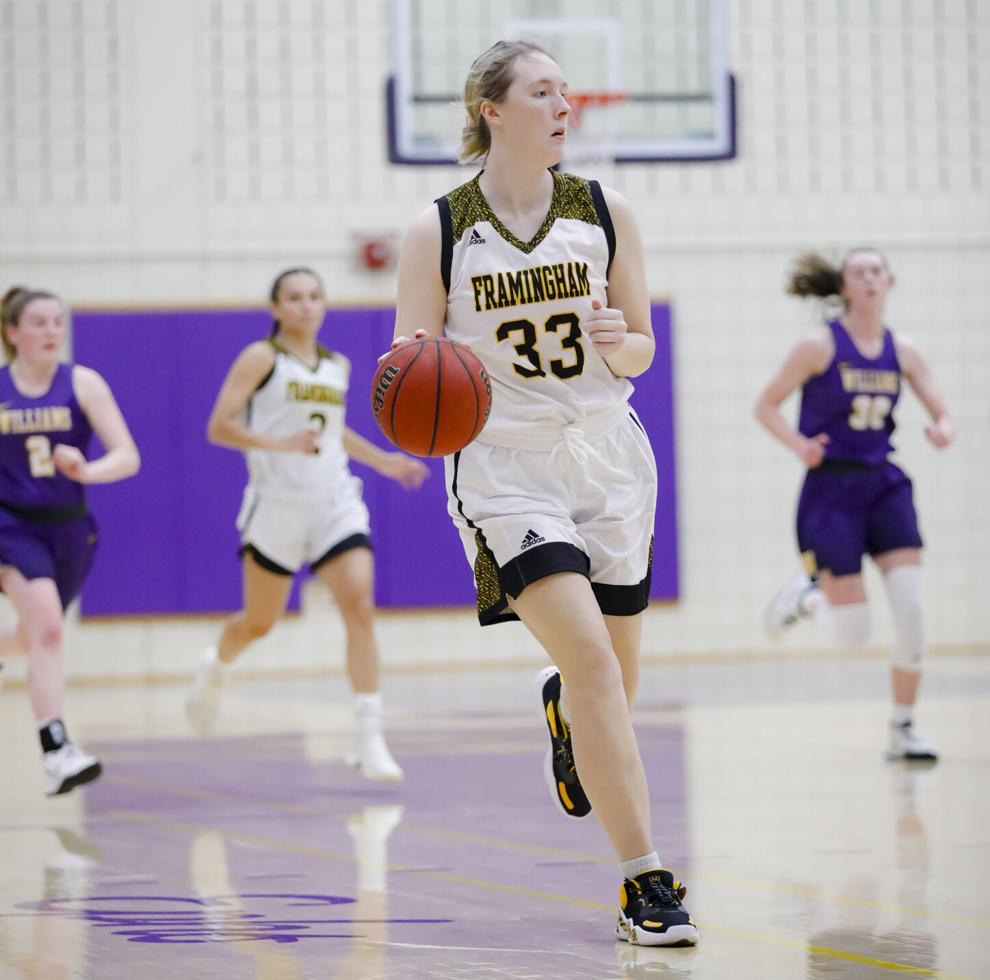 With 2 minutes to play in overtime, Flannery O'Connor rebounded a free-throw miss by Carpenter and was fouled on the putback. O'Connor made one to give Framingham a 65-62 lead.
Williams responded with a hoop by Mandyck, and when Biesbrock went to the free throw line with 4.3 seconds left, she had the game in her hands. The junior calmly sank two foul shots and Williams led 66-65.
Katty Haidul inbounded from in front of the Framingham bench, throwing it to Padelarro in the right corner. The Framingham senior drove to the hoop, missed the first shot but got the rebound and put it through the hoop as the horn sounded.
Krysta Padellaro scores on a putback as Framingham State beats Williams 67-66 in overtime. pic.twitter.com/mS4eHdH43u

— Howard Herman (@howardherman) November 20, 2021
"I think we have a lot of grit," said Carpenter. "We're coming off a team that [lost] two really good scorers and we're trying to find ourselves. I think this game was really important in doing that."
Framingham, 22-6 last year, won the 2020 MASCAC Tournament title and participated in the NCAA Division III Tournament. The Rams graduated two scorers who each averaged 17 points per game.
"It's awesome" to be back playing, said Carpenter. "We had so much fun doing it, and it was way too long to not be playing."