Before Williams College quarterback Bobby Maimaron walked off Pratt Field at the conclusion of a victory over Amherst that clinched a perfect 9-0 season, the Duxbury High School graduate said coming back for one more campaign was worth it.
"Words can't describe how I'm feeling right now," Maimaron said at the time. "So much work has gone into this and so many people put in so much time, it means so much to me that we were able to cap the season off 9-0."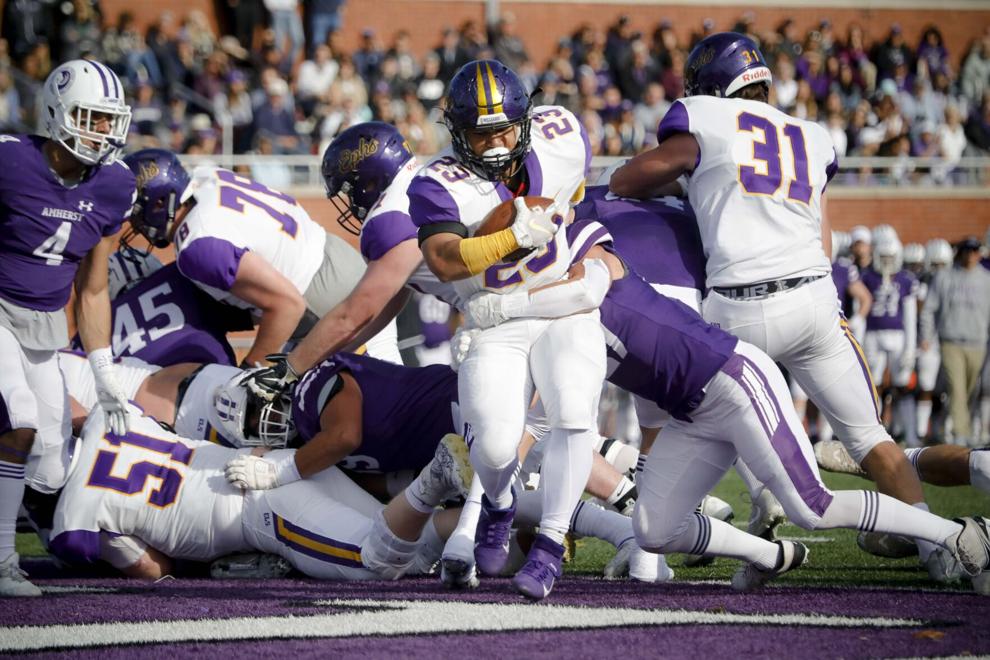 Maimaron got to cap off his stellar final season at Williams by being named the NESCAC offensive player of the year. He also shared first-team quarterback honors with Trinity's Spencer Fetter.
The Eph quarterback, who led Williams to the first 9-0 season in school history and the first undefeated season since 2010, is one of nine Ephs named to the All-NESCAC first team.
Joining Maimaron on the offensive side of the ball are running back Joel Nicholas, tight end Justin Burke and offensive linemen John Freeman and John Rooney. Named to the first team on defense were lineman Ian Devine, linebacker T.J. Rothmann and defensive back Rocco Giandomenico. First-year Ivan Shuran was the kicker on the first team.
Second-team picks were wide receiver Frank Stola and linebacker Coleston Smith.
For the second time in five years, Williams coach Mark Raymond was named the NESCAC coach of the year. Raymond received the honor back in 2017, when the Ephs finished 6-3. The year before, in Raymond's first season, Williams went 0-8. In five seasons, Raymond's record at Williams is 18-17, but is 18-9 in the last four years.
Maimaron, Burke, Rooney, Rothmann and Stola all took time off from school during 2020-21 to be able to play one final season. NESCAC did not play football in 2020. The Williams seniors on the All-NESCAC list were part of Raymond's first full recruiting class.
"They all came back for a day like today," Raymond said after Williams beat Amherst 24-19. "I'm so proud of them. I can't think of a group that deserves it more than them."
Maimaron is the fourth Williams quarterback to be named the offensive player of the year, and the first since Pat Moffitt led the Ephs to an 8-0 mark in 2010. Joe Reardon was the player of the year in 2001-02, while Pat Lucey won the award in 2006-07. Reardon led the Ephs to an 8-0 record in 2001, while Lucey's team had a perfect record in 2006.
Maimaron led the No. 1 scoring and No. 1 rushing offense in NESCAC this year. He completed 89-of-153 passes for 1,608 yards, 15 touchdowns and only five interceptions. It marked the first time Maimaron made the first team. Maimaron also averaged 56.4 yards per game rushing and had six rushing touchdowns, which led all NESCAC quarterbacks. He was a second-team pick in his first three years at Williams.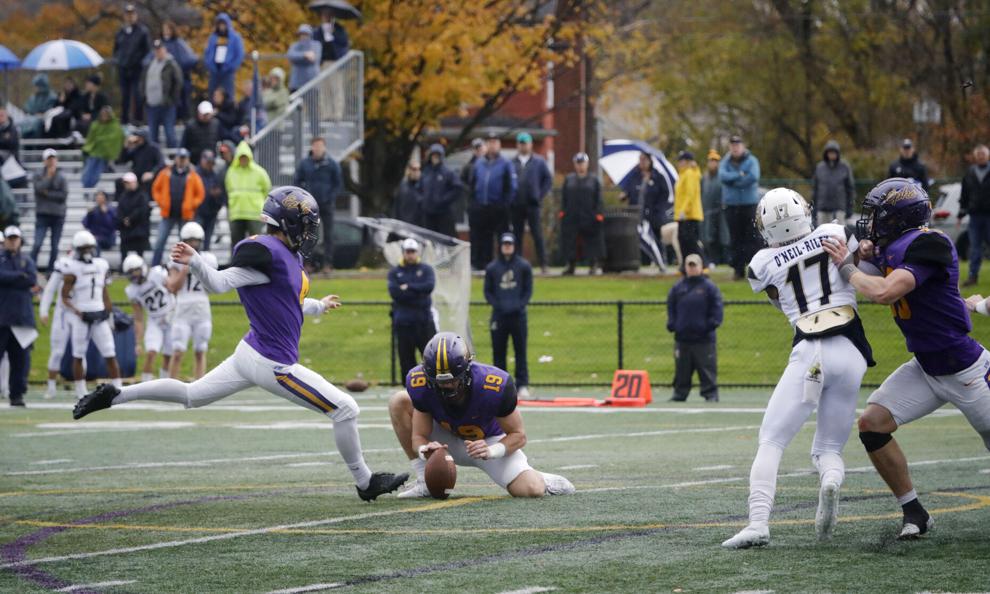 The other offensive first-team selections are all first timers on an All-NESCAC list. Nicholas, a junior from Buffalo, ran the ball 143 times for 755 yards, averaging 5.3 yards per carry. Nicholas led NESCAC in points scored (102), rushing touchdowns (16) and total touchdowns (17).
The performance by the Williams offense, particularly the running game, was predicated by a strong offensive line. Rooney, a senior from Yonkers, N.Y., and sophomore Freeman from Milton, were there for practically every snap through eight games. Rooney did not play in the season finale.
Burke caught 16 passes for 329 yards and four touchdowns during the season. The senior tight end from Morristown, N.J., caught three balls for 66 yards in the win over Amherst. His seven-yard touchdown catch in the third quarter gave Williams its final points, and enabled the Ephs to hold off the Mammoths.
On defense, it all starts with Rothmann. The senior from Norwell via Boston College High School, wrapped up his career with a third consecutive first-team designation. He was a second-team pick as a first year. He had 33 solo tackles and assisted on 17 others. He had 4 1/2 sacks on the season, and in the Little Three wins over Wesleyan and Amherst, he played a hybrid linebacker-safety, and helped the Ephs wrap up heir 49th Little Three title and first since 2010.
Devine was a beast on the Ephs' three-man line. The junior from Pelham, N.Y., had 5 1/2 sacks to go with 23 tackles. Unfortunately for Devine, he was injured in the win over Wesleyan. But he is expected to be back next year.
Giandomenico is the only one of the six defensive backs on the first team to have not intercepted a pass in 2021. The junior from Walpole did, however, lead NESCAC with 12 pass breakups.
Shuran made his presence felt as the Ephs' first-year kicker. The Medina, Ohio native made his first five PAT kicks and did not make his sixth because of a bad snap and an incomplete pass. When the season wrapped up, he was actually 37 for 38 on PAT kicks. He had a kick blocked in the 25-0 win over Wesleyan.
He was a perfect 8 for 8 in kicking field goals. Shuran was 3 for 3 from inside the 30, 4 for 4 from inside the 40 and 1 for 1 from inside the 50. His long was a 44-yard field goal in the win at Tufts.
Stola, who missed two of nine games for the Ephs, led the team with 21 catches for 487 yards and three touchdowns. That was good enough for the senior from Northport, N.Y. to be named to the second team. He was a first-team pick in 2018 and 2019.
Junior linebacker Young from Ridgewood, N.J., had 49 tackles and 2 1/2 sacks in being named to the second team.
Wesleyan junior Nick Helbig was voted as the NESCAC Defensive Player of the Year and repeats as an All-NESCAC First Team Defense selection. He is the second Wesleyan player to garner the NESCAC Defensive Player of the Year honor
Sophomores Andre Eden (Phoenix, Ariz.) of Bowdoin and Tomas Kenary (Chevy Chase, Md.) of Middlebury were selected as Co-Rookies of the Year.
Maimaron and Freeman were also named to the New England Football Writers Division II-III All-Star team. The two Ephs, along with Helbig and Trinity wide receiver Jonathan Girard were selected.