WILLIAMSTOWN — Williams College football coach Mark Raymond was happy after the Ephs beat Middlebury in Saturday's season opener.
After breaking down game tape, the Eph mentor said he saw little to change his mind.
"When you get a chance to look at the tape, you can see some of the errors we made that you might not catch on the field. You also get to see some great effort and some great plays kids made," he said. "A little of both, but the result is still the same. That was the important part."
Is the glass closer to half full than it might be to half empty?
"Half full for sure. We have a lot of room for improvement," he said, "but I also saw some really good things that we hadn't had a chance to see building up to the game."
The 1-0 Ephs, fresh off a 41-13 victory over the Panthers in Williams' first football game in 679 days, will play their first road game in 686 days on Saturday. The Williams coaches and players will board a bus for Somerville and a 1:30 p.m. date with Tufts.
The 0-1 Jumbos and coach Jay Civetti are coming off a 42-28 loss on the road at Trinity. The game was not as closes as the final score might have indicated, because Tufts scored the last 21 points of the game.
There'll be a small celebration at Ellis Oval, as Tufts opens the first phase of its renovation project at the ancient football field on the Somerville-Medford line. The school has installed a new AstroTurf playing surface, and will be putting in lights and a new scoreboard next year. It's all part of a $2.7 million project.
In last week's game at Hartford, a 72-yard pass play from starting quarterback Trevon Woodson to Jackson Butler on the third play of the game, helped put the Jumbos up 7-0.
That was the good news for Tufts. The bad news was that the Bantams put the game away by scoring touchdowns on their next four possessions. They scored touchdowns on drives of 65, 80, 60 and 14. In fact, Trinity scored 42 unanswered points in the game before Tufts scored those three touchdowns in the fourth quarter.
Matt Crowley guided Tufts to those fourth-quarter touchdowns. The sophomore quarterback from St. John's Prep was 9 of 13 for 213 yards. He relieved starter Woodson, who was 10 for 20 for 161 yards. Williams will prepare for both quarterbacks.
"They had a couple of bad breaks early in the game," Raymond said of Tufts. "Trinity was able to jump out a little bit. They're a well-coached, tough team with really good personnel. It'll be a different game."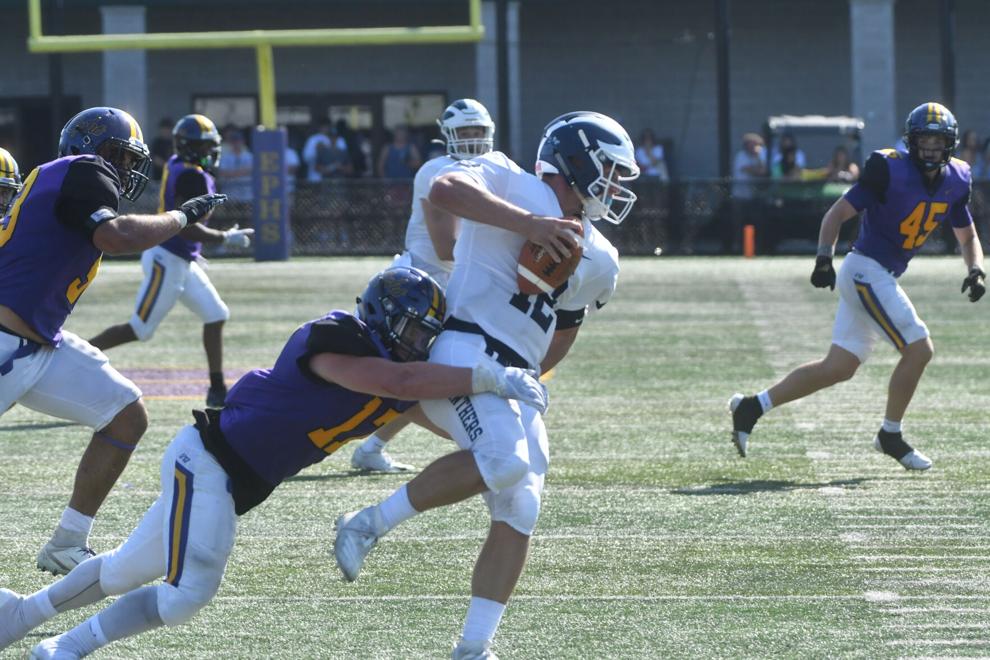 Tufts did have 426 yards in total offense last week, 377 of them through the air. That, however, plays right into one of the strengths of the Williams defense — the secondary. Williams held reigning NESCAC offensive player of the year Will Jernigan to 215 yards passing, and Jernigan was intercepted three times. Williams was successful on pass defense without the play of starting safety Drew Michalek, who was flagged for targeting in the first quarter. By NCAA rule, his day was done.
The Williams defense was led by linebacker Jarrett Wesner, who had 10 tackles, a sack and an interception. Five of Williams' top six tacklers were from their front seven.
One area, however, where Williams is looking for some improvement is along the offensive line. The Ephs ran for 288 net yards against Middlebury, but quarterback Bobby Maimaron accounted for all but 126 of them.
For the Ephs, the first road game is never an easy one. Raymond said that the road opener being Game 2 is far better than it being Game 1.
"For sure, especially with a lot of new guys out there," he said. "Winning on the road is tough, no matter what. It's certainly nice to get a home opener [win]."