WILLIAMSTOWN — For Maggie Meehan, the individual accomplishment she reached on Saturday afternoon brought a smile to her face. The fact that she scored her 1,000th point in a win over a Little Three rival made the smile that much brighter.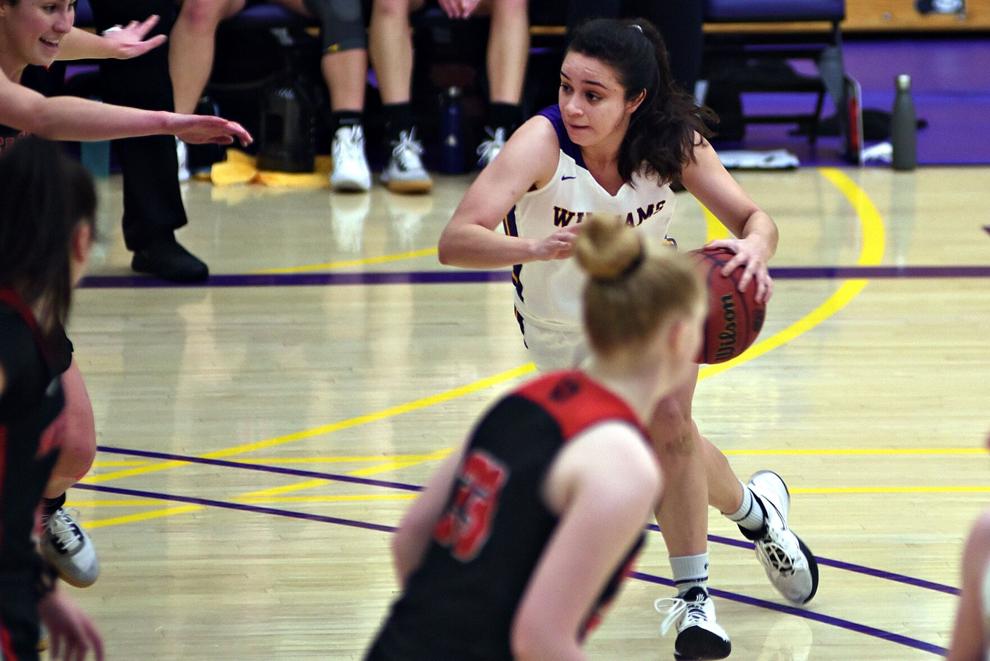 Meehan scored a game-high 19 points and cracked the 1,000-point ceiling with a pull-up jumper from the right baseline with 4 minutes and 31 seconds left in the fourth quarter. The hoop capped off an 8-0 run that gave Williams a double-digit lead that the Ephs held on to in a 71-58 victory in the first-semester finale at Chandler Gym.
Meehan, the 19th woman to reach the milestone, is the first 1,000-point scorer for Williams since Ammani Fernandez reached the milestone in the 2017-18 season.
"Honestly, I was just more focused on beating Wesleyan," Meehan said. "It's a Little Three game and we were all super pumped. I hadn't played them since two years ago. The first priority was getting the 'W,' and then getting 1,000 was just a bonus."
The senior from Southington, Conn., had nine points at halftime before finishing with her 19. In 10 games for the now 5-5 Ephs, Meehan has scored in double figures nine times.
"She's in really good company with those 18 other women. Maggie, her game has improved every year," Williams coach Pat Manning said. "She took a year off to be able to come back and have a real senior season. It means so much for me to have her reach this accomplishment. Maggie's very unselfish, so the main thing for Maggie is that we won today.
"What a day for her to have it at home and against a Little Three opponent. It's awesome."
As to how she scored? Meehan was asked about if she had imagined how the 1,000th point would happen.
"A thousand is a thousand," Meehan said with a laugh. "It looks the same going through the hoop, that's what I always think."
It was Meehan's afternoon, but she wasn't the only key performer for the Ephs. Maddy Mandyck had a game-high 14 rebounds to go with 12 points and a game-best six assists. First-year Arianna Gerig had a career high 16 points, 10 in the second half, and added 10 rebounds.
Marina Petruzzi had 19 points for Wesleyan, now 4-6. Maddie Clark added 10, but they were the only two Wesleyan players to score in double figures.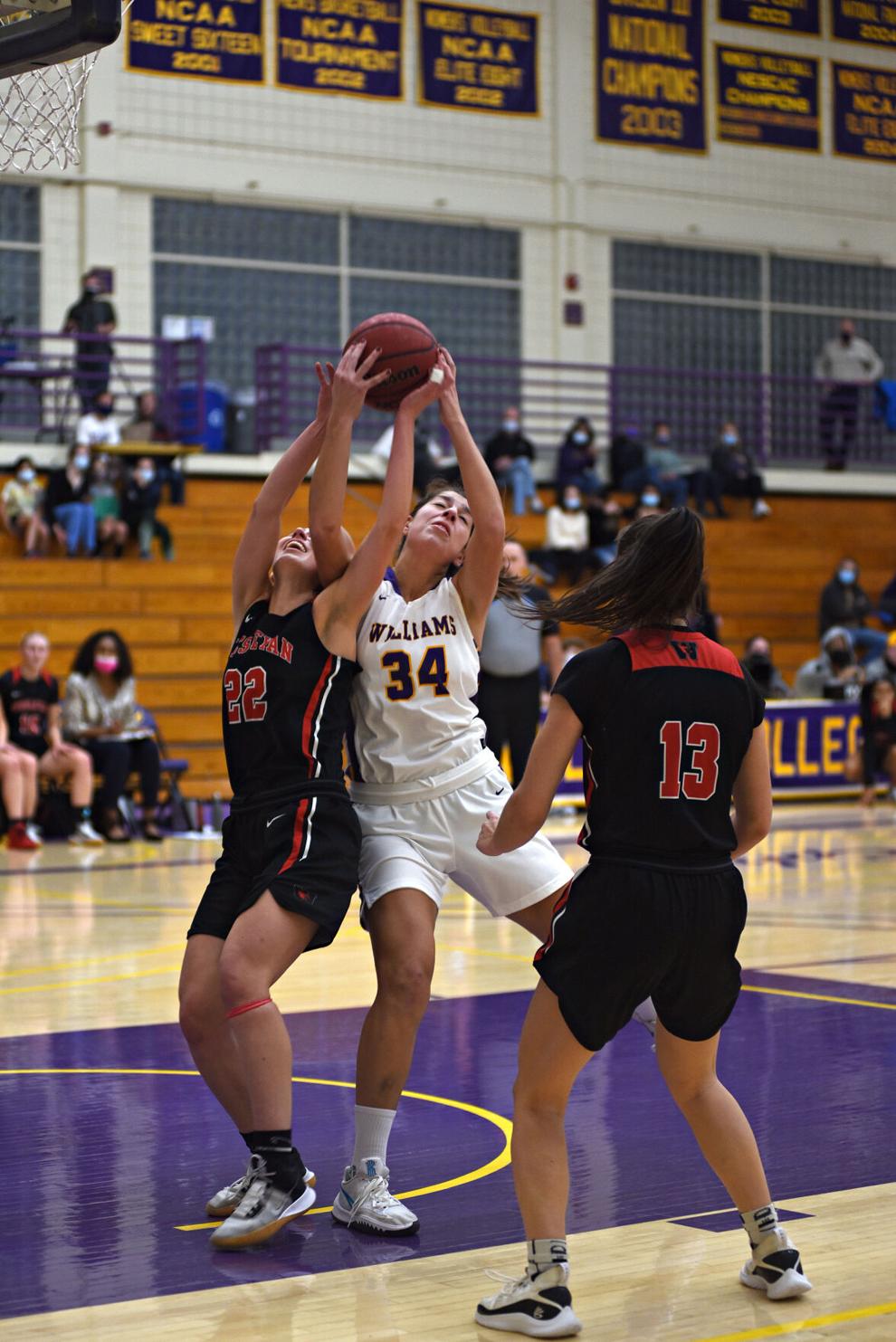 It was a nice bounce-back for the Ephs, who saw their two-game winning streak end on Tuesday in a loss at Smith College. It was a game that had eight lead changes and six ties, all in the first half. Williams took command of the game with a late run in the first half.
A 3-point basket by the Cardinals' Maggie Lee with 3:45 left in the first half put Wesleyan up 27-22. Williams had started slowly, shooting only 5 for 21 from the floor in the opening quarter. The Ephs did start to find the range in the second, and then exploded in the final minutes.
After Lee's hoop, Williams outscored Wesleyan 12-0 until the horn sounded. The run started when Mandyck made a nice move and scored inside. Mia Holtze was actually the catalyst of that run. The sophomore had seven of the 12 points, including a big 3-point shot from the left of the key. And when Meehan made 1 of 2 free throws with 3.2 seconds left, what had been a five-point deficit turned into a 34-27 halftime lead.
"I think Devin [Biesbrock] did a really good job pushing the ball. I thought Maddy and Arianna had such a good game in the post. That was definitely our strength against Wesleyan. I think once we started making the extra pass, that's how we really killed them."
Williams led by as many as 15 points in the third quarter and went up by 17 with 2 minutes left to play. The Eph defense kept the Cardinals from making a comeback as it held Wesleyan to two baskets and eight points in the final 7 1/2 minutes of the game.
The aforementioned Gerig, one of two first-years along with Ryann Taylor in the Williams starting lineup, had her fifth double-figure game in the last six contests and her first career double-double.
"I think so," said Gerig, when asked if it was her best game of 2021. "Working off the excitement of everything else, knowing it was a Little Three game and giving everything I could for the team."
Gerig, Taylor and the other first-year players have seen playing time during the first nine games. But this was their first Little Three game, and that meant something.
"It was so much fun. The electricity you feel when you're playing Little Three, playing Wesleyan, it's a different type of excitement," Gerig said. "It did feel different as soon as you stepped on the court. Both sides, everyone was doing everything they could to get the win."
The Ephs hit the semester break with a .500 record, but Manning said that getting to that mark was an accomplishment.
"This is one of the most challenging schedules we've ever played. As of [Friday] the five losses we've had, the teams we played were a combined 37-3," Manning said. "We're a young team. We were in every one of those games. Wesleyan is talented. They're very experienced and can hurt you in a lot of ways. I think we stuck to the game plan, and Maddie led the way, and Maddy led the way. Arianna was very consistent and Mia off the bench was great as well.
"It was a great team effort."
———
WESLEYAN (58)
Gray 1-3 1-2 3, Petruzzi 7-15 1-2 19, Emma Kiernan 2-9 2-2 6, Clark 3-16, 4-5 10, Ryan 3-12 0-0 6, Jones 0-0 0-0 0, Gomez 1-2 0-0 3, Smith 1-2 0-0 2, Benway 1-1 -0 2, Lee 3-8 0-0 7. Totals 22-68 8-11 58.
WILLIAMS (71)
Biesbrock 1-4 2-4 4, Meehan 9-21 1-2 19, Taylor 2-10 0-0 5, Mandyck 6-11 0-0 12, Gerig 6-10 4-4 16, Keenan 0-0 0-0 0, Holtze 2-4 2-2 7, Tounkara 2-4 0-0 4, Towle 0-0 0-0 0, McBarron 0-0 0-0 0, Sullivan 0-1 0-0 0, Krivickas 2-3 0-0 4. Totals 30-68 9-12 71.
Halftime: Williams 34, Wesleyan 27. 3-point goals — Wesleyan 6-26 (Petruzzi 4-8, Clark 0-8, Ryan 0-5, Gomez 1-1, Lee 1-4). Williams 2-5 (Biesbrock 0-1, Taylor 1-2, Holtze 1-1, Sullivan 0-1). Rebounds — Wesleyan 30 (Kiernan 12, Ryan 8, Petruzzi 6). Williams 46 (Mandyck 14, Gerig 10). Assists — Wesleyan 12 (Ryan 5), Williams 14 (Mandyck 6). Turnovers — Wesleyan 11 (Clark 4, Ryan 4). Williams 8 (Biesbrock 2, Taylor 2, Gerig 2). Fouls — Wesleyan 17, Williams 12.