WILLIAMSTOWN — It's been a busy stretch for the Williams College men's basketball team. So, to be 4-0 as Thanksgiving approaches is something to be thankful for.
"It's three games in four days, physically, mentally and emotionally challenging during a high academic time and going into a break," Williams coach Kevin App said after the Ephs beat North Berkshire rival MCLA 89-62 Tuesday night. "Super proud of the guys for competing against a good offensive team. Every year, MCLA makes us a lot better in exposing a lot of areas, especially defensively, that we've got to improve at."
Cole Prowitt-Smith made it four for four in double-figure scoring games. The sophomore guard had 22 points and was one of three Ephs to score in double figures. Brandon Roughley scored a career-high 15 points for Williams, marking his third straight double-figure game.
Photos: Williams College men host MCLA basketball
Williams men's basketball beat MCLA 89-62
To purchase photos click here
And it was a bit of a home-sweet-home night for Roughley, who was playing against former Berkshire County high school rivals Quentin Gittens from Taconic along with Hayden Bird and Reece Racette of Drury.
"I haven't played them since my sophomore year of high school" at Wahconah, said Roughley, who was 6 for 8 from the floor and pulled down five rebounds. "Me and Quentin grew up on the same AAU team and it was awesome playing against him. Bird and Reece, they're good players. It was a different feeling."
Gittens had a team-high 14 points for MCLA, now 2-5. He was 6 for 10 from the floor and had three rebounds and two assists. Bird, who set a school record earlier in the season with 12, 3-point shots, and had 11 in Saturday's win over Rutgers-Camden, was just 3 for 9 from outside the arc, scoring 11 points. Racette had four points but had seven rebounds to share game-high honors with teammate Mamadou Diallo.
"The last time I played against Brandon? Maybe my freshman year of high school," Gittens said. "We played AAU together my freshman and sophomore years, so that was the last time I played with him. After COVID now, it's been ... years since I played him."
When Bird made the first of his 3-point attempts, the Trailblazers went up 7-5. He caught a pass from Dylan Morris-Grey in the left corner and swished it. The Ephs answered on the next possession when Prowitt-Smith and Karren worked a nice inside-out play for Prowitt-Smith to drain a trey. That made it 8-7, and Williams never trailed again.
Each time Williams threatened to pull away in the first half, the Trailblazers answered. In fact, a 14-3 run midway through the first half that made it 29-16 seemed to portend a blowout. Jo Jo Garcia, who scored 15 points in 19 minutes, stopped that run with a 3-pointer from some 26 feet away. That was the story for the rest of the half. Williams led 45-33 at intermission, and while the Ephs did not seem to be in a lot of trouble, they just could not pull away.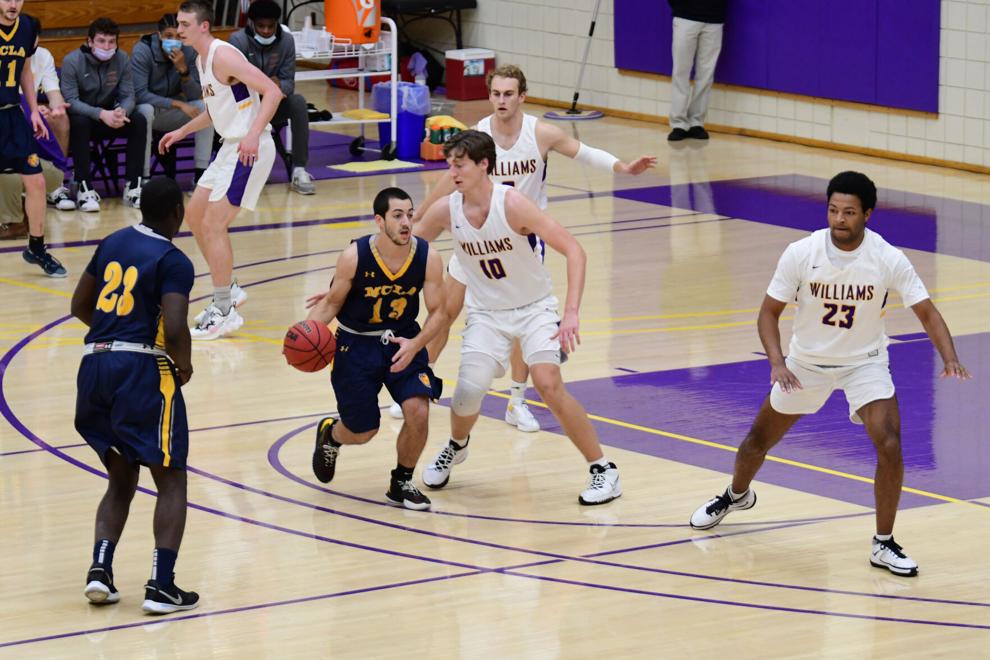 Bird and Gittens each had eight points in the opening half for MCLA. Spencer Spivy had all 12 of his points in the first half, one behind Prowitt-Smith's 13.
Williams threatened to break the game open in the second half, but when Bird hit the last of his 3-point shots of the game, it was 53-41.
The home side, however, scored the next 15 points. What was a 12-point lead became an insurmountable 68-55 lead. Roughley started the run by backing down a defender and scoring inside. Brandon Arnold, who finished with eight points, scored six in that run, including the final four. He got inside and scored off assists by Ryan Moon and Roughley.
"We took a hit in the first half. We thought our energy was lower than we hoped," Roughley said. "We came out in the second half, ready to go, and took it personally. I think we took that next step in the second half."
"I thought our second unit, Marc Taylor and Ryan Moon, really ramped up the level and kind of pushed it out for us," said App. "Cole and the starters got it going, and they're tremendously talented offensively. Ryan and Marc came in with the energy and the leadership to kind of push it out to a wider margin."
Williams has had a history of seeing a lot of quality shooters and MCLA's Bird is no exception. App said the Ephs wanted to chase him off everything and make it difficult.
"They just really went over a lot of screens, and just didn't let me breathe really," said Bird.
And what has that tear he's been on been like?
"It all comes from a lot of confidence," he said. "My teammates really believe in me and just really get me the rock."
Williams is off until Sunday when the Ephs travel to SUNY-Delhi for a 2 p.m. tipoff. The Trailblazers return to action next Tuesday at Sage, with a 7 p.m. tip.