MIDDLETOWN, Conn. — It may only be December, and the NESCAC men's basketball teams have not opened conference play yet. But Saturday's win by Williams will send reverberations around the conference, around New England and around Division III basketball nationwide.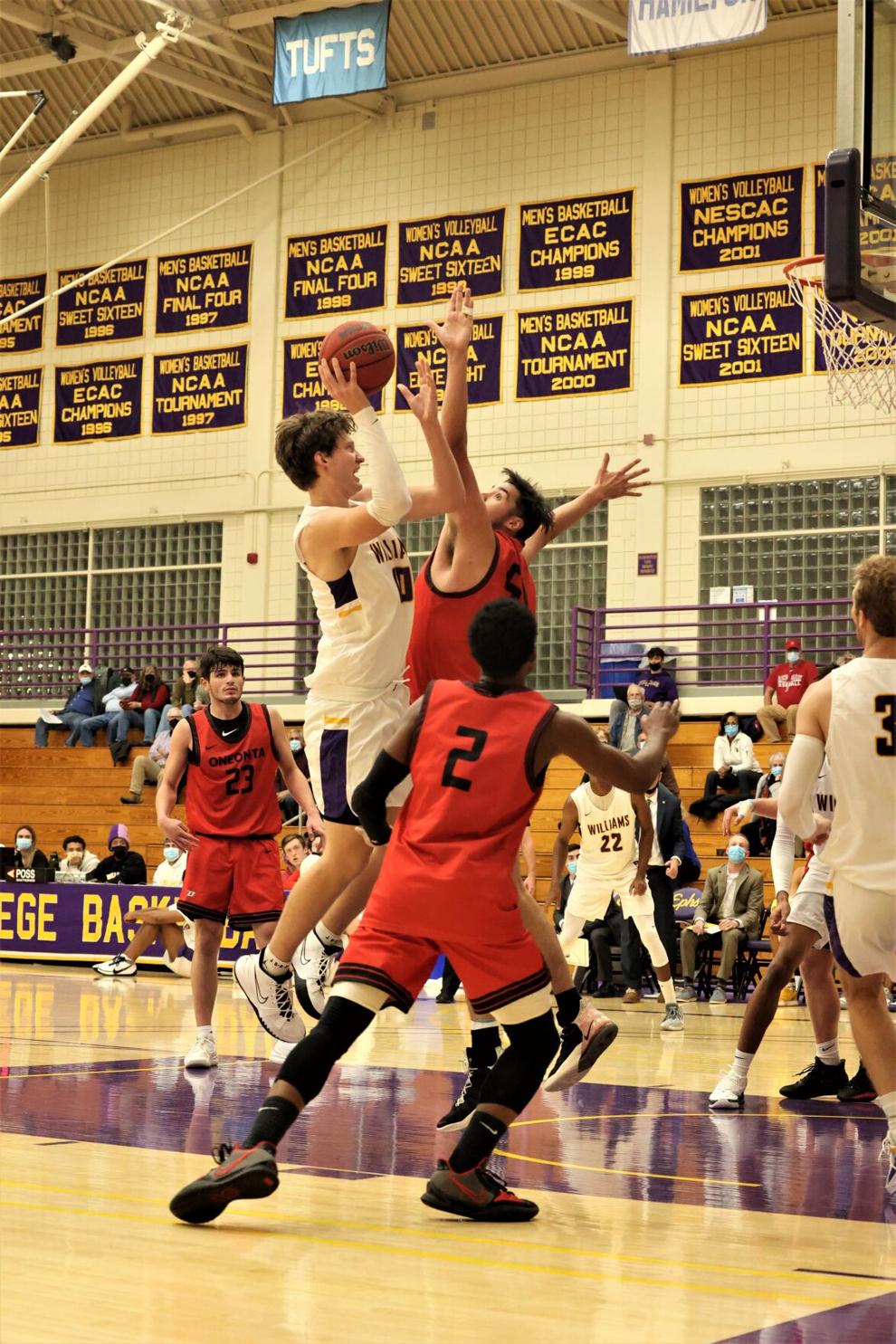 Nate Karren scored a career-high 25 points and Williams battled back from a 17-point deficit in the first half to beat 19th-ranked Wesleyan 69-60 Saturday afternoon, as the Ephs improve to 7-0. It was Williams' sixth consecutive win over the Ephs' Little Three and NESCAC rival. It was the non-conference game, as the two teams will play in Williamstown on Feb. 4. It was also the first loss for the Cardinals, now 7-1.
"Credit to Wesleyan. They absolutely blitzed us in terms of playing with energy and physicality and aggressiveness that's really hard to simulate in practice or get used to before you actually go through it," said Williams coach Kevin App. "I'm super proud of our guys for not complaining or arguing with each other or dropping their confidence. It made us step it up a level. It was nothing I did, it was just the guys responding to the competitiveness on the road."
The victory by the Ephs will in all probability push them into the D3hoops.com Top 25. Williams was the No. 4 receiving-votes team, which would place it as the No. 29 team. Knocking off a top-20 foe and handing it a first loss should be enough to vault the Ephs into the Top 25.
For much of the first half, it didn't look like Williams was going to be in position to win. A 3-point hoop by Karren gave the Ephs a 9-6 lead with 16:43 to play in the half. They didn't lead again until the second half.
The Cardinals managed to take a double-digit lead and when Gabe Ravetz hit a three, Wesleyan went up 36-19, with 5:23 to go.
The good news for the Ephs was that they closed the half on a 14-4 run. Brandon Roughley's trey with 17 seconds left made it 40-33, which is how the half ended.
Williams came out after halftime and promptly went on a 13-0 run. Like Williams, Wesleyan took that hit and bounced back. The Cardinals battled back and when Shackylle Dezonie hit a 3-pointer — one of only five by the Cardinals — it was 51-48. App called time out with 11:47 left.
Out of the time out, Declan Porter tied the game with a 3-pointer and the Ephs took the lead for keeps on the next possession. Preston Maccoux was called for a charge, but it took three chances for Williams to retake the lead. Spencer Spivy missed a 3-pointer, Jones rebounded and fed Cole Prowitt-Smith who missed a trey. Spivy got the rebound and found Porter, who drained his three-ball, to give Williams a 54-51 lead it would not relinquish.
In the second half, the Williams defense held Wesleyan to only 20 points on 9 for 31 from the field and 2 for 16 from 3-point range.
"I thought we were playing passively in the first half. They got a lot of uncontested layups in the first half because we weren't doing our job. I think our guys just got back to being aggressive and playing with confidence on the defensive end. We don't want to be a confident team just when shots are going in," said App on the defensive effort in the second half from the Ephs. "That energy that Wesleyan played with in the first 12 minutes of the game, I don't think they expected us to respond and when we did they had a hard time. After our run in at the beginning of the second half they responded really well and then we were able to come right back and I think they just ran out of gas a little bit."
Prowitt-Smith had 15 points and a game-high eight rebounds for the Ephs, while Jones had 10 points and seven rebounds. Spivy managed five points but had six assists.
Dezonie came off the bench to score 13 points and lead the Cardinals.
Williams will host Union on Thursday and finish the first semester at Springfield on Saturday.
———
WILLIAMS (69)
Karren 11-13 1-2 25, Prowitt-Smith 6-13 2-2 15, Jones 4-8 2-3 10, Porter 3-6 0-0 9, Spivy 1-3 2-2 5, Roughley 1-4 0-0 3, Arnold 0-2 2-2 2, Moon 0-0 0-0 0, Taylor 0-0 0-0 0. Totals 26-49 9-11 69.
WESLEYAN (60)
James 6-7 0-0 12, Peek 4-13 0-0 8, Maccoux 2-5 0-0 6, Ravetz 2-11 0-0 5, Walker 2-6 0-0 5, Dezonie 6-10 0-0 13, DeLollo 4-6 1-1 9, Johnson 1-6 0-3 2, Millstein 0-0 0-0 0, Johnson 0-0 0-0 0. Totals 27-64 1-1 60.
Halftime: Wesleyan 40, Williams 33. 3-point goals: Williams 8-18 (Karren 2-2, Prowitt Smith 1-6, Jones 0-1, Porter 3-5, Spivy 1-3, Roughley 1-1). Wesleyan 5-29 (Peek 0-5, Maccoux 1-8, Walker 1-3, Dezonie 1-3, DeLollo 0-2, Johnson 0-3). Rebounds: Williams 31 (Prowitt-Smith 8, Jones 7, Spivy 6). Wesleyan 29 (Peek 8, DeLollo 4, James 4). Assists: Williams 15 (Spivy 6, Karren 3). Wesleyan 17 (Johnson 6, Peek 3, Walker). Turnovers: Williams 20, Wesleyan 17. Fouls: Williams 10, Wesleyan 14.