Last Saturday morning, a beautiful, sunny fall morning, some 34 of us hiked up Lenox Mountain for a bench and plaque dedication in honor of the late George (Gige) Darey.
We were there at the invitation of Ginny Akabane and folks from the Berkshire Natural Resources Council (BNRC). In case you didn't know or have forgotten about Gige (highly doubtful), he was a Lenox native who was an outdoorsman, conservation advocate, former Chairman of MA Fish and Wildlife Board, founding member of the Massachusetts Outdoor Heritage Foundation, the Sportsmen for Land Preservation, the Housatonic River Initiative, the Save the River Coalition, the Lenox Land Trust, and the Josh Billings RunAground Triathlon, to name a few. He passed away on Dec. 21, 2018, at the age of 90.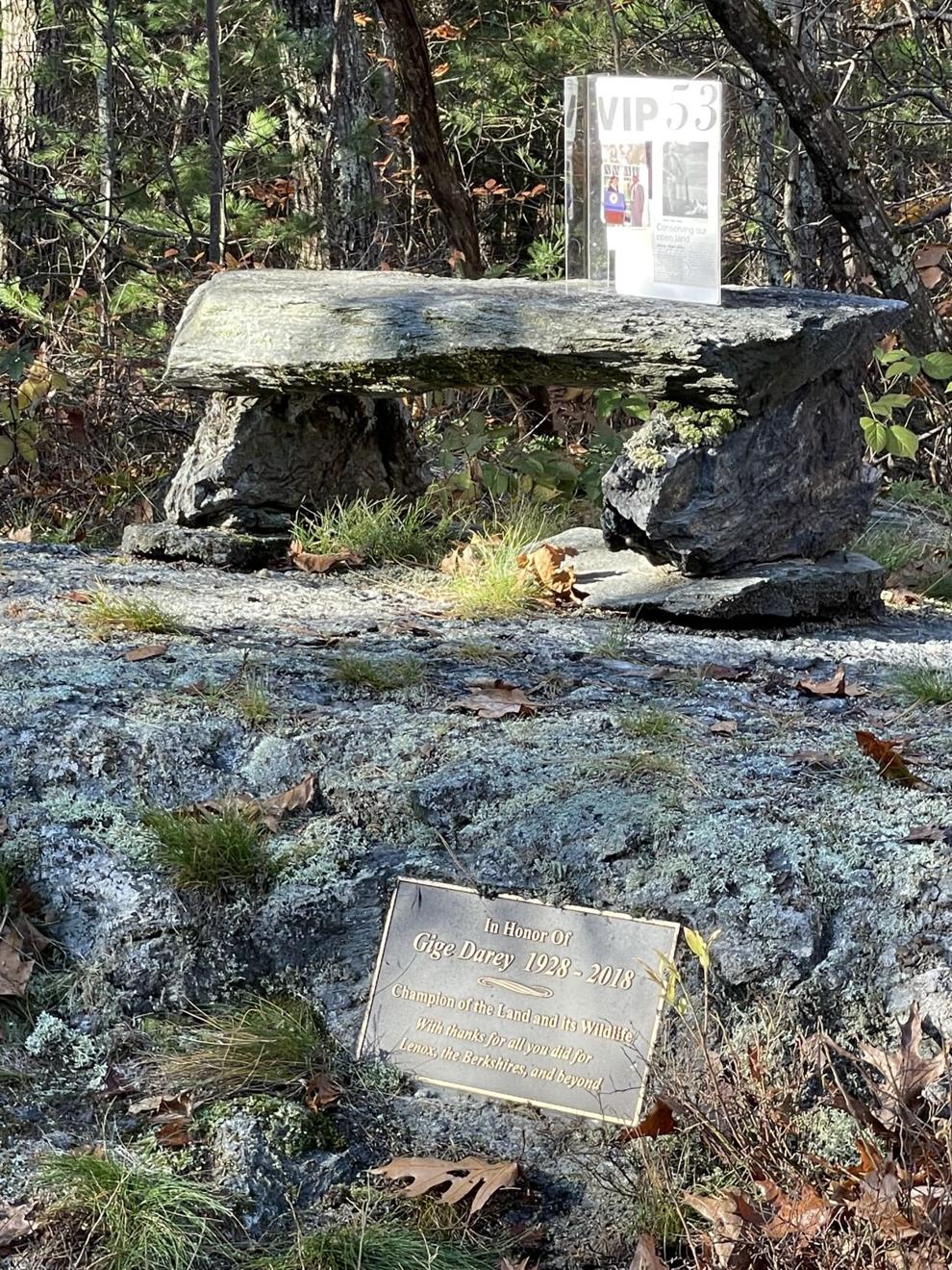 After welcomes and introductions by Jenny Hansell (BNRC President) and Gige's partner Ginny Akabane, George Wislocki (longtime Chairman of BNRC now retired) took the floor — or bench, I should say. He related how Gige told him that as a young man he used to go up to this spot. George wrote something up for this occasion and he and his wife Alice read it:
"Gige was my friend, we did a lot of things together, some were memorable. (Gige) suggested to Tad Ames (George's successor at BNRC) to place a stone bench at Mahanna Cobble for me when I retired from BNRC. I liked the bench and a lot of hikers and walkers sit there, and I like that. The bench includes a few words by Henry David Thoreau. 'If a person would conclude that after all he is not lost, standing in his own shoes on the very spot where he is and that for the time being he will live there, how much anxiety and danger would vanish.'
"Today I understand what Thoreau meant and I suggest there is one sentence that will define Gige and that would be a poem by Robert Louis Stevenson, 'Home is the sailor, home from the sea and the hunter home from the hills.'
"(Gige) will never be forgotten by those who loved these hills," he said. "He gave so much."
After that, he produced an old beat-up tin cup which he said that he obtained from a tag sale that Gige had. After receiving a ribbing as to what exactly will be placed in that cup, George opened a small nip bottle, poured it into the cup and toasted Gige.
Ginny related a story that Gige and George were hiking Lenox Mountain one day and, after viewing Parson's Marsh from an overlook, they walked near this spot. Gige said to George, if you ever want to put a bench up for me, that's where I would like it to be, right up on that knoll. And, that's how the bench came to be there. It was made by Bill Markham of Stockbridge. The flat piece for the seat was found about 16 feet from where the bench is now located. Markham couldn't find enough flat pieces there to make the legs, so he fashioned his own out of rocks. The plaque was installed by Allen Williams of Chester Granite Co.
Ginny then related that in the early days BNRC was not in the best financial state. Scott McWilliams, Gige and a few others came up with the idea of having a dinner banquet for BNRC called Sportsmen for Land Preservation. For five years they made $50,000 a year.
Following that, Berkshire Wildlife Sanctuaries Director Becky Cushing commented that the work that Gige and George did made a huge impact on the landscape not only here in the Berkshires but statewide and beyond.
"Gige said those who love these hills will never be forgotten. I truly believe that. Gige was part of so many different groups and that was one of the most powerful things which he was able to do, talk to the forest people, to the conservationists, the towns people, he really could rally all these different groups around this common cause, this common vision.
"I find that incredibly inspiring (and) I think he would be so happy to see this work that's continuing on Yokun Ridge, one of the most special places in the Berkshires, maybe even in MA and the partnership that's continuing. He mentored me in the way that he was mentored at Pleasant Valley Wildlife Sanctuary by an earlier director Alvah Sanborn. Gige cared for all of Yokun Ridge including Pleasant Valley and that is the context that I really know him. I miss him. It's hard for me and all of us to continue his important work."
Chuck Anastas, of Durand & Anastas Environmental Strategies, said that Gige was a great friend who had a lot of connections. "I certainly wasn't a natural friend of Gige, I don't hunt, I don't fish but I did meet him through Shakespeare & Co and we became very good friends and I miss him. I wouldn't have missed this day for anything." (He drove out from Boston).
Narain Schroeder, BNRC Director of Land Conservation, said that when he first came to the Berkshires, he and Gige just hit it off. "I always appreciated his ability to partner with the sportsmen in the Berkshires which was so instrumental to BNRC's work over the years. Our partnership with the MA DFW is so critical in what we believe in. It's an amazing experience. I miss Gige and I think about him all of the time."
Steve Sears, who currently sits on the Massachusetts Fish and Wildlife Board recounted how he first met Gige, how they both coached skiing and canoeing.
"He was just a mentor my whole life. I feel so fortunate and I am just one of so many people (whose) life he touched in different ways. It wasn't just BNRC or MassWildlife, or canoeing or skiing or whatever, he was just a great guy, like a family member to me in terms of looking up to him."
He got Steve involved with the Mass Outdoor Heritage Foundation, and recommended that he replace him when he stepped down from the MA F&W Board after 38 years (all but three of them as Chairman). "I've taken a little bit of his giant shoes and tried to do that work. It's a lot of work and what he did will never be done again. He was chairman for so many years and it's never going to happen again. There will never be a person that has that tenure that he had with (Former Director of DFW) Wayne MacCallum. As Narain and Becky stated, that relationship that they developed with MassWildlife really helped because protecting the amount of land that we protected jointly is just phenomenal. You just can't do it with one group, you have to partner."
Patty Spector (of Josh Billings fame) said that Gige had many lives, not just Massachusetts F&W, he was also a selectman who did so much good for the town. He started with the very first Josh and he was huge supporter of the race up until the day he passed away. Gige was also the reason why her land was preserved, through the Lenox Land Trust.
Tom Romeo of Lenox has known Gige his entire life. He was Town Selectman when Tom was Chairman of the School Committee. I can't tell you how much he did for the youth of Lenox. Not only as a ski coach but as a motivator. His legacy lives on. After he passed away, a scholarship was set up. Before passing Gige was able to define the criteria for future recipients of that scholarship. "It is going well," Tom said, "and we are hoping to continue it on for years and years".
There were several other speakers who also spoke highly of Gige and his endeavors.
At the end of the program, Jeanie Schnackenberg of Lenox sang a beautiful, moving rendition of the old Nat King Cole song "Nature Boy."
Youth Deer Hunt
MassWildlife created Youth Deer Hunt Day to allow 12-to 17-year-old youths hunt deer with their own permit. The hunt occurs on a special one-day season before the state's annual deer hunting seasons. The date this year was Oct. 2.
Some 874 of them participated in this year's hunt and the statewide preliminary harvest reports show they bagged 76 deer.
Congratulations to all.