Bat Week starts tomorrow and is designed to raise awareness about the need for bat conservation and to celebrate the role of bats in nature. Recently there have been efforts by MassWildlife and volunteers to give bats a boost and to teach us how we can get involved. Most of the following bat information was obtained from the MassWildlife web site:
Bats are often misunderstood or even feared. But these fascinating flying mammals play a critical role in our environment and many bat species are in decline. Massachusetts is home to nine species of bats, five of which are considered endangered. One of the greatest threats to bats is White-nose Syndrome, a fungal disease that has devastated populations of bats that spend their winters hibernating in caves and mines. Other threats include habitat loss, pesticide use, and climate change.
Despite the threats, there are ways to help bats. Get ready to celebrate Bat Week by learning about what is being done and what we can do to protect the bats in our backyards.
Mass. bats get helping hand from volunteers
Last year, MassWildlife launched a new effort to construct and install bat houses to raise awareness about the important role bats play in our environment and to get more bat houses out on the landscape. Properly constructed and strategically-placed bat houses can be important tools in supporting bat survival. So far, MassWildlife has installed 30 bat houses on Wildlife Management Areas and private lands and more will be installed over the next year.
It can take up to two years for bats to move into a bat house, and even then, typically only about 15 percent of bat houses are ever occupied. Over the summer of 2021, volunteers made visits to almost all of the bat houses and found that 16 percent were occupied and another 26 percent of the locations showed potential for future occupancy. MassWildlife thanks all the volunteers who helped collect these promising results and hopes to continue this monitoring effort next summer.
How we help bats
One of the best ways we can support bat conservation is to put up an artificial roost, like a bat house. Bat houses give females a safe, warm place to raise their young. Since most female bats only have one pup each year, bat populations grow very slowly. Additionally, due to habitat loss and degradation, it is becoming harder for bats to locate natural roost sites. Installing bat houses on our properties can provide safe environments for bats, while ridding our yards of pest insects, like mosquitoes, moths and beetles. Bat houses can be purchased or we can build our own. There is a Guide to Bat Houses on the MassWildlife's website, including plans for building a bat house, installation tips, and advice for attracting bats to our bat houses.
Other ways to help:
Educate ourselves and others to help dispel myths and fears about bats. Read the Massachusetts Wildlife magazine article Bat Myths Debunked, to learn more about the fascinating and beneficial features of bats.
Be a citizen scientist and spread the word about reporting bat colonies to MassWildlife.
Protect habitat for bats. If we have old, dead or dying trees on out properties, we should leave them standing as potential roost sites for bats.
If we must exclude or evict bats from our homes, we should ensure the process is safe and humane by following MassWildlife's recommendations found in the Massachusetts Homeowner's Guide to Bats.
Reduce pesticide use to ensure there are plenty of insects for bats to feed on.
Create a bat-friendly landscape in our backyards by adding water features, such as a pond, and night-scented flowers.
I don't know about you, but I miss seeing these little critters, especially near lakes and ponds around dusk. They always seemed to show up there picking off the mosquitos and other insects. Remember how they flew like kamikazes swooping down within inches of us? Some women feared that they would get tangled in their hair. Bats were important participants in the overall scheme of things, and although silent fliers, they belonged with the sights and sounds of quacking ducks, honking geese, low-pitched drones of the bullfrogs and the occasional splash of a largemouth bass or a beaver banging its flat tail on the water.
Upcoming Paraplegic Deer Hunt
MassWildlife holds a special three-day deer hunting season for paraplegic hunters. This year the dates are Oct. 28 through Oct. 30.
Each year, 25 to 30 paraplegic hunters sign up for the special hunt and for many it's the only opportunity they have to hunt. Staff and volunteers place hunters in safe areas at several hunt locations in the state where many hunters are able to see deer and get the opportunity to harvest one. When a hunter shoots a deer, volunteers assist the hunter by retrieving the deer, field dressing it, and getting it checked in on site.
The hunt is typically held at five sites: Northern Berkshires, Southern Berkshires, Quabbin Reservation, Devens Reserve Forces Training Area in Lancaster and the Otis/Edwards Military Reservation in Falmouth.
Paraplegic sportsmen and women interested in taking part in the hunt should contact Susan McCarthy at 508-389-6326.
Pheasant/quail hunting regulation changes
Readers probably already know that the Massachusetts Fisheries and Wildlife Board unanimously approved changes to pheasant and quail hunting regulations after holding a public comment session during a Zoom meeting last month.
Mark Tisa, Director of the Massachusetts Division of Fisheries and Wildlife, presented the proposed changes. The new regulation changes establish a permit required for pheasant and quail hunting during the regular season that will cost $4, and incrementally rise up to $20 for Massachusetts residents, starting in 2022. Permits will not be required in commercial shooting preserves. Daily bag and possession limits for pheasants (daily bag limit of two birds, possession limit of four birds) and quail (daily bag limit of four birds, possession limit of eight birds) will also be eliminated.
While Martha's Vineyard Island does not have natural populations of quail or pheasants, the state does provide pheasants to be released into certain areas for hunting, according to MV Land Bank administrative assistant Maureen Hill. The release locations are on properties owned by the Land Bank, usually in Sepiessa Point Reservation, Peaked Hill Reservation, and Waskosim's Rock Reservation.
Another type of grand slam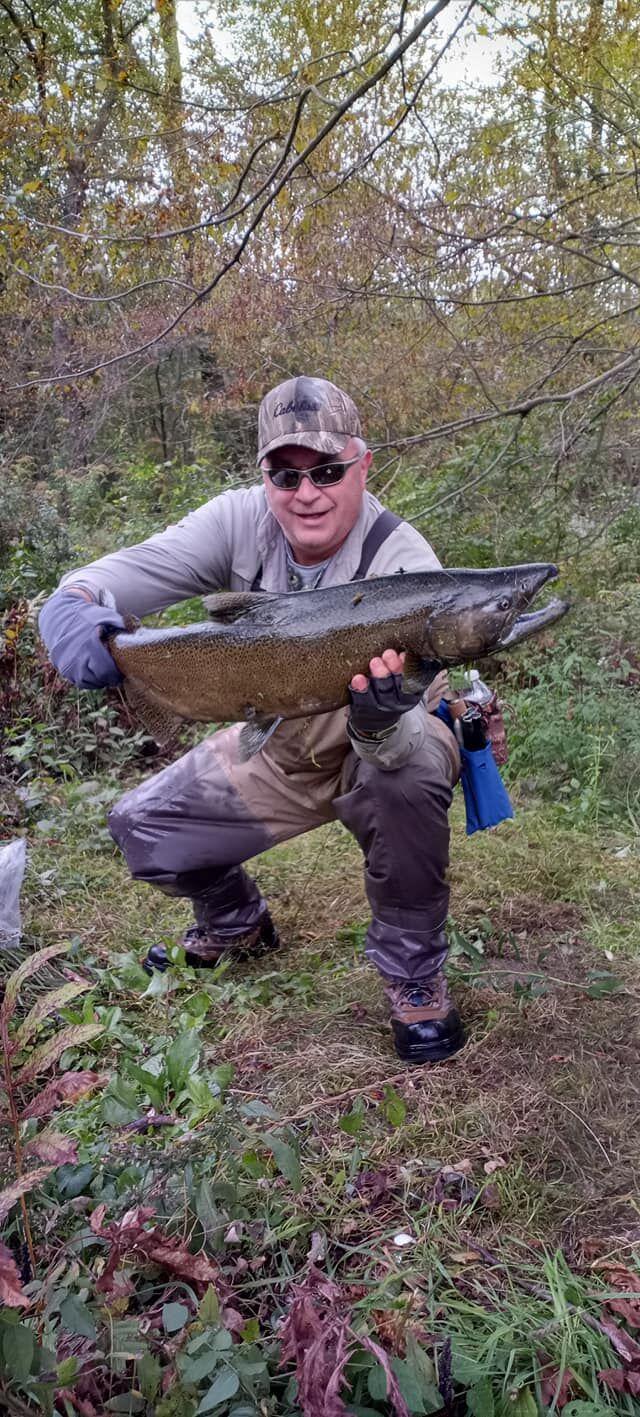 No, I'm not referring to the baseball grand slams such as what the Red Sox have been exhibiting in their playoff games with the Houston Astros. This is a fishing grand slam.
According to local angler William (Bill) Travis, a few weeks ago, he, Dick Bordeau, Bruce Collingwood (all of Pittsfield) and Jeff Vincent of Lanesborough had a great salmon fishing trip up on the Salmon River, a tributary to Lake Ontario in Pulaski, New York. Fishing with flies, the anglers, "caught their share of Kings and Cohos with a few Browns and a rare Steelhead thrown in. But Jeff actually hit the 'Grand Slam' – not only catching those four types of fish, but also an Atlantic Salmon. (Catching) the Atlantic is as rare as hen's teeth and a great memory for this trip," said Travis.
Other local flyfishers were also on the Salmon River recently and they also had good luck. Ron Wojcik, of Windsor, took Bob Gale of Cheshire and Scott Raymaakers of Pittsfield up there for the first time and they had lots of laughs, and were able to hook a few and bring some home.
What's going on in Minnesota?
Recently, my wife Jan and I completed a 14-day, 2,700-mile road trip to Illinois and Minnesota visiting relatives that we had not been able to see and hug in some time thanks to COVID-19. In spite of the fact that Minnesota is called the Land of 10,000 Lakes, my fishing rods were purposely left home. At this time of year in Minnesota, we thought we might encounter cold weather and brought along warm clothes. To our surprise, it was in the 70s there and they still hadn't had a frost yet. In fact, based on forecasts, they may not get one in October at all.
Ice fishing is a big sport up there, and with that warm weather, the grumpy old ice fishermen are getting grumpier by the day as they await the return to "normal" weather.