Trout stocking scheduled to begin soon
MassWildLife reports that approximately 500,000 brook, brown, rainbow and tiger trout will be stocked this spring from its five hatcheries located in Sandwich, Palmer, Belchertown, Sunderland and Montague. The Western District should receive about 20 percent of them. Stocking in the southeastern waters will begin any day now with other regions of the state following soon after as weather conditions allow. The stockings should run to around Memorial Day.
2022 spring trout stocking stats:
Most of the trout will be over 12 inches
More than 160,000 rainbow trout will be over 14 inches
More than 50,000 brook trout will be over 12 inches, including 550 brookies that will be over 18 inches or retired brood fish
More than 52,000 brown trout will be over 12 inches, including nearly 1,000 of them measuring 18-plus inches and retired brood fish
More than 3,000 tiger trout will be over 14 inches
Bobcat and coyote hunting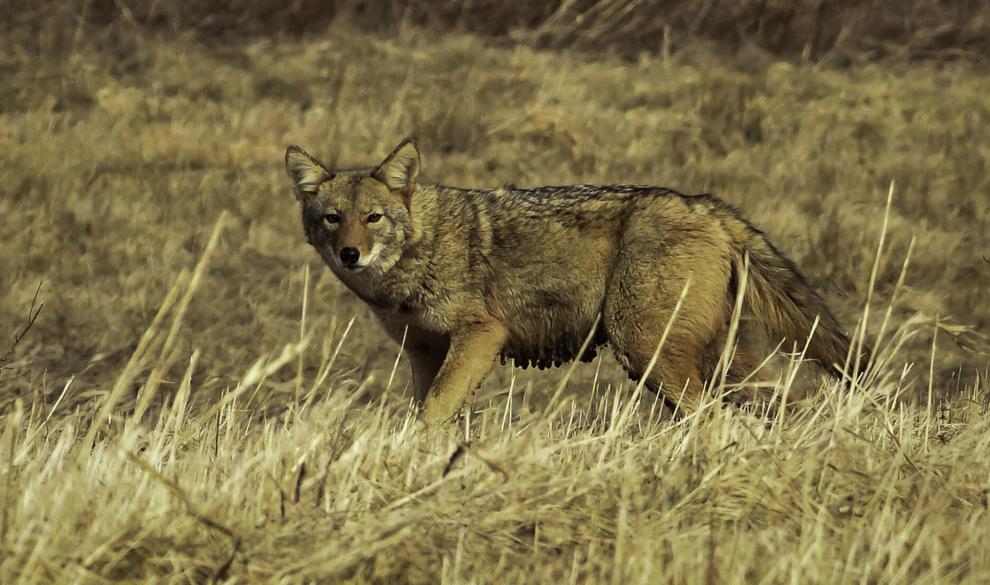 Well, the various small and big game hunting seasons are over — at least until April 23 when the Wild Turkey Youth Hunt kicks off the new season.
Some interesting facts about coyotes were recently noted in an article by the New York Department of Conservation (DEC) entitled "You Make My Heart Howl!" Here are some excerpts with minor alterations which would make the recommendations applicable to Massachusetts:
It is currently breeding season for area coyotes. Did you know that coyotes are monogamous and form long-term pair bonds? Research shows coyotes are remarkably faithful to their mates, typically remaining together until the death of one of the pair.
During this time of the year, coyotes are especially active as they mate and begin to set up dens for pups that will arrive in the spring. They also tend to be more territorial, which can lead to more conflicts with people and pets. Following simple steps like those listed below can help humans and coyotes coexist peacefully:
Do not feed coyotes.
Do not leave food outside. Pet food, bird seed, compost and garbage attract coyotes and other wildlife and increase risks to people and pets.
Do not allow coyotes to approach people or pets. If you see a coyote, be aggressive in your behavior: stand tall and hold your arms up or out to look as large as possible. If a coyote lingers for too long, make loud noises, wave your arms, and throw sticks and stones.
Teach children to appreciate coyotes from a distance.
Do not allow pets to run free. Small dogs and cats are especially vulnerable.
Fence yards to deter coyotes.
Remove brush and tall grass from around homes to reduce protective cover for coyotes.
Remember, seeing a coyote occasionally throughout the year is not a cause for concern. However, if a coyote is exhibiting bold behavior and has little or no fear of people, contact your district office of MassWildlife. In an emergency situation, contact the local police department.
New regulations proposed that Berkshire waterfowlers will like
In the March meeting of the Fisheries and Wildlife Board, Michael Huguenin, DFW Assistant Director of Wildlife made several proposals regarding waterfowl hunting. One proposal which will be of special interest to local goose hunters is that the regular goose hunting season in the Berkshires should be extended. If approved, it would provide a late season for regular goose hunting. It would open on Dec. 15 and run until Feb. 15, with a five-bird bag limit similar to the seasons that the Central and Coastal Districts currently enjoy.
Currently in the Berkshire District, the regular goose hunting season opens on Oct. 10 and runs until Nov. 14. That's because we have a 30-day goose hunting season with a two-bird bag limit whereas the rest of Massachusetts has a 60-day season. The reason is because some of the goose migration flyway out of Labrador and Newfoundland goes through our area and not further east. After years of analysis, it is felt that the migration is pretty much ended by Dec. 15 so there would be little or no effect on it. The proposal does not violate any federal restrictions or regulations.
The late-season hunt should reduce the number of geese that stay yearround, thus reducing some of their negative impacts.
There were also other recommendations dealing with the sea duck regulations which don't affect too many Berkshire waterfowlers.
The Board voted to bring the proposals to a public meeting at a time TBA.
Outdoor sportsmen saddened by the loss of Leo M. Daly
Leo M. Daly of Pittsfield passed away on Feb. 29 at the age of 92.
He joined the Massachusetts DFW in 1956 where he served in its Central District for 12 years. While working there he built and ran its district laboratory.
In 1968, he transferred to the Western District (WD) Headquarters as Fisheries Manager where he remained until 1998. He spent a total of 42 years with the DFW. During his time with the WD, he held the titles of Aquatic Biologist, Fisheries Manager, and interim District Manager. In the 30 years spent in the WD, he stocked over 1.5 million trout in Western Massachusetts waters. He was involved in a variety of catch and release programs for the state.
He was also in charge of the Northern Berkshire Paraplegic Deer Hunt for 22 years. He received awards such as Outstanding Dedication, Service Protection and Managing the Commonwealth's Fisheries and Wildlife Resources. He was the recipient of the Berkshire County League of Sportsmen's 1997 Lifetime Achievement Award. In his award application, the following was written about him, "Leo has committed his life to a pursuit that has benefitted generations of Berkshire County fishermen."
Turkey/Ham Shoots have started
The spring turkey shoots have already begun at the Lee Sportsmen's Association. They started on March 6 and will continue on the following Sundays leading up to Easter. Prizes include: NY Strip steaks, turkeys, pork loins, and spiral hams. Cost: $3/shot-meat, $3/shot-money shoot. Contact John Polastri at 413-822-8278 with any questions.
Starting Sunday, March 20 at 1 p.m., the Lenox Sportsmen's Club will be also offering 22LR shoots and pie shoots. Bring your Shotguns for 12-16-20 and 410 gauges, go home with an Easter Ham. Shells provided. The kitchen will be open for burgers, hotdogs and "maybe a few surprises." For more information contact Lorenzo Marangoni at 413-822-7412.
Ham shoots have also started at the Cheshire Sportsmen's Club, also on Sundays running up to Easter. March 27, April 3, April 10 — starting each Sunday at 1 p.m., $3/per shot. Bring your Shotguns for 12-16-20 and 410 gauges, shells provided.
For those readers who don't already know, no, they don't shoot turkeys or pigs. They compete at shooting at targets and the winners are rewarded with a frozen turkey, ham, etc. Don't laugh, people have asked me about this over the years.
Gun Safety Course
Pete's Gun Shop is holding a one-day Live Fire NRA and Massachusetts State Police Certified LTC Safety Course. The course consists of classroom instruction followed by live firing. This will be a one-day all-inclusive, live fire class on Sunday, March 20 at the Cheshire Rod & Gun Club at 9 a.m. This is to qualify Mass. residents and non-residents alike for the Mass. License To Carry or FID Card.
Interested parties should pre-register by calling or stopping in at Pete's Gun Shop at 413-743-0780, as space is limited. This live fire course fills up very quickly so don't dilly-dally. A non-refundable deposit is required to reserve your seat at the time of registration. They do accept credit cards in person or by phone.
This is a live fire class where they spend time at the range and you get to shoot. You will also get a $10 gift certificate to Pete's Gun Shop in appreciation for taking the course. The cost is $100 and covers use of the range firearms, ammo, safety gear, class materials, certificates and the NRA Safety Textbook.