This past summer, I was contacted by my old friend Gary Scarafoni of Pittsfield who had something that he wanted me to read. I asked him to send it to me, not knowing exactly what it was. It turned out to be a true story that he wrote about his springer spaniel bird-hunting dog named Angie. With the fall upland game hunting season upon us, I thought you would like to read it, so with Gary's permission and that of the editors and owners of Gun Dog Magazine, here it is.
———
Angie's Last Retrieve, by Gary Scarafoni
Angie had been different than my other Springers I had owned — special, fearless, eager to please with an independent streak that let you know she knew more than you.
She loved to retrieve — anything. Training dummies in the field or off our pond diving board. If you yelled "fetch" she would go get it. For twelve years we hunted stocked pheasants all over western Massachusetts and at a Gun Club in Austerlitz, New York. If I put a bird on the ground — or in the water — Angie would retrieve it.
There have been too many memorable hunts to count, with a thousand birds flushed and retrieved in all. While not professionally finished, she responded to all of my directions. Not only was she a delight to hunt with, but she could find birds.
Several years ago, she tore a tendon on her front leg. The repair did not hold, and her paw flapped when she ran, but she appeared to have no pain. With my vet's approval, we agreed that she should hunt if she wasn't hurting. For the next few years, we hunted as usual. Other than a paw that turned sharply inward and flapped when she was in hot pursuit of a bird, she never considered herself handicapped.
Two years ago, Angie developed an autoimmune disease that was destroying her red blood cells. It was touch and go. After a couple of missed seasons, my vet felt she was finally stabilized. 'What the heck, I know she wants to hunt. Her rear legs aren't strong, so take it easy, but take her out,' they said.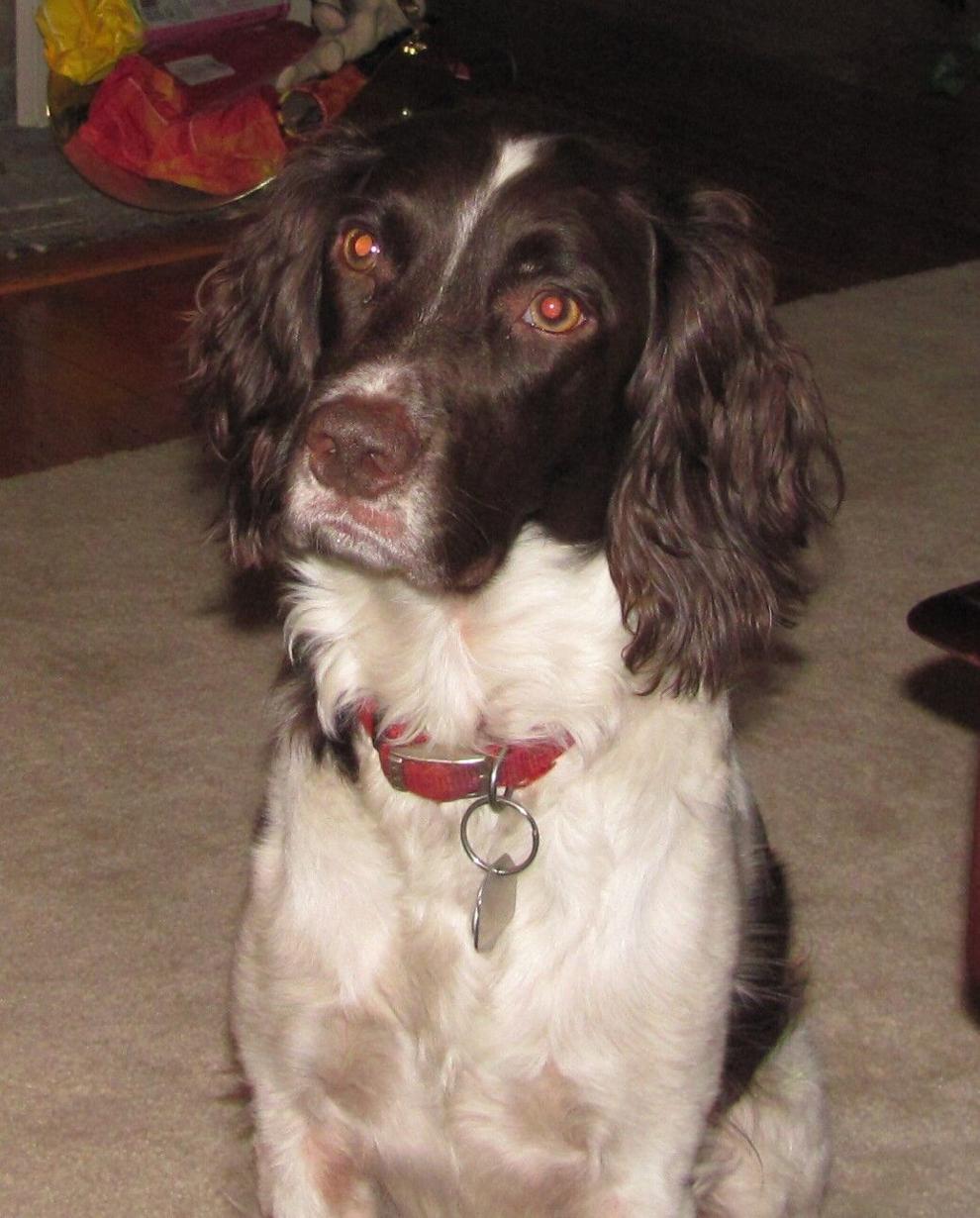 The next day, I lined up my next-door neighbor, Eric Mabee, to join us for a late-season hunt. When Angie saw me load her crate and my gun into the vehicle, she ran around in excitement like she was years younger. Her days of jumping into the back hatch were long gone, but as I lifted her into her crate, her eyes said it all: 'Let's do this.'
It was a reasonable December day with little snow on the ground. As we entered the field, I could see she was eager to find birds. It did not take long. She was quartering at half speed. Her legs would stumble. My heart ached. Was I making a mistake? As she continued to work it was obvious there was nothing wrong with her nose nor her desire.
It was not long before she flushed a bird, then another, and returned them to hand. After an hour. A couple more birds were brought to hand and in my vest. She was working slowly, but never missed a beat. When I knocked a bird down, a near miss, I saw it hit the ground running. Angie picked up the scent and plodded off. I thought I'd give her a few minutes then call her back. Ten minutes later, she came trotting out of the stubble, pheasant very much alive, held gently in her mouth.
Thinking that was a great way to end our hunt, we headed for the truck. As we walked out, she jumped a beautiful late-season rooster. Eric pulled a couple of feathers but the bird sailed down to a small stream and beaver pond.
After a few minutes of searching, we assumed the pheasant had made it across the stream. As I called Angie to recall, we both spotted the telltale sign of the white ringneck and blue-green splash of color on the far bank.
It was cold. I hesitated, but I could see she wanted that bird. Reluctantly, I sent her in. As she neared the far bank, she caught a whiff of the bird. She would not come back without it.
She got a hold of the tail feathers and pulled. Back she came, only this time she was above where she had entered, and an obstacle awaited her. There was ice two feet out into the water. When she got to it, we realized she did not have the strength to pull herself up. As I turned to put my gun down, Eric shot by me and landed in freezing water up to his waist. With one lunge he had Angie by the collar, and they both came flying out of the water—Angie with the rooster still cradled in her mouth. With tears in my eyes, I carried her back to the vehicle. She rode home in the front seat with the heater on high. No one spoke. We all knew this would be Angie's last retrieve and it was one for the record books."
———
When I read that story, it almost brought me to tears. There is a special bond between hunters and their hunting dogs, be they beagles, coon hounds, labs or as in this case Springers. They spend so many enjoyable hours together in the woods and fields. It's such a joy to see your dog pick up a scent, follow it and lock on it in a point. Or, if bunny hunting, to see your beagle's white-tipped tail start wagging a mile a minute seconds before it takes off following the scent and barking its heart out. It's so rewarding to see, with infinite patience, that puppy mature into a really good hunting dog.
So many times, at the end of the hunt, you and the dog are sore, scratched up and dead tired. It's a toss-up who snores the loudest when you get home.
It's always so sad, after a dozen or so years, to see your dog, one of your closest friends, age and begin to slow down. Their enthusiasm won't wane, but their bodies tell you that it's time — the walk back to the vehicle takes longer and your old buddy can't keep up with you anymore.
Thank you, Gary, for sharing this story with us. You have captured the feeling perfectly.
What do you think fellow readers, do you agree that he did a good job on that story? If so, then you aren't alone in that opinion, for the national publication of Gun Dog ran that article in its Summer, 2021 issue in its "Tails Gone By" section. We thank the folks at Gun Dog for allowing us to copy it into this column.
It's an appropriate time to run that article, for pheasant, ruffed grouse, rabbit, duck and goose hunting seasons open on Monday. Be sure you are knowledgeable of all of the hunting regulations. This year will be the last year that hunters won't have to pay a special fee to hunt pheasants. Starting next year there will be a permit fee, currently planned to be $4, and rising incrementally until 2026 when the permit will cost $20.
Don't forget to bring the deer tick spray and check yourself and your dog for ticks immediately after the hunt. This could be another bad year for them.
Archery deer hunting seasons opens Monday
Also, the archery deer hunting season opens in Zones 1-9 on Monday. An Archery Stamp is required. Two antlered deer may be taken, but if you have an antlerless permit, you can take a third deer. All bows, (recurve, long, and compound) except permitted crossbows, must have a draw weight of at least 40 pounds at 28 inches or at peak draw. Crossbows may be used by certain permanently disabled persons by permit only. Arrows must have well-sharpened steel broadhead blades not less than 7/8 inches in width. Expanding broadheads and mechanical releases are permitted. Poisoned arrows, explosive tips, air bows and bows drawn by mechanical means are prohibited. Be sure to check the regulations for more information.
Here's wishing you all a safe and enjoyable hunting season.