Here it comes again.
It was reported this week that Conference USA has begun shopping around for replacements because a seismic shakeup in the Group of Five conferences. And that shakeup left fans of UMass quaking in their boots.
In the summer, Texas and Oklahoma announced they would be leaving the Big 12 for the SEC. Then, in early fall, American Athletic Conference schools UCF, Cincinnati and Houston announced they would be replacing Texas and Oklahoma in the Big 12.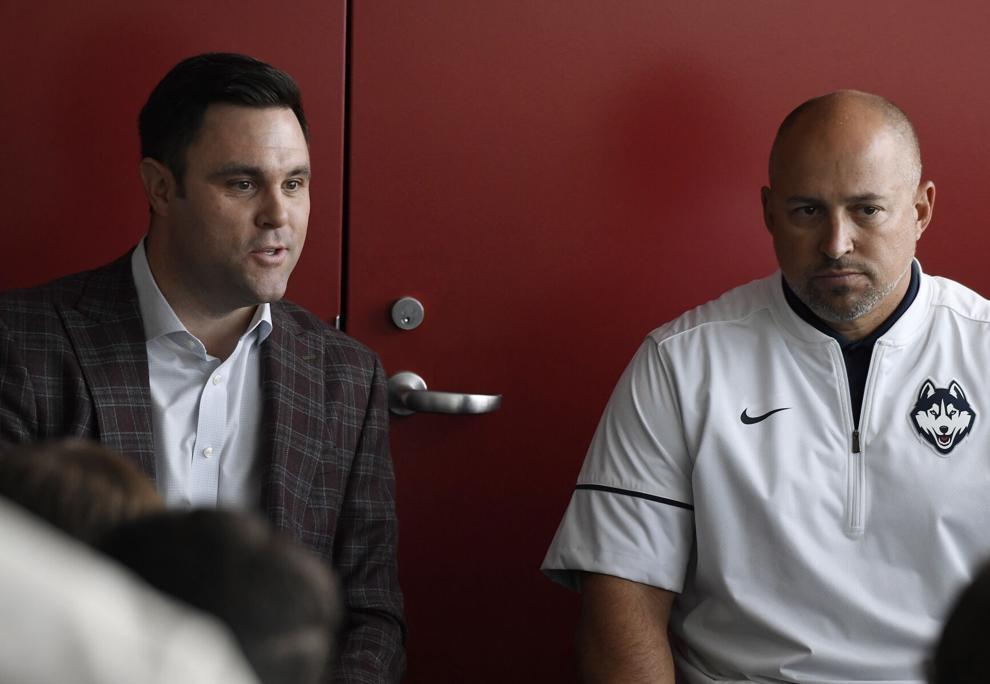 "I think all of us have anticipated some reorganization of some conferences," UMass athletic director Ryan Bamford said when we spoke after the SEC move, "given the pandemic and what we've gone through for the last year and a half. If there is movement, there will be a trickle-down effect, I'm sure. There will be some repositioning of some institutions. I think everybody's evaluating where they are, what the strengths of those relationships are now and their standing in the conferences now, and if they feel like they can improve that standing, I think people are going to be active participants trying to get themselves settled."
The shakeup in the G5 began when the American poached Sun Belt Conference schools UAB, Texas-San Antonio, Rice, North Texas, Charlotte and Florida Atlantic. The Sun Belt saw that and raided Conference USA for Southern Mississippi, Old Dominion and Marshall, with James Madison making the jump from FCS football into C-USA.
Now, The Athletic is reporting that UConn, Liberty and New Mexico State are talking with C-USA. UConn, a proud member of the Big East for every other sport, would be a football-only member. There is currently only one conference that has a football-only member, and that's The American with Navy. Navy plays its other sports in the Patriot League, while Wichita State slides into the AAC for every other sport.
According to my friend Gavin Keefe in the New London Day, UConn has confirmed that it had had very preliminary talks with C-USA, but nothing appears to be imminent.
In an article Friday, Keefe wrote: "While I have had conversations with Conference USA officials, characterizing these interactions as negotiations is an overstatement," UConn athletic director David Benedict said in a release Friday morning. "I will always do what I think is in the best interest of UConn and I am open to having conversations with anyone in an effort to position us for long-term success."
It comes to the forefront because, although he can have an opinion about conference realignment, it is something way above the pay grade of UMass coach Walt Bell. Bell was asked about it during his video conference with reporters from across the Commonwealth this past Tuesday.
"The programs that invested in their infrastructure, invested their resources into their programs, were rewarded with admission into the AAC," Bell said.
But after saying that, Bell tweeted out what could only be considered a clarification.
"This doesn't capture my intended point very well," he wrote. "UMass has invested $65M in FB related facilities since 2014. They have also provided additional support in my three years here. Investment isn't the only reason schools are asked to join a league."
Taking wins and losses out of the equation, UMass has geographic issues to contend with when it comes to conference membership. With Charlotte heading to the AAC, and with the other shakeups in C-USA, the closest member to UMass is Western Kentucky, and it is 1,000 miles and 15 hours by car away from Amherst.
A football-only membership, like the one UConn might ask the conference to consider, would be the major way for Bamford and the administration to go forward. Were UMass to join C-USA as a full member, the cost of traveling for soccer, baseball, softball, track and field, and other sports would be prohibitive. That's not just travel costs. UMass might have to increase its scholarship budget for sports like baseball and soccer just to keep pace with conference members.
Those are all things that have to be considered in Amherst and in Boston as Bamford and the UMass athletic administration ponders it's future, whether it be in a new conference or as an independent in football with continuing membership in the Atlantic 10. There are a lot of things on both sides of the yay or nay ledger to consider.
How this plays out will be most interesting to watch.