FOXBOROUGH — It doesn't matter if you've been here once or several times. Losing at Gillette Stadium never gets easy.
"It doesn't," Wahconah coach Gary Campbell Jr. said. "You put so much work and effort into it, and the kids do so much. They work so darn hard. When this happens, it hurts. It really does. It will hurt them, it hurts me, it hurts our coaches. That's life.
Photos: Wahconah football plays in state championship game at Gillette Stadium
On Wednesday at Gillette Stadium in Foxborough, Wahconah High School's football team was beaten by Cohasset 27-12 in the MIAA D-VII state final.
To view a full gallery, or purchase photos from the game, Click Here.
"That's part of sports."
Campbell has now led three different iterations of Wahconah football teams to the Big Razor on Route 1. Unfortunately for Campbell and those many players, they have yet to come home with a championship trophy.
That list includes 2021, as sixth-seeded Cohasset beat top-seed Wahconah 27-12, handing Wahconah its first loss of the season.
The last time Wahconah got to Gillette Stadium was 2016. At best, the seniors on the current team were Nessacus Middle School students when the Warriors lost to Mashpee in the Division IV championship game.
"It was definitely a once-in-a-lifetime experience," Wahconah senior lineman David Striebel said. "We had a parade and everything when we left, had really high hopes and it didn't turn out the way we wanted it to.
"In the end, it was a great year."
One loss does not obliterate an 11-win season, and one loss should not overshadow all the good that this football team did in 2021.
"I'm going to remember all the good memories we had," said Striebel. "This one has bad memories and it's going to stay with us forever. But you just have to think positive."
While the result might not have been what Wahconah was looking for, the effort on the field certainly was.
As someone who has been at Gillette for each of Wahconah's three trips, it would be fair to say that the Warriors could have won two of the three.
Wahconah's 2014 trip, which resulted in a 43-0 loss to Holliston, was not a competitive game. The Warriors fell behind early and never got their footing on either side of the line.
Two years later, the Warriors held an early third-quarter lead against Mashpee before the Cape Cod team won 34-13. In that game, and in Wednesday night's game, any observer would have to agree that Wahconah was nowhere near overmatched on the football field.
The first time Wahconah played for a state title, the Warriors did not have a serious shot. In the second time and tonight, they had a real chance to bring a state title home. Just not going to happen

— Howard Herman (@howardherman) December 2, 2021
In fact, had Wahconah running back Jonah Smith not gotten injured on the first drive of the third quarter, the game might have gone down to the final ticks on the clock.
Smith and the Warriors took the third quarter kickoff and were on the eighth play of the drive when Smith hurt his ankle. The senior standout had gained 8 yards for a first down on the Cohasset 10. He hobbled off the field and never returned.
The Warriors ran for 105 yards in the game and 56 of them in the second half. Smith had gained 38 of those second-half yards on that first drive.
Now, I'm not suggesting that the Warriors win if Smith doesn't get dinged up. They would have had a better chance of scoring from inside the 10-yard line with him than without him. Smith rushed for 17 touchdowns over eight regular-season games. If that happens, who knows where the game would go from there.
We do know how it ended. It ended with Cohasset lifting the Harry Agganis Trophy and with the Wahconah players holding back tears and receiving hugs from parents, other family members and friends.
For the seniors, it was the final game of their high school careers. For the underclassmen, they'll be back to play for Wahconah in the fall of 2022.
Owen Salvatore is one of those players coming back. The junior wide receiver/defensive back caught two passes for 44 yards in the game. One of them was a dime of a 30-yard touchdown pass from quarterback Ryan Scott in the final seconds of the first quarter.
Wahconah doing Wahconah stuff. In two drives, Warriors run eight times. Then they throw once and the speedy Salvatore gets behind DB Jamie Smith. East pitch and catch.

— Howard Herman (@howardherman) December 1, 2021
"We know what it takes to get here, and now we know what it takes to get it done," he said. "We have to execute in every aspect of the game, work as hard as we did this year.
"We didn't work hard enough, apparently."
In fact, the Wahconah players and coaches did work as hard as they could. It was Pro Football Hall of Fame coach Bill Parcells who once said, when asked about his team losing, "The other guys are on scholarship too."
Neither the Wahconah nor Cohasset players are on scholarship. They all worked their tails off, and sometimes, things just don't go your way.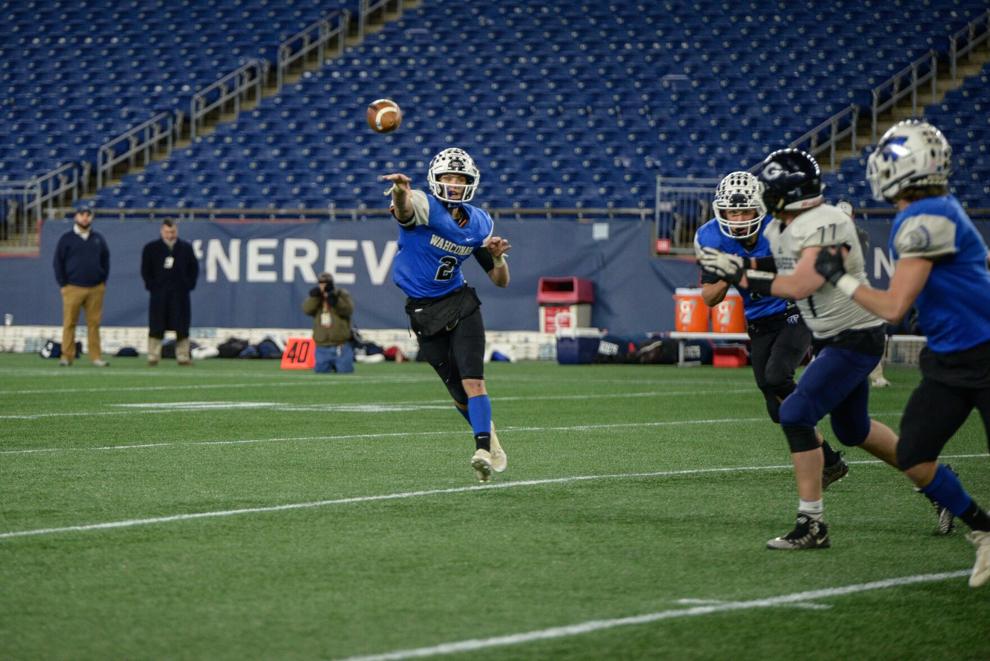 "Coming here, expecting a different outcome. We didn't play how we should have, and the score shows," said Salvatore. "It just sucks because we worked so hard all year. All my seniors, I love them to death. They're like my family. To not get this done for them really hurts. Really hurts.
"But I've got next year, and I'm confident with the people we've got, we can bring it back and get it done."