Random thoughts while waiting for the calendar to change from Summer (today) to Autumn (Wednesday).
Young quarterbacks seems to be the theme in the highest levels of New England football. On one hand, we have Mac Jones, the rookie from Alabama who won the starting quarterback job with the New England Patriots. On the other hand, say hello to UMass' starting quarterback — partly by default — Brady Olson.
We all know the Mac Jones story. He was the fifth of five quarterbacks taken in the first round of the 2021 NFL Draft, and was the 15th player taken overall. We also know the names of the guys ahead of him: Jacksonville took Clemson's Trevor Lawrence with the first pick, the New York Jets took BYU's Zach Wilson at No. 2 and San Francisco selected North Dakota State's Trey Lance at No. 3. Chicago then took Justin Fields of Ohio State with the 11th selection.
Of those top five, Lawrence, Wilson and Jones are the starting quarterbacks for their teams. Nobody expected anything else when it came to Lawrence and Wilson, who if they weren't QB1s from Day 1, then their teams really blew it in the draft.
It was 50-50 whether Fields would beat out veteran Andy Dalton in Chicago. Dalton was the starter for the opener, but that could be changing by Halloween.
That leaves us with Mac Jones, who played against Fields in the national championship game on Jan. 11 in Miami.
The lasting memory of Jones was his 36-of-45 night in Hard Rock Stadium, for 464 yards and four touchdowns in Alabama's 52-24 win over Ohio State.
But even with that in our memory banks, most observers of all things NFL in New England anticipated that Cam Newton would be Bill Belichick's starter in Week 1, and that at some point, Jones might take over. Many of those observers did not anticipate that Jones would win the No. 1 job out of training camp AND THAT Newton would have been cut.
The Miami Dolphins might have beaten the Patriots on Sunday, but Jones was a more-than-solid 29 for 39 for 281 yards and a touchdown. The best part of it, at least if you are Bill Belichick and offensive coordinator Josh McDaniels, is that there were no interceptions. None. Zip. Nada. That had to make the curmudgeonly Belichick crack a bit of a grin watching the tape.
So Mac Jones is your starting quarterback in New England. Unless he regresses in a massive way or gets hurt, Jones is your guy for the rest of 2021 and likely beyond.
He showed me nothing on Sunday that made me think he won't be a quality NFL quarterback, and possibly an All-Pro. He's not going to be Tom Brady. Then again, who is?
———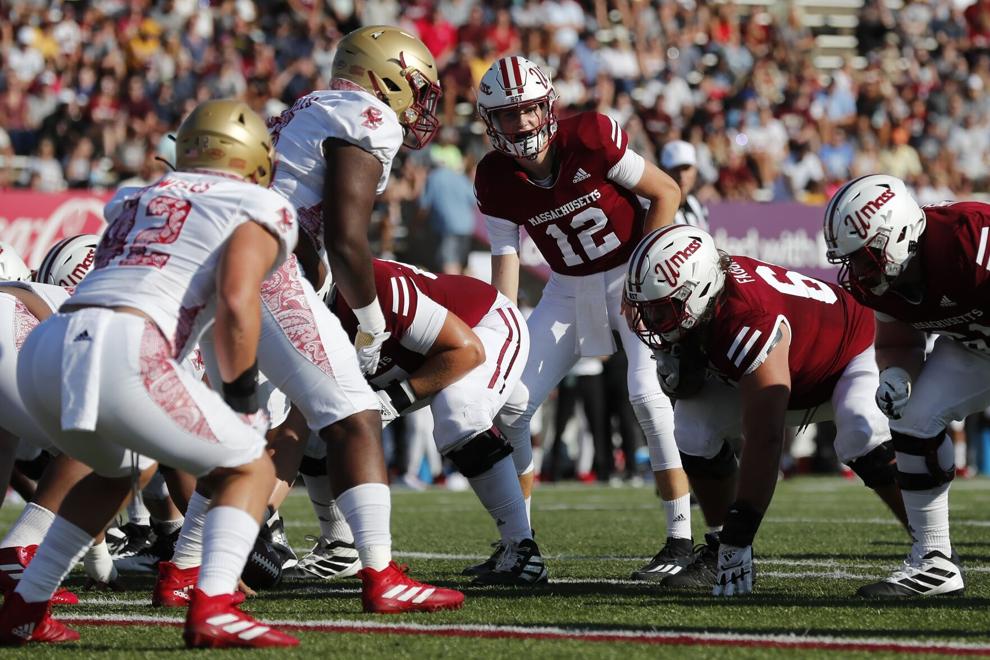 Ninety three miles due west-northwest from Gillette Stadium is McGuirk Alumni Stadium, where another kid is the starting quarterback.
Brady Olson is a true freshman who, six months ago, was playing high school football in Massachusetts' "Fall II" season. Now, by circumstances out of his control, he is currently the starting quarterback at UMass.
Tyler Lytle was supposed to be the guy, and was the starter when UMass opened 2021 at the University of Pittsburgh. He was 14 of 31 against the Pitt defense, which was about what one might have expected from a player making his first-ever college start from the deep end of the pool against one of the ACC's better defenses. There was enough promise shown against Pitt that one could have expected Lytle to have performed well, say, against Saturday's opponent in Eastern Michigan.
But Lytle ran the ball four times, was sacked five and was hurried four other times. Ergo, he took a beating. Things were bad enough that it rendered him hors de combat against Boston College. That moved Olson into the top spot, and he was very good.
"On the first ball he threw me, the interception, it was my fault," UMass wide receiver Eric Collins said during a mid-week video conference that I was on. "For him being in his first start, he did very good."
Collins was asked about Olson's confidence and composure.
"It's very impressive the way he goes about his game," the former North Carolina State wide receiver said. "Coach [Walt] Bell gives him a hard time at practice. He stays on him. When it comes to game time, he's ready for it and he's used to it."
We all found out during the week that Lytle would not play this weekend and Olson would get his second consecutive start. Olson will be backed up by Garrett Dzuro and/or Zamar Wise. Wise did play some last week, when the UMass offense tried to run some option.
In the minutes after the loss to Boston College, Olson talked about his beginnings at Milford and how far that brought him. He also said something that, a loss aside, had to bring a smile to the face of Bell and the offensive coaching staff.
"We're a different team than we were last year," Olson said last Saturday. "We have 110 people who have the same goal in mind, are willing to work and put in the effort, and who are all pissed off right now about a loss."
Young quarterbacks have to learn on the job, and learn quickly these days. Both Mac Jones and Brady Olson played well in losses in their first-ever starts. What they both do in the second week of their seasons will be most interesting to see.