The Williams College basketball coaching tree has sprouted a new branch.
Matt Karpowicz is on his second staff, but the first one that has him actually on a bench during a game. After spending the COVID-19 pandemic season on staff at WPI in Worcester, he is now a graduate assistant for Division I La Salle. The Atlantic 10 Conference team was 1-1 through Tuesday, having lost to Sacred Heart in overtime but beaten UAlbany.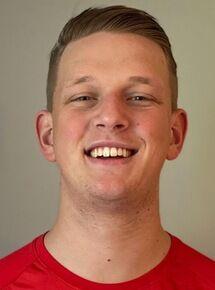 "I never coached a game at WPI," he said, "which is both kind of funny and sad at the same time, because we were going to be really good last year."
Karpowicz, a first-team, All-NESCAC center for the 2019-20 season, is getting a masters degree in finance at La Salle, while he works for fourth-year coach Ashley Howard in Philadelphia.
"I was kind of a little naïve thinking it wouldn't have been as much of an adjustment, because I had somewhat been doing this for a year," Karpowicz said, when we spoke. "The circumstances last year were so different. I also don't think I'd be settling in as well as I am here without my experience last year."
So, how did Matt Karpowicz get to La Salle?
"[Williams associate director Tommy Verdell], someone he worked with at Bates as an assistant, knows Kyle Griffin, who is our associate head coach at La Salle," Karpowicz said. "They kind of put me in touch, starting the process, and it all went from there."
It is interesting that Karpowicz is coaching. Most of the branches on the Williams coaching tree are former assistants who have moved up to higher levels or are head coaches. The notable exceptions are alums Pat Duquette, Will Hardy, Brian Emerson and Mike Crotty. Duquette is, of course, the head coach at UMass Lowell. The River Hawks visit Amherst the night before Thanksgiving for a game against UMass. Crotty, who once worked as director of player development for the Boston Celtics, runs the Middlesex Magic AAU basketball program. His graduates include ex-Eph and Miami Heat sharpshooter Duncan Robinson, Milwaukee Bucks forward Pat Connaughton, and current college players like Great Barrington's Noah Helmke at Amherst and Williams' Cole Prowitt-Smith. Emerson is the head coach at Division III Sewanee.
A lot of coaches start at the lower rungs of staffs. Hardy began his tenure with the San Antonio Spurs as a video intern in 2010, working his way up to Gregg Popovich's bench, before being hired by Ime Udoka in Boston.
"I'm essentially doing a large majority of our video coordinator stuff. So far, my responsibilities for the most part have been making sure our practice film gets catalogued and distributed to our coaching staff," he said. "Once the season [gets going] I'll be doing a lot of the advance scouting, working with our assistants on each of the scouts. Hopefully, I will eventually be doing more on-court work. I actually tore up my ankle pretty good at the start of August."
Karpowicz hurt his ankle playing in a pickup tournament in New Jersey.
"I was going to set a screen on the wing. Our point guard got stripped and I was chasing the guy with the ball down 70 feet," Karpowicz told me. "I jumped for the block and landed on his foot. I tore all the ligaments in my ankle. It was pretty nasty. That was worse than I ever got hurt in my entire life.
"At Williams, I missed one practice in four years and that was because I got rear-ended on the ride over to practice."
Karpowicz, who played for Mike Maker and App at Williams and worked for Chris Bartley at WPI, has nothing but good things to say about Howard — a former Villanova assistant — and the staff he has put together at La Salle.
"The best part about the job for me so far has been the staff. Obviously Ash, his credentials as an assistant coach speak for themselves and his credentials as a basketball mind in the city of Philadelphia speak for themselves. Getting to work with him is awesome. I've already mentioned KG [Kyle Griffin]. He's as good as it gets, in my opinion, in terms of being on top of things, organization, working with our guys and going above and beyond."
"It's a really, really good setup just in terms of being in the office and talking basketball all day."
For your calendar, La Salle will be at Rhode Island on Jan. 2, and in Amherst against the Minutemen on Feb. 19.
———
Looking at the rest of the tree, Duquette's River Hawks just had a huge victory, a 59-58 win at traditional Atlantic 10 power Dayton. The River Hawks followed that up with a loss to Oklahoma State at Mohegan Sun.
Dane Fischer, who was an assistant under Dave Paulsen when the Ephs won the NCAA Division III championship in 2004, is 0-3 as the head coach at William & Mary. He is 28-24 in two-plus seasons there.
Three of Paulsen's former assistants at Williams are head coaches in Division III. Aaron Kelly is at Catholic University, Dale Wellman is at Nebraska Wesleyan while Josh Loeffler is at Johns Hopkins.
From the Mike Maker branch, Emerson took over at Sewanee when former Eph assistant Mick Hedgepeth went from Sewanee — where he was the head coach — back to his alma mater, Division I Belmont.
Two other former Maker assistants are in Division I. Shaun Morris is at Quinnipiac and Derek Johnston is at Liberty.
Former Maker aides Pat Doherty at Haverford and Nick Giard at Kalamazoo, are head coaches in Division III.
I might have left a few of you off the list.
And then there are the trunks of the coaching tree.
Paulsen, who was let go by George Mason at the end of last season, is acting as a consultant for first-year coach Kyle Neptune at Fordham. In addition, I've been told that Paulsen is going to be doing some TV work with NBC on its college basketball broadcasts.
Maker is an assistant coach under Johnny Tauer at St. Thomas (Minn.). That's the most interesting Division I program in the country, because 12 months ago, the Tommies were Division III. St. Thomas was 1-2 as of midweek, and lost to Fordham 84-78 in Rose Hill Gym.
The Tommies won their first D-I game, beating St. Francis (Brooklyn). They won't play a D-I team at home until Dec. 11, a streak of eight road games.
Of course, back in 2013, Tauer's Tommies beat Maker's Ephs 82-79 in an NCAA Division III national semifinal game in Salem, Va.
We'll check back on the coaching tree later this winter to see how it's doing.