Canoe Meadows, Massachusetts Audubon's property on Holmes Road in Pittsfield, is one of those places where a winter walker can usually perambulate. While a few cross-country skiers descend on the property from the higher land near the community gardens after a snow, it's hard to hold tracks because of the foot traffic. It is also a good spot between seasons.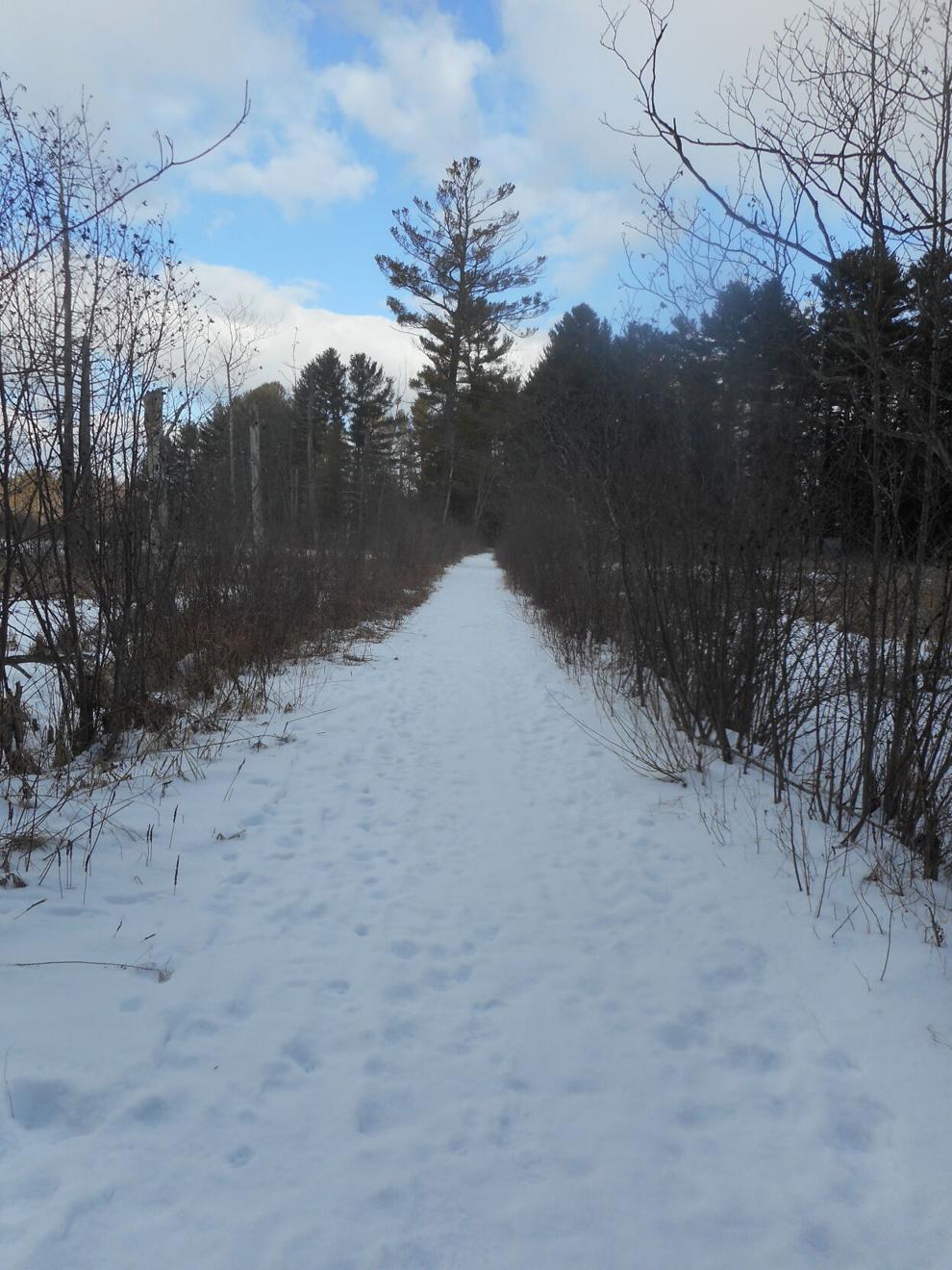 So you may think that the snow season is passing by, anyway, and you want to walk, to breathe fresh air and to catch a glimpse of wildlife: Canoe Meadows is a likely destination. It's generally a low level site, with some wet sections, nearly flat, located on the Housatonic River a mile from the center of Pittsfield. Holmes Road is south of Pittsfield center via Route 7 or Pomeroy Road. Parking is on the right just north of Holmes junction with Pomeroy, over a bridge across the Housatonic.
Once the property of Oliver Wendell Holmes Senior, the 19th century physician/poet, and Junior, the Supreme Court Justice, Cooley Graves Crane donated the 264-acre property to Audubon in 1975. It attracts land and water species, especially birds. For that reason, pets are not allowed. People are, Tuesday through Sunday, from 7 a.m. to 8 p.m. Donations appreciated. No visitors center, but a porta-potty.
The Sacred Way Path that departs the main Carriage Road near the kiosk is less than a mile. It can be wet, especially if the beavers are active. For a 1 1/2-mile round trip, stay on the Carriage Road as it skirts a pond and swings generally right, following a berm. With the wetlands on your right, you soon come to a trail that led out to a wildlife observatory that unfortunately burned a few years ago. Still, the causeway offers good views on the ponds raised by a previous owner's damming Sackett Brook.
You can return to the Carriage Road by taking the other leg of the Y. Among the shrubby growth, you come across several scraggly, large old pines; soon you enter a pine plantation, a thousand trees provided by UMass Extension Service in the 1920s.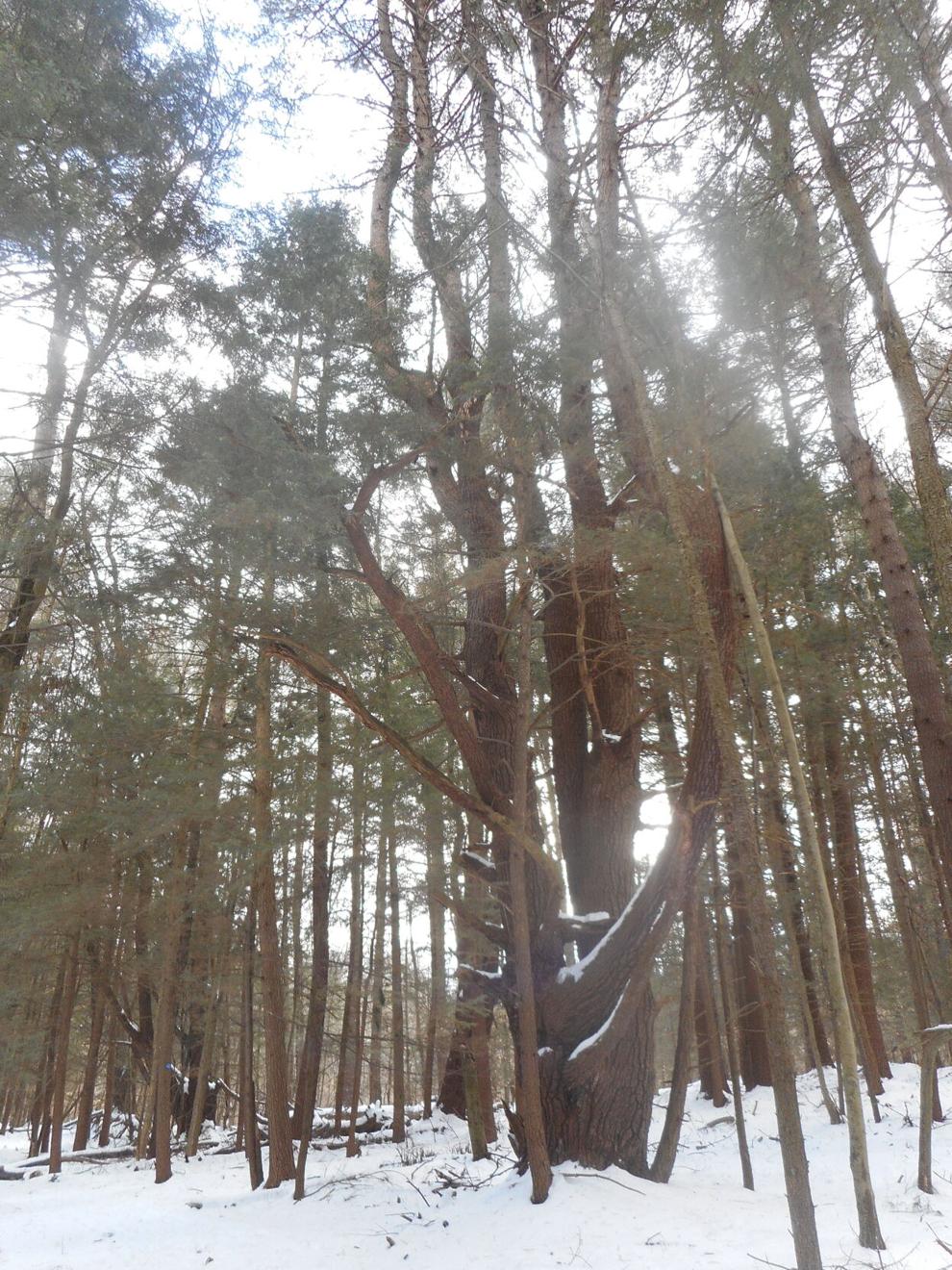 Turn left on the Wolf Pine Trail, like most in the Sanctuary really an old road, pretty smooth except for some roots. Now you have a choice, as turning right on the Owl Trail you will miss the wolf pine for which the trail you're on was named. To ease your mind, that wolf is a bit long in the tooth, shaggy, with many branches broken, and isn't really much different from many other large, scraggly pines you see. A wolf pine is a large tree with multiple branches that tend to weave around each other, old enough so that its seeds are likely to be the source of young pine in the vicinity.
Owl extends the walk slightly. It brings you through an area once gravel pits and surprisingly near some homes on New Lenox Road. It is blazed blue, whereas Wolf Pine is blazed yellow—sort of. There seems to have been some confusion in the blazing. At any rate, when you return to Wolf Pine you can take a left to visit the tree itself, if you like.
Wolf Pine Trail comes out on the Carriage Road between the two legs of the Y that connects with the former observatory. Turn right to follow along the edge of the wetlands, through open field, to the parking area.
A relaxing way to spend an hour or so, perhaps your lunch break. Or maybe longer if the wildlife choose to show themselves. You got outside on your own steam; the wildlife is extra credit. Happy trails to you.