With respect to Warren Miller Entertainment's Berkshire County premiere festivities back on Nov. 3 for the new film "Winter Starts Now," this season has been a slow build here in Western Massachusetts.
Three weeks ago, a very different-looking crowd piled into Pittsfield's Colonial Theatre. Less shirts and slacks, more beanies and jeans, and I have to imagine a great deal more beer sales. Yours truly was on hand in a Snowboard Mag hoodie and a Shire Breu-Hous tall boy. The film itself was, as usual, excellent, and certainly had me itching to dip my edge into a toe turn. However, after the credits I exited onto a 40-degree, misty North Street.
Photos: Cranberry Jam brings skiers, snowboarders to Bousquet for preseason event.
On Saturday, Bousquet Mountain and the Garden board shop in Pittsfield hosted the Cranberry Jam, a free pre-season rail jam for skiers and snowboarders.
To view a full gallery or purchase photos from the event, Click Here.
It wasn't until this weekend that we can safely say, Winter starts now, and despite the delay, it started with a bang.
I arrived back in Pittsfield Friday evening after spending Thanksgiving in central Massachusetts, to a few flurries dropping. By the time I went to bed, though, I had already located my shovel and some warmer running clothes for Saturday morning's Thankful 5K downtown.
It was just an out-and-back, mile-and-a-half route along North Street; and later in the day the Cranberry Jam was held on a small, 50-yard stretch of Bousquet's tubing area, but man it's good to be back.
Jiminy Peak gave us the first signs, as their Snowmageddon Team busted it all week to give southern New England an Opening Day on Friday, which preluded 6-8 inches of fresh powder falling overnight into a choice weekend of skiing and riding. To those who made it out for first chair and first tracks in Hancock, respect.
My Saturday contained a bit more horizontal action.
The Friday night snowstorm did little to hold down Berkshire Running Center and the local harrier community, as 300-odd runners — including myself, the wife and Baby E's first 5K — raised around $10,000 for local food pantries. Together, we tore up Depot Street, took a left toward BMC and chewed up slushy asphalt. The event, which started just six years ago, moved from Thanksgiving morning to Small Business Saturday to drum up some more support for downtown Pittsfield's shops, while also opening it up for more runners and spectators to attend. Long story short, it worked.
"I am also proud to say that we not only met my goal [$5,000] but we doubled it, raising $10,000 to be distributed to our local food pantries," race director Shiobbean Lemme wrote in a post on Facebook. "This couldn't happen without the support of everyone mentioned. Thank you from the bottom of our hearts."
The post accompanied a photo of her in a room jam-packed with donated food items. If you missed it, I have to recommend checking it out next year or the upcoming Jingle Bell Run or the Jolly Poker Run in Lenox on Saturday, both of which support good causes.
There are few things as bracing and invigorating as running in the cold. It sucks, for sure, but at the same time it's great. Like a less-intense, but elongated polar plunge that clears your sinuses while also kind of making you wish instead of cross-country you joined the golf team in eighth grade. It's an adventure, and when you can tack on helping feed the food insecure of our area, well, that'll keep you plenty warm on the inside.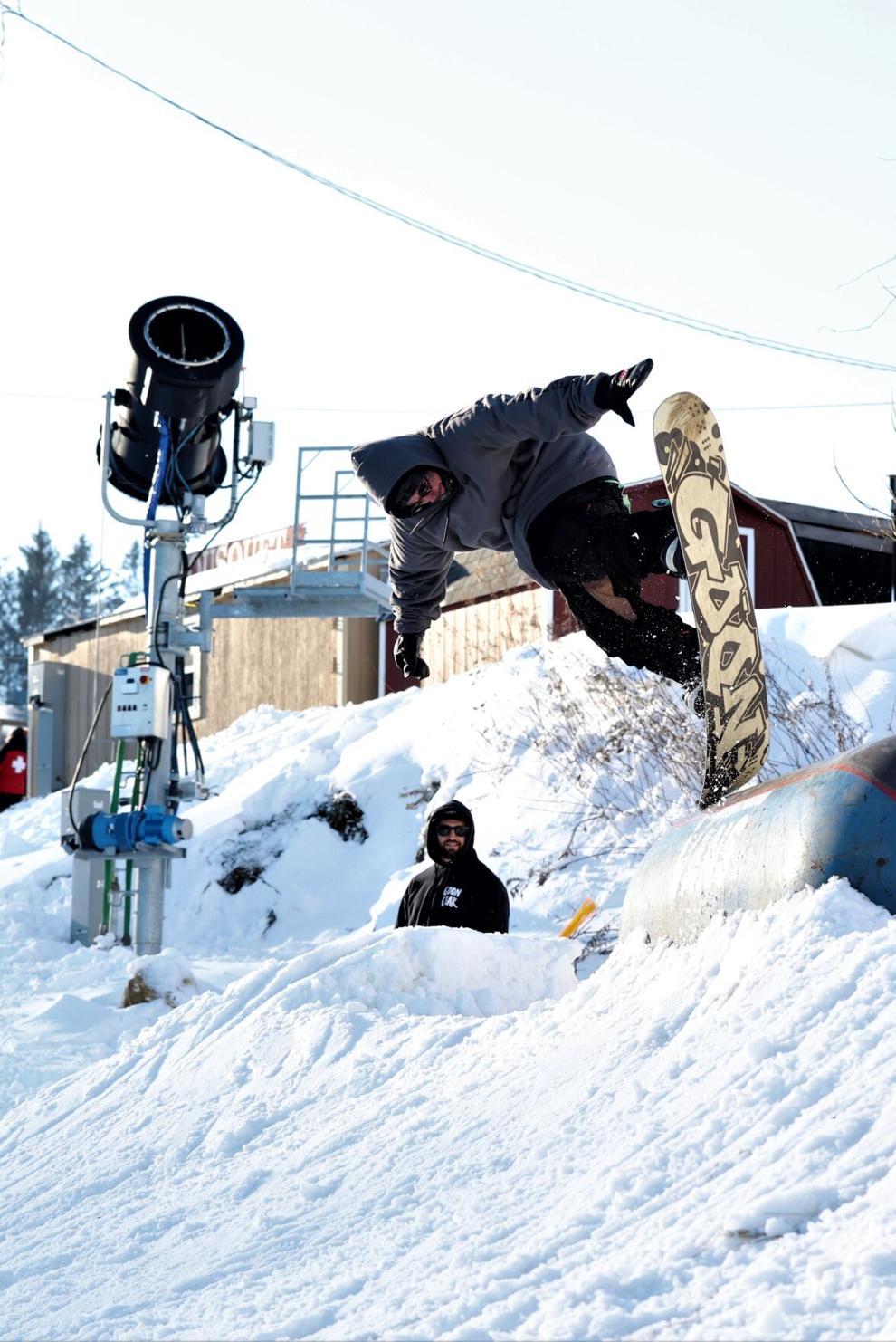 From there, the three of us ducked into Marketplace for some food, coffee, and three delightful women singing the best of Taylor's Versions on the sidewalk. I'll run a sub-zero 5K any day over trying to play guitar bare-handed like The Midnight Anthem musician was.
After a few more shopping stops to Stephen Valenti's Clothing for Men, where I got to try on a positively Elton-esque jacket, and the makers market at Hotel on North, I threw on some ski pants, laced up my boots and tossed my snowboard in the backseat to trek to Bousquet.
That's where the 2021-22 Powder Report season truly got underway.
The run up to the Cranberry Jam was exciting and nerve-wracking. The daily Instagram posts promoting it were enticing, but at the same time I'd look up from my phone to see green grass taunting me.
Still, the team-up between Bousquet's new ownership and the guys at The Garden board shop drew in 60 pre-registered competitors. And when I showed up and parked behind the Biggins Diggins food truck, there looked to be closer to 80-to-100 skiers and riders laying down lines on that fresh snowfall.
The rail jam was set up along Bousquet's typical tubing area, with a magic carpet lifting participants up to the top of the short slope. There were seven or eight features built, mostly fat pipe rails with a couple jibs and a buried propane tank where New England legend Lucas Magoon looked to be hammering out some video stuff.
"This was just really great for the culture here," said Justin Maruco, who split time between play-by-play on the mic and shoveling out lips and filling in bomb holes. "We had a great crew come out, and they were just itching to get going. Look up there, that group, you won't catch kids hiking midseason, but now, look at them, just to get a couple turns in."
As for the competitions, I made it for the best-line at the end of the day, narrated by skier Eliot DeLeo. There were some real nice moves put down on the thick rails, even though you could tell everybody was gassed. A full gallery of shots from the Cranberry Jam is up at MNG-NENI.SmugMug.com.
The Garden put on the free event and provided a slew of prizes alongside Bousquet to draw attention to the new-look mountain, which has a brand-new lodge and triple lift to the renovated summit that should be up and running before long. Maruco had nothing but praise for the new team at Bousquet, and said this was just the first of many similar events to come.
For now though, it's enough that winter has started.
"Six-to-eight inches overnight and a bluebird day," Maruco told me while packing up the tent and speakers. "Can't ask for much more than that."